Teacher Shortages Have Gotten Worse. Here's How Schools Are Coping.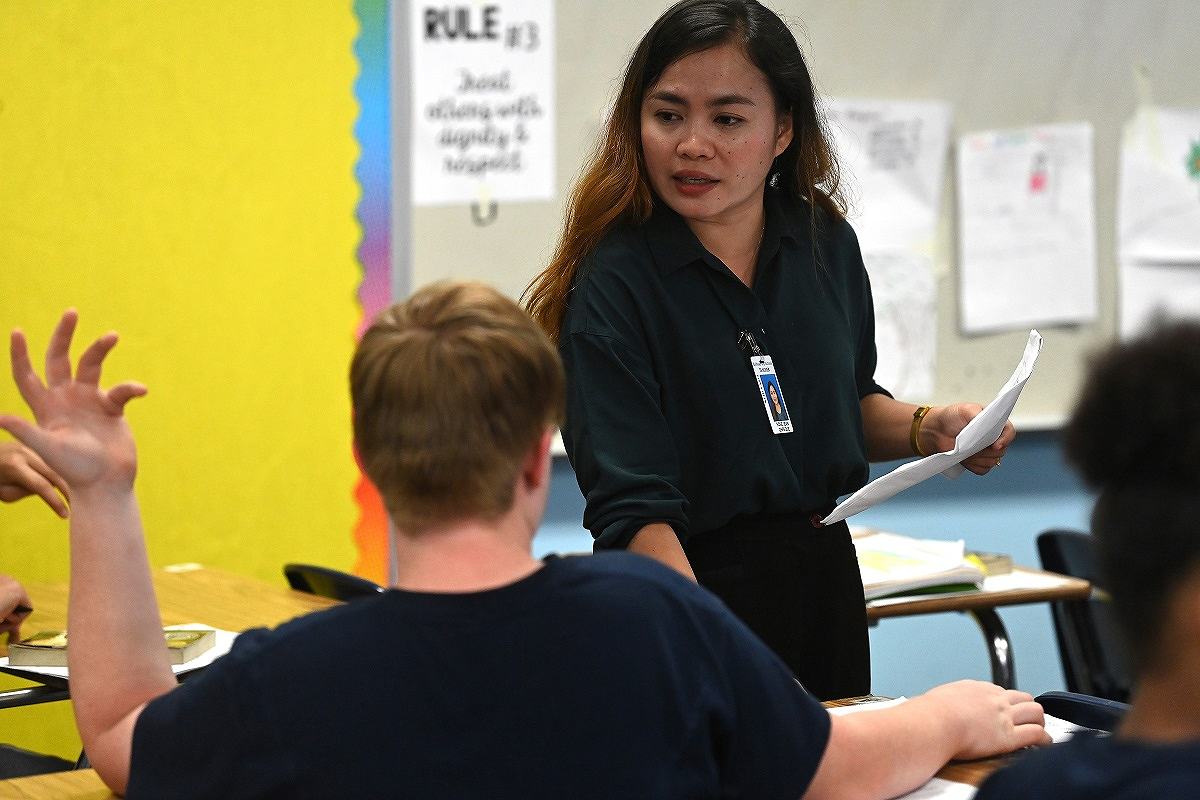 16:55 JST, August 30, 2023
Jackson Green, the principal of Charles M. Sumner Education Campus in rural Maine, said he will start the year with just one vacancy. But that achievement was possible only because about 80 percent of open teaching positions this year were filled with long-term substitute teachers after he was unable to find qualified educators. Long-term subs don't need teacher training or a college degree. Many of his new hires lack both.
Last year, desperate for a math teacher, he recruited a waitress from a local restaurant, even though she did not have a college degree. She still works in the district while she earns her college degree.
Research published last week shows that teacher shortages are worsening in several states, and it was not a pandemic aberration. Instead, it seems to be part of a worrisome trend: Teachers are leaving the classroom at higher rates, and the pool of candidates is not big enough to replace them.
Tuan Nguyen, a Kansas State University education professor, last year set out with two colleagues to collect statewide data on teacher shortages. They counted more than 36,500 vacancies in 37 states and Washington, D.C., for the 2021-2022 school year. Last Wednesday, they published updated data and found that teacher shortages had grown 35 percent among that group, to more than 49,000 vacancies.
Schools in Arizona had 2,890 openings in the 2022-2023 school year – more than a thousand above the previous year's total. Teacher vacancies in the state rose from 15 per 10,000 students to 26. West Virginia was missing 1,500 teachers last year, a 50 percent increase from the previous year. That's nearly 60 positions they could not fill per 10,000 students – the worst out of the 44 states in which researchers collected data. Kansas, where Nguyen is a professor, saw a more than 30 percent rise in teacher vacancies last year, with over 30 unfilled positions per 10,000 students.
Even in states that saw a drop in vacancies, there is growing concern about who is filling those jobs. In response to the pandemic, many states lowered job requirements, and schools increasingly relied on instructors with fewer qualifications. The data set contains information about how many teachers are "under-qualified." They include everyone from credentialed educators who are teaching out of their area of expertise to people with no credentials and, in some cases, no college education. Ngyuen said underqualified teachers turn over more quickly than those who have been trained.
"They tend to leave the teaching profession at a much higher rate," Nguyen said. It creates a churn that ultimately hurts student learning, he added.
Those without teacher training often lack good classroom management skills, such as the ability to refocus a class after a disruption, Green said. Those skills are becoming even more important as he sees misbehavior in his school rising. And it can be a self-reinforcing problem.
"When you have a shortage of certified teachers who have been trained, combined with an increase in student misbehavior," Green said, "that drives a lot of people away from the position."
Evidence suggests that more teachers are leaving the profession. In the suburbs of Washington, many large suburban districts in Maryland and Virginia saw teacher turnover above pre-pandemic levels. An analysis of teacher retention data by the education news outlet Chalkbeat found that turnover rates were the highest they had been in at least five years in eight different states. Nguyen's team, examining teacher turnover data from 34 states with the help of the National Center on Teacher Quality, found that it rose to a historic 14 percent during the 2021-2022 school year.
Nearly a quarter of teachers surveyed by the Rand Corp. in January said they planned to leave by the end of last school year, citing stress, low pay and long hours. The survey also showed that their well-being had improved from 2021 and 2022 levels.
There was good news, however. Nguyen's team, along with the National Council on Teacher Quality, anticipates that turnover will drop in the coming years. There is also some evidence that more people want to go in to teaching. The number of people in teacher training programs increased in over half of states in the first full school year of the pandemic, according to the Education Department.
The crisis is not limited to teachers. Schools are struggling to find staff across the board. School bus driver shortages in many places are forcing children to endure earlier pickups and longer routes home. In Louisville, Jefferson County Public Schools ended up delaying school for a week after a new busing system dropped students at the wrong schools – and delivered others home well after dark – according to the Louisville Courier-Journal. Many superintendents have also struggled to find cafeteria workers and instructional aids.
Substitute teachers, too, have been hard to come by – a problem for schools that are already short-staffed. The substitute teacher shortage forced some schools to close late last year after outbreaks of influenza, covid-19 and respiratory syncytial virus (RSV) in schools.
The nature and extent of shortages are highly localized, but they appear worse in states where teacher pay is low and in schools that serve high concentrations of students of color and students in poverty. A nationally representative survey conducted by the Education Department last year found that 57 percent of high-poverty schools had at least one vacancy October 2022, compared with 45 percent of public schools in general. Sixty percent of schools where more than three-quarters of the student body were kids of color had at least one vacancy.
Some states, like Arizona, Mississippi and Oklahoma, have contended with serious teacher shortages for at least two decades.
The consequences for some districts have been catastrophic. Earlier this year, a small charter school in Madison, Wis., shuttered after too many teachers left midyear, according to CNN. The Independence School District in Missouri switched to four-day weeks to attract more candidates, fearing it would not be able to fill all its vacancies. The district joins 200 others that have shifted to four-day school weeks since 2020, in part to woo more teacher candidates.
It paid off.
"This was all about attracting and retaining employees – not just teachers, but bus drivers, nutrition service workers," said Dale Herl, the district's superintendent. He said he watched as the number of applicants for even traditionally competitive roles – like elementary school teachers – dropped off considerably. "We just couldn't continue on this trajectory and still put a highly qualified teacher in front of our all of our kids."
As soon as the district announced it was moving to a four-day week, their applications jumped fourfold, Herl said. It demonstrated that the shortage might be driven, in part, by working conditions. He said that applicants were excited to reclaim their weekends – days they traditionally spent prepping for a five-day school week.
Cindy Marten, deputy secretary at the Education Department, said school employment overall has improved since the start of the pandemic with the help of investments from the American Rescue Plan, which gave $122 billion to help schools recover from the pandemic, but struggles remain.
"We are looking at all of the different levers and ways that we can raise the bar and address the teacher shortages . . . including increasing teacher pay [and] scaling the high-quality, affordable educator programs."
One of the most promising developments is the expansion of teacher apprenticeship programs, Marten said. These pay aspiring teachers to work in schools while they earn their college degrees and teacher certifications. Many of the programs are tuition-free, allowing candidates to graduate without debt. It has allowed people who could not afford college to pursue teaching and has helped those who wanted to switch careers make the transition. Nearly half of states now have teacher apprenticeship programs, Marten said.
In a move to attract and retain more teachers, nine states this year have raised teacher pay, including Florida, Arkansas and Oklahoma.
The absence of qualified educators also hurts at a time when schools are trying to make up for academic ground lost during the pandemic. Research has shown that a good teacher makes a bigger difference in student achievement than anything else in a school. The impact is especially great on poor students and students of color, who are unfortunately the ones most likely to get underqualified educators.
"We need the right person with the right knowledge, skills and dispositions to be working this super important role in shaping our nation's future," said Ronn Nozoe, CEO of the National Association of Secondary School Principals. "We're not settling for just more bodies. We need good, qualified people to fill these roles."
Milwaukee Public Schools opens this year with around 200 vacancies, a reduction from last year but still far above pre-pandemic levels. The dearth of local teacher candidates led district officials to start looking internationally for qualified educators. This year, schools in the city are set to hire 150 teachers from abroad, far more than in pre-pandemic years, when they would hire just a few, according to Michael Harris, the district's senior director of talent management.
And Milwaukee has also turned back to virtual learning – but this time, the students will be physically in classrooms. It's contracting with a company called Elevate K-12, which offers credentialed instructors who teach live lessons virtually.
It's not ideal, Harris said. But it helped "ensure that we had licensed teachers in front of our students" – even if that educator was on a screen.
Add TheJapanNews to your Google News feed.