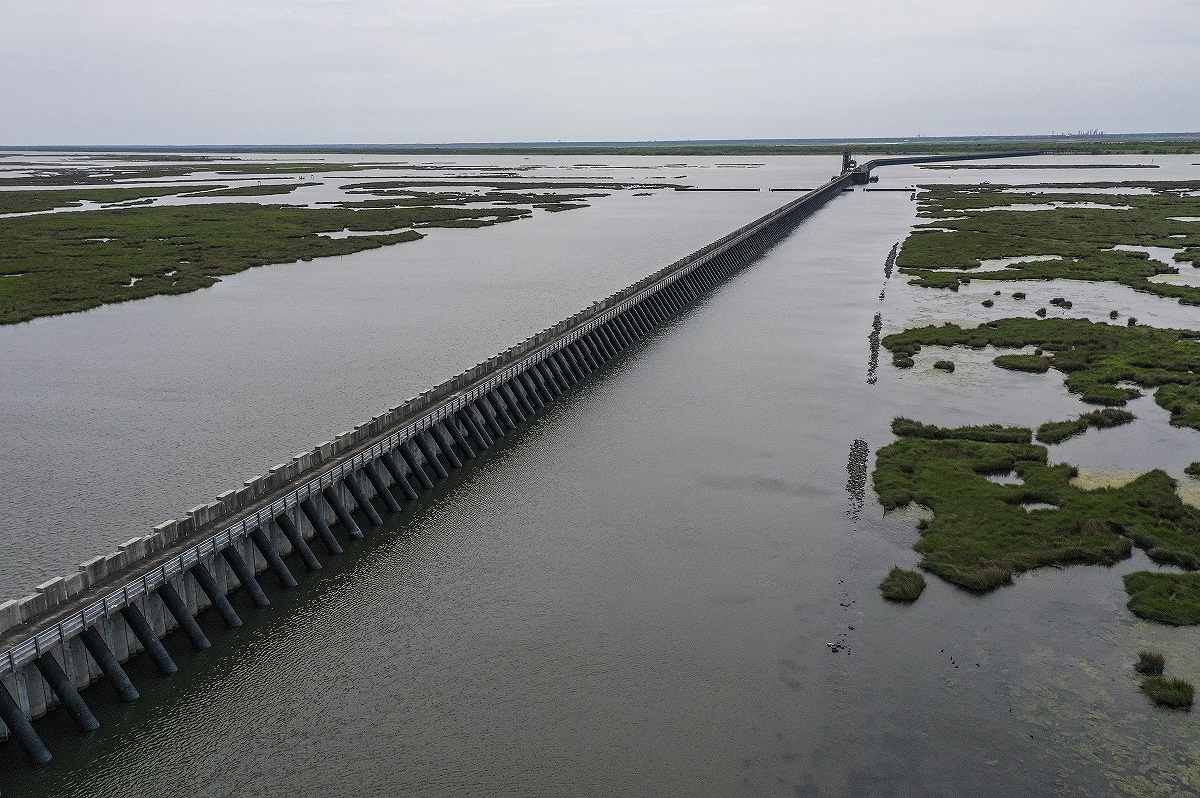 16:30 JST, August 28, 2023
Louisiana armed itself against the seas in the years after Hurricane Katrina, working to rebuild a shrinking coastline while factoring in the potential for dire climate change.
But since 2010, the U.S. Gulf Coast has seen a sudden burst of rapid sea level rise, with rates that scientists didn't expect to see until late this century. At its center lie the wetlands that make up the first line of defense for New Orleans, buffering the levees and barriers behind them. The change has put the city and its nearby coastal communities at greater risk from storms.
At Shell Beach, just two miles from commercial fisherman Charles Robin's small boat dock, the sea has risen about seven inches since 2009, according to data from the National Oceanic and Atmospheric Administration.
Scientists with the U.S. Geological Survey and the state have been closely monitoring Louisiana's wetlands. They've set up nearly 400 sampling stations, each a square kilometer in size, to track the change. For many of the brackish and saltwater marshes near the Gulf of Mexico, there's been a clear uptick in land losses since around 2015.
"This is becoming a trend that we've seen for six or seven years now," said Brady Couvillion, a coastal geographer with the U.S. Geological Survey who charts the wetland changes. "It's definitely piqued our interest."
A group of scientists at Tulane University have also been investigating the situation. They found that across more than 200 wetland monitoring stations, seas are almost always rising faster than wetlands are able to grow – meaning that most wetlands are in a state of "drowning." Their work, which is unpublished, tracked changes between 2009 and 2021.
"The number of the 'drowning' sites is much more than I thought before I started" the research, said Guandong Li, a PhD student at Tulane who led the work. "About 90 percent of these sites are unable to keep up with this recent high rate of sea level rise."
This spring, a group of Louisianans who have seen the rapid changes gathered for a crawfish boil in Yscloskey, near large stretches of skeletal oak trees killed by encroaching salt water.
Polly Glover, whose life and family history are entwined with the state's wetlands, has crisscrossed Louisiana trying to restore them by planting grasses.
Her friend, oyster farmer and shrimper George Barisich, has also seen the land vanish.
Where wetlands are disappearing
The wetlands losses are especially worrying in regions crucial to protecting New Orleans. This includes the middle part of the Barataria Basin and the lower Breton Sound Basin, on either side of the Mississippi River.
The wetlands of middle Barataria are shrinking faster than 75 percent of all other Louisiana wetland regions, according to Couvillion – with the pace quickening in recent years.
In the lower Breton Sound region, losses are happening even faster. More than 8,700 acres have vanished since 1985, according to USGS estimates – and much of that loss has come over the past decade.
Louisiana's wetlands shrank dramatically after being torn up by Katrina and other hurricanes in the 2000s. But a recovery appeared to be underway by 2010. The trend reversed about five years later, suggesting the sudden bout of sea level rise could be a major factor.
In middle Barataria, wetlands up against the ocean are receding, leading to overall loss. But marshes farther from the sea are growing in elevation, like a healthy wetland should.
Sea level rise is driven both by land sinking – or subsidence – and the rising of the ocean. In the case of the current Gulf Coast surge, research suggests it is occurring in regions with and without major subsidence, implying a dominant role for the ocean.
The faster seas rise, the less effective the state's widely praised plans to protect its coast will be.
In 2012, Louisiana projected that, if sea level rise and other environmental threats remain modest, it would be able to rebuild land within 50 years. But a new plan released this year assumes faster sea level rise more consistent with current trends and shows considerable land losses by late this century – even in more optimistic scenarios.
"Over the period of 10 years, the state has gone from potentially being in a net gain situation to potentially being in [a] very significant net loss situation," said Alex Kolker, a coastal geologist with the Louisiana Universities Marine Consortium. "And that's despite the best efforts of some very dedicated people."
The science behind the coastal planning process has gotten better, said Greg Grandy, deputy executive director of the state's Coastal Protection and Restoration Authority. "Over time, the sea has risen, so we're not talking about the same environmental conditions [that] we were talking about in 2012," Grandy added.
Louisiana still thinks its plans will make a difference. One of the largest projects would use the Mississippi River, whose sediments built much of coastal Louisiana, to rebuild wetlands. By cutting into the river's banks – known as a "diversion" – the nearby wetlands would be flooded with fresh water and suspended silt that would build new land.
Many commercial fishers – including Barisich and Robin – believe that diverting the river would wreck their business by making the environment much more unfavorable for saltwater species, such as shrimp. But others, including Glover and the local nonprofit she works with, Restore or Retreat, support the changes.
Harnessing the Mississippi
Glover traveled toward the tip of the toe of the boot that is Louisiana, near where the Mississippi River spills into the gulf, earlier this year. Boarding a boat for a bumpy ride across the river, she soon found herself amid vibrant freshwater marshes, filled with alligators and flocks of yellow-crowned night herons.
The trip had personal significance – she was heading to Bayou Lamoque, a place she had never visited, where her family history and Louisiana's plans to save itself merged into one.
Glover's father died in 2007. She knew her dad, engineer John Edgar Land, had been a longtime state employee. But it wasn't until last year that she learned he'd apparently been involved in designing the state's first large engineered river-diversion project, constructed long before the current race to defend the coast.
In an old box she found in her brother's house, Glover discovered plans for the Bayou Lamoque Freshwater Diversion. Built in the mid-1950s to help oyster fishermen by driving back salt water, it contained gates that lifted to channel up to 4,000 cubic feet of fresh water per second into the marshes behind it.
Today, the diversion is in disrepair, apparently clogged with so much Mississippi River silt you can walk around it. When the diversion was working, that silt would have flowed through with the water, likely forming land amid the vibrant marshes farther inland.
Land's name is not on the plans, but Glover says she recognizes the handwriting.
Louisiana is planning two far more massive diversions, one channeling the Mississippi west into the struggling marshes of Barataria and another pouring fresh water east into the equally imperiled wetlands of Breton Sound. Work on the first project, in mid-Barataria, is set to begin Tuesday.
The mid-Barataria diversion will cost $ 2.9 billion and channel enormous volumes of water, up to 75,000 cubic feet per second. Together, the two diversions are one of the core components of the state's Coastal Master Plan.
The question now is, with seas rising faster than expected and wetlands steadily losing ground, will it be enough?
A linked fate
Today, New Orleans's coastal barrier system is designed to protect against the surge from a major hurricane and recently withstood Hurricane Ida, a powerful Category 4 storm, without being overtopped.
But rising seas mean levees and barriers might have to be reworked. As wetlands shrink, hurricanes face fewer speed bumps as they assault the coast. And no matter how high the barriers are, New Orleans will be less safe if the wetlands and the fishing communities the city depends on disappear.
Austin Feldbaum heads up hazard mitigation at New Orleans's Office of Homeland Security and Emergency Preparedness. The fate of the city, and the wetlands communities surrounding it, are inextricably connected, he said.
The city has built a comprehensive strategy against storms that includes levees, pumps and building codes.
"The preservation and restoration of coastal wetlands is a critical piece of that," he said.
And as seas continue to rise, the impacts will not be borne equally, said Michael Esealuka, an environmental justice organizer in Louisiana.
Add TheJapanNews to your Google News feed.