Before Prigozhin Plane Crash, Russia Was Preparing for Life after Wagner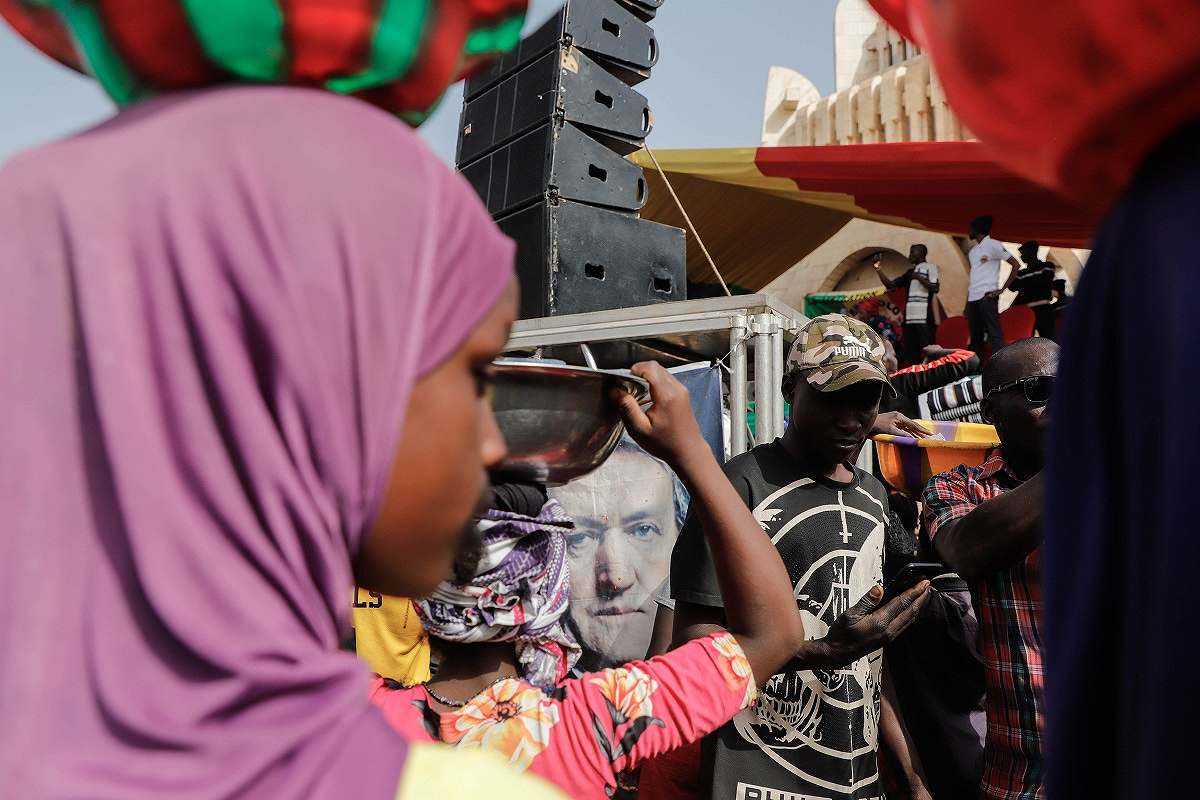 17:05 JST, August 26, 2023
RIGA, Latvia – With Wagner boss Yevgeniy Prigozhin and two of the group's other key leaders presumed dead, a power vacuum has opened, leaving the Kremlin, internal Wagner factions and outside paramilitary forces to jockey for control of a lucrative but opaque global empire.
Prigozhin styled himself as the group's irreplaceable leader, at the center of an intricate web of mercenaries, mining companies, political consultants and disinformation operatives. He also built ties with African governments, allowing Wagner to serve Moscow's interests across the continent, often at gunpoint.
"There are some competent people who would love to go in and graft his budgets, but there is no figure similar to Prigozhin, one that has an enormous stream of money, or similar working efficiency and enthusiasm," said Denis Korotkov, a veteran Russian journalist who has reported on Wagner for the last decade.
Yet one high-ranking Wagner insider, Andrei Troshev, has emerged as a potential contender to step in and run what's left of the group. A former lieutenant colonel in Russia's ministry of internal affairs, Troshev is believed to have been the main liaison between Prigozhin and the Defense Ministry during the war in Ukraine. And he is one of the few public figures within Wagner who was not listed on the passenger manifest of the plane that went down northwest of Moscow on Wednesday.
Wagner-linked Telegram channels and military bloggers said in recent weeks that Troshev had been ousted from the group, alleging that he betrayed Prigozhin after the June rebellion and was eager to strike a deal with the Defense Ministry. Sergei Shoigu, Russia's defense minister, has long fought to take control of the paramilitary force, and his feud with Prigozhin helped precipitate Wagner's short-lived march on Moscow.
"Troshev may be one of the future leaders of the updated Wagner, since the old Wagner is no longer and will not be," said Anton Mardasov, a Moscow-based military affairs expert at the Russian International Affairs Council.
"Several commanders have accused him of treason, saying he was luring people into the Redut private military company," said Lilia Yapparova, a reporter with the Meduza outlet, which has spent years investigating Wagner and other private military companies. Redut is a private force controlled by the Defense Ministry and is believed to be funded by Gennady Timchenko, a billionaire and longtime Putin associate.
Putin had previously hinted that he would be happy to see Troshev take over. On June 29, five days after the rebellion, Putin gathered dozens of Wagner leaders and top commanders, including Prigozhin, at the Kremlin to discuss their future "combat application."
According to a Kommersant reporter, Putin offered Wagner members the chance to sign contracts with the regular army and continue fighting under a commander called Sedoi, which is Troshev's call sign.
"They could all gather in one place and continue to serve," Putin said. "And nothing would have changed for them. They would be led by the same person who had been their real commander all along."
When Prigozhin rejected his offer, Putin accused him of contradicting the wishes of his fighters, who he claimed were "nodding" in agreement during the meeting.
"It appears Putin attempted to reach an agreement with Wagner without entering into a direct conflict with Prigozhin," said Tatiana Stanovaya, a senior fellow at the Carnegie Russia Eurasia Center. "Putin still needed the Wagner leader to ensure that there was a smooth transition for Troshev, that Wagner surrendered its heavy equipment to the Defense Ministry and that the army of mercenaries relocated to Belarus without any incidents."
After the mutiny, Prigozhin traveled to Russia, to the new Wagner base in Belarus and even to Africa, a shock to many of Moscow's elites, who saw it as a sign of Putin's weakness. But it bought time for the Kremlin to regroup and map out which of Prigozhin's assets would be most useful.
"The Kremlin was able to gauge the amenability of individual Wagner commanders to compromise; it turned out there was no longer any need for Prigozhin," Stanovaya said.
Wagner is Russia's most well-known private military company, but it is hardly the only one. Similar companies have sprouted with the backing of Russian oligarchs, giving Putin an array of proxy forces to do his bidding while affording him plausible deniability. For at least five years, these companies have been recruiting from veterans associations, security teams at state enterprises, fight clubs and local gyms.
In the days leading up to Wednesday's mysterious plane crash, at least two paramilitary groups – both controlled by, or linked to, the Defense Ministry and Putin loyalists – had begun hiring people for operations in Africa, a sign that the Kremlin was planning to absorb Prigozhin's security contracts in the region.
Konvoi, a relatively new group that emerged last year as another vehicle to recruit soldiers for Ukraine, posted an ad Monday looking for pilots to undergo drone training and be deployed to Ukraine and Africa.
Its leader, Konstantin Pikalov, once worked for Wagner in Africa and told Russian investigative outlet Important Stories, "Unprecedented measures have been developed to liberate African countries from colonial dependence . . . We will give African soldiers new weapons and teach them how to use them."
Redut, which has fought in Syria, was also looking to expand its operations into Africa, with recruitment ads appearing recently on the VKontakte social network.
Redut and Konvoi have not achieved any significant wins in Ukraine, are considered less professional outfits than Wagner and are not well-regarded by experienced Russian mercenaries, Korotkov said.
But a fresh recruitment plan combining fighters from Wagner and other private military companies was possible, said Mardasov, the analyst.
"It is clear that the backbone of Wagner will not be happy with the decision to mix the ranks, but they have no choice," he said.
Prigozhin spent his last days touring African countries, an apparent effort to prevent Russia's top brass from co-opting that part of his business.
"Prigozhin, of course, knew about these plans and allegedly tried to interfere with them, which was the purpose of his last business trip to Mali," Yapparova said.
But his personal pitch to African leaders appears to have fallen short. In Mali and the Central African Republic, where Wagner is most prominent, officials have stressed continuity.
Fidèle Gouandjika, a top adviser to CAR President Faustin-Archange Touadéra, said the government signed a contract with the Russian Federation, and it was Russia that subcontracted with Wagner, sending troops to the country in 2018.
"So the death of Prigozhin is a great loss for us because he helped save democracy in the CAR," Gouandjika said in an interview Friday. "But nothing will change. Russia can decide on another leader for Wagner."
Gouandjika predicted that Wagner, rather than another force, would continue its work, noting the extent of the group's operations in CAR and adding that a new rotation of Wagner troops had arrived this summer. But ultimately, he said, it would be for Moscow to decide.
"We have an agreement with the Russian government, and it is Russia that chooses who to send."
Touadéra did not meet personally with Prigozhin during the Russia-Africa summit last month in St. Petersburg – instead meeting with Putin, an apparent effort by CAR leaders to distance themselves from the renegade warlord.
In Mali, the government has long refused to discuss the presence of Wagner forces, consistently referring to them as "Russian instructors." Adama Ben Diarra, a prominent pundit in Bamako and a member of the Malian junta's transition council, said Friday that "Mali works with Russia state-to-state, and that cooperation will continue."
Prigozhin had also been struggling to maintain his foothold in Libya, where Wagner served as guns-for-hire for Khalifa Hifter's Libyan National Army.
Even before the mutiny, Hifter was growing disillusioned with Prigozhin, according to Anas El Gomati, director of the Sadeq Institute, a Tripoli-based think tank. The relationship between the two men had "broken down significantly over the past year," he said, in part because Hifter withheld payments from Wagner in an effort to secure military equipment.
"Prigozhin was supposed to deliver on those things, and he failed to deliver," El Gomati said.
A day before the plane crash, Russian Deputy Defense Minister Yunus-bek Yevkurov, whom Prigozhin briefly took hostage in a southern military headquarters during the mutiny, visited Libya to offer reassurances that Wagner fighters would remain in the east of the country – but under Kremlin control.
Mardasov said the visit by Yevkurov, who has extensive ties to Russia's foreign intelligence agency, the GRU, was "direct evidence" of Moscow's decision to formalize its future relations with Hifter.
Libya is the nerve center of Russia's operations in Africa, serving as a logistics hub that connects Russian fighters and equipment in Syria to countries in the Sahel.
Moscow "cannot close operations in Libya and continue operations with Africa," El Gomati said. As it continues its grinding war in Ukraine, Russia will probably seek to maintain a strategic foothold along NATO's southern flank.
David Lewis, a professor at the University of Exeter who has researched Wagner's illicit business networks, said Moscow had already demonstrated that it would maintain Wagner's global footprint.
Lewis pointed out that the group's presence in Africa was relatively modest – a few thousand men – and could be easily replaced.
"It is obviously a cost in terms of manpower and defense spending, but it's likely seen as a relatively low cost for how Russia is benefiting geopolitically," he said.
Add TheJapanNews to your Google News feed.