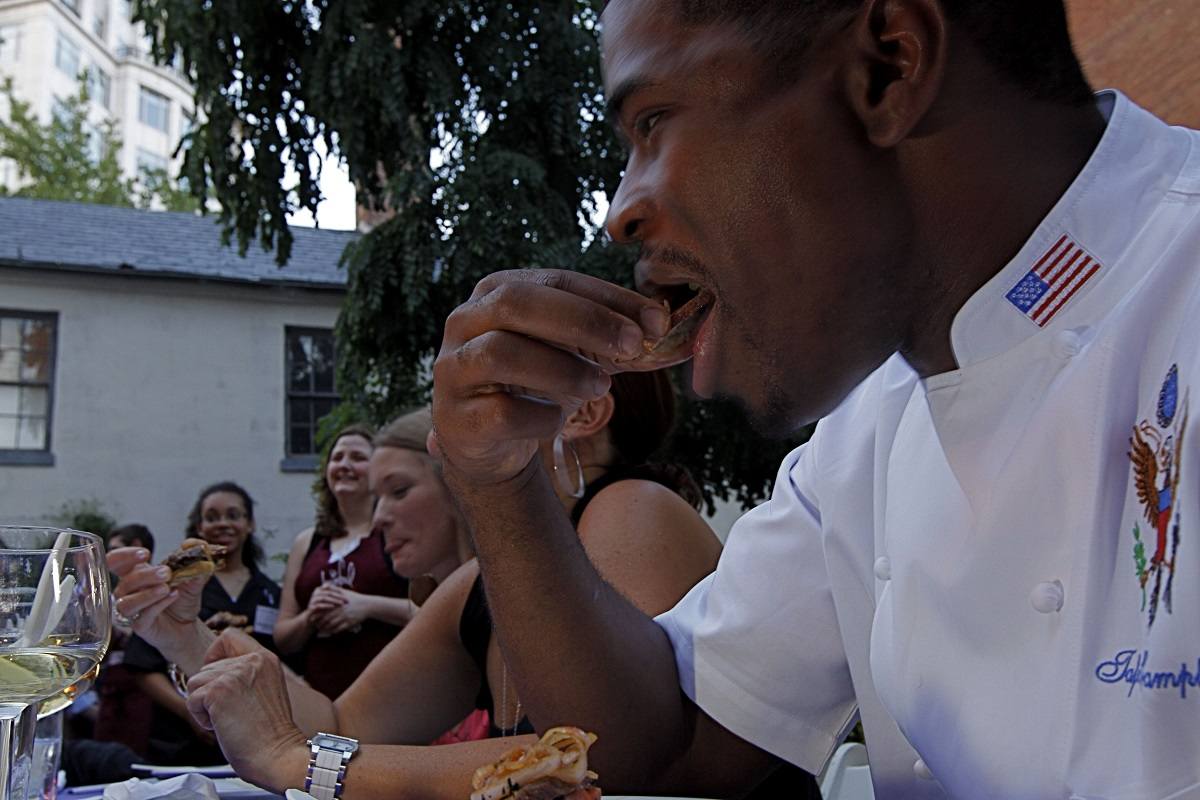 12:43 JST, August 23, 2023
The drowning death of Tafari Campbell, personal chef to Barack and Michelle Obama, was an accident, according to the Office of the Chief Medical Examiner of Massachusetts.
Timothy McGuirk, a spokesman for the Executive Office of Public Safety and Security, said the commonwealth does not release autopsy results to the public. But McGuirk said the chief medical examiner ruled Tuesday that Campbell's death was an accident. The former White House sous chef had drowned July 23 while paddle boarding on Edgartown Great Pond, near the Obamas' home on Martha's Vineyard, where Campbell, 45, had been visiting.
The Boston Globe reported that "Campbell was standing on his paddleboard when he lost his balance and fell off. He struggled to remain afloat before slipping beneath the water. Campbell was not wearing a life jacket and wasn't secured to his board. Campbell's body was found in about 8 feet of water."
According to the Boston paper, on the evening of July 23, an unidentified woman wasn't able to assist Campbell after she saw him go under. A rescue swimmer, presumably a separate person, also tried to find Campbell but could not, according to the Globe. Boat crews, dive teams and even a Coast Guard helicopter searched for Campbell that night, according to the paper. Campbell's body was recovered the following morning.
According to a spokeswoman for the former president and first lady, the Obamas "were not present at the residence at the time of the accident."
The Washington Post has not yet confirmed the details of the accident.
Campbell's death left his friends and loved ones in a state of shock. Tributes came from the Obamas, former White House chef and policy adviser Sam Kass, and many others who knew or worked with Campbell.
A native of New York, Campbell studied the culinary arts at Northern Virginia Community College, Kass said. But Campbell also had mentors inside the White House kitchen, including executive chef Cristeta Comerford and assistant chef Tommy Kurpradit. Campbell cooked for two presidents as a sous chef from 2007 to 2016.
Those who worked with Campbell noted not only his meticulous nature, but also his sense of humor.
Campbell was also married to a chef. Sherise Campbell has her own baking and catering company called Sweet Sage. The couple have twin sons, Xavier and Savin, who are young adults.
The Obamas had released a statement shortly after Campbell's death, calling him "a beloved part of our family."
A few days later, Barack Obama issued another tribute on his Instagram account.
"Tafari Campbell showed us what true character looks like. He believed that actions speak louder than words. And he used his immense gifts to bring people together, provide comfort, and spread joy," the former president wrote. "I'll miss him every day."
Add TheJapanNews to your Google News feed.