Special Counsel Says D.C. Grand Jury on Trump Documents Case Has Ended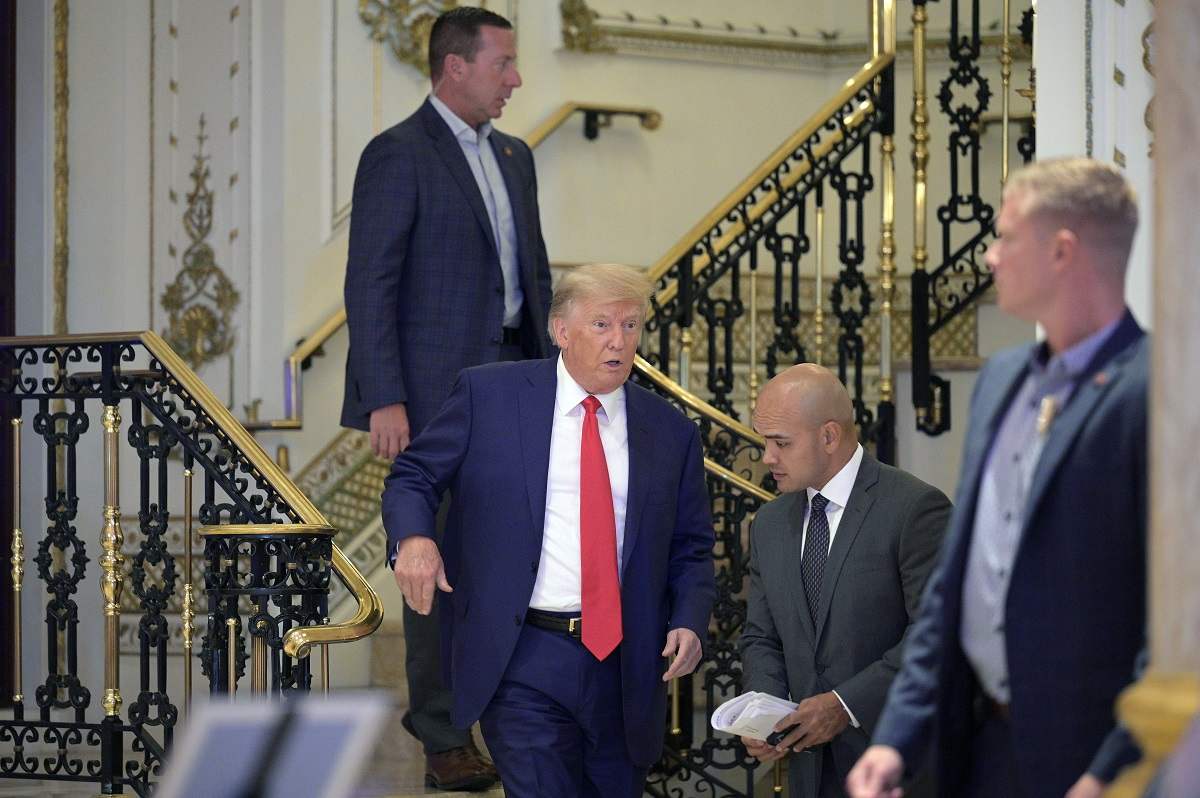 12:39 JST, August 23, 2023
The federal grand jury in Washington, D.C., that helped investigate former president Donald Trump's alleged mishandling of classified documents has ended, special counsel Jack Smith said in a court filing that laid out new details about how the probe expanded to look at alleged coverup efforts.
The 12-page filing by one of Smith's deputies, David Harbach, comes as prosecutors and defense lawyers are sparring over the use of two grand juries to investigate Trump's alleged hoarding of classified documents at Mar-a-Lago, his home and private club. Trump is charged with illegally retaining national defense information after leaving the White House and obstructing government efforts to retrieve the material.
In Tuesday's filing, prosecutors defend the use of a federal grand jury in the nation's capital, as well as one in South Florida, to hear evidence in the matter, saying the two-pronged approach was proper to investigate criminal conduct that allegedly occurred in both places.
Two Trump employees allegedly lied to the grand jury seated in Washington, prosecutors say. One, Carlos De Oliveira, has been charged in the case with lying to FBI agents – but not specifically the grand jury – and has pleaded not guilty. Another, technology worker Yuscil Taveras, began cooperating with investigators after Trump was first indicted, and has not been charged with a crime.
The new court filing confirms some details previously reported by The Washington Post: that Taveras changed lawyers not long after the June indictment and subsequently offered evidence against De Oliveira, Trump and another Trump employee charged in the case, Waltine "Walt" Nauta. The three are charged in Florida with scheming to try to delete security camera footage at Mar-a-Lago that showed boxes of sensitive documents being moved around the building.
Tuesday's filing says that cooperation from Taveras – who has only been identified in court papers as "Trump Employee 4" – came after he gave false answers to the D.C. grand jury earlier this year.
"When Trump Employee 4 testified before the grand jury in the District of Columbia in March 2023, he repeatedly denied or claimed not to recall any contacts or conversations about the security footage at Mar-a-Lago. In testimony before the same grand jury, De Oliveira likewise denied any contact with Trump Employee 4 regarding security footage. The Government's evidence indicated that the testimony by Trump Employee 4 and De Oliveira was false," the filing states. ". . . Immediately after receiving new counsel, Trump Employee 4 retracted his prior false testimony and provided information that implicated Nauta, De Oliveira, and Trump in efforts to delete security camera footage."
Prosecutors say those lies to the grand jury justified the ongoing use of the federal grand jury in Washington, even after the Florida grand jury indicted Trump. U.S. District Judge Aileen M. Cannon, who is presiding over the documents case from her Fort Pierce, Fla., courtroom, had asked the government to explain why it was using two grand juries in different jurisdictions.
The Justice Department lawyers also argue in the filing that the fact that Taveras and Nauta were at one point both represented by the same lawyer, Stan Woodward, means Cannon should hold a hearing to explore any potential conflicts of interests arising out of a defendant and a prosecution witness sharing the same legal counsel.
Even if Woodward was unaware at the time he represented Taveras that his client might provide incriminating evidence against Nauta, the prosecutors argued in their filing, "he is certainly aware now." Taveras's credibility will probably be an issue at trial, considering prosecutors contend he lied to a grand jury.
Cannon has yet to decide whether to hold a hearing on the conflict question.
Investigators have spent months grilling witnesses about how Trump's political action committee was paying lawyers' fees for witnesses in the documents case, and whether there were any conditions placed on such legal representation, The Post has previously reported.
Defense lawyers have denied there is anything untoward about Trump's PAC paying for lawyers for witnesses, noting it is a common practice of companies and political campaigns that come under investigation.
Trump is also facing charges in three other criminal cases. He has been indicted in Washington and Georgia, respectively, on federal and state charges of obstructing the 2020 election, and in New York on state charges of falsifying business records involving reimbursements for hush money payments during the 2016 presidential contest.
Add TheJapanNews to your Google News feed.