Rivals Target Ramaswamy and His Inconsistencies in Lead-Up to GOP Debate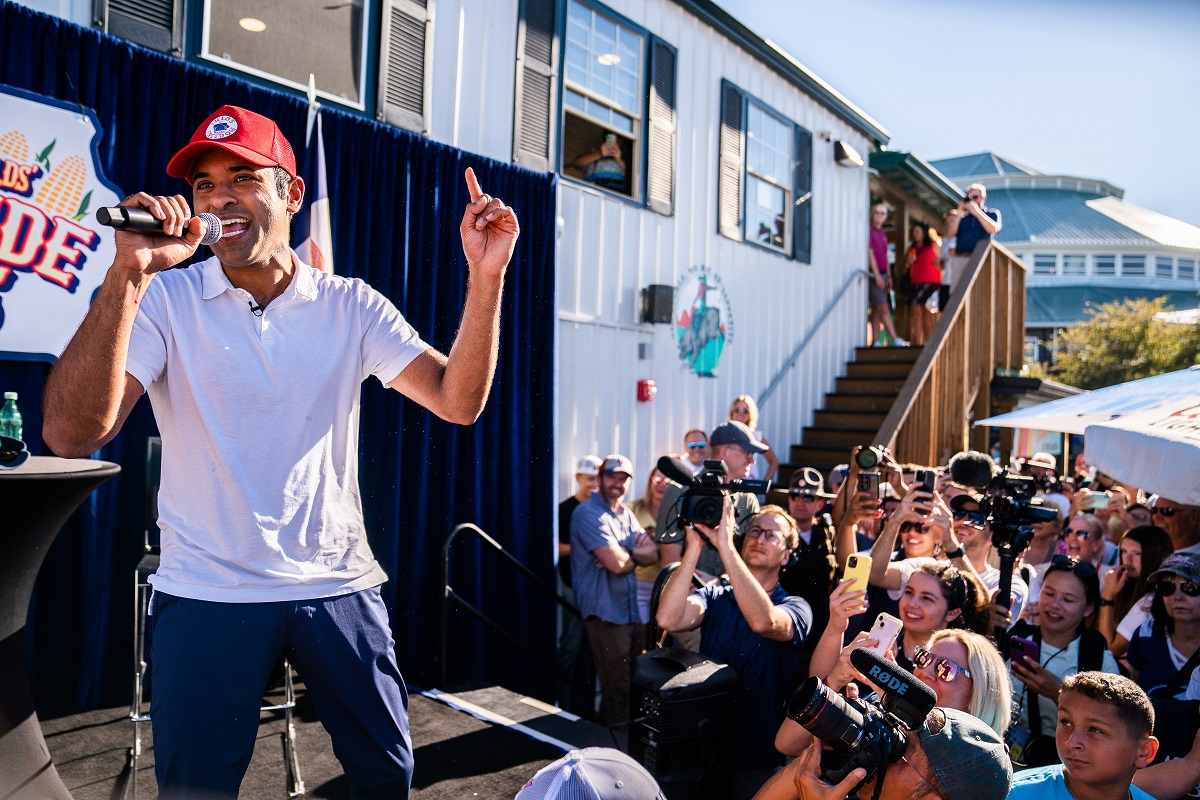 12:09 JST, August 23, 2023
MILWAUKEE – On the eve of the first Republican presidential debate, Vivek Ramaswamy sought to play up his image as an unconventional candidate who has eschewed the usual preparations for Wednesday's showdown.
"Three hours of solid debate prep this morning," he posted on social media Monday, along with a video of himself playing tennis shirtless. On Tuesday, he posted a video showing him working out with his wife while listening to T.I.'s "Bring Em Out." The caption: "More debate prep this morning, with my favorite sparring partner."
The Washington Post this week obtained a previously unreported photo of what appeared to be a much more traditional pre-debate moment: Ramaswamy in suit standing at a lectern, flanked by deputy communications director Stefan Mychajliw and Anson Frericks, the co-founder of his investment firm, both also at lecterns. Microphones could be seen under the chins of all three.
When The Post mentioned the photo and asked him about it Tuesday, Ramaswamy replied that he "reluctantly tried it recently," speaking of traditional mock debate preparations, but "it wasn't a good fit for me." His campaign spokesperson Tricia McLaughlin acknowledged that Ramaswamy has "experimented with some debate prep," adding that his "real prep" was meeting with voters and holding a large number of campaign events. She had previously told The Post that Ramaswamy was not doing traditional debate prep sessions.
The dichotomy underscored the political newcomer's sometimes contradictory image and statements, which are expected to be a target of criticism Wednesday night from GOP rivals, who have also signaled plans to attack some of his provocative policy positions. His opponents are increasingly calling him out for inconsistencies in his comments on topics such as masking during the pandemic and when he first voted, for his polarizing arguments about potentially phasing out U.S. financial aid to Israel after 2028, and for ideas he has floated about the Sept. 11, 2001, terrorist attacks that have been embraced by conspiracy theorists.
Ramaswamy is a first-time candidate who has centered his campaign on extreme policy proposals and his status as a political outsider – effectively running as a next iteration of Trump. At 38, the tech entrepreneur and son of Indian immigrants who earned a fortune in biotechnology and pharmaceuticals will be the youngest candidate onstage and the only one who has not served in elected office. Increasingly, some of his rivals consider him a threat because of the warm response he is getting from GOP voters and the uptick in his support in some polls, though whether he holds up under that pressure is an open question, some Republicans said.
"Usually when people who have never run for office before or have no familiarity with a campaign get the pressure turned on them, the spotlight turned on them, they fade because they don't know what they're doing. So we'll see. Mr. Ramaswamy is having his moment, but I'd be absolutely stunned if he ended up as the Republican nominee," said Whit Ayres, a veteran Republican pollster.
The first debate, in Milwaukee, will air on Fox News platforms at 9 p.m. Eastern on Wednesday. Candidates will take their places onstage based on where they rank in the polls. The Republican National Committee said Florida Gov. Ron DeSantis, who tops the polls among the candidates who qualified, will be at the center of the stage next to Ramaswamy, who ranks second in the polls that the RNC is using to determine the order.
Several campaigns and their allies have targeted Ramaswamy in the run-up to the debate, making him a potential focal point on a debate stage that will include seven other candidates but will be notably missing the runaway polling leader, Donald Trump, who has declined to participate.
This week, former U.N. ambassador Nikki Haley took aim at Ramaswamy, accusing her Republican primary opponent of wanting to end "America's special bond with Israel."
Haley was referencing an interview Ramaswamy did with Russell Brand last week in which he suggested he would use international diplomacy and new agreements with other nations in the Middle East to try to broker greater peace and stability in the region. He said his aim was to "get Israel on its own two feet" and his hope was that, through those negotiations, "additional aid won't be necessary."
"This is part of a concerning pattern with Vivek," Haley wrote on social media Monday. While focused on Israel, her statement also addressed Ramaswamy's assertion that the U.S. commitment to defending Taiwan against an invasion from China should extend only until the United States achieves "semiconductor independence" from China, as well as his pledge to eliminate the FBI, among other agencies. (One of Ramaswamy's other polarizing proposals is to arm Taiwanese households with guns to prevent China from invading.)
Her broadsides came after a firm affiliated with a super PAC supporting DeSantis posted a memo online urging DeSantis to take "a sledgehammer to" Ramaswamy at Wednesday's debate by labeling him as "Fake Vivek" or "Vivek the Fake." The documents included a list of 16 "key facts," or areas to target, including his stance on inheritance taxes and other tax legislation, business relations with China, and tariffs and trade. DeSantis has broadly distanced himself from the firm's memos, saying he had not read them.
In response to attacks from rivals, McLaughlin said: "We need to get to the tough questions, who the GOP is, what we stand for and what we're running to. Vivek is ready to have the tough conversations, deliver his vision and introduce himself to the American people."
Ramaswamy has generated enthusiasm at multicandidate events this year. Cindy Tzagournis, a Ramaswamy supporter from Ohio who traveled to the debate in Milwaukee to show her support, said that his changing positions does not concern her and that "things change over time." She said he "makes you feel good about the way he presents everything, he's not arguing or fighting with anyone, he listens to everyone."
But he is still polling well behind the leading candidates. In a Washington Post August average of polls of the GOP race, 7 percent of Republican voters supported Ramaswamy for the nomination. That compares with 58 percent for former president Trump and 16 percent for DeSantis.
The Post obtained the photo of Ramaswamy with Mychajliw and Frericks – Ramaswamy's high school mock trial partner, according to the campaign – from a person who provided it on the condition of anonymity to show a private interaction. Another photo shows a man and a woman whom The Post could not immediately identify sitting in front of a room of nearly 20 people at a desk that resembled a moderator's setup.
Frericks could not immediately be reached for comment. Mychajliw did not immediately confirm or deny his participation in a debate prep session when asked at a Ramaswamy campaign event Tuesday night. He directed The Post to McLaughlin and when asked about the photo joked, "Do I look slim?"
While walking through the Iowa State Fair this month, Ramaswamy told The Washington Post of the debate, "The first one I view as a warm-up."
"The reality is everybody on that stage will have already ever been in a political debate, both a primary and a general. I'm the only candidate who won't have. So it will take likely a couple of cycles for me to find my footing, and I'm okay with that," he said, adding that he has not had "a lot of time for formal preparation, but I'm okay with that."
Ramaswamy seized attention at the fair – which was also attended by all of the other debate participants except former New Jersey governor Chris Christie – when he embodied his college rap alter ego, Da Vek, to perform part of Eminem's "Lose Yourself" onstage with the governor of Iowa.
Some critics have suggested that beneath Ramaswamy's unconventional persona lurks a more dangerous candidate who embraces baseless claims.
Former vice president Mike Pence said in an interview with a New Hampshire newspaper this month that he was offended by Ramaswamy's statements that the federal government hasn't told the full truth about the 9/11 attacks.
Pence told the Union Leader that the comments "deeply offended" him. "I understand he was probably in grade school on 9/11 and I was on Capitol Hill," Pence said. "I think comments like that, conspiracy theories like that, dishonor the service and sacrifice of our armed forces who fought against our enemies determined to kill us."
Ramaswamy has consistently said he does not think the government has told the whole truth about 9/11, though he has leaned on raising questions about the "truth" rather than explaining what he thinks happened. "Do I believe everything the government told us about it? Absolutely not," Ramaswamy said during an appearance on BlazeTV this month. "Do I believe the 9/11 Commission? Absolutely not."
Ramaswamy also insisted that he was misquoted in an interview with the Atlantic; the author who was profiling him noted that it was hard to get a straight answer from him about whether he is confused about who was behind the 9/11 attacks. (The Atlantic subsequently posted the audio to make it clear that he was quoted accurately.) Pressed during a Monday interview on CNN on what specifically he thinks the U.S. government has lied about regarding 9/11, Ramaswamy said, "The government lied about Saudi Arabia's involvement."
Ramaswamy's advocacy for concessions to Russia to negotiate a peace treaty, and his pledge to limit further funding for Ukraine, have drawn criticism from Christie, who told The Post during a trip to Ukraine this month that Ramaswamy is "giving people a false choice, which is, 'Well, we can only do one thing; we can either improve things in the States or we can help Ukraine.'"
Earlier this summer, former Arkansas governor Asa Hutchinson, who this week became the final qualifier for the debate, was already eyeing a chance to take on Ramaswamy. When asked in an interview with The Post in late July what his central objectives would be in the debate, Hutchinson said he wanted to get the point across that "Vivek's policies are terrible for our country."
He pointed to proposals including a constitutional amendment requiring Americans to be 25 before they vote unless certain requirements are met, and term limits for public servants in the federal government. Hutchinson noted, for example, that if the government were to train a Drug Enforcement Administration agent who would then leave within eight years, the costs of running the federal government could rise exorbitantly.
Ramaswamy recently said he has no issues with Trump skipping the debate, a shift from his position in May when he said in a Fox radio interview that it would be "fundamentally uncourageous" for Trump to not participate.
Add TheJapanNews to your Google News feed.