The $5 Trillion Pandemic Safety Net Changed Lives. Now It's Over.
16:25 JST, August 20, 2023
Brittany Irick had been living in the shelter now for 188 days, squeezed into a bedroom with her two little boys and sharing a shower, kitchen and laundry room with strangers.
Now she sat alone in her unit's shared common room at Martin's House and Barn in Ridgley, Md. The overhead lights were off. She could hear her boys – 5 and 10 – playing from behind the closed bedroom door. It was too hot to be outside. She worried the heat might be triggering her youngest son's asthma, but Irick knew changing the thermostat meant navigating the preferences of the other nine adults and 14 children who called the shelter home.
Hearing another cough, Irick considered – and not for the first time – that one more day here was more than she could handle.
The 28-year-old scrolled her phone for the numbers that the staff had sent her for potential apartments. Dialing, she considered the half-dozen she had toured or submitted applications for in the last week.
This was her first time in a shelter. A certified nursing assistant who previously worked in nursing homes, Irick had arrived last January. Her family was among the millions of Americans who weathered the coronavirus pandemic thanks to an unprecedented social spending binge. Beginning in March 2020, the federal government injected nearly $5 trillion into the American economy – a sum that dwarfs the New Deal's price tag of $892 billion in today's dollars. A handful of congressional votes completely reshaped the government's relationship to the poor by creating a robust social safety net similar to wealthy European democracies such as Sweden and France.
However, the supports put in place during the coronavirus pandemic were short-lived by design, a brief experiment in curbing poverty. The end came earlier in states such as Iowa and Idaho, where governments rejected some federal aid or shuttered programs early. Only now are the last pandemic-era benefits disappearing in states like Maryland that made full use of the funds.
The federal eviction moratorium and federal rent relief programs had kept Irick's family housed. In January 2022, a few months after rent relief funds ran out, Irick, her fiancé and their children were evicted from their $850 a month two-bedroom apartment in Chestertown, Md., where they had lived for two years. For the next 12 months, they bounced between family – Irick's mother in Centerville, Md., her sister in Ridgely, Md., and her fiance's mother in Smyrna, Del. – before landing at Martin's, where she was now sitting, trying to remember which unit she was calling about as a woman came on the line.
"Hi, how you doing?" Irick said, voice bright and cheery. "My name is Brittany. I live at Martin's House," she said. "I had just filled out an application yesterday for your apartment complex. I was just wondering when I could come and check it out?"
"You haven't been here to look?" the woman said.
She thought. "No," she said, then thought more. "Is this the one in Betterton?" she said, thinking of a small town a county over.
"No, this one is in Ridgely," the woman answered.
"Oh, I did look at that one," Irick said, embarrassed. "I'm sorry. I'm looking everywhere exploring my options."
Irick hung up. It was easy to mix up the apartments, she thought, when they all seemed equally out of reach.
Her time at Martin's was technically supposed to only last 90 days, the amount recommended by the federal government for an "emergency" shelter stay. But like the other families here, she has not been able to move on. Across the Eastern Shore, households are falling into the vacuum created by the vanished social spending. The phones are always jangling at a Salisbury community action agency with requests for rent relief dollars that are long gone. The lines are getting longer at rural Wicomico County food pantries while the amount of available food shrinks.
The federal government's intervention prevented full-scale economic disaster during the pandemic. The job market has grown consistently for 30 months, but record inflation has largely swallowed up the paychecks of many Americans. Wages have only recently started outpacing prices, and the national economy grew in recent months. But car loan delinquencies and household debt are spiking.
A post-pandemic rebound seemed far away to Irick as she sat in an unlit room at the shelter. Before the pandemic, her family operated with no margin for error. She earned $16 an hour but still qualified for Medicaid. When her hours at the nursing home were cut during the pandemic, child tax credit payments and rent relief covered their bills. The eviction and the end of the payments turned a precarious situation into a prolonged crisis. For her and millions of struggling Americans, the last three years felt like a bait-and-switch – a glimpse of a nation-changing social agenda that was pulled down almost as soon it was in place.
'This is the worst I've seen'
The programs contained in 2020's Coronavirus Aid, Relief, and Economic Security Act – known as the Cares Act – and American Rescue Plan Act of 2021 targeted many aspects of American poverty. More people got access to health care through Medicaid. Schools were able to provide more free meals. Food stamp recipients got more money. Grants boosted child-care subsidies. Evictions were halted, and government funds covered unpaid rent. Unemployment benefits were extended. And stimulus checks and expanded child tax credit payments hit bank accounts.
The short-lived agenda produced measurable results. According to the Census Bureau, the child tax credits alone pulled 5.3 million people out of poverty in 2021.
"We had these big gaps in our social safety net prior to the pandemic," said Sharon Parrott, president of the Center on Budget and Policy Priorities. "Our willingness to fill those gaps during the pandemic just increased. It's frustrating to see such progress in such a short amount of time. We know what works."
The pullback is spreading across the D.C., Maryland and Virginia region, which received a combined $40 billion from the Cares Act and the American Rescue Plan. An analysis by the anti-hunger nonprofit Food Research & Action Center (FRAC) determined that the end of expanded SNAP benefits in May impacted nearly 920,000 families across the three jurisdictions.
Medicaid had loosened requirements to keep more people enrolled during the pandemic. States now have begun to kick people off coverage. Virginia began disenrollment in May, and both Maryland and the District started in June. According to data tracked by independent health resource center KFF, already 53,241 individuals across the three areas have lost their Medicaid coverage as part of the recent purge – a number that experts expect will snowball in the coming months.
The end of the pandemic safety net hit some areas of the region particularly hard. Before 2020, Maryland's Eastern Shore regularly posted higher poverty rates than jurisdictions west of the Bay. According to the Eviction Lab, the Eastern Shore also had some of Maryland's highest eviction rates. A Georgetown University analysis this May showed that nearly half the children in every Eastern Shore county rely on Medicaid for health coverage, a percentage only seen in big cities like Baltimore.
About $88.2 million in federal pandemic spending poured into the Eastern Shore counties. In Salisbury, the local community action agency Shore Up used that money for rental and utility aid. The Wicomico County organization eventually handed out around $11.2 million to 1,545 households by late 2022. "We were just inundated the whole time with applications," said Julie Peters, Shore Up's chief communications officer.
The money is gone, but the phone still rings everyday at Shore Up. "We have to tell them that our money has been spent and there are no other options," Peters said.
Salisbury Urban Ministries, another Wicomico County nonprofit, used special grants offered by the federal government during the pandemic to increase the amount of food that the organization purchased from the Maryland Food Bank. The increased funding helped open two food distributions in rural parts of the county, at Methodist churches in Pittsville and Willard.
After the boost in SNAP benefits ended, demand doubled at the food banks working with Salisbury Urban Ministries, according to Debbie Donaway, the organization's executive director.
"By this April, we had already spent 61 percent of our food budget, so we are struggling to feed people," she said. "Now our concern is we have had to cut back the amount of food we give individuals to make sure we have enough."
Shane Moran, the pastor at the two church food distribution sites in rural Wicomico, said, "We are hanging in there, but we have had to restrict what we can give out. This is the worst I've seen. It's heartbreaking."
At Martin's, Deborah Hudson Vornbrock has felt the same tightening squeeze as her clients.
One morning in June, the executive director stepped out of her office in the shelter building and crossed the parking lot to the facility's food bank. A handful of volunteers inside ducked under low ceiling beams as they packed shopping carts with food. A half-dozen cars were lined up outside the barn waiting for food.
Martin's hosts four weekly food distributions, moving around 20,000 pounds of food each month. During the pandemic, the facility received extra money for food purchases from the federal government's Emergency Food Assistance Program. But since those funds ran out nine months ago, Vornbrock could see the difference now as she peered down at a shopping cart filled with lettuce, oranges, ramen noodles, rice and other items for a client.
"This cart is for what size family?" she asked.
"Five or six," one of the staff members said.
Vornbrock nodded. A year ago, the same amount of food would have gone to a family of three or four.
"We definitely have food," Vornbrock said. "We're just scrambling a little bit now."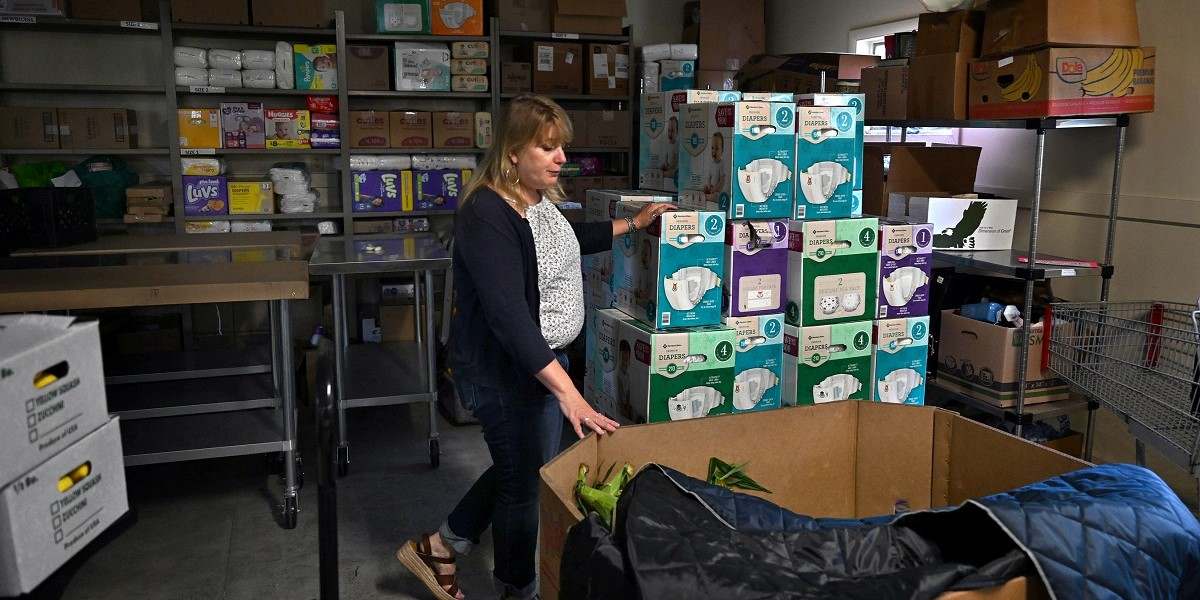 Staying past 90 days
The distance between Irick's life today and what it was like before – and even during the pandemic – felt vast. Hoisting her family back up was all that mattered now.
"I always have a Plan A and then a Plan B and usually also a Plan C," she said. "Because stuff always falls through."
Most of the families at Martin's seemed to be struggling to regain their footing. Most had stayed past 90 days.
Much of that has to do with rising housing costs. The National Low Income Housing Coalition found that the wage needed to afford a fair market rate two-bedroom apartment has risen in Maryland from $28.93 in 2022 to $31.08 in 2023. The hourly wage needed for a two bedroom in Caroline County had jumped from $18.42 in 2022 to $20.23 this year.
Before the pandemic, Irick was making $16 an hour and her fiancé brought home at least $700 a week working construction. The 2020 lockdown froze their work schedules for long stretches. The family survived on stimulus checks and expanded child tax credit payments, which ended just as the family was evicted and inflation hit. Her fiancé moved in with friends.
Irick tried to work during 2022 as she couch-surfed between Maryland and Delaware. But during lockdown, she had let her nursing and first aid accreditation expire, and she had no car or child care for the boys. She took what work she could.
"I did cleaning jobs. I babysat. I went back into waitressing," she said. "But it was hard. I didn't have any transportation, and my sister was the only person I could have watch the kids."
Martin's offered to help their residents with rental fees, down payments and even a few months of rent. But Irick had heard from landlords that they required three months' rent upfront or credit scores of 800 for tenants.
Irick was hopeful she could find a place to reunite her family. But a new rental meant a better credit score – "I'm at 560," she said. "Not bad, not good." The family could possibly afford paying $950 a month in rent.
Eight months into her shelter stay, Irick was still looking for work. Transportation remained an issue, especially now that she lived in the middle of rural farmland. In June, her fiancé had earned enough to buy her a 1997 Oldsmobile Aurora. But Irick felt her work options were limited by the shaky nature of her housing. "I don't want to take a job in Denton and then end up finding an apartment in Chestertown," she said.
In July, she found work cleaning out foreclosed houses on the Eastern Shore. The pay was half of what she earned working at nursing homes. The job involved stripping out the furniture and keepsakes others had left behind. She hoped to work one house after another until she could secure housing of her own again. Her phone was full of the before and after pictures she had to provide the banks to get paid.
"It makes me sad for other people," she said. "We all have been going through bad times."
New deadline
A few weeks ago, the Martin's staff came to Irick with a gentle suggestion: How about she try to find an apartment by Sept. 1? She wasn't being kicked out. The deadline was a motivator.
Irick agreed. She wanted to be elsewhere more than anyone. A new clock immediately started running in her head.
The job cleaning houses didn't work out. Her new car turned out to be unreliable, and she couldn't afford the repairs. She started to apply for waitressing jobs.
She would keep looking for an apartment. She would like to stay close to Ridgely for her children "We've moved around so much, and I'm worried about them bouncing around from school district to school district," she said.
But she has to balance that wish against what was realistic. The first of September was only 30 days away.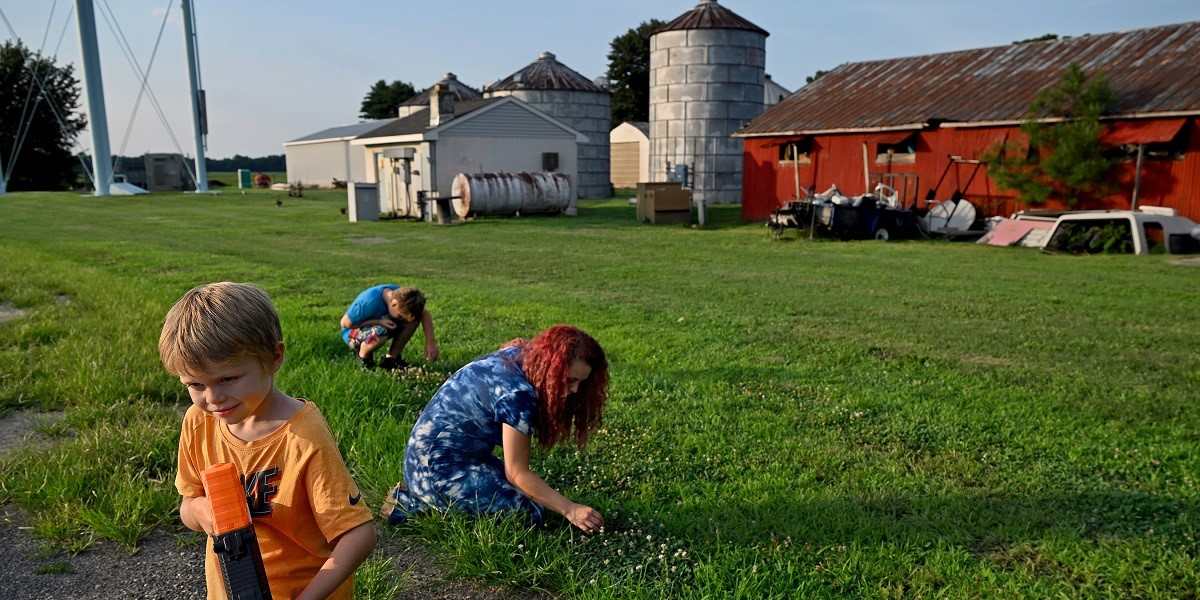 Add TheJapanNews to your Google News feed.