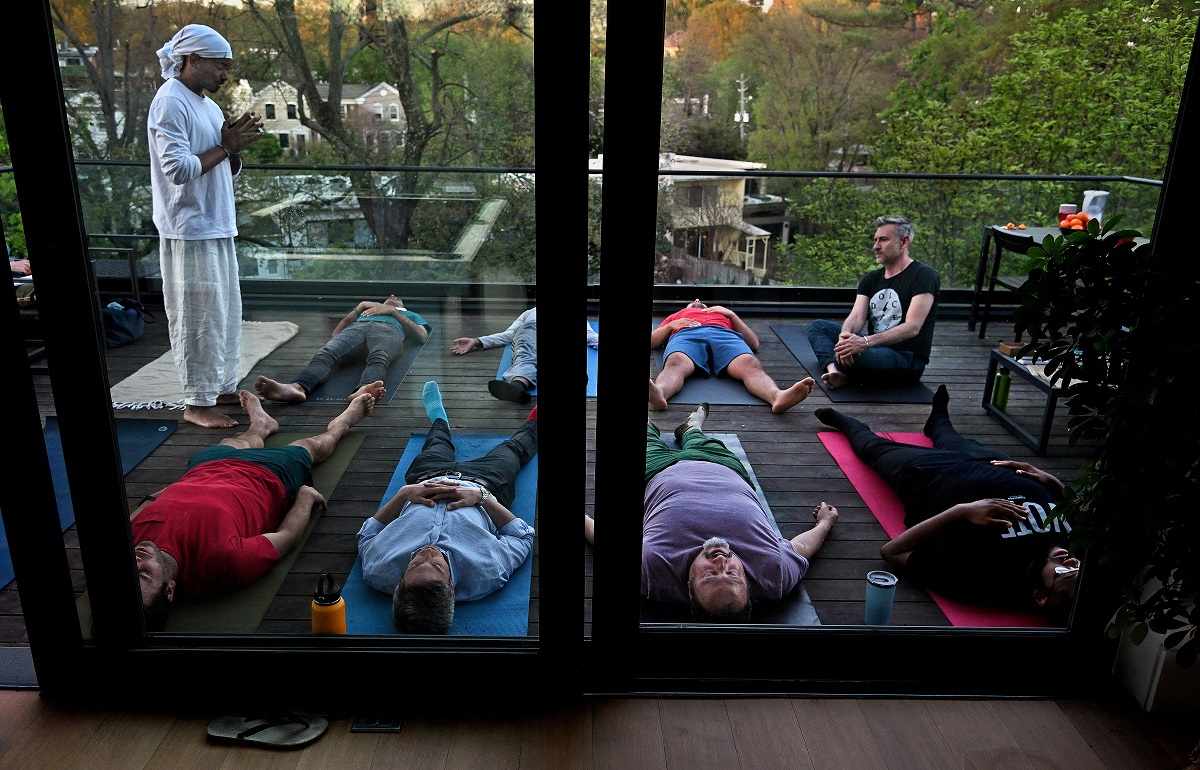 13:10 JST, August 14, 2023
On a Thursday in spring, as the sun set over D.C.'s Palisades neighborhood, nine men lay across a wooden deck under the darkening sky. Birds trilled, their song drowned periodically by planes roaring toward Reagan National Airport. A stick of incense smoldered, its smoke curling into the mild air.
"Take in the sounds," said Rua Williamson, who was leading the men in a breathwork session. "I invite you to maybe bring up an intention. How you want to live in this world. How you want to love in this world. How you want to be in this world."
The men ranged from young adulthood to middle age; they were White, Black, Hispanic, Middle Eastern. As Williamson directed them to take short breaths, their bellies contracted in unison. Someone cranked up a Bluetooth device, and electronic drumming and bass rose up. Williamson laid his hand on the tummy of Alex Mero, a 52-year-old accountant in a light-purple T-shirt and black eyeglasses. He wrapped his hands around the waist of 30-year-old Dru Haynesworth, an activist and community health worker from Southeast Washington wearing a T-shirt that said "VOTE."
He brought the men together with a collective ommmm. "Feel the vibration resonate in the floor," Williamson said. "Feel the connection to your brothers."
It was a kind of connection that U.S. men increasingly say is missing from their lives, leaving them lonely, disconnected and, often, angry. Earlier this year, Surgeon General Vivek H. Murthy declared the country to be in an "epidemic of loneliness and isolation." National suicide rates have risen in recent decades, and men in 2021 died by suicide at a rate nearly four times higher than women, according to the American Foundation for Suicide Prevention.
American men's isolation stems in large part from a pervasive cultural belief, experts say: that men should be self-reliant and hide their emotions, especially from other men.
Today, a battle over the face of American masculinity is underway. Popular music, action movies and leaders like former president Donald Trump and Sen. Josh Hawley (R-Mo.), author of the recent book "Manhood: The Masculine Virtues America Needs," push for a more aggressive model.
Such conceptions, though, leave no room for vulnerability, said Mark Greene, founder of Remaking Manhood, a consultancy that works with organizations to help improve men's professional relationships.
"If a boy expresses too much emotion or too much need for connection, is too giddy, is too joyful, what we say to that boy is, 'What are you, a sissy? What are you, a girl? What are you, gay?'" Greene said. "It's your job to dominate those around you, or you will lose status, and that will increase the number of individuals above you who can dish out dominance to you. And what we find is that in that system, in that structure, men are constantly in competition with each other and constantly driven by this sense of anxiety."
Niobe Way, a professor of developmental psychology at New York University and the author of "Deep Secrets: Boys' Friendships and the Crisis of Connection," said many boys are raised with what she called "the cowboy mentality – 'I can do it myself, I don't need others,'" often perpetuated by "the father wanting the son to man up and not be so soft. . . . The whole model of getting help is part of so-called femininity."
As a result, she said, "Women end up being the therapist for their husband, and more are getting sick of it."
But some men are looking for alternatives, and some are finding them in fellowship organizations with names like EvryMan, the ManKind Project and the Journeymen, the group doing breathwork that night in D.C.
"We have all these groups that are just spontaneously coming into being, as men say, 'I want a circle of men that I can call my brothers, I want a circle of men that I can express what's going on for me emotionally, and I want a circle of men who will hold me accountable in positive ways,'" Greene said.
The theme of the Journeymen's gathering in April, their first in-person meeting in D.C. since the pandemic, was "heartbreak and grief." As the sky turned cobalt, Williamson implored the men to sense their emotions and "let them flow freely," to raise their voices and "release them into the darkness."
The men yelled, growled and bayed until neighborhood dogs started barking; voices rose to a frenzied pitch, then subsided. Williamson embraced a man who was sobbing. One man hugged himself. Then it was time to sit in a circle and open up. Joshua Cogan, the group's founder, spoke first.
"People here have gone through a lot in our lives, some in the last few months. As we move through the world as men, sometimes it can be hard to have a sense of that," he said. "All that which has been unnamed and unfelt, it's actually been felt, it just hasn't been dealt with. We put up a stiff arm and won't let the other guy into our lane of traffic, we don't want to make eye contact because if we did, we'd have to let him into our lane and show up really differently in the world."
As a man, he said, "you can sense that there are deeper things that are happening in men's lives, but when you bring it up the subject is changed. If guys' lives are a house, they only let you see the living room with the plastic on the furniture. And you're like, 'Hey, I'm hearing some baying in the basement.' But we don't talk about that."
Going around the circle, they began to talk about what lurked in the basement. One had lost his sister a few months earlier. Many talked of fraught or violent relationships with their fathers – or of not having a father around.
"My mom was a single working mom in D.C.," said Adrian Heizmann-Checa, 45, of Cathedral Heights. "I was scared she was going to get killed. I'm 7, 8, 9 years old, crying, 'Where the hell is my dad, where the hell is my mom,' in a basement in Adams Morgan. . . . So I just [had] to become a self-reliant superhero."
Julian Sanders, 31, of Northwest Washington, a first-time participant, said his father used to beat him when he was as young as 6. "A lot of my pain and fear of not being good enough came from feeling weak – I wasn't strong enough to protect my mother, I wasn't strong enough to protect my brother, to take care of my family," he said.
Mero, the accountant, who was also a first-timer, nodded. "My father beat the crap out of me," he said. "I watched my mother take it. We were a big family. When I saw her take it, I knew she was taking it for us. I felt her strength."
The toll of American loneliness is steep. The condition can increase the risk of premature death to a degree comparable to smoking 15 cigarettes a day and correlates with an increased risk of heart disease, stroke and dementia. "Humans are wired for social connection," said Murthy, the surgeon general, "but we've become more isolated over time."
Cogan, a D.C. photojournalist, started the Journeymen in 2019 after his wife noted that he was on the phone with his male friends for hours each day, listening to them talk about what was going on in their lives.
"I saw guys suffering with their sense of identity, their sense of self-worth, their sense of belonging, their sense of their rights to their pain," he said. "I'd see a guy who'd be drinking really heavily. . . . They'd come over and start talking about their relationship or lack of relationship. Next minute they'd sober up, they didn't want to talk about it anymore."
Cogan, now 47, had been working through his own personal difficulties: the end of a previous relationship; his at-times fraught relationship with his father; the bullying he had suffered as a child. Now, he said, he was often the only man his male friends were talking to. "My intuition is that I was modeling openness," he said. "They saw me talk about my relationship, crying, going to therapy. They saw me as a safe harbor."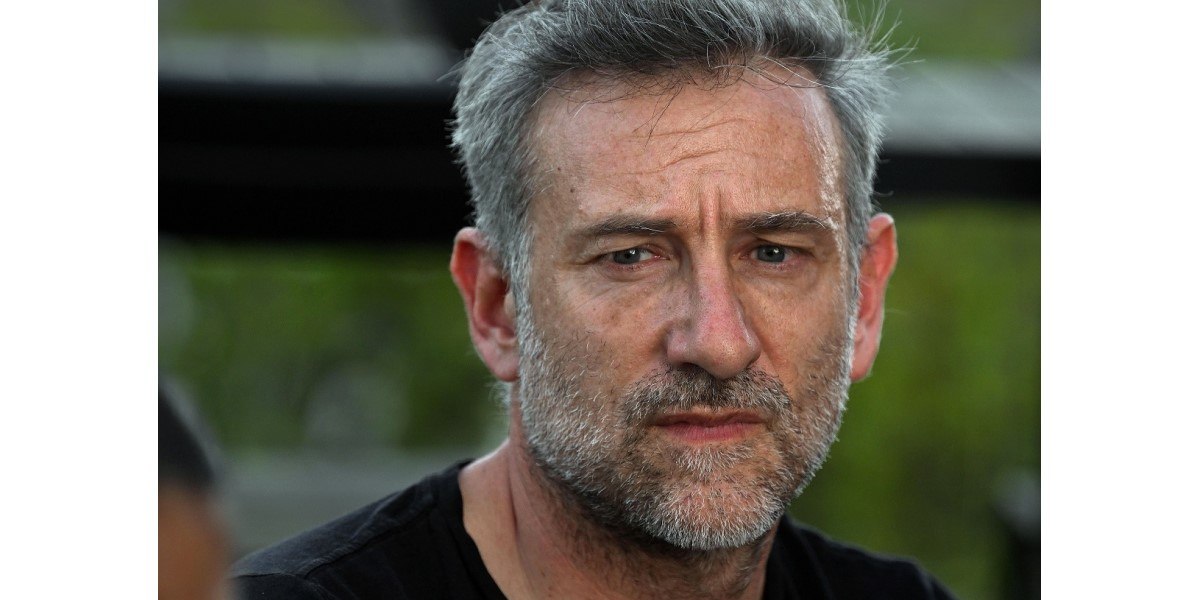 For many men, he said, "The world isn't safe. There's no expectation that a guy in our culture can say, 'I'm scared, I've got fear.' There's no expectation that a guy can ask for safety in our culture. A lot of the guys I know, they can't even do this with their partner."
But in recent years, Way said, men have witnessed societal movements such as the #MeToo movement and Black Lives Matter, which also challenged old paradigms. "Then covid happens, and we hit the bottom of the barrel on connections," she noted. "We can't walk out of our homes. We woke up to see we are a mess, and we're not having the connections we want, and we're not actually happy."
Journeymen members describe their sessions, which can be in person or virtual, as releasing a weight they had long carried. They say the sessions help them be better fathers and husbands, better friends to other men.
The group had been gearing up for its first multiday retreat when the pandemic hit; it had to be canceled. Members began meeting monthly on Zoom, and the group eventually expanded to roughly 200 men across the nation and beyond, with chapters in Bozeman, Mont., and the Dominican Republic. The retreat finally took place last year in West Virginia, with 40 participants ranging in age from 28 to 75.
In April, the men listened as Mero described how, as the oldest of eight children growing up in Queens, he was "the one who made sure everyone has to be okay."
After his father moved back to his native Ecuador, they didn't talk for 10 years. "But a year before he passed away, I went down there to clear the air. I never cried, never grieved so much as I did that day, and oh, it felt wonderful. I'd never felt so good," Mero said. "I cried for everyone in my family. . . . Staying in his hometown, all his brothers and sisters, seeing where he came from, I don't want to justify it, but . . ." Mero trailed off.
"Thank you," Sanders said. "I was able to have a glass of wine with my father. He's a hood dude from D.C. He's one of 10 kids. He can name everyone on his block that was dead. More people on his block his age were dead than were alive. Unfortunately, as men, we have to be careful because our pain can be destructive. . . . My grandfather was born without a name. His father was the son of a slave. He had to join the army and name himself and jump out of planes and raise a family."
Now, Sanders said, he wanted to break the cycle of violence. "So we aren't the story that the next generation sits in a circle and tells about. So they can say, 'Wow, I loved my father, my father was the best thing that happened to me.'"
Add TheJapanNews to your Google News feed.