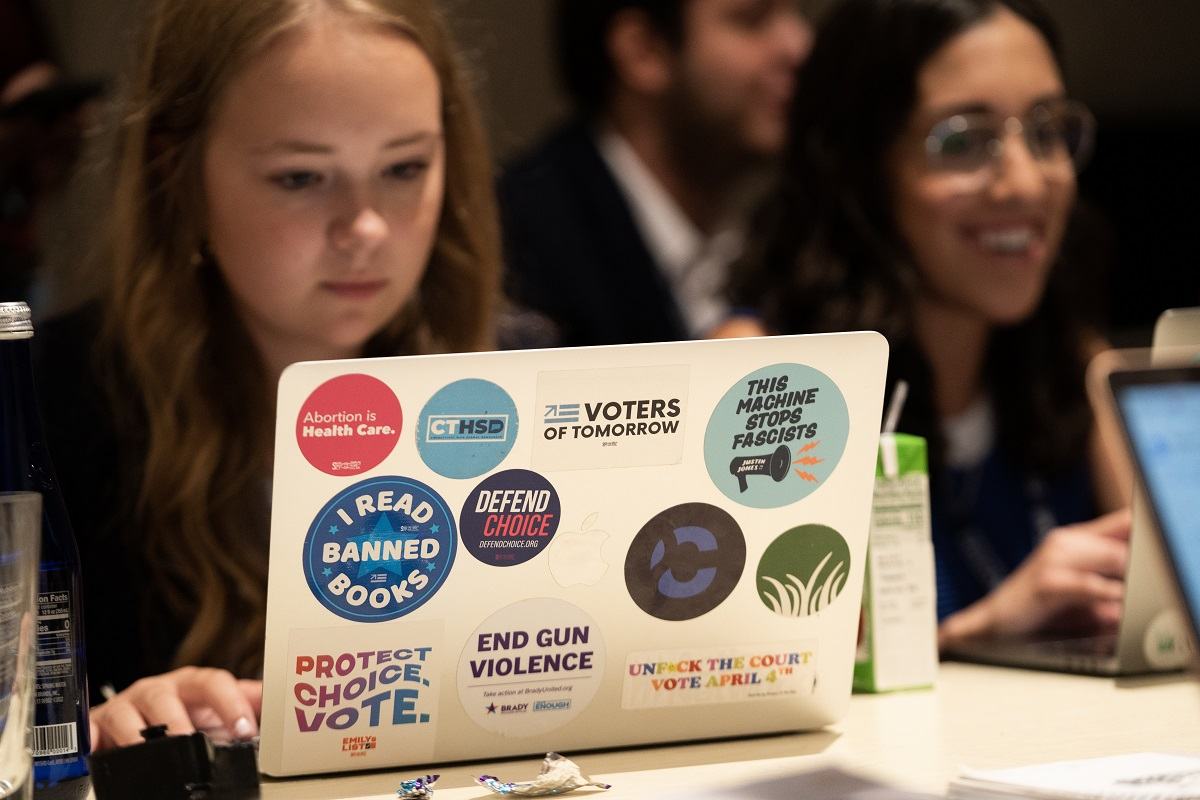 15:35 JST, August 7, 2023
At a conference in Washington aimed at activating young conservatives, former Wisconsin governor Scott Walker kicked off his speech by talking about the Iran hostage crisis and preparing for nuclear attacks as a member of the "Cold War generation" – events from decades before many of the attendees were born.
"In many ways I can commiserate with all of you. You may not have 100,000 protesters in your classroom, but it may feel like it, right?" said Walker, 55, comparing the protests he faced as the 45th governor of Wisconsin to the "intimidation" that Republican students face on campus.
Two days later, 21-year-old Santiago Mayer, executive director of the Democratic-aligned Voters of Tomorrow, took aim at Walker in his opening remarks at the group's conference across town.
Young America's Foundation, which held the conservative conference, is "an organization which is ironically dedicated to eliminating our freedoms and rights [and] is led by Scott Walker . . . who lost his seat when college students across Wisconsin turned out in droves to vote him out," said Mayer, a Mexican immigrant who founded VOT as a college student in California in 2019. "Let's be honest, these groups are bulls—."
Hundreds of students from across the country descended on the nation's capital late last month for the dueling conferences as Democrats and Republicans seek to boost their appeal with young voters ahead of 2024. Although the events were separated physically by only two miles, they underscored the vastly different ways Democrats and Republicans view and organize young people, who have tended to vote for Democratic candidates in recent elections.
And attendees at both events echoed a similar sentiment: Neither political party is doing enough to reach young voters, despite the fact that Gen Z and millennials are expected to make up nearly 40 percent of the electorate in 2024.
Walker, a previous presidential candidate and the president of Young America's Foundation (YAF) – a youth organization founded in the 1960s that calls itself "the principal outreach organization of the Conservative Movement" – agreed that the Republican Party has fallen short with younger voters, noting worse-than-expected Republican losses in the 2022 midterms.
"For all the talk about a red wave last year, the biggest reason it didn't materialize wasn't candidate selection, it wasn't a given issue – those are factors – it was young people, 18- to 29-year-old voters, in key states like mine in Wisconsin, Arizona, Nevada, Pennsylvania. They went with the more liberal versus a conservative candidate by 40 points or more in those key battleground states," Walker said in an interview with The Washington Post.
"I don't think anyone thinks that a conservative Republican candidate is going to take, you know, the majority of younger voters," he added.
In 2022, only 38 percent of voters 18 to 29 were contacted by the Democratic Party, and 33 percent by the Republican Party, according to the Center for Information and Research on Civic Learning and Engagement (CIRCLE) at Tufts University.
"That's definitely not enough from either party to be actually reaching a wide range of young people, especially those who are just turning into eligible age since the last federal election," said Kei Kawashima-Ginsberg, the Newhouse director of CIRCLE.
At YAF's National Conservative Student Conference, Walker praised Republican presidential candidates Sen. Tim Scott (R-S.C.) and Vivek Ramaswamy, the millennial tech entrepreneur, for making efforts to reach young people. All 2024 GOP candidates were invited to speak, but Ramaswamy was the only one to attend.
Ramaswamy, who headlined a day of the conference, only briefly alluded to his controversial proposal to pass a constitutional amendment to raise the voting age to 25 unless people meet requirements such as passing a civics test or serving in the military, a proposal that drew criticism from young people in the GOP.
The conservative conference also hosted Cleta Mitchell, a Republican lawyer who previously told a roomful of GOP donors that conservatives must band together to limit voting on college campuses, same-day voter registration and automatic mailing of ballots to registered voters.
While advocates of campus voting say such a restriction could make it harder for young people, who tend to vote for Democrats, to cast their ballots, some students at the conference agreed with Mitchell.
Rico Riccardi, a 21-year-old attendee from Gettysburg College, said he agreed with Mitchell's stance.
"By having tons of access on campus to voting not only are you getting people to vote with a terrible track record, but you're also having people coming in from out of state to vote on issues that aren't really going to affect them and where they're from," he said.
VOT spokesperson Jack Lobel said inviting speakers like Mitchell and Ramaswamy to an event focused on young voters is hypocritical and "a clear sign that not only are [Republicans] willing to pass policies that actively attack our generation, but they've simply given up on our generation."
Mayer, VOT's director, said, "What it really shows is that they are by and large out of touch."
Walker dismissed the suggestion that he is out of touch with Gen Z because of his age, pointing to the 2024 Democratic front-runner, President Biden. At 80 years old, he's the oldest sitting president in U.S. history and will be 86 at the end of a second term if reelected.
"They'll all be talking about how great Joe Biden does, and he is literally a quarter-century older than I am," he joked.
At the Watergate Hotel – where an open bar offered only nonalcoholic beverages, fitting for attendees as young as 14 – the VOT event hosted Rep. Maxwell Frost (D-Fla.), the first Gen Z member of Congress, and former House speaker Nancy Pelosi, who is 83, as the headliner.
Leaders who spoke at the conference, which was sponsored by Building Back Together, an outside group that works to advance the policy agenda of the Biden administration, spoke optimistically about the administration's engagement with young voters. But attendees were less convinced, and many expressed hesitations about Biden running for a second term.
At one point, White House press secretary Karine Jean-Pierre was interrupted during her remarks at the event by Elise Joshi, the 21-year-old executive director of Gen-Z for Change.
"Excuse me for interrupting, but asking nicely hasn't worked out. A million young people wrote to the administration pleading not to approve a disastrous oil drilling project in Alaska, and we were ignored," Joshi said.
Jean-Pierre asked organizers to let Joshi continue with her question, praising her courage. Then the press secretary talked about things Biden has achieved or can aim to accomplish in a second term.
While many attendees expressed enthusiasm for the president, just as many voiced concern that the Biden administration and the Democratic Party aren't doing enough to mobilize Gen Z.
"I think he's doing better. He could do a lot better," said Marisa Weinberg, 21, a rising senior at Towson University. "Obviously I'd like someone younger and a bit more progressive, but if that's the only option I'll take it and push him to do better," she said.
Downtown at the JW Marriott, attendees at the conservative conference offered suggestions on how the GOP can better reach young people.
Ryann Goldberg, 20, a student at Dallas Baptist University, suggested Republican candidates and elected officials should meet Gen Z where they are: on Instagram and TikTok. "We're like, oh, I found it online, but really it was TikTok," she laughed.
Many GOP politicians have rejected TikTok over the app's ties to China. Walker said he's not on TikTok, but acknowledged that Young America's Foundation as an organization has had success on the platform.
"I'm not going to concede that territory," he said. "There may be inherent problems, but we still need to figure out ways to get to young people."
One attendee suggested that the GOP could appeal to younger voters by using vibrant design and colors in event programming.
"I always think of the Republican Party as like strict red, white and blue, very traditional, and I think that can be a turnoff for people our age," said Mary Wetterling, a 21-year-old illustration major at the Milwaukee Institute of Art and Design. "There's ways to go about it in the traditional sense and make it more fun, and like, bright, and oh, this looks inviting, I want to hang this on my wall kind of thing."
YAF's event featured more than two dozen pastel and brightly colored sticker options, with messages such as "unborn lives matter," "to hell with socialism" and "girls just wanna have guns." The stickers were set out for students to take alongside fliers advertising methods to get paid to report "liberal bias" on campus.
But for many young voters, the disconnect lies not in visually creative messaging, but in political values. Gen Z voters overwhelmingly supported Democratic candidates in November's midterms, aligning with candidates on abortion rights, gun control, climate change and protections for the LGBTQ+ community.
"Democrats are not indoctrinating anyone. Young people are liberals because young people have empathy and young people care about others," the VOT's Mayer said.
On the opening day of the YAF conference, many of the organization's posts on Twitter focused on gender and transgender people, a messaging decision that Walker said comes from students reporting being "bombarded" with the issue on campus.
"I prefer to talk about economic policy and fighting communism," he noted, adding that YAF is not against transgender people, just against gender-affirming care for minors. He also cited opposition to transgender athletes as a hot topic in the GOP primary.
Callie Whicker, 19, a student at American University who attended the Democratic-aligned VOT event, said the GOP's focus on gender-affirming care for minors and rhetoric around transgender people is hurtful.
"I feel like a lot of Gen Z is definitely for pro-trans people, and I'm trans, so I'm definitely pro trans rights," Whicker laughed. "They're not having the whole picture of what gender-affirming care is. And that can even just be therapy. But they're just taking stuff out of context and out of proportion and kind of blowing it out of the water. It bothers me a lot."
While Republicans' success at attracting more Gen Z voters in 2024 remains to be seen, experts say that age group is not guaranteed for Democrats.
"Though they're voting for Democrats, the young people really distrust both the Republican Party and Democratic Party," Kawashima-Ginsberg said.
There's "a lot of space for both parties" to increase their youth outreach, she said, adding that although young people are often thought of as all being Democrats, they are not a monolith.
"I think there are a lot of establishment figures in the Democratic Party who really aren't doing enough to show young people why we should vote for them," said Ayden Whitted, a 17-year-old high school student from New York state.
Whitted, who credits Sen. Bernie Sanders (I) with getting him involved in politics, said he would like to see other Democrats challenge Biden. "I don't think he [Biden] is the best the Democratic Party has to offer," he said, noting a "perception issue" with younger voters given Biden's verbal gaffes and his onstage fall during a U.S. Air Force graduation ceremony.
Biden has a history of verbal blunders and gaffes, a tendency the president himself regularly makes light of. During a 2008 campaign event, Biden paused and asked a man in a wheelchair to stand up and be recognized. Last year, he called out to a recently deceased congresswoman during a conference on combating hunger, attempting to acknowledge her from the stage and apparently forgetting that she had passed away a few days earlier.
Walker says Republicans can make inroads by visiting college campuses and going beyond traditional media to appear on YouTube channels and on podcasts.
"One of the biggest mistakes that I think conservative Republicans have made for years is we've just ignored young people. We've largely bypassed college campuses," Walker said.
To that end, YAF has partnered with Fox News and the Republican National Committee for the first Republican primary debate, and it solicited questions from conference attendees to be potentially posed to the 2024 field in Milwaukee on Aug. 23.
The organization will also host a block party in Milwaukee before the debate featuring conservative influencers in an effort to court younger voters.
"We don't have to take a majority of 18- to 29-year-olds," Walker said. "We just can't get creamed."
Add TheJapanNews to your Google News feed.