Surge of Homicides in D.C. Leaves 13 Dead in August's First 5 Days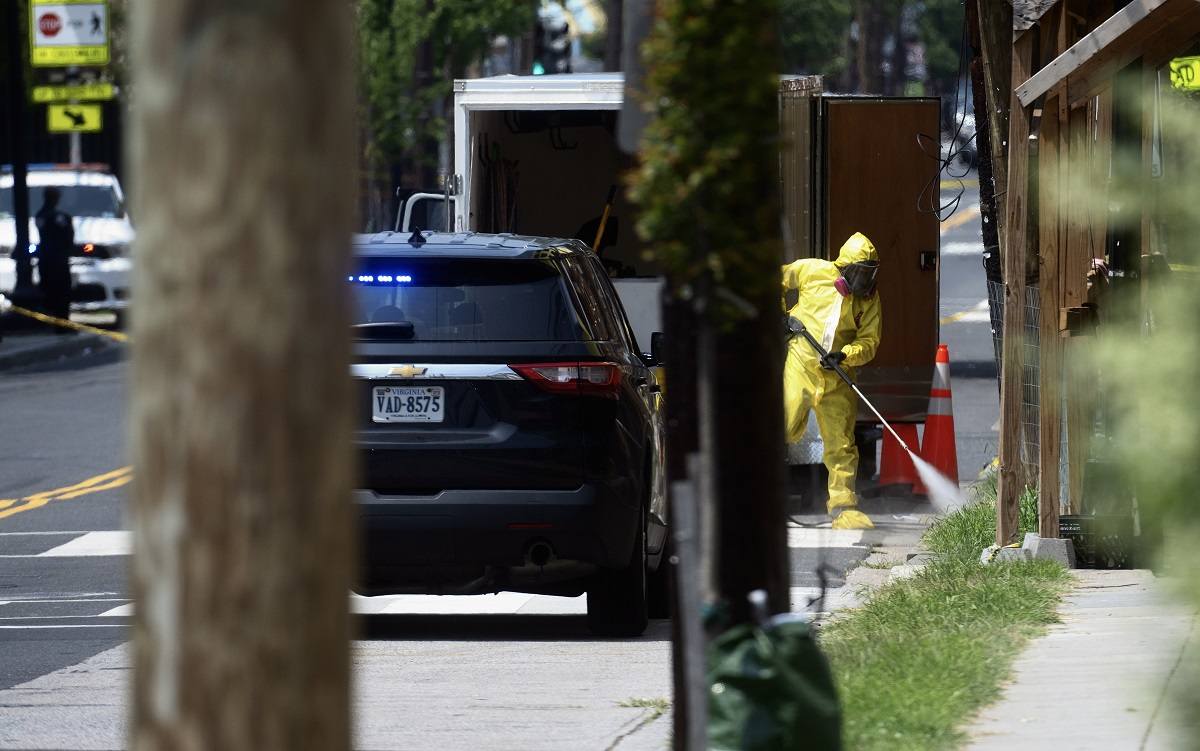 15:32 JST, August 7, 2023
WASHINGTON – A surge of shootings in D.C. that left 13 people dead in the first five days of August has rattled neighborhoods from Adams Morgan to Anacostia, with each new victim a grim reminder of the city's failure to contain violent crime.
Nothing officials try seems to have much effect – at least in the short term. July began with 10 killings in five days, pushing the city's homicide count toward its highest mark in two decades. The D.C. Council then passed emergency legislation making it easier to detain those accused of violent crime while awaiting trial, while the mayor selected a new chief to lead the police department, replacing a popular leader who left for a job with the FBI.
But when the calendar turned, not much seemed to have changed.
Council Chairman Phil Mendelson (D) said Sunday he has asked the new police chief to give lawmakers suggestions on providing "more resources for the police." Council member Trayon White Sr. (D-Ward 8), whose district includes the place where three people were fatally shot and two others wounded Saturday night, said in a text message, "We need the National Guard in D.C."
"The crime is out of control and getting worse by the day," White said. "Kids and innocent people are getting killed. It's becoming status quo with no end in sight."
D.C. has recorded at least 158 homicides this year, according to a police spokesman, an increase of about 22 percent over this time in 2022 that puts the city on a trajectory for its deadliest year in two decades. Homicides have dropped in other major cities, including Baltimore, Chicago, New York and Philadelphia.
On July 17, Mayor Muriel E. Bowser (D) nominated Pamela A. Smith, who spent the bulk of her career with the U.S. Park Police and had joined D.C. police only 14 months earlier, as the department's leader. She is awaiting council confirmation. While council members and residents say she has not been in the job long enough to fairly answer for the increase in crime, they are eager to see how she responds.
Three weeks into the job, Smith has ventured to at least three homicide scenes to address reporters. She has also been met with demands by angry and frightened residents for the violence to stop.
She has said her team is deploying officers to high-crime areas to get ahead of emerging patterns of violence, even as the department struggles with staffing at half-century lows.
"Our officers are where they need to be," Smith said after five people were shot, three of them fatally, Saturday night in the 1600 block of Good Hope Road SE, in Anacostia. "Our expectation is that the community will respond to us accordingly so that we can continue to keep your city safe."
A police spokesman said Smith was not available for an interview Sunday and declined to provide additional details on the recent shootings.
But Lindsey Appiah, the deputy mayor for public safety and justice, said in an interview that she shares residents' frustrations. She said Bowser has made "public safety a top priority," and she called the latest shootings "brazen in nature," noting police were close by for two of them and had already made an arrest in one.
"There needs to be accountability for those who are actually the ones committing crime," she said.
This weekend's violence began early Saturday when police said three men were shot on Ontario Road in Adams Morgan, two blocks from the bustling strip of bars and restaurants along 18th Street. Two of the men died and the third was critically wounded; their names have not been released.
Later that morning, police said Andre Baker, 19, of Southeast Washington was fatally shot at 12th and U streets NW, the heart of that area's nightlife strip. Police said they arrested and charged David Botchway, 20, of Maryland with first-degree murder. No additional information was immediately provided.
Then, late in the evening, three people were shot and killed at 16th Street and Good Hope Road in Southeast. That brought to six the number of people fatally shot on Saturday, the most in a single day in the District this year. Police have not released the names of those victims.
Smith visited the scene of the day's final shooting, calling it "very disturbing" but asserting the area was "not a war zone." Mendelson said Sunday he still thought the chief would be confirmed, saying she was "coming in at a difficult time." But he said he was eager to see police arrest more homicide suspects.
"A more immediate strategy to reducing violence is closing cases and prosecuting them," he said.
Police continued to examine that sprawling shooting scene on Good Hope Road through Sunday morning, cordoning off the length of three city blocks of shops, apartments and tree-lined homes.
At least 30 white circles could be seen marking apparent evidence in the case; a car had a bullet hole in its driver side door. There were packages of Narcan, a nasal spray to reverse opioid overdoses, in the grass. Beneath a wooden awning were remnants of a violent night: a wound seal kit, a bottle of liquor and a pack of cigarettes. People sat on the steps of a church nearby, appearing to inject themselves.
Police removed the security tape after lunch Sunday, and people quickly returned to the area, some walking past broken glass to enter the liquor store. Others, like 67-year-old Jerome Morgan, spent part of the day with a spatula grilling hamburgers in his backyard.
Morgan, who lives a few blocks from where the shooting occurred, said police and rescue crews reached the victims quickly, but he wished they had done more to prevent the violence in the first place. He said he heard the gunshots, saw victims put into ambulances and one person being given CPR on the street.
"Where were the detectives before that?" he said. "Where's the undercover cops?"
Hakim Arnold, 48, said he has seen police sitting in the area nearly every night, but gun violence is hard to predict and prevent.
"There's no telling when it's going to happen," he said.
James Black, 42, said people aren't sure what changes the new police chief will bring, but he is optimistic. "I think she can do a good job," he said. But, he added, "We don't know what she can do, if the killings don't stop."
"A lot of people can't handle the killing every day," he said.
Patrick O'Keefe, who has lived near 16th and Good Hope for the past five years, said he and his neighbors have repeatedly complained to police and other agencies about what they assert are people openly dealing and using drugs, playing loud music, illegally parking and congregating at all hours.
"They won't even stop for a day, even with a dozen cops here, because they know nothing will happen to them," O'Keefe said. "We're not asking the police to come up with miracle solution. They just need to enforce the laws as they are written."
He said he is frustrated by continued talk from city officials and local leaders of addressing underlying causes of crime, such as poverty and substance abuse. "That's all they want to talk about is their long-term plans and creative solutions," O'Keefe said. "Meanwhile, people are getting massacred."
Appiah, the deputy mayor, said teams of police officers, drug outreach workers and representatives from other agencies are at Good Hope and 16th every Wednesday to help people.
"When people commit crimes, and we arrest them, we want them out of [the] community," she said.
But she said some cases, such as those in which people are accused of possessing small amounts of drugs, are difficult to prosecute. She said police often work at "building larger cases to give our prosecutors an opportunity to be more successful."
Police have targeted large-scale operations in Congress Heights, where a 6-year-old girl was killed, and more recently along Kennedy Street in Brightwood Park. Appiah said police in D.C. confiscated about 200 illegal firearms over the past two weeks.
On Sunday, police said they were investigating two shootings in Northwest and Southeast Washington with victims suffering life-threatening injuries.
"It is challenging," Appiah said.
Add TheJapanNews to your Google News feed.