What's the Best Budget Suitcase? Our Tips for Finding Affordable Luggage.
17:16 JST, August 6, 2023
Traveling has always come with complications. Our By The Way Concierge column will take your travel dilemmas to the experts to help you navigate the new normal.
"What's a reasonably priced suitcase that will last? Do you have carry-on recommendations in the sub-$250 range? I'm always buying $80 suitcases with wheels that die after a year, but I also don't want to buy a $300-plus bag on principle." – Anonymous
$80 won't get you far in the luggage world. With options under $100, you run the risk of getting the Shein of suitcases: made fast and cheap, destined for a landfill. But there's still hope yet with sales, secondhand steals and stores like T.J. Maxx.
To find you a trustworthy bag that will stand the test of time and tarmacs, I gathered dozens of recommendations from flight attendants, travel writers, foreign correspondents, heavy commuters and other frequent fliers. Let's unpack their picks.
The best duffel bags and backpacks
Because I'm in my no-wheels era, happily toting a large North Face Base Camp Duffel ($159), let's start with duffel bags and backpacks. I believe with no wheels, you're more nimble and are rarely asked to gate-check.
Travel writer Sebastian Modak – who spent 2019 running around the world as the New York Times 52 Places Traveler – carries both these days and is a devotee of the brand Peak Design. He was originally drawn to the bags for their photographer-friendly compartments, but he fell in love with them for their durability and sleek look.
"The backpack that I used for the 52 Places trip still looks like the same as the day I bought it," he said.
Peak Design bags are not cheap, but they're a value. They're also fair-trade certified, carbon neutral and weatherproof. The 45L travel backpack Modak toted for his New York Times gig is about $300, and the 30L backpack he uses more often now is $230. He also has the 65L travel duffelpack ($220).
Their traditional duffel bags are a little less expensive. The 35L travel duffel is international carry-on approved and $140. For more room, there's also a larger 65L option (described on the website as a "a monster gear-hauler") for $170.
I polled some other frequent travelers: Samantha Schmidt, The Washington Post's Bogotá bureau chief, says she's been using her Osprey backpacking bag since 2011 (you can find them for about $200). Tiffany Funk, co-founder of rewards site Point.me, stands behind her Cotopaxi 50L Allpa duffel bag ($140) for its creative pockets, including a separate compartment for shoes or dirty clothes, and its ability to be worn as a backpack.
The best luggage with wheels
If you want wheels, Modak is a fan of Travelpro, a longtime favorite of flight crews (seriously, look at this story from 1994). Available in hardside or softside, there are some Travelpro carry-on models in the $150 range, but many of their rollaboards top $300.
"I got it because like every flight attendant I ever saw was using it, and I thought 'If it's good enough for them, it's probably good enough for me,'" Modak said of his Travelpro.
If you need more proof: A pilot told me he's been using a Travelpro FlightCrew 5 carry-on that he found on Amazon for $150 for more than eight years. Travel coach Allie Bahn said she's had her Crew 11 Hardside Carry-On Spinner (now $229) since 2016. Funk has flown more than a million miles across 55 countries with her 21-inch Travelpro Maxlite 5 expandable spinner since she bought it in 2011.
New York City-based flight attendant Keven Dorvil swears by his expandable Travelpro Maxlite 5, which is $144 on the brand's website, but I've seen for about $100 on eBay. (A colleague also told me he found his Travelpro for a great deal at Nordstrom Rack.)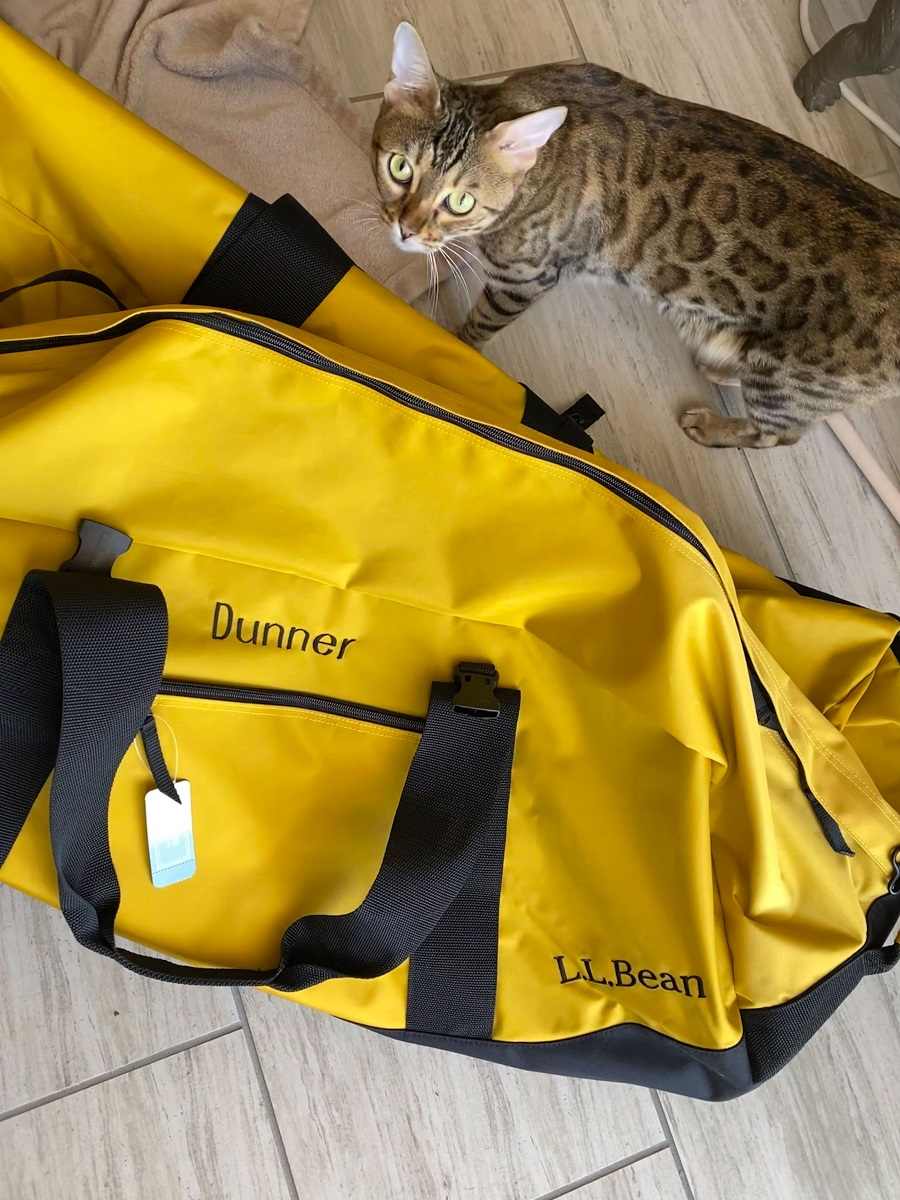 "Everyone's pretty loyal to a brand," says Missy Roemer, a flight attendant for private planes.
For work, Roemer uses a 22-inch Briggs & Riley Baseline carry-on that she got for $500 (it's now closer to $700) and a smaller cabin roller for $250, plus a Beis tote ($128). For her personal travel, she used a Samsonite carry-on for two decades until a handle recently broke.
Roemer's new go-to bag is the L.L. Bean Adventure Rolling Duffle Bag. She has the $179 extra large 137L model.
"I was totally against it when I saw it was a duffel, but now I am obsessed with them," Roemer said. Her fiancé George Dunn, a pilot, got it for Roemer, and she worried her stuff would tumble around inside. "But that really doesn't happen."
The duffel is made with water-resistant coating, can stand upright without tipping and was tested in extreme ways for durability. (For example, the bag's "backing was tested for 24 hours in our deep freeze with no signs of cracking, flaking or peeling," the product description says.) As an added bonus, L.L. Bean monograms the bags for $8.
Most importantly, the bag has a lifetime warranty. Roemer always reviews a brand's warranty because it can be an indicator of how confident the company is in their product.
"If it's a lifetime warranty, they believe in their brand, and they're pretty secure in being able to fix it," Roemer said. She recently saw a Tumi bag that had a one-year warranty and another with a three year-warranty. "I thought they must believe in one a little bit more," she said.
If you're considering the ultra-popular Away brand, it has serious fans, from campaign trails to the Caribbean. They're lightweight, durable and have a great reputation for their warranty. Duncan Greenfield-Turk, managing director and chief travel designer for Global Travel Moments says his Bigger Carry-On was the best luggage purchase he's made.
But Away bags have gone up in price since the company started in 2015, and now cost upward of $300. (I got my Away carry-on for $225 in 2016.) Greenfield-Turk says the brand does go on sale sometimes, or you can look for one secondhand.
One big takeaway from my many interviews: People do spend a ton of money on luggage – particularly travel professionals whose bags are part of the job. One travel writer friend told me he's a Tumi guy, and those start at $650. His backup is a Zero Halliburton, which can go on sale for like $350. Konrad Waliszewski, CEO of @hotel, says Nomatic carry-ons are the most versatile and space efficient in the game, but start at $399. Roemer's fiancé rocks a $1,600 Rimowa number.
You can hunt for these top-tier brands with warranties on secondhand marketplaces such as Poshmark and The RealReal, look for deals at outlet stores or just splurge and buy new.
"If there's anything to spend $300 on, it's luggage," Modak said. "Maybe not $1,000. But there's a sliding scale."
Add TheJapanNews to your Google News feed.