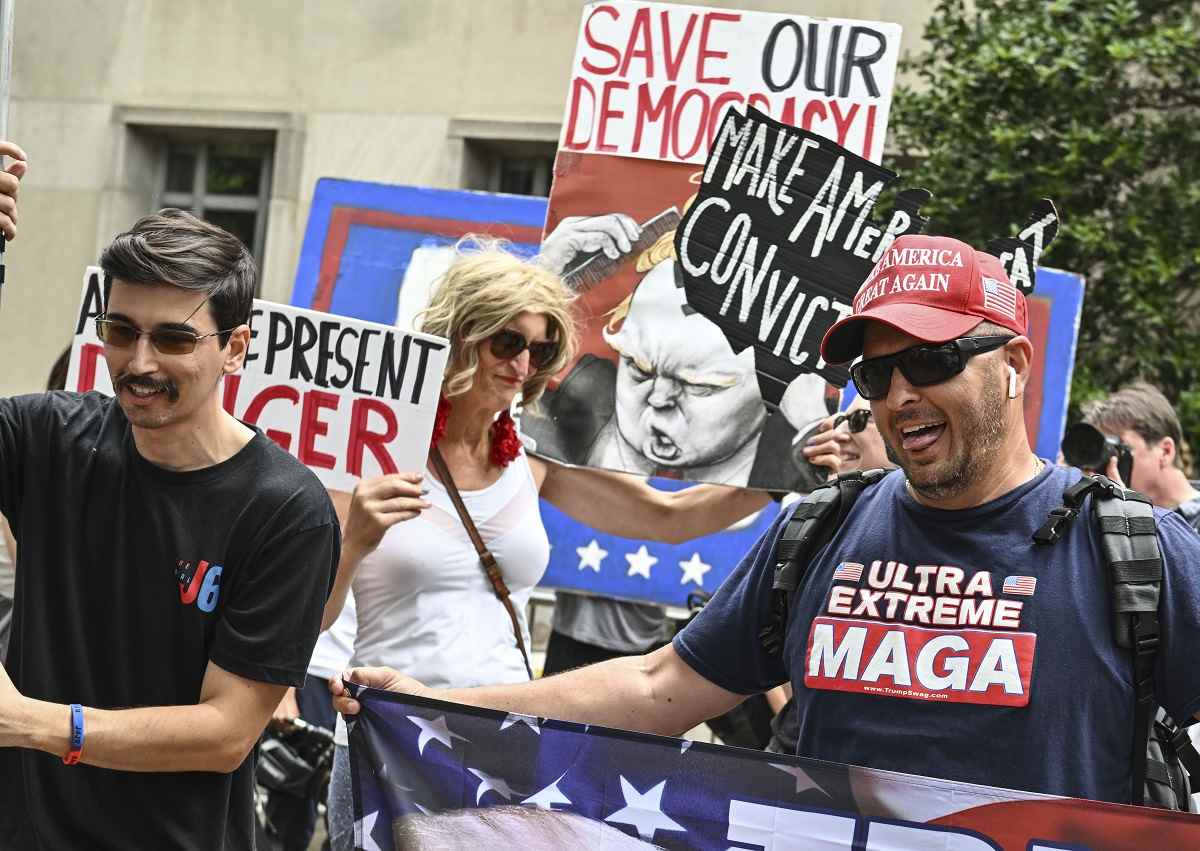 17:09 JST, August 6, 2023
In the hours after former president Donald Trump was indicted Tuesday, President Biden dined at a seafood restaurant, stopped by a movie theater to watch the summer blockbuster "Oppenheimer" and took a twilight stroll on the beach. He did not issue a statement on the indictment of his predecessor for allegedly seeking to overturn the last election.
America's other living presidents – Barack Obama, George W. Bush, Bill Clinton, Jimmy Carter – also stayed mum on the matter. Rushing into the void, partisan actors unleashed bitterly accusatory rhetoric that threatens to engulf both the court case and the presidential race.
The indictment's aftermath has showcased how the country lacks a trusted singular voice of moral authority, one who could speak out on one of the most contentious and consequential judicial actions in political history: a former president charged with conspiring to undermine the nation's democracy. If President Richard M. Nixon's resignation in 1974 yielded the reassuring presence of CBS News anchor Walter Cronkite, moderate Sen. Howard Baker (R-Tenn.) and – at least until he pardoned Nixon – incoming President Gerald Ford, this moment conspicuously lacks such a figure.
"There's nobody that the public at large is willing to listen to, because the trust in government has corroded to such a low degree," said Douglas Brinkley, a presidential historian and author of a biography of Cronkite. "And the polling on journalists, the Supreme Court, Congress, the presidency – they're all low. People aren't admiring our public servants."
For Biden, who was vacationing in Rehoboth Beach, Del., when the indictment was unveiled, the public reticence is part of a long-running strategy to insulate his White House from charges of political interference in sensitive investigations of his predecessor. Trump's position as the current Republican front-runner to challenge Biden in 2024 and the ongoing legal difficulties of Biden's son Hunter have further restricted the president's ability to speak out.
Biden and the White House have largely refused to comment as Trump has faced a trio of criminal indictments in multiple jurisdictions and focusing on a range of activity before, during and after his presidency. But while Trump's prior charges involved alleged hush money payments to an adult-film star and the alleged hoarding of classified documents, the latest charges allege a more fundamental crime against the nation's democratic system – one that presidents are sworn to protect and expected to vocally defend.
As he seeks a second term, Biden, 80, has pitched himself as an experienced statesman working to restore the tenets of democracy after the Jan. 6, 2021, insurrection by Trump supporters. Tuesday's indictment – which includes charges of conspiracy to defraud the United States and to deprive people of their right to have their vote counted – could provide fodder for Biden's argument, but he has so far declined to make that case explicitly.
Biden's aides say that publicly commenting on Trump's legal case could play into their opponents' hands and undermine the principle of an independent justice system. At the same time, Trump has not hesitated to accuse Biden of engineering a political prosecution to skew the upcoming election.
"This is a persecution of a political opponent," Trump said Thursday after appearing in court to enter his "not guilty" plea. "If you can't beat him, you persecute him or you prosecute him. We can't let this happen in America."
Trump has long claimed to be the victim of persecution by a growing list of alleged saboteurs, including journalists, prosecutors, judges, military leaders, intelligence officials, former presidents and government bureaucrats – drawing once nonpartisan figures into the political fray. Amid the partisan squabbling over his latest indictment, no other national figures have been able to speak to the moment with a sense of gravitas that might be broadly accepted across political battle lines.
While history is full of examples of deep ideological divisions, today's battles lack a sense of "loser's grace" in which both sides agree to accept the outcome and move on, said Russell Riley, a presidential historian at the University of Virginia's Miller Center.
"What is distinctive today is not, essentially, that we don't have a common national figure both sides can turn to," Riley said. "The system wasn't built to require a Walter Cronkite to pronounce from on high that something is profoundly wrong. It was constructed on the premise that losers would accept the expressed will of the people. That's the responsibility of a loser. And when it is not exercised, the system wobbles."
Special counsel Jack Smith made a similar argument as he unveiled his 45-page indictment Tuesday, calling out Trump for inspiring the attack on the U.S. Capitol and the democratic principles it represents.
Trump's strategy of denigrating Smith and the broader justice system – with the implicit goal of effectively putting his case before voters rather than jurors – increases the likelihood that the 2024 race will be dominated by debates over the status of the nation's democracy, Brinkley said.
Elected officials, military brass and religious leaders are among the figures who have been viewed as authoritative voices capable of calming or rallying the populace during crucial moments in U.S. history, reassuring the nation that its principles hold fast.
Presidents themselves have often been called on to be the moral voice of the nation, appealing to its better angels at times of great tumult, tragedy or threat. As the country faced the throes of the Great Depression, President Franklin D. Roosevelt used "fireside chats" to reassure Americans and galvanize the country around a strategy for revival.
After the nation watched the violence of "Bloody Sunday" in Selma, Ala., President Lyndon B. Johnson spoke to a joint session of Congress and sent an unequivocal message by adopting the mantra of civil rights protesters: "We shall overcome."
President George W. Bush – whose own razor-thin 2000 election victory was ultimately accepted by then-Vice President Al Gore during a time of national angst – had to lead the country through tragedy less than a year later after the Sept. 11, 2001, terrorist attacks. "I can hear you," he said through a bullhorn as his stood amid the wreckage in New York three days after the attack. "The rest of the world hears you . . . And the people who knocked these buildings down will hear all of us soon."
All of those presidents enjoyed bipartisan popularity at a level that may no longer be possible. Even President Barack Obama, who governed at a more divided moment but whose voice was often sought out during times of racial strife, struck a chord with many when he sang part of the hymn "Amazing Grace" to commemorate the lives of nine Black parishioners slain by a white supremacist in 2015.
Technological advancements have altered the landscape significantly. Then-Sen. Robert F. Kennedy gave a powerful address to a largely Black crowd in 1968 several hours after Martin Luther King Jr. had been assassinated, and the news had not yet reached many of the people in the audience. Today, by the time a president or other leader can arrange to stand in front of a microphone, millions of Americans have already not only digested the news but formed opinions based on the media prism through which they consumed the information.
National institutions that were once at least somewhat removed from the vagaries of rank partisanship – including the military, the Supreme Court and the scientific establishment – have now been thrust deep into the nation's culture wars. Public opinion polling shows decline in broad support and trust in all three.
The media have been especially susceptible to the public's declining sense of trust. Viewers in the aftermath of Trump's indictment flocked to MSNBC or Fox News, receiving completely different depictions of what had just occurred.
"This is political germ warfare," Fox News host Jesse Watters, whose prime-time show is often the nation's most-watched cable news program, told viewers Tuesday. "These are political war crimes. It's an atrocity. It's like not just dropping one atomic bomb, you drop 15 dozen."
MSNBC host Rachel Maddow, in contrast, echoed the disbelief of many liberals that a figure like Trump gained power in the first place. "If the allegations made by the Justice Department in this indictment are proven, history will not ask how we got to the point where they had to indict a former president," she said. "History will ask, 'How did a person like this get elected to the U.S. presidency?' "
The bifurcated media environment has helped Trump maintain a robust level of support among Republicans even as he has faced three indictments in four months, Brinkley said.
"When Walter Cronkite left in 1981, you lost a referee on public affairs," he said. "And with the advent of cable and the internet and social media, it's completely balkanized. Now, everybody is a consumer of the media they want."
Unlike Nixon, who was forced to resign and bow out of politics when it became clear that leaders within his own party had turned against him over the Watergate scandal, Trump has seen his standing among Republicans grow along with his rap sheet.
While a few former Republican allies have spoken out against him in the wake of the new charges – including former vice president Mike Pence, former attorney general William P. Barr and former national security adviser John Bolton – they have found themselves largely isolated as the GOP has coalesced behind Trump.
Hunter Biden's legal predicament has also come into play as the president has opted to stay quiet about Trump's charges. Congressional Republicans have spent much of the past year investigating Hunter Biden, recently touting testimony by a business partner who alleged that the younger Biden used his relationship with his father as he was pursuing international business deals.
Trump's legal and political advocates have seized on that to paint the administration, the Democratic Party and the justice system as corrupt, saying without evidence that they are targeting Trump while protecting Hunter Biden.
"President Trump is under siege in a way that we have never seen before," Trump lawyer Alina Habba told reporters Thursday outside the federal courthouse in Washington, accusing the Biden administration of engaging in "election interference."
In the days since Trump's indictment, Biden has declined to address such allegations.
Riding his bike for the fourth day in a row Thursday, Biden ignored reporters' inquiries about Trump's indictment and answered brusquely when asked if he'd consider pausing to answer their questions: "Probably not," he said, riding by with a wave.
That afternoon, as the political world focused on Trump's appearance in court, Biden was holed up at his beach house. At 1:54 p.m., reporters were advised that he would have no other public activities for the day.
Add TheJapanNews to your Google News feed.