Turkey's Earthquakes Turned This Town into 'Nothing.' Can It be Saved?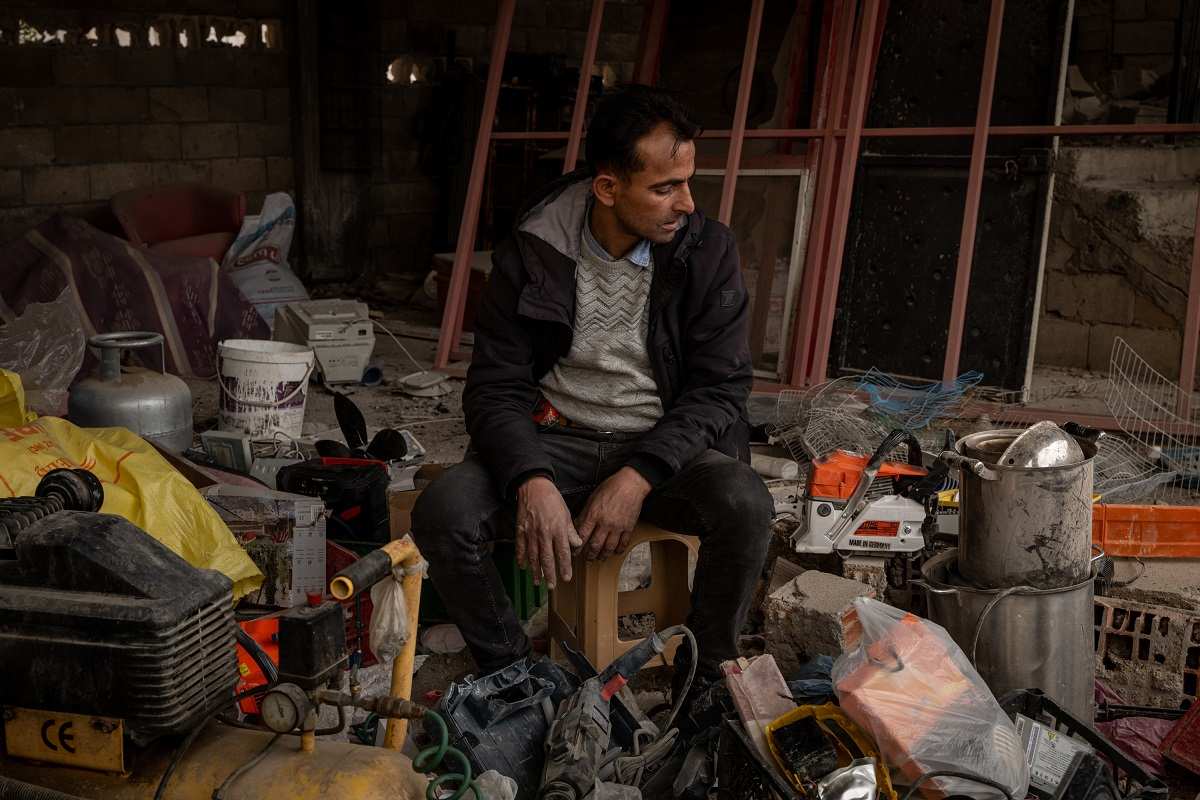 15:38 JST, July 31, 2023
NURDAGI, Turkey – Hasan Kilic still visits what remains of the building where he lost nearly everyone – his wife, his parents, a brother and two of his three sons. He was there in April, still in pain from injuries that had kept him in intensive care for weeks after the earthquakes. He was back last month, his body healed some, but his gaze hollow as he reflected on all that he and this town had suffered.
In what seemed to him like an instant, an estimated 5,000 people in the town and surrounding villages were killed, and "Nurdagi was turned into nothing," Kilic said.
Turkey's devastating February earthquakes spared little in Nurdagi. Nearly six months later, what remains of it – the survivors, scattered buildings – is vanishing. Residents have been exiled to shipping-container communities on the town's outskirts or to faraway cities. Crippled apartment blocks are being bulldozed and carted off.
But on a windswept hill above the city, new apartment blocks are rising at an astonishing pace. Nurdagi and villages surrounding it are becoming a showcase for a plan to build hundreds of thousands of homes across the earthquake zone within a year – a promise made by President Recep Tayyip Erdogan that tamped down public anger at the government's sluggish earthquake response and earned Erdogan votes in Turkey's recent presidential election.
For Nurdagi, Erdogan's pledge effectively means relocating the town. The government's plans, to rebuild on what officials say is sturdier ground, have drawn criticism from some engineers, worried about the frenetic pace of construction after lax standards were blamed for the widespread destruction in the earthquakes, which killed over 50,000 people in Turkey and neighboring Syria.
And residents have voiced confusion over the town's fate. Will Nurdagi truly be rebuilt – with parks, squares, shops and some semblance of its old identity?
But they had endured a harsh winter and now a searing summer in temporary accommodations, and there were countless ordeals – finding work, paying bills, coping with the loss of children or parents – still to face. For many traumatized residents, the new Nurdagi could not be built soon enough.
Saniye Cetin, 36, whose house had been damaged and was slated to be demolished, managed to secure an apartment in a new development outside Nurdagi that had opened just before the earthquakes.
"Our other house was bigger," she said. The apartment has stunning views of the mountains, but there is nothing around it, like a supermarket, and she doesn't have a car. But she and her daughter were luckier, she knew, than tens of thousands of people across the earthquake zone who are clamoring for homes.
"What does it matter if we don't like it?" she said.
In the displacement camps, health workers are worried about the mental toll on people sheltering in tents or shipping containers, especially children, who often blame themselves for the calamities that befell their families. Other residents, like Kilic, spend their days in solemn vigil at the site of their tragedies, standing next to disfigured buildings or empty lots where apartments once stood.
On a street around the corner from Kilic's building, a middle-aged man stood staring at an empty lot on a recent afternoon. Nearly 50 people had died in the building that once stood there, including his mother and his sister, he said. The man, a civil servant, declined to give his name because he was not allowed to speak to journalists. He said he comes to the site two or three times a week.
"My memories are all here, so I stay here," he said. "I look at this empty land, and I leave."
Down the street from where he stood, graffiti covered the base of one of the few buildings still standing.
"Not all the pain will pass in time," it said.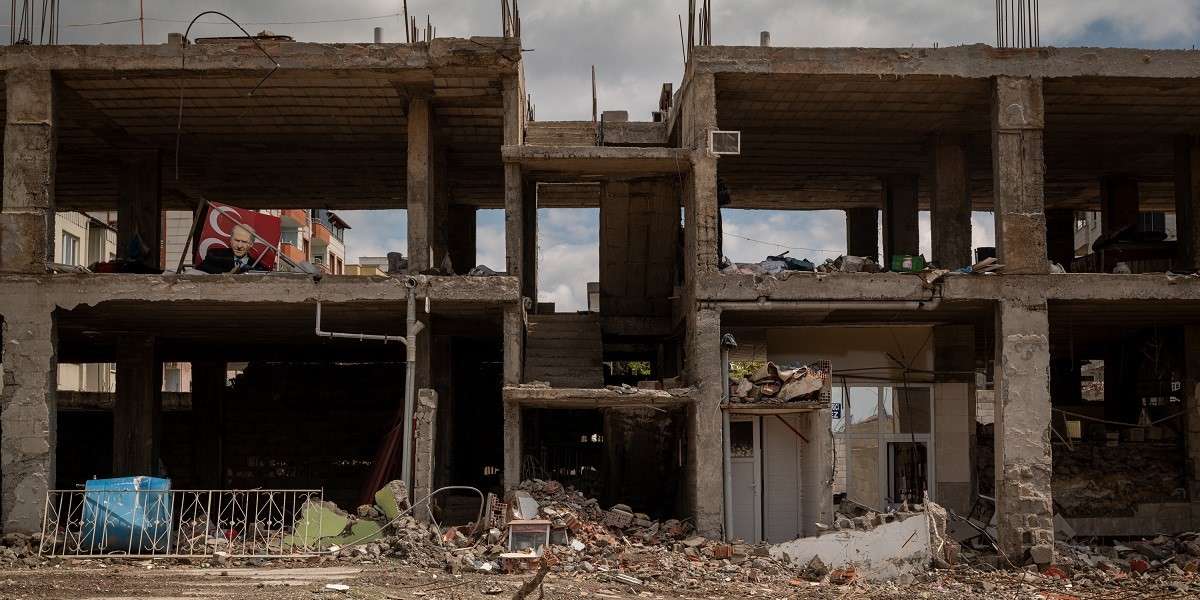 A town disappears
Some areas that the earthquakes ravaged were piled high with memory, like Antakya, ancient Antioch, a site of Greek Roman, Byzantine and Ottoman history. Some of those civilizations' remnants, along with tens of thousands of contemporary residents, were lost in the tremors.
Nurdagi belonged to another category in the catalogue of devastation – a newer town, just decades old, populated by former villagers who had moved for economic or other reasons.
"I don't think there is memory of the city – a feeling of belonging to the city," said Kemal Vural Tarlan, a migrant rights activist who has been visiting Nurdagi since the late 1990s. He said its most durable legacy was as a stop on a historical migration route for Roma people. More recently, the town was known for its robust trade in secondhand minibuses and as a center for loan-sharking.
The things that made it feel like a town – the apartment blocks that collapsed – had started appearing only in the past 20 years, he said. After February's tragedy, officials bestowed on Nurdagi a recognition of sorts, saying it would be the site of an "earthquake museum," meant "to build a bridge between the past and the future," the local governor said.
Hasan Kilic's family had owned a three-story building in the city for 35 years, watching a hamlet grow into a town.
The family's apartments were upstairs, above a row of shops. One of the shops, he said, may have removed columns in the building, leading to a partial collapse of the structure when the earthquakes hit.
His parents hadn't even been expected in town. They lived in a nearby village, growing wheat and peppers, and had come to Nurdagi on the bitterly cold night before the earthquakes because the apartment was easier to heat than their other home.
"I wish I was gone, too," said Kilic, 48.
Along with the visits to his destroyed building, Kilic frequented the cemetery, spending so much time there that his surviving son had urged him to talk to a psychiatrist, he said. The doctor prescribed drugs to calm him, but they made him feel nauseated and "stupid," he said.
He had applied to live in the new housing but did not know if he was eligible, and besides that, he wasn't sure whether he should stay in Nurdagi.
"I was born here; I grew up here," he said. "I don't know." Once his son went off to college, "there would be nothing to keep me here," he said.
In Nurdagi's container camps, alongside the temporary schools, playgrounds and mess halls, government psychologists have also set up offices. Months after the earthquakes, they said, the "survival mode" that had sustained residents through hundreds of aftershocks was receding. Now, the trauma caused by the disaster was becoming more pronounced.
Those who needed counseling included roughly 1,000 children who had lost a parent, a sibling or other relative. Therapy included art classes, where children inevitably painted the earthquake: "their buildings, their loved ones, toys that they lost," said Seyma Colak, a psychologist.
In so many of the pictures, children painted their families as if they were whole and no one had died, health workers said.
Many of the children "blame themselves for having survived," Colak said. Teenagers especially tried to "suppress their trauma," believing they needed to stay strong for their families.
An uncertain future
Outside the town, concrete foundations have been poured between olive groves and a highway, and the shells of half a dozen apartment blocks have already appeared. Elsewhere in the province, large, tidy village homes have also been completed. The construction is being overseen by TOKI, the state housing agency, whose projects survived the earthquakes better than many privately constructed buildings. Inspectors, working for the government or private companies, said strict construction standards were being applied to the new developments, despite the speed with which they were being erected.
The plans call for more than 5,000 units to be built across the district, construction officials said, adding that it was still unclear whether commercial activities would resume in the old town or be moved closer to the new housing.
Zeynel Akar, 43, a Nurdagi resident who works as an accountant for one of the building contractors, said the success of the project would depend on whether businesses and job opportunities came back to Nurdagi and whether things like stores were built at the new site. "If not, people will have to migrate somewhere else," he said. "Because life is not sustainable."
Viewed from the mountains above Nurdagi, the container camps now dominate the landscape. Some of the units came from Qatar, where they were used to house ticket holders during soccer's recent World Cup.
In one camp, Hatice Koyuncu's family had customized their unit, building a porch from discarded plywood and growing a garden of eggplant, tomatoes and peppers, an activity she said helped her kill time and soothed her epilepsy. The family was hoping for one of the new apartments, or else permission to rebuild their destroyed home. "God willing," Koyuncu said.
Her 21-year-old daughter, Nuray, was more anxious about the future: worried about her responsibilities as the eldest child to take care of her family. She feared they would not be able to afford one of the new apartments while they paid off debts incurred before the earthquakes. She was about to graduate from college, trained as a lab technician, but fretted she would not be able to find a job if she didn't leave Nurdagi, and couldn't leave without bringing her mother and younger brother along.
"I am feeling very nervous about these things," she said. And she was haunted by the past.
When she visited the old town now, she was struck by the "loneliness" of the city and how dark it was at night. The rubble reminded her of those who had been trapped beneath it.
"It's a very devastating thing to see in the place where you grew up," she said. "It's going to pass. But I don't know if it will be forgotten."
Add TheJapanNews to your Google News feed.