Florida Kept Disabled Kids in Institutions. a Judge Is Sending Them Home.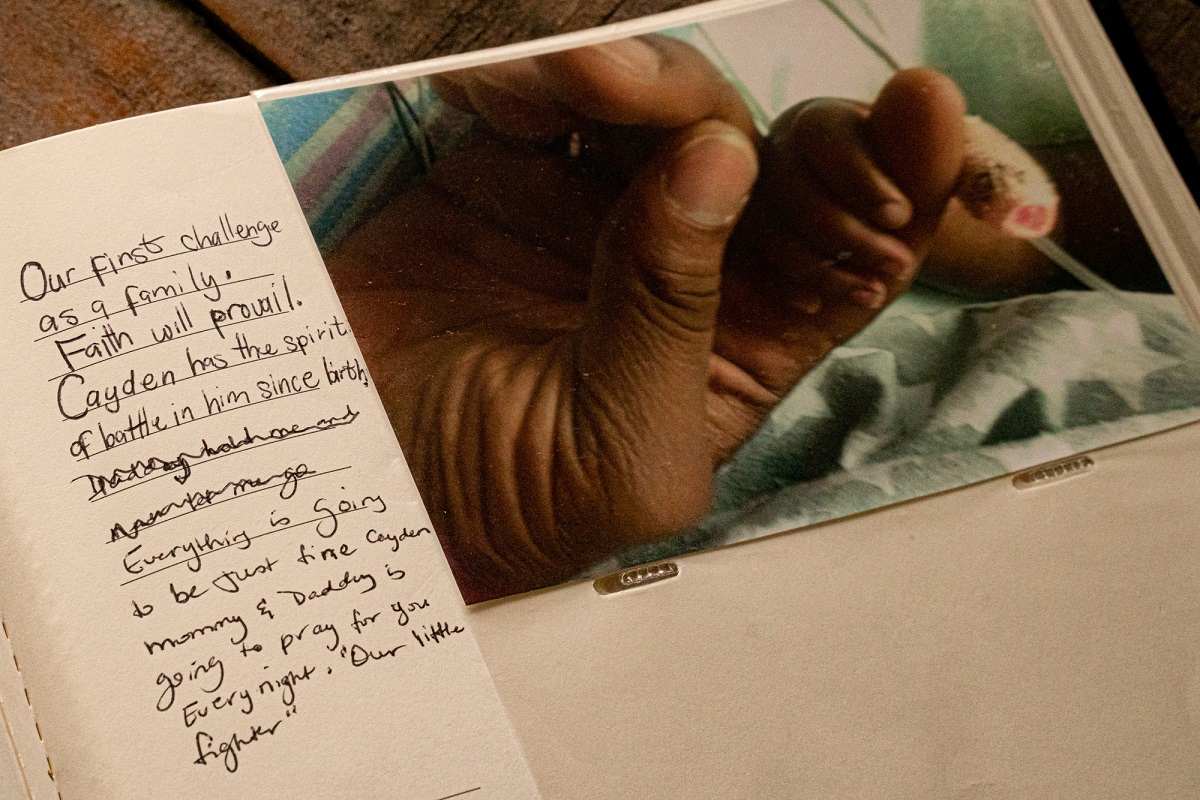 15:51 JST, July 24, 2023
Cayden Armour has lived most of his life in a Florida nursing home, where his father said the disabled 9-year-old was often left alone in his room, sitting in soiled diapers for hours.
Cayden, who has multiple medical complications after nearly drowning as an infant, is one of many children in Florida who have been separated from their families and institutionalized rather than getting state-provided at-home care.
Now, a federal judge has ruled that Florida has been unlawfully segregating children with complex medical needs and putting other disabled children at risk of unnecessary institutionalization. The judge, who issued the ruling Friday, said that by failing to provide Medicaid services that would pay for private nursing care and allow children to live in home settings, the state was in violation of the Americans With Disabilities Act.
In court records and interviews with The Washington Post, parents of disabled children described a broken system in which they often felt forced to send their children to nursing homes because they couldn't get reliable state-provided home care. Once institutionalized, the children were neglected; frequently hospitalized with infections; and left in soiled diapers for hours, crying and depressed, their families told The Post.
Some children were left alone all day with nothing to do but watch TV or were trapped in cribs, according to the judge's ruling. Parents who wanted to bring their children home described feeling thwarted by the nursing homes, which are paid by the state for each child in their care.
In his decision, United States District Court Judge Donald M. Middlebrooks called the difficulties faced by children and parents "heart wrenching," and wrote that "any family who wants to care for their child at home should be able to do so."
Children with disabilities typically are eligible for Medicaid services, which can be provided in a home setting or an institution. The state makes decisions about who qualifies and is responsible for paying for the services.
The cost of home health care can be cheaper than institutionalized care, but Florida has increased funding for nursing facility services while reducing funding for home- and community-based services, court documents show.
"The tragedy is that the State of Florida has programs and dedicated resources that could help these families," Middlebrooks wrote.
The ruling, prompted by a lawsuit filed by the Department of Justice in 2013, could have sweeping implications for thousands of people across the country who need these Medicaid services to live in their homes or communities, a group that includes adults with disabilities and older people, along with disabled children and their families.
Florida is just one of many states across the country where experts say children with disabilities are being unnecessarily institutionalized rather than supported in home settings. Recently, the department has said other states, including Alaska, Maine and Nevada, also are violating the ADA in this way.
The Florida Agency for Health Care Administration, which is responsible for running the state's Medicaid program, declined requests for an interview.
In a statement, the agency said, "The court's conclusion that the State's actions or omissions force children to live in nursing homes against their parent's wishes is unsupported and refuted by the evidence presented at trial."
The agency also said it would seek to stay the judge's orders. The state filed a notice of appeal for the case Monday.
The Florida Department of Health and other witnesses for the state of Florida declined to comment on the case.
The ruling directly affects an estimated 140 children in Florida nursing homes and more than 1,800 children at risk of being institutionalized because they don't have reliable access to home-care services. Disability advocates and legal experts say the case is expected to set a precedent by clarifying what states must do to comply with the Americans With Disabilities Act, which protects the rights of people with disabilities to live in the most integrated setting possible. The ruling makes clear that states can be held accountable for the way they administer home- and community-based services, legal experts said.
"In many respects, this ruling is groundbreaking," said Kristen Clarke, the assistant attorney general for the Civil Rights Division at the U.S. Department of Justice. "Our hope is that this ruling will stand as a model for other states across the country and make clear and explain their obligations under the law."
Fighting to bring children home
Conlan Armour, Cayden's father and a witness in the lawsuit, tried for the past five years to remove his son from Kidz Korner, a facility in Plantation, Fla., which was paid by Medicaid to care for Cayden.
When Cayden first became disabled, hospital staff said the family's only option was to place him in institutional care, according to interviews and trial testimony.
Armour visited Cayden nearly every day, he said, and at the end of some visits, Cayden cried. Cayden entered Kidz Korner able to breathe on his own, but today requires a ventilator after being hospitalized for pneumonia while at the facility.
But when Armour, 39, met his now-fiancée, Dorothy Newton, 36, she researched the issue and learned that the family had the option to bring Cayden home and get Medicaid-funded home-care services.
Armour said the couple repeatedly requested to bring Cayden home, but Kidz Korner staff told them their home was not big enough. Armour said they were also told by Kidz Korner they needed to complete training to provide Cayden's medical care, but the facility staff failed to show up for training or rescheduled it. (In his ruling, the judge said the facility should not have created these barriers.)
"They try to almost discourage you from bringing the child home," Armour said in an interview.
Kidz Korner did not respond to repeated requests for comment.
Armour said it wasn't until he became a witness in the lawsuit that the nursing facility finally gave him training and approved Cayden to go home. In June, Cayden started living with his father, Newton and his 18-month old sister Devi in Miramar, Fla.
Since getting home, he has become more active and is smiling and attempting to talk more, Armour said. His father hopes that this ruling will help other families.
"Whether it's my child or somebody else's child, we want change," Armour said.
A bias toward institutionalization
Mary Ehlenbach, the medical director of the Pediatric Complex Care Program at the University of Wisconsin, who interviewed 44 families with institutionalized children and submitted a report on her findings for the case, said that many families were told incorrectly that their children were medically unfit to live at home or that the family wasn't eligible to bring their child home because of the size of their house.
"Efforts to reunify families with their children were nothing short of abysmal on the part of these facilities," said Ehlenbach, an expert witness in the case. "Facilities have an interest in keeping the children and keeping the facility full. They get reimbursed at a remarkably high rate."
As of October 2021, the latest data available, the state paid nursing facilities a supplemental payment of $344.26 per day for each medically fragile child. When combined with the baseline payment that facilities receive, this meant that some institutions received about $600 or more a day to care for these children, according to experts familiar with the case.
In a report submitted to the court, Ehlenbach said that the vast majority of the families she interviewed would have preferred for their children to live outside a nursing home setting if appropriate supports and services were available.
Nationally, about 1.9 million people live in long-term care institutions. It's unclear how many of them are children, but disability advocates have lauded this ruling as a victory for anyone living in an institutionalized setting.
They believe the ruling could pressure other states to invest more in home and community based services provided through Medicaid. In 2021, 656,000 people around the country were on waiting lists to simply determine whether they qualify for these services. But even after getting approved, many people say they still can't get this type of at-home nursing care.
"We're still seeing a lot of unnecessary institutionalizations of people with disabilities and a bias toward institutionalization," said Shira Wakschlag, the senior director of legal advocacy and general counsel for The Arc of the United States, which serves people with intellectual and developmental disabilities.
'Too fragile' to live at home
The state of Florida argued at the trial that many of the children living in institutions were too fragile to live at home or in their communities. One of the state's expert witnesses, Allan Greissman, a critical care pediatrician at Joe DiMaggio Children's Hospital, described many children as being in a "persistent vegetative state" or "neurologically devastated," and suggested that they would derive no benefit from being at home.
Ehlenbach's report, however, found that all of the children could be considered medically appropriate to receive care at home. It also found that they had a wide range of functional states and even those with severe neurological disabilities would benefit from living in a home setting.
"Their medical and care needs can be met (and may be better met) outside of a skilled nursing facility with appropriate home- and community-based services," the report stated.
"It's miserable. My depression got so bad that I wanted to fall asleep and not wake up. But since being home, I never felt like that."
In reviewing medical records of about 140 institutionalized children, physicians found evidence of a number of medical complications such as pressure wounds and infections – some of which led children to become dependent on ventilators.
When Ehlenbach visited one facility, she met a child with Down syndrome who was able to walk but was kept in a large crib enclosure that he couldn't escape. He asked to be let out, but then immediately tried to run away and was returned to the crib, she said in an interview.
Jade Quinones, 20, who lived at Kidz Korner for four years before moving home recently, testified that while at the facility, she would sit in her bed every day with nobody to talk to. She uses a wheelchair and also described waiting for a "ridiculous amount of time" for someone to change her diaper.
"It's miserable," Quinones said. "My depression got so bad that I wanted to fall asleep and not wake up. But since being home, I never felt like that."
Gaps in at-home care services
Another witness in the case, Heather Patten, 50, of Cooper City, Fla., said her son Dalton, who is now 11 years old, was born premature, which led to a number of health complications including the need for a tracheotomy tube and ventilator.
Patten said she was urged by doctors to place Dalton in Kidz Korner when he was an infant. "It's the worst decision I ever made," she said.
In the institution, Dalton was rarely out of his crib and didn't develop the muscle strength he needed to sit up or walk, she said. Patten said she was told by hospital staff that he would probably never walk or talk. When Dalton was 2, she decided to bring him home, despite not receiving adequate home nursing care through the state's Medicaid program.
At home, Dalton began walking and talking and was able to be weaned off a ventilator. He loves Spider-Man and has started learning to read and write, she said.
The gaps in his at-home nursing care, though, have taken a toll on Patten, a single mother who estimates that she misses 30 to 40 days of work each year because she can't get caregivers.
"It's overwhelming," she said. "You're sleep deprived, you're everything deprived."
States are responsible
Advocates say that the timing of this ruling is especially important as the pandemic has exacerbated existing care provider shortages and exposed the health-care risks of living in a congregate group setting.
One of the key drivers behind the shortage of caregivers is the low rate of reimbursement most states give to pay these workers – nationally, the average pay for home health aides is around $14 an hour.
In the Florida ruling, the judge said that even in the face of worker shortages, states still have a responsibility to provide home- and community-based services. Judge Middlebrooks wrote that the state could take steps to improve its services, such as raising wages to attract more workers to the profession.
"He deserves that right, to be with his family members. He deserves the right to be loved."
Eve Harris, 57, of Plantation, said she was forced to institutionalize her 16-year old grandson, Jeffery Herrion, for whom she is the legal guardian, because home caregivers increasingly didn't show up during the pandemic. Herrion, who is blind, has cerebral palsy and other complex medical issues requiring him to use a ventilator, wheelchair and feeding pump.
"On paper, we had nursing because it was approved, but we didn't really have nursing because nobody came," Harris said.
While living in three different institutions Jeffery suffered from deep bed sores, smelled like urine and feces, and was hospitalized for septic shock after developing a severe skin infection. When he was admitted, Jeffery was taking five medications and breathing on his own. When he finally returned home in April, he required 18 medications and was ventilator dependent, according to both Harris and the judge's ruling.
Harris still can't get reliable nursing care, so she left her job and recently quit nursing school to care for Jeffery. She hopes the ruling will help her keep him home.
"He deserves that right, to be with his family members," she said. "He deserves the right to be loved."
Add TheJapanNews to your Google News feed.