Judge seems skeptical of Trump desire to delay documents trial until after 2024 election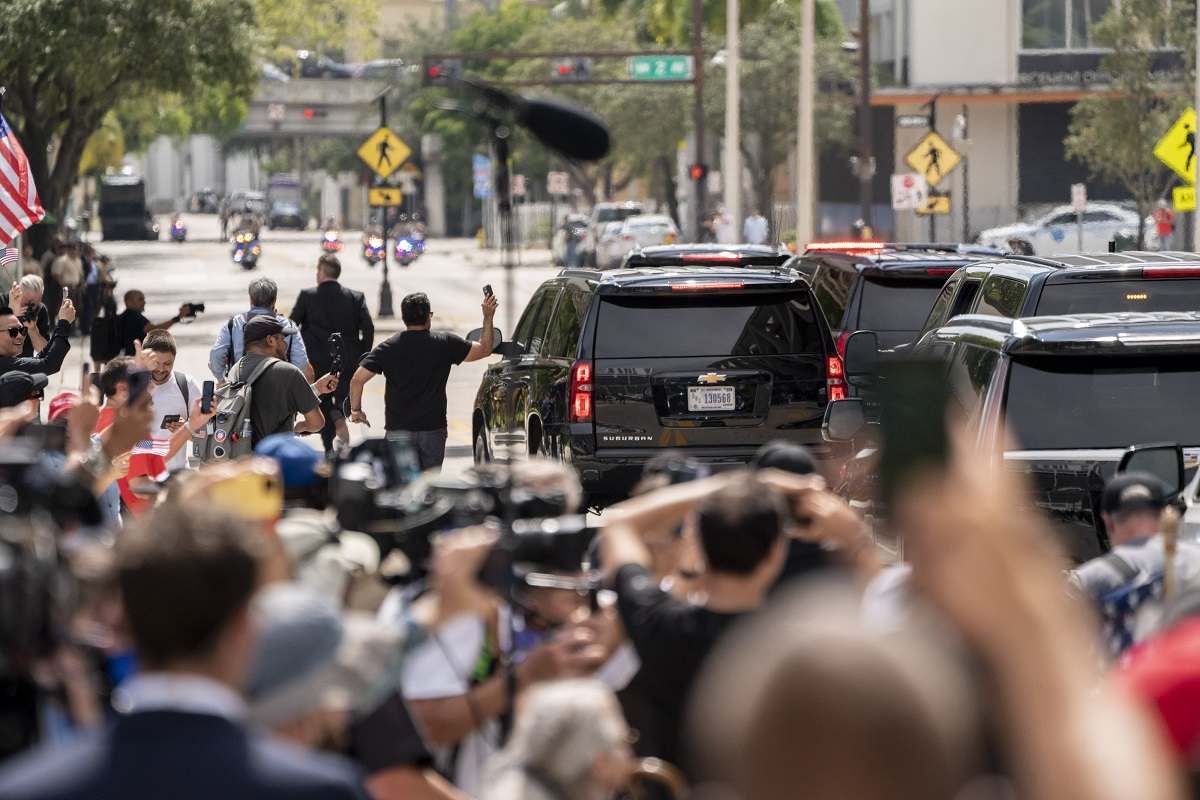 13:28 JST, July 19, 2023
FORT PIERCE, Fla. – The federal judge presiding over Donald Trump's trial for allegedly mishandling classified documents appeared skeptical Tuesday about the former president's request that it be delayed until after the 2024 election.
U.S. District Judge Aileen M. Cannon also appeared wary of prosecutors' request to begin the proceedings as soon as this year.
During a hearing in federal court, Cannon did not set a new date for the trial, saying she would consider both sides' arguments and make a decision on the timing "promptly."
The hearing Tuesday afternoon marked the first time that lawyers on both sides of the case appeared before Cannon, with federal prosecutors and Trump's defense attorneys gathering in a courthouse about an hour north of downtown West Palm Beach. Trump was not present, but his longtime aide and co-defendant, Waltine "Walt" Nauta, was in the courtroom.
The proceedings, which lasted more than 90 minutes, highlighted the disagreement between prosecutors and Trump's defense attorneys about when the case should go to trial.
This has emerged as an early point of contention in the case: Federal prosecutors have argued for starting a trial as soon as December, while Trump's attorneys lobbied for scheduling it after next year's election, saying this would help ensure an impartial jury.
Trump remains the front-runner for the Republican nomination next year, and his attorneys have contended that holding the trial before the election is complete could affect its outcome, along with his ability to get a fair trial. They have also cited the large amount of evidence that needs to be reviewed before trial in arguing for a delay.
Federal prosecutors, in turn, have called for beginning the trial sooner, saying that should give Trump's legal team ample time to review the materials handed over during the discovery process. They also said jury selection might take longer in a case like this, but argued that this is a reason to begin the trial sooner rather than delaying it.
In court on Tuesday, federal prosecutors detailed the vast amount of evidence they had collected during the investigation, including text messages, emails, witness interviews and security footage from Mar-a-Lago, Trump's residence and club. Prosecutors also described flagging materials they consider key evidence.
Defense attorneys said they had to review all the material, not just the items highlighted by prosecutors, and essentially said it was not possible for them to do so and file related motions before the government's proposed start date.
The hearing took place amid a backdrop of churning legal tumult for Trump, who is already facing criminal charges in Manhattan, a civil trial in New York related to fraud allegations and another civil case accusing him of defamation. A district attorney in the Atlanta area is also investigating whether Trump and his allies broke the law in their efforts to overturn his 2020 election loss in that state, with charging decisions expected there next month.
And on Tuesday morning, hours before the hearing in Fort Pierce, Trump announced on social media that he had received a letter identifying him as a target of the long-running federal investigation into efforts to overturn the 2020 presidential election, which is separate from the classified documents case.
Such a letter does not mean charges will be brought, but it does suggest investigators have gathered enough evidence to link the recipient to a crime. Attorneys for Trump also mentioned this letter during Tuesday's hearing.
Trump and Nauta were charged last month in a 38-count indictment that accused the former president of improperly retaining 31 classified documents at his Florida residence and enlisting his aide to help him secretly keep some of the materials despite government efforts to have them returned. Both Trump and Nauta pleaded not guilty during court appearances before magistrate judges in Miami.
Some of the debate between prosecutors and the defense appeared to focus on Trump's status as a former president running again for that office. Trump's attorneys have cited his busy campaign schedule as well as his other court cases in arguing for delaying this trial.
Prosecutors, though, said it was a core part of American democracy that no person is above the law, and they rejected the idea that Trump's obligations necessitated a delay.
"Mr. Trump is not the president. He is a private citizen," David Harbach, one of the prosecutors, said in court. "He is no different from any other busy, important person who has been indicted."
Jay Bratt, one of the prosecutors, also said the government was proposing an "aggressive" timeline in part because it had been prepared to hand over much of the discovery material as soon as the indictment was filed.
Christopher Kise, an attorney for Trump, pointed to the massive media coverage and social media commentary that focused on Trump's indictment in this case, saying it would make it hard to seat an impartial jury. He said the public would view this case as two presidential candidates – President Biden and Trump, squaring off in court – a characterization prosecutors vehemently denied.
But Cannon questioned Kise on whether the level of attention would change after the 2024 election is over.
"Won't that just continue?" Cannon asked.
"Respectfully, I think it will abate," Kise said.
Cannon suggested that the significant amount of discovery in the case, along with various other legal issues, seemed to be a more "suitable" framework for determining the trial's timing than focusing on the 2024 election. She did seem open to the idea that starting the trial this year might be untenable, but asked the defense attorneys to be more specific than just asking that it be pushed until after the election.
"I can appreciate that more time is necessary, but we need to set a schedule," Cannon told them.
Much of the attention going into Tuesday's hearing was on Cannon, whom Trump named to the bench in 2020. She had previously been in the spotlight for intervening last year in the Justice Department's investigation into Trump's handling of classified materials, agreeing with his request to order an outside review of documents seized from Mar-a-Lago. A federal appeals court panel later overturned her decision.
Some of the hearing on Tuesday also focused on the nuts and bolts of a criminal prosecution relying heavily on classified materials.
Todd Blanche, one of Trump's attorneys, noted that he had received approval for an interim security clearance that day. And while discussing the evidence the government would hand over in discovery, federal prosecutors said that would include more than 1,100 pages of classified materials.
Add TheJapanNews to your Google News feed.