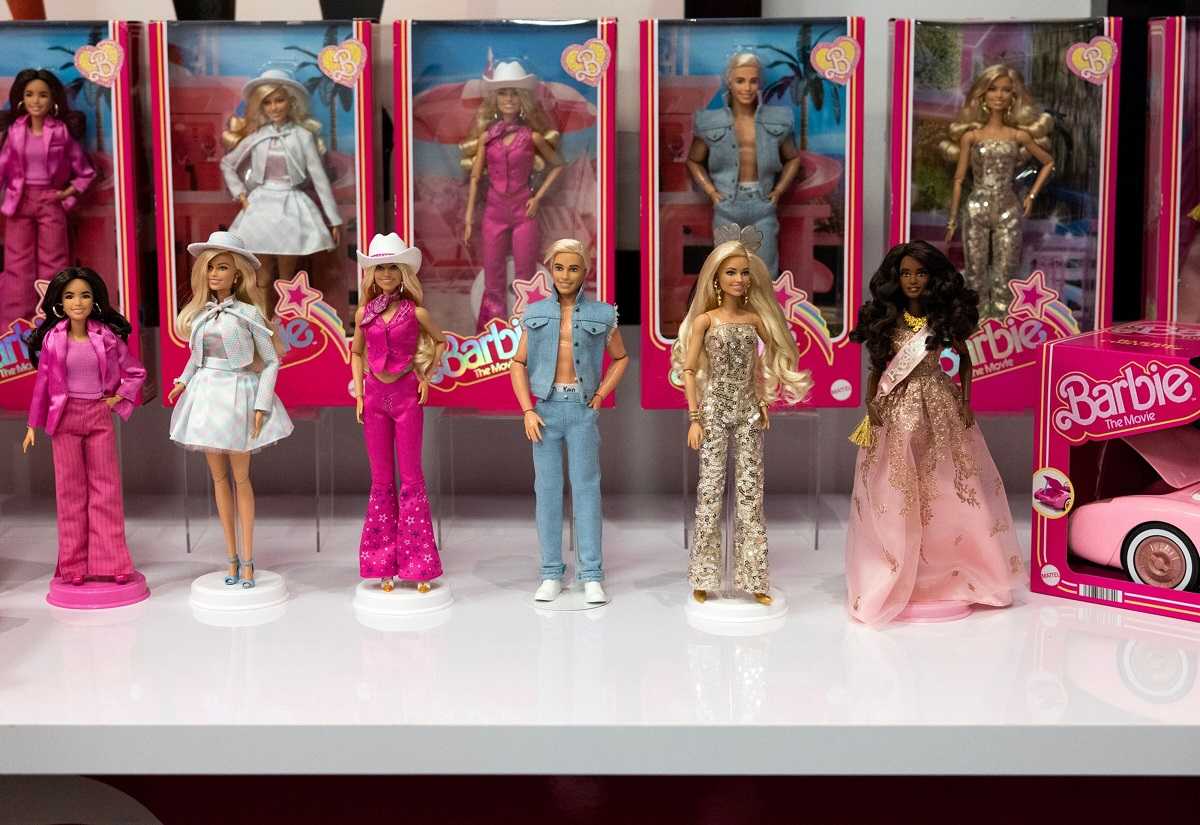 15:46 JST, July 16, 2023
Walking into the Mattel Design Center, I felt like a kid taking a Willy Wonka-style trip through my childhood toy box. Barbie. He-Man. Rock 'Em Sock 'Em. This place has it all, showcasing nearly 80 years of toy history that maps a fascinating journey of play and pop culture. On one end, there's a giant Hot Wheels Track. On the other, there are rows and rows of old Barbie doll heads (and a few of Ken's, too), where designers invent new hairstyles, sculpt new bodies and paint new faces with the most delicate of brushes.
Ahead of Barbie's big screen debut, produced by Mattel Inc. and Warner Bros Discovery Inc., I wanted to learn more about how her makers are inventing her next act. The movie marks a big bet by Mattel, which hopes to turn legacy brands into blockbuster franchises, and it was reportedly in development well before the company settled on director Greta Gerwig's interpretation.
Early reviews of the movie, which premieres July 21, are positive. Time calls it a "fun, yet self-aware romp," while Variety's social media editor praised it as "perfection." Expectations are high. Barbie is the most popular doll of all time, after all. She's an icon, a cultural lightning rod, and an 11.5 inch piece of plastic who has represented and projected our biggest aspirations and flaws since she was created in 1959.
In this episode of "The Circuit," I sat down with Mattel Inc. Chief Executive Officer Ynon Kreiz, the leader of the company's new IP-to-content strategy, and Robbie Brenner, an Oscar-nominated producer whom Kreiz convinced to head Mattel's burgeoning films division. Their goal is to re-ignite the conversation around a massive but controversial brand that has struggled in recent years, and potentially cement Mattel's place as a future Hollywood hitmaker. (Think Marvel, if they're lucky.)
"That was a lot to live up to," Brenner told me. Barbie "is an open-ended conversation. Like, what is that movie? . . . Greta had sort of this idea of a high heel and a Birkenstock. And that was sort of her leaping off point of what this movie should be. And I thought, God, that's kind of brilliant."
But will it be brilliant enough to reinvigorate sales? We spoke with Barbie's product designers, a seamstress and a face painter, as well as veteran Mattel executive Lisa McKnight, who has helped evolve the brand to address popular opinion. "The biggest flag that we heard, and when we did some research, was moms in particular didn't feel good about giving Barbie as a birthday gift," McKnight said. "They didn't see her as a role model. They saw her as too perfect."
My favorite part of the episode, by far, is meeting Richard Dickson, Mattel president and chief operating officer, who took me on a whimsical toy-filled tour starting with the founding of the toymaker itself. It sounds remarkably like a typical Silicon Valley tale. There's a garage, a couple of men, and a woman – who gets written out of the story. But this modern-day imagination factory is trying mightily to correct the oversights of its past.
This episode of The Circuit With Emily Chang premieres Thursday, July 13, at 8 p.m. in New York on the Bloomberg app and Bloomberg.com and on Bloomberg Television at 10 p.m. Check out The Circuit podcast for extended conversations.
Add TheJapanNews to your Google News feed.