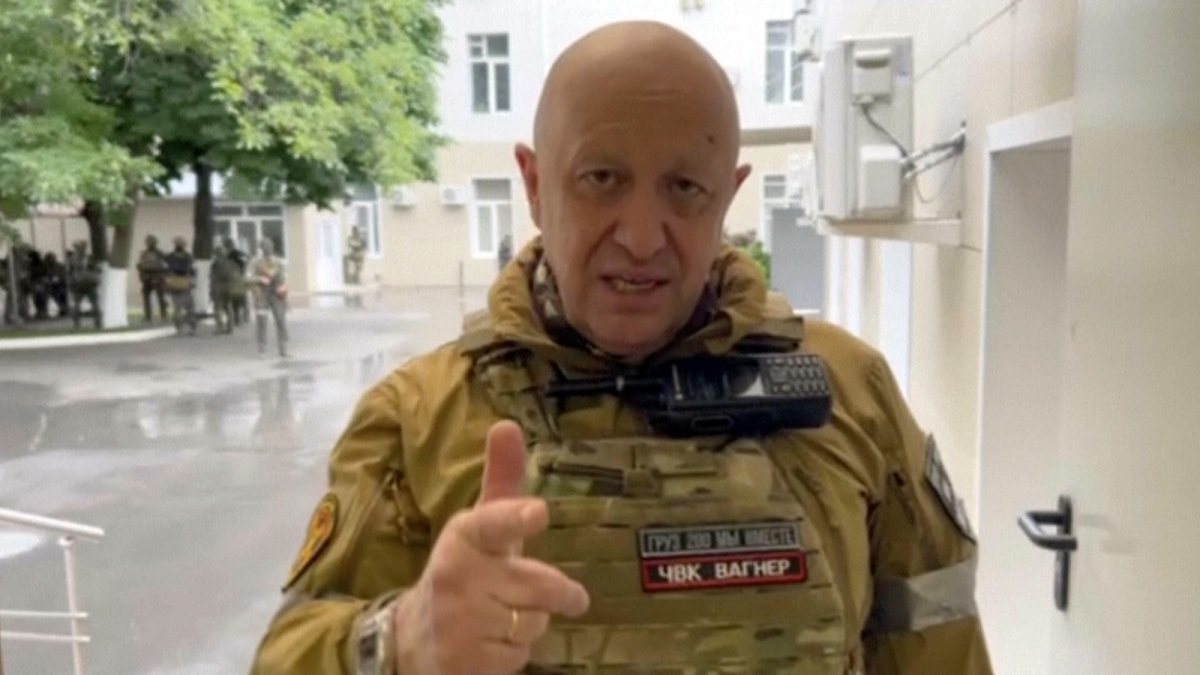 12:30 JST, July 11, 2023
Russian President Vladimir Putin met with Wagner Group mercenary boss Yevgeniy Prigozhin and 35 of his commanders on June 29 in Moscow, five days after Prigozhin launched his brief mutiny to oust the country's top military officials, whom Prigozhin said had botched the invasion of Ukraine.
The meeting was held shortly after Putin vowed to mete out "harsh" punishment against Wagner's leaders as the Russian president grappled with the greatest challenge of his tenure. Russian elites have criticized Putin's decision to drop insurgency charges against Prigozhin and the mercenaries after Wagner shot down several Russian aircraft and killed Russian troops.
In a three-hour meeting, Kremlin spokesperson Dmitry Peskov said, Putin "gave his assessment" of the private military company's fighting record in Ukraine as well as its actions on the day of the mutiny.
"The president listened to the commanders' explanations and offered them options for further employment options and combat application," Peskov told reporters in a conference call Monday.
"The commanders presented their version of what had happened," he said. "They emphasized that they were staunch supporters and soldiers of the leader and supreme commander in chief and said they were ready to continue fighting for the motherland."
When Peskov was asked June 29 about Prigozhin's whereabouts, he said he had no information. Putin made a brief appearance that day at a government forum as the Kremlin sought to promote the impression that Russian society was "consolidating" around the president, and to boost the Russian leader's popularity with some staged events.
Prigozhin returned to Russia last week, according to Belarusian President Alexander Lukashenko, a Putin ally. A businessman in St. Petersburg, Prigozhin's hometown, said the Wagner leader had returned to reclaim money and weapons seized by the Russian government.
The future of his mercenary group remained unclear. The June 29 meeting suggests the details of the deal between Prigozhin and Putin, which was brokered by Lukashenko, were still being hammered out.
Ultimately, the Wagner chief agreed to stop the "March of Justice," his armed advance on Moscow, and Putin agreed to not punish him or his fighters.
Prigozhin has said his conflict with Defense Minister Sergei Shoigu, and particularly Shoigu's plan to absorb Wagner into the regular army, was the catalyst for the rebellion.
Putin said Wagner fighters could sign contracts with the defense ministry, relocate to Belarus, or disband and go home. Satellite imagery revealed a camp being built in Belarus, but neither Wagner nor Lukashenko confirmed it would serve as a new base for the mercenaries.
Mercenary service is technically illegal in Russia, but Wagner started taking part in the war a few months after Russia invaded Ukraine in February 2022. The mercenary group is a key assault force, responsible for the few battlefield wins Russia has achieved in recent months.
Russia's top military commander in the war, another Prigozhin target, reemerged Monday after two weeks of silence, in a video posted by the defense ministry. The video shows Gen. Valery Gerasimov, chief of Russia's general staff, receiving battlefield updates and ordering steps to identify Ukrainian missile launch sites and bolster the country's protection against air attacks. It was unclear when the video was recorded.
Prigozhin has repeatedly accused Gerasimov and Shoigu of denying ammunition to his mercenaries, training their own soldiers poorly and failing in Ukraine.
Since the rebellion, Kremlin propagandists have been striving to portray Putin as a wise leader who averted civil war in a single day. But Wagner's lightning advance to within 125 miles of Moscow, and its capture, apparently unopposed, of cities en route, raised questions about Russia's military preparedness – and who in Russian military and security services knew about the rebellion in advance but did nothing to warn authorities.
Gen. Sergei Surovikin, under scrutiny for his close relations with Prigozhin, was not present at Gerasimov's meeting. Russian independent media have speculated that he has been detained. Alexei Venediktov, the longtime editor in chief of Echo of Moscow radio, which was forced to close in Russia, said Monday that Surovikin did not call or send a message to his wife on her birthday, July 3, nor did he contact his eldest daughter on Monday, her birthday.
Surovikin is popular among Russian military bloggers and hard-liners who have been criticizing the top brass. Putin's apparent decision to keep Shoigu and Gerasimov in their jobs risks deepening divisions in the military and undermining Russian military morale as Ukraine continues to press its counteroffensive to expel the invaders.
The June 29 meeting underscores Prigozhin's continuing leverage and deep-rooted connections in government, and also his broader popularity, particularly among pro-war Russian nationalists who have been pressing for tougher action against Ukraine.
Igor Girkin, a veteran of the 2014 Russian campaign in Ukraine and now a nationalist critic of the Kremlin, ridiculed Putin's decision to meet with Prigozhin.
"Will there be a photo of 35 'musicians' swindling and making the fool out of the president too?" he asked in his Telegram blog, using a nickname for Wagner fighters. "And will Putin receive the parents and widows of the killed pilots, or 'that's a different story?'"
Pro-Kremlin commentators said Putin was attempting "to understand the political origins of the crisis" and prevent future disturbances.
"It is also important to affirm Wagner fighters' loyalty – to Russia, not Prigozhin," said political consultant Sergei Markov. "Prigozhin himself, apparently, presented himself negatively, because after this meeting there was a strong information attack on him."
Prigozhin his emerged as an unlikely truth-teller in Russia, willing to talk openly about the heavy casualties and the defense ministry's failures. In the week before the rebellion, his approval rating reached 58 percent, according to independent opinion pollsters Levada Center.
The Kremlin has moved aggressively to destroy Prigozhin's popularity. Over the weekend, the Russian state television flagship news show "Vesti Nedeli" broadcast a piece claiming that "opportunist Prigozhin" tried to seize lucrative real estate in his hometown of St. Petersburg to advance his business interests.
Other reports on state media portrayed him as a greedy bandit with a criminal past motivated by money, and asked whether he embezzled some of the billions of dollars he received in government contracts to bankroll the sprawling empire from which the Kremlin is now struggling to untangle itself.
Add TheJapanNews to your Google News feed.