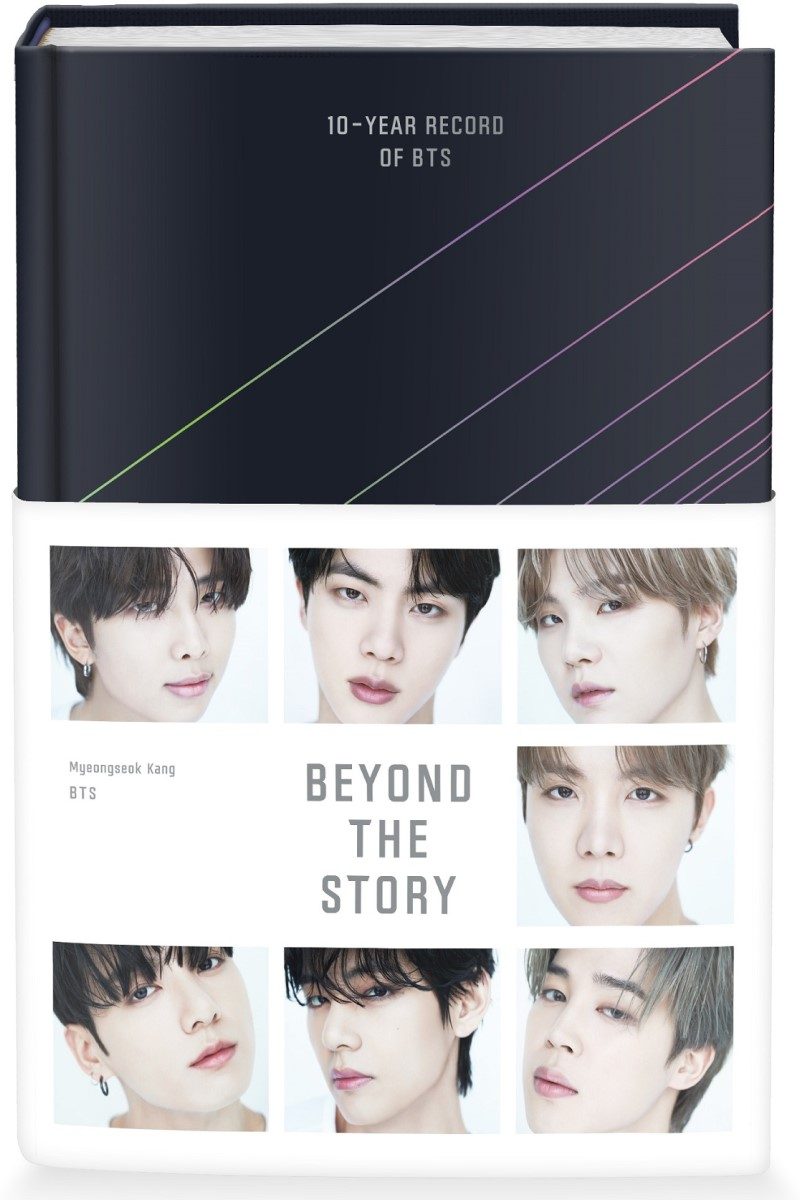 13:02 JST, July 10, 2023
It seems almost redundant for BTS to release an official biography 10 years into their existence. The K-pop superband is a household name across the globe, where it has topped the charts in dozens of countries. Grandmas in Seoul and teens in Spokane, Wash., can dispense all manner of trivia on the group's members.
There's RM, the bookish leader; Jin, self-dubbed "Worldwide Handsome," both the eldest and the goofiest; Suga, who once wished to be reincarnated as a rock; J-Hope, BTS's sunny and energetic den mom; Jimin, known for his charm and magnetic stage presence; V, enigmatic, mischevious and the one most likely to be wearing a vest; and finally, Jungkook, the golden child (or "Golden Maknae") of the group.
But "Beyond the Story," by Myeongseok Kang, is a book that knows its audience. Released on July 9 (the same day that, 10 years ago, their fandom adopted the nickname ARMY), it pulls together a tale – hitherto told in hundreds of blogs, YouTube videos, magazine articles and countless live video chats – into a cohesive narrative about BTS's music-making journey, with new reflections and interviews from the members themselves.
It also attempts to answer the question that still hangs over the group: What was it about BTS that transfixed the world? Here are some of the big takeaways.
The stakes were high from the start
Like other K-pop artists, the seven members of BTS started as "trainees" within the Korean music industry's highly organized talent-development system. Labels would provide room and board for promising young talent, put them through rigorous dancing and singing training, and hope they developed into new artists, known as "idols."
BTS came together under Big Hit Entertainment (now known as HYBE), a relatively small company that had nowhere near the resources of Korea's top three labels. In 2012, the label launched a girl group called GLAM, which was already struggling when BTS was still being cobbled together.
"I thought the company was going to go under," Suga, a rapper and producer for BTS, says in the book.
With the pressure ratcheted up, Big Hit's hopes landed on the shoulders of seven young men in their late teens and early twenties: RM, Jin, Suga, J-Hope, Jimin, V and Jungkook.
Masters of the vlog
For larger labels, unveiling a new K-pop idol group was like "a major Hollywood production," the author notes. The K-pop scene is so competitive, it's essential for a group to have fans before it even debuts.
Unable to compete with bigger labels' marketing money and industry connections, Big Hit went a different route with BTS. The boys connected to fans through candid video diaries and blog posts chronicling their everyday experiences, anxieties and hopes, as well as teasing unreleased music.
BTS members managed their own Twitter account, and later, Jin, one of the group's vocalists, started a YouTube series called "Eat Jin," in which he . . . ate things.
"At the time, there really wasn't any way to communicate with the fans, and as I liked eating, I thought I should upload that, at least," Jin recalls.
The crude, unedited footage stood out from the glamorous, tightly managed image that idols were supposed to present. The strategy proved prescient years later, when video streams became the default way for Korean celebrities to talk to their fans.
Breaking K-pop norms
While BTS is widely seen as global ambassadors of K-pop, "Beyond the Story" posits that its biggest successes came from breaking the genre's norms.
In K-pop, lead singles are typically dance-heavy songs, released alongside a bombastic music video featuring razor-sharp choreography. "I Need U," BTS's first big hit in Korea, bucked that trend, serving fans a moody, concept-heavy tune with an accompanying video that leaned into themes of familial trauma and violence.
"The way we expressed the emotions was really important," J-Hope says. "When I danced, I got into the character of a boy hanging off the edge of a cliff."
It was considered a big risk for a group that had been viciously derided by both online commenters and industry peers in previous years, and that was in many ways still gaining its footing.
And unlike most K-pop groups at the time, BTS continued to explore these darker themes in later work, such as the 2016 album "Wings," which drew inspiration from Hermann Hesse's Jungian novel "Demian" to probe themes of temptation, shame and reinvention.
Pushed to the brink by success
While BTS started gaining a foothold in the United States around 2015, it wasn't until 2017 and 2018 that BTS truly broke into the world's largest music market.
Americans hadn't been totally unfamiliar with K-pop before then; Psy's "Gangnam Style" briefly surged on global charts in 2012. But BTS's sustained popularity was unprecedented. Songs such as "DNA" and "Mic Drop" began cracking the Billboard Hot 100, and the group started taking its energetic performances to major award shows, as well as "The Tonight Show Starring Jimmy Fallon" and "GMA."
Then they would go back to Korea and do it all over again.
"We really had no days off," Jin says of that time. "I wondered whether it was right for a person to live a life as exhausted as this."
Navigating English-speaking press also posed a major challenge for the group. RM, the only fluent English speaker, frequently worried about making the kind of gaffes that would ripple across the Pacific.
Recalling interactions with the press at the Billboard Music Awards in 2018, RM says, "It felt like I was having a mental breakdown."
The make-or-break point
Just as group members were burning out during this period, their contract renewals came up, leading to discussions about whether BTS would break up.
Because of how tight the seven members were, Jin explains, if even one person left, the group probably would not continue to exist.
The book highlights their individual struggles with burnout and fame: Youngest member Jungkook took to drinking alone, and Jimin, a vocalist and dancer, withdrew by locking himself in a 6-foot-by-6-foot room.
"We all wanted to say, 'Let's quit,' but none of us could bring ourselves to do it," Suga says.
But they were also performing at their best. Hit shows such as their 2018 Billboard Music Awards performance buoyed them and led them to talk honestly about their struggles, the group's members say. They ended up renewing their contracts for another seven years.
Doubts about "Dynamite"
Even though BTS had made history several times by the time "Dynamite," its first English language song, was released in August 2020, not all of the band members initially thought it was a good idea. RM, for one, worried that "someone from outside" had written it.
Proposed by Bang Si-Hyuk, founder of Big Hit and a producer for the group, "Dynamite" was meant to win over fans who were just discovering BTS before the pandemic disrupted its promotional schedules. The disco-pop tune contrasted with the rest of the tracks on the album, "Be," which struck a more somber and melancholic tone. And the group's members had also been proud that their global hits so far had been Korean-language songs that they had written and produced.
The global response to the feel-good bop put their doubts to rest: "Dynamite" became their first song to top the Billboard Hot 100.
"We were all overjoyed together," V says. "Someone was laughing and someone was crying, and it was all . . . 'Ah, we weren't going down a dead end this whole time.'"
Add TheJapanNews to your Google News feed.