At Least 3 Firearms in Baltimore Shooting with 30 Victims, Police Say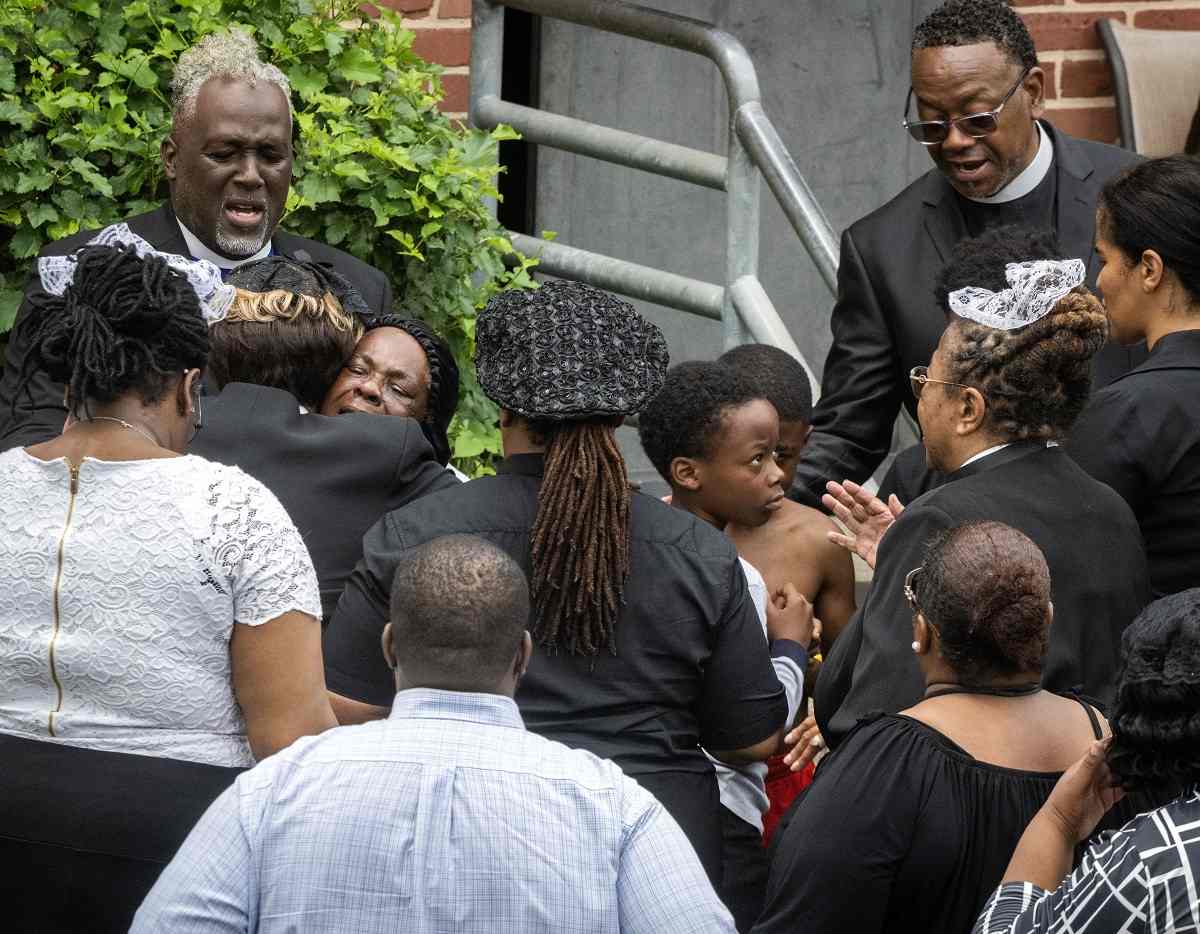 12:56 JST, July 5, 2023
BALTIMORE – Every year for more than a quarter-century, the Brooklyn Day block party has offered neighborhood residents a welcome respite amid the summer heat. Pony rides and dance contests. DJs playing hip-hop. Hot dogs and hamburgers. Children playing hide-and-seek.
The event Saturday in the Brooklyn neighborhood four miles south of downtown was in full swing even after midnight, when gunshots turned a joyous celebration into a shooting gallery, killing two people, wounding 28 and adding yet another place to America's ever-growing list of addresses linked to devastating gun violence.
Ahead of Fourth of July festivities, Baltimore leaders scrambled on Monday to assure residents they would be safe during the fireworks display at the Inner Harbor, even as they fended off questions about the lack of police at Brooklyn Day and gave casualty numbers as if recounting battlefield statistics.
Victims ranged in age from 13 to 32. Fifteen were younger than 17. Police said 18 were female and 12 were male. Hospitals went into disaster mode as victims poured in. One doctor said there were concerns the shooter might be outside the hospital's front door. Another doctor said two lives were saved during major surgery. Still, two died: Kylis Fagbemi, 20, and Aaliyah Gonzalez, 18. Gonzalez was called "Sweet Face," and her mother said she had just graduated from high school and had a college scholarship. Four people remained in critical condition Monday.
Mayor Brandon Scott (D) said at a news conference Monday that authorities "are doing everything to ensure that horrific violence is not repeated in Brooklyn or in any other neighborhood across Baltimore."
Mia Jones had taken her 7-year-old daughter Robin to the party but left to visit a relative. They returned to their home near Gretna Court a half-hour before gunfire erupted outside their front door. Jones said she and her daughter huddled in their living room until they thought it was safe to get up.
"Stop the shooting," said Jones, 31, who has sought to move to escape violence. "We can't even sit on our own front [porch]."
The block party was the largest Thomasina Eggleston said she has seen in her 15 years living in Brooklyn. She bemoaned the fact that someone would turn a day of community fun into fatal gunfire. "Why would they do that?" she said.
Eggleston, 56, said she saw police earlier in the day, but not after 6 p.m. "They should have had this protected," she said. "They should have."
Officials at the news conference offered few new details about the 12:35 a.m. Sunday shooting on Gretna, a street that winds around low-slung apartment buildings.
Acting police commissioner Richard Worley said at least three firearms were involved, but investigators were still trying to contact witnesses and, worried about retaliation, are working with other agencies to ease tempers. No arrest has been made.
Officials said the block party was without a permit, and authorities were not aware of it until hours before gunfire erupted. They did not say what police did once they learned of the event, whether they should have assigned officers after learning it was underway, or what the standards are for staffing larger, non-permitted events.
Worley said the event is not held on the same day each year, and his officers did not see it posted in the same social media spaces as in previous years. He said he is reviewing when or whether officers knew about the crowd and if that information was conveyed properly. Last year, authorities knew the date three days in advance and police were prepared, he said.
The president of the police union said no officers had been assigned, and just three were patrolling the community at the time. Worley denied police staffing was an issue, saying that had authorities known earlier about the event, they could have deployed officers from other parts of the city.
"Obviously, the conversation to deploy more resources was too late," the commissioner said.
Stefanie Mavronis, interim director of the Mayor's Office of Neighborhood Safety and Engagement, said conflict mediators through Safe Streets were present, but the event was not sponsored by the group. She said those mediators de-escalated several conflicts during the block party but had left before the shooting. She said there was "not an indication that this was where the event was heading."
The Baltimore City Council has scheduled a hearing next week of the public safety committee to discuss the city's response to the incident.
Council President Nick J. Mosby (D) said lawmakers want to ensure that such violence does not happen again and plan to dig into how it occurred, and whether police and other agencies responded properly.
"We just want to go through all of the steps to see what was missed, why it was missed, ensuring that we put the proper procedure in place moving forward," he said, adding the committee wants to hear from police, the housing authority and the mayor's office.
"This can never happen again," Mosby said. "This is the beginning of the summer. There's a lot of these types of block parties and annual events that take place, and we just need to make sure that what took place a couple of days ago never happens again."
There have been 340 mass shootings in the United States so far this year, according to the Gun Violence Archive, which defines a mass shooting as four or more people injured or killed, not including the shooter, and includes many incidents in which no one was killed.
Sunday's shooting once again thrust Baltimore into the national spotlight for its violence. The city has struggled with shootings and homicides since Freddie Gray died of injuries he suffered in police custody in 2015, sparking riots, and prompting the Justice Department to intervene with a consent decree, alleging widespread discriminatory and unconstitutional policing practices.
Baltimore, with a population of 570,000, has topped 300 killings each year since the riots and has one of the nation's highest per capita murder rates, though the homicide pace has slowed somewhat. The mayor said homicides are down 20 percent this year. National data shows violent crime across urban areas has fallen to its lowest point since the pandemic, according to a database collected and maintained by The Washington Post. Baltimore police data shows at least 27 people injured in shootings in 2022 in Brooklyn, up from an average of 20 between 2017 and 2021.
A day after the gunfire, police cars lined the streets of Brooklyn as some residents appeared at the doorways, looking outside.
A woman pushed a red grocery cart out of the community center just before 4 p.m. filled with fresh salad mix, a chicken, a watermelon, eggs and other free food – resources provided by the mayor's office as part of relief efforts for the community – as she headed toward her home across the street.
The woman, who spoke on the condition of anonymity because she feared for her safety, said she has a 2-year-old son who doesn't "even want to go outside to play."
"This has always been a family event," she said of Brooklyn Day, noting it transitions from youth activities to more adult festivities after sundown. She said she hasn't attended in two years, worried about something bad happening.
"That was children shooting at each other that night," the woman said. "Majority of the people down there were children. There wasn't enough regulations. There wasn't enough control for that." She said she saw "children running from bullets" past the bus stop.
Aaron Parker, community engagement coordinator for an outpatient mental health clinic, went door to door in the neighborhood Monday passing out cards detailing mental health and grief counseling services.
Parker said the neighbors he spoke with are "scared and in shock."
He said he and others from Transformation Health have been in the neighborhood since Sunday.
"It's horrific, because we're killing ourselves," Parker said. "Over what?"
Efforts to reach relatives of the people who died were unsuccessful Monday.
Gonzalez's loved ones, on GoFundMe, said they called her Sweet Face. In recent months, her mother documented milestones for a young woman on the brink of stepping into the world on her own.
Gonzalez got her driver's license. Then, in March, a scholarship to South Carolina State University. On April 12, she turned 18. In June, she graduated from Glen Burnie High School. On July 2, her mother found her dead.
"Why would they do this to a perfect angel. I love you so much baby. I didn't get there fast enough," Krystal Gonzalez wrote. "God this is a mistake!!! Please!!"
The teen was artistic and gentle, according to her family's GoFundMe page, and "ready to set the world on fire." She worked as a barista at Starbucks in Glen Burnie. Tributes poured in online, describing her as selfless, beautiful and quick with a joke.
Marie Talios, 39, remembered Gonzalez as a quiet student in her creative writing classes at Brooklyn Park Middle School – until she stepped foot on a stage.
"Every semester she had to perform in a showcase," Talios said in an interview. "The shy student I had during my class was bringing her stories to life and really had the audience in the palm of her hand."
Gonzalez was an avid writer, Talios said, and won an honorable mention in a local writing competition during her last year of middle school.
Scott, the city's 39-year-old mayor, told reporters he was a high school freshman when the mass killing at Columbine High School happened. He said it is time that political leaders who said then "that we wouldn't have one more because they actually going to do something, to do something."
Add TheJapanNews to your Google News feed.