Justice Ketanji Brown Jackson's Bold Debut and Independent Streak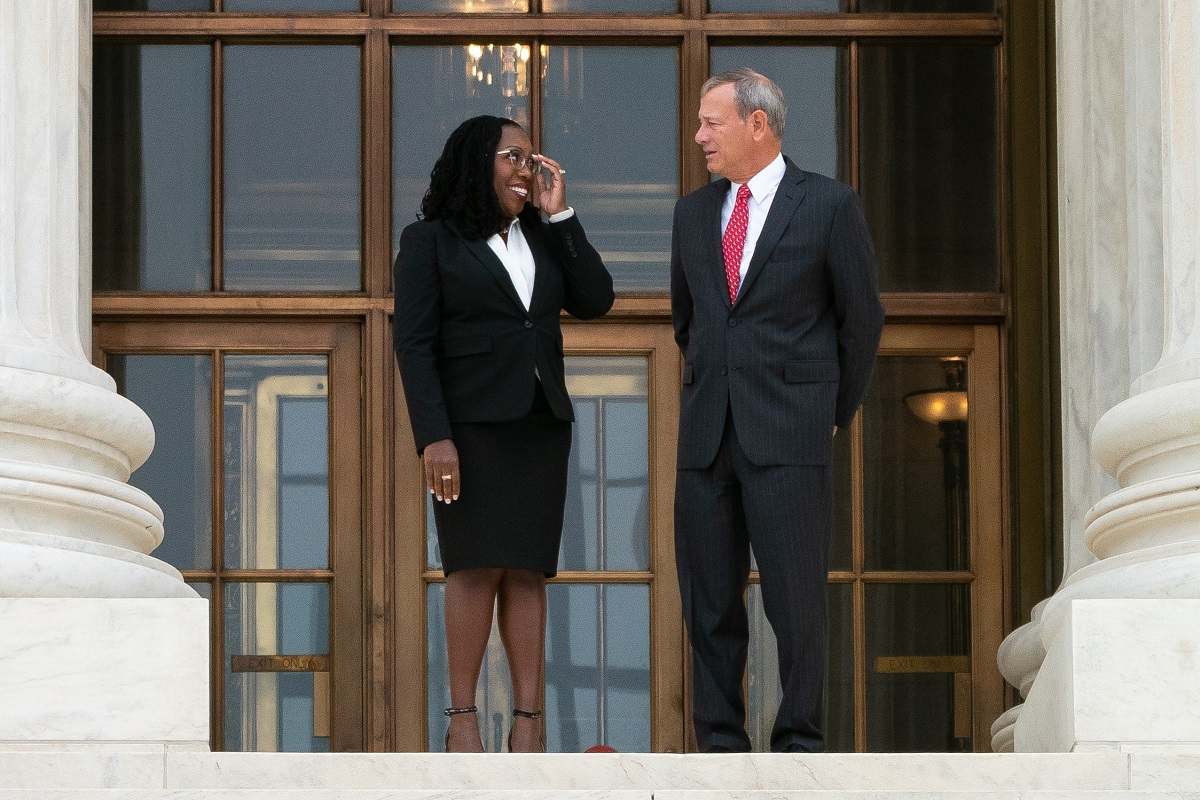 15:01 JST, July 3, 2023
In a rare public speech this spring, Supreme Court Justice Ketanji Brown Jackson talked to law school graduates about the challenges of starting a new job and about her love of musical theater. One of her favorites, she said, is the smash hit "Hamilton."
A particular song resonates: "History Has Its Eyes on You."
"Given my own experience over the past year, I think it's pretty obvious why," she told the crowd at Boston University School of Law's convocation in May.
Jackson on Friday completed her rookie term as the first Black woman to serve on the nation's highest court, making a forceful debut from the bench and in writing while showing signs of an independent streak. As anticipated, she was most often aligned with the court's two other liberal justices – Sonia Sotomayor and Elena Kagan – putting her on the losing side of high-profile, contentious decisions involving affirmative action in college admissions, gay rights and President Biden's student loan forgiveness program.
But Jackson also demonstrated a willingness to part ways with her liberal colleagues, even when they were on the same side of an issue, to express her own vision of the law. She authored more solo dissenting opinions – three – than any of the three most recent justices to join the court did as newbies.
And Jackson surprised some observers by teaming up several times with conservative Justice Neil M. Gorsuch, typically in cases involving a conflict between government power and the rights of individuals.
"She was not going to sit on the sidelines. She dove in and made her presence known," said New York University law professor Melissa Murray, who also was among the attorneys Biden considered nominating to fulfill his promise to name as Stephen G. Breyer's successor the first Black female justice.
Biden "may have been looking for a Black woman, but she wasn't just any Black woman," Murray said. "She was excellent and prepared and made a critical difference in a number of cases."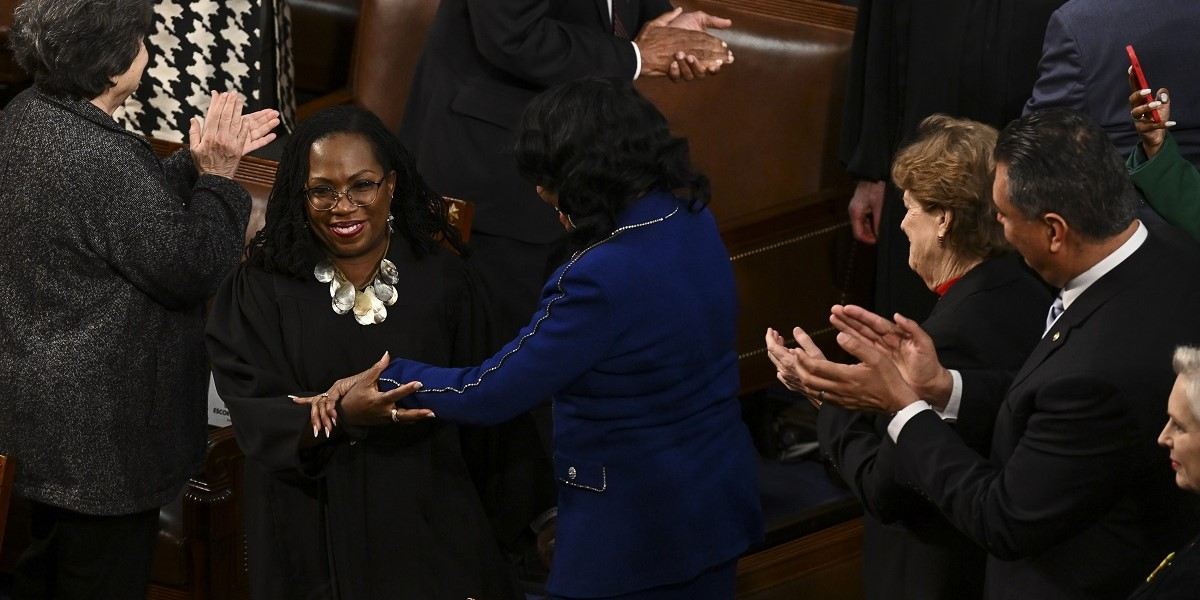 Most notably, Jackson's presence led to a remarkably pointed exchange last week with Clarence Thomas, the only other Black justice on the bench, about the meaning of race and racial disparities in the United States. In her dissent from the court's landmark decision rejecting the use of race in college admissions, Jackson responded directly to Thomas's interpretation of a colorblind Constitution and his harsh critique of what he described as Jackson's view that "almost all of life's outcomes may be unhesitatingly ascribed to race."
Jackson answered in a pithy, rhetorical style to what she called Thomas's "prolonged attack" on a "dissent I did not write."
"With let-them-eat-cake obliviousness, today, the majority pulls the ripcord and announces 'colorblindness for all' by legal fiat," Jackson wrote. "But deeming race irrelevant in law does not make it so in life."
From the outset in October, Jackson was an enthusiastic questioner, speaking more often during oral arguments than any other brand-new justice in at least the past three decades. She also had more to say than any sitting justice, with the exception of Chief Justice John G. Roberts Jr. on two occasions, according to data analyzed by Adam Feldman and Jake Truscott for the Empirical SCOTUS blog.
Jackson, 52, joined the bench after years of running her own courtroom as a federal district judge in Washington, pumping out orders and opinions. Perhaps for that reason, Jackson displayed a level of confidence not typical of a first-term justice, Feldman said.
"We've come to assume that first-year justices are in an acclimation period where they keep their heads down and are willing to join on to other justices' views and develop jurisprudence over time. She hasn't fit that prototype," Feldman said. "She has a lot to say and isn't willing to cut corners to get her views out to the public."
While Jackson quickly established a high-profile role on the bench, her public appearances have been more limited, with law school graduation speeches at American University, where she is close friends with the dean, and at Boston University, a commitment she made before her nomination.
Every justice has to decide how much to temper their views to get to a five-vote majority, and when they feel it is important to stake out their own position. Jackson was in the majority 84 percent of the time, slightly more than both Sotomayor and Kagan, but she also went out on her own in her trio of solo dissents.
Sean Marotta, an appellate attorney and close watcher of the court, said Jackson appears to be positioning herself as a "thought leader" for the left wing of the court in the way that Thomas has for years done on the right. Thomas led the court in dissents this term, writing a total of nine.
"So far, it seems Justice Jackson is leaning towards sharing her own views without compromise," Marotta said. "She was nominated because she has strong views, and she's holding true to them."
Jackson's background as a federal public defender was on display in a case involving the rights of prisoners to challenge their convictions after the Supreme Court changed the requirements for conviction under the criminal statute at issue. Jackson delivered a 39-page opus that said the majority "unjustifiably closes off all avenues for certain defendants to secure meaningful consideration of their innocence claims." It was also notable that Sotomayor and Kagan did not join it, issuing their own two-page dissent.
She was the lone dissent in an 8-1 decision involving the liability of unionized workers on strike, writing: "We have no business delving into this particular labor dispute at this time."
Matt Ginsburg, general counsel for the AFL-CIO, said Jackson's strength is "an ability and willingness to talk about how complex legal decisions affect ordinary people and their lives." He pointed to her questions in a case involving regulations that affect overtime pay for highly compensated workers who are not on salary.
"It doesn't really matter that he might get $100,000 over the course of the year," Jackson said during oral arguments. "What he has to know is how much is coming in at a regular clip so that he can get a babysitter, so that he can hire a nanny, so that he can pay his mortgage."
Although she was most often allied with the liberals in the term's biggest controversies, Jackson teamed up with Gorsuch in four cases that drew on his tendency toward libertarianism and her experience defending indigent clients.
Jackson joined Gorsuch's concurrence, for instance, when the court sided with a woman who said the government unfairly profited when it seized and sold her property for more than she owed in taxes. The pair said they would have gone further than the majority, to also find that the excessive fines levied on the woman probably violated the Constitution.
"You certainly see threads in both of their opinions of making sure that the individual is seen and heard," said Tobi Young, a former law clerk to Gorsuch. "From what I've seen, neither one of them has ever been afraid to be their own person."
Jackson's predecessor, Breyer, for whom she was a law clerk, was also known as one of the most active speakers during oral arguments. But Jackson's questions were less whimsical and more pointed than Breyer's, and she brought a different view, particularly to issues involving race.
"It is difficult to remember a term in which a new justice arrived with such a powerful voice," said Gregory G. Garre, a Supreme Court practitioner who served as solicitor general under President George W. Bush. "Justice Jackson has staked out a position on the far left of the court with Justice Sotomayor, but she has breathed new life and a fresh perspective on many arguments on the left."
In a case involving voting rights in Alabama, Jackson invoked originalism, typically employed by conservatives, to make the case that the 14th Amendment was race-conscious by design.
During oral arguments in the affirmative action case, Jackson used a memorable hypothetical, asking whether it would be fair – and legal – to allow a White student to write about multiple past generations of his family who attended a particular college but not to consider the race of a Black applicant, who might write about how his enslaved ancestors were barred from admission to the school.
"To demand that colleges ignore race in today's admissions practices – and thus disregard the fact that racial disparities may have mattered for where some applicants find themselves today – is not only an affront to the dignity of those students for whom race matters," she wrote.
Roberts seemed to take note of Jackson's concern when writing the ruling that rejected race-based admissions policies, saying that "nothing in this opinion should be construed as prohibiting universities from considering an applicant's discussion of how race affected his or her life, be it through discrimination, inspiration, or otherwise."
Add TheJapanNews to your Google News feed.