Covid Isn't Over, but Even the Most Cautious Americans Are Moving On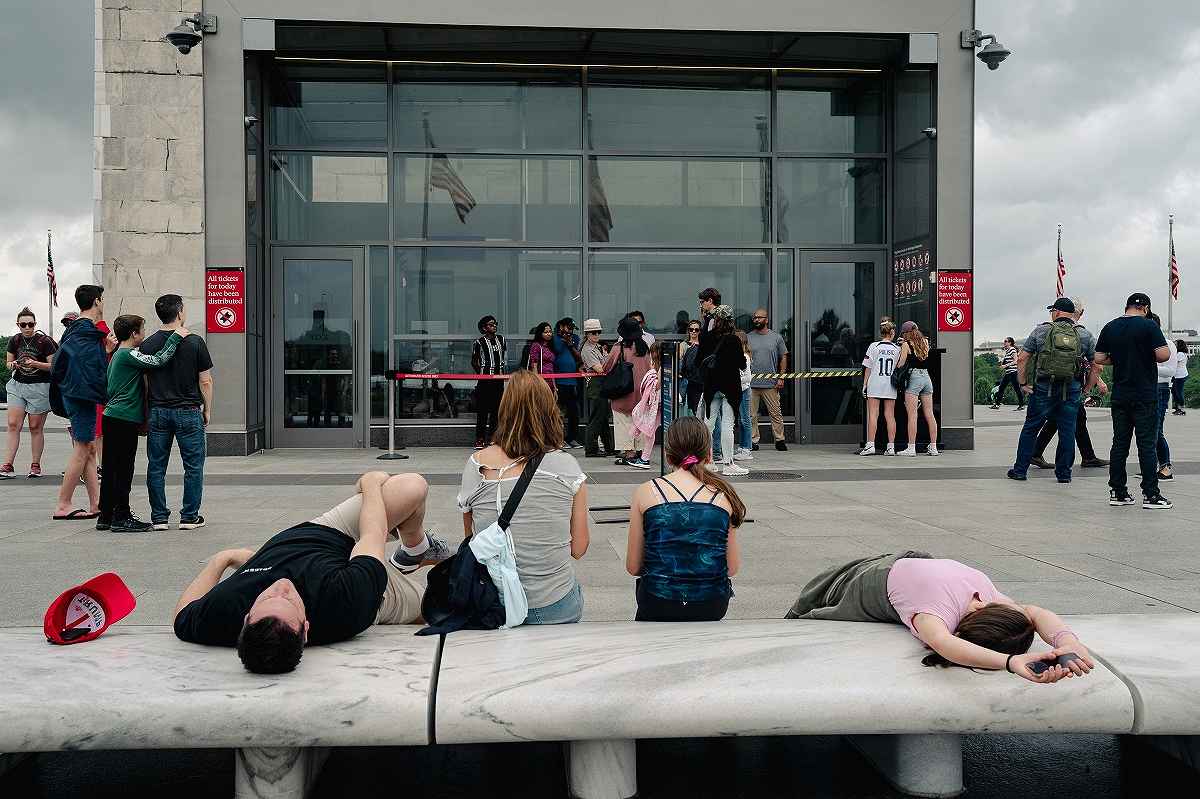 16:56 JST, June 28, 2023
The mother of an immunocompromised teenager is traveling by plane for the first time since the coronavirus pandemic started. A scientist felt safe enough at last to attend a professional conference last week. Members of a meditation group for retirees are ready to doff their masks, even the woman with lung problems.
Emboldened by the government's recent lifting of the public health emergency, Americans who have tried to be rule-following pandemic citizens for the past three summers are at last abandoning precautions as the coronavirus fades into a background threat.
Officials are no longer warning of scary new variants. Free tests are harder to come by. The White House covid team has disbanded, and the virus is increasingly erased from public conversation. After 2020's summer of isolation followed by 2021's "hot vax" summer and last year's summer of revenge travel, this summer, the fourth since covid arrived, marks a season of blissful ignorance – or begrudging acceptance that the rest of society is moving on.
Carol Morris, who travels around the country with her husband for tango and other dance events, has seen a sharp shift in covid safety protocols since last summer, when many events required masking, vaccination or negative test results and made announcements when attendees became infected.
"Now, there's nothing. No announcements. Nobody's testing. Nobody cares," said Morris, 67, of Longmont, Colo. "They are like, 'Covid? What's covid?'"
Available metrics suggest the virus is declining, although no one really knows how much the coronavirus is circulating given a drop in data collection.
The toll of covid-19 is increasingly obscured as more data sources disappear, including the Centers for Disease Control and Prevention's community levels dashboard that categorized the strain on county health care systems as low, medium or high. Now the CDC recommends Americans use a tracker displaying new covid-19 hospital admissions by county to understand the state of the virus in their community. By that measure, there were 6,600 new admissions nationally the week ending June 10, compared with roughly 30,000 at this time last year.
Other metrics, including emergency department visits, test results reported voluntarily by a network of laboratories and wastewater surveillance also indicate infections are low and declining.
"We are in a relatively good spot," said Brendan Jackson, the CDC's incident manager for its covid-19 response.
Americans seem to share this assessment, with 62 percent saying in May that covid-19 is over, compared with 47 percent who felt that way in February, according to the most recent Axios-Ipsos poll. More than half now say they never mask in public, and the share of respondents who said they always or sometimes mask dropped from 30 percent in February to 23 percent in May.
"Covid is already done. Move forward," said Issara Tak, 50, who was taking photos of monuments on the National Mall in D.C. with his family while on vacation from Los Angeles.
At the Tidal Basin, Jorge Ospina said he might wear a mask in a super crowded situation. But he feels less pressured to do so now.
"At first we were 100 percent by the rules," said Ospina, 39, whose relatives have repeatedly contracted the virus and who had two cousins each lose a parent to covid. "Everybody had a mask on, but now you see it's more like the opposite."
Susan Eschrich recently removed the last mask from her purse, with some trepidation. She knows covid is still around: Two friends were infected in May; one had to be hospitalized. But Eschrich felt ostracized wearing a mask to protect her 89-year-old terminally ill father, who she cares for at an independent living facility in Sarasota, Fla., where no one else masks – not even her father.
"I felt like it wasn't going to make a difference because if he goes out and he's not wearing a mask, what good is it really doing?" said Eschrich, 57. "Wearing a mask is not fun. Nobody around here is wearing a mask."
The vast majority of the more than 80 people contacted by The Washington Post say they are relaxing precautions, believing they'll be fine because they're up to date on their shots and transmission rates are low. Those who still mask and socially distance are making peace with most others no longer doing so.
Jody Barens Moran has been hypervigilant about avoiding another bout of covid to protect her teenage son, who has a rare genetic disorder and a weak immune system. The two endured high fevers after contracting the virus this winter. Now, as health care providers drop the last of the country's mask mandates, Moran asks her allergist to wear a mask and frequently draws stares and questions about why she still masks.
Yet she, too, is loosening her boundaries and plans to board her first flight since the pandemic began for a long-delayed vacation to Hawaii in July. TSA checkpoint data shows the number of U.S. airline passengers have approached or exceeded 2019 levels every day in June for the first time. Moran plans to wear an N95 mask on the plane, skip indoor restaurants and pack coronavirus tests and the antiviral treatment Paxlovid in her suitcase.
"I think that it's just a way of life now that we have to live with, like the flu and anything else," said Moran, 48, who lives in West Hollywood.
Inside hospitals, medical professionals are also seeing a virus that has faded into the background.
The University of Pittsburgh Medical Center cared for fewer than 20 patients with coronavirus across its entire system last week, compared with 1,200 at the height of the Omicron wave in early 2022. Kaiser Permanente's hospitals in Northern California have seen covid patients dwindle from filling 10 to 15 percent of beds last summer to 5 percent now – only half of whom are admitted for covid. Northwell Health, New York's largest health system, has treated less than a handful of seriously ill covid patients across its facilities in recent weeks.
"The pandemic, for all intents and purposes, now is gone, but the virus isn't gone yet," said Donald Yealy, chief medical officer for UPMC's health services division.
Even when transmission is low, coronavirus is one of the most common respiratory viruses, infecting tens of thousands, experts say.
The virus finally tore through Sarah Ferrario's suburban D.C. household after her family attended a wedding in Italy in early June. Ferrario, her husband and their 8-year-old daughter tested positive for the first time; their 12-year-old son became infected for the second time. They had been sticking with precautions longer than other people they know: The kids masked in school until March, and the parents still are masking at their college teaching jobs.
Ferrario decided not to allow her son, Ollie, to attend his fifth grade promotion ceremony, where he was supposed to play the cello and receive an award for academic achievement. Instead, three of his friends stopped by their house to bring cake, the award and a smiley-face balloon for a celebration in the front yard, with Ollie masked – a socially-distanced scene reminiscent of the pandemic's first year.
"I didn't want to blow up anyone else's summer plans," said Ferrario, noting her family was able to frequently test with free kits from the local library.
But affordable testing remains out of reach for many Americans now that the federal government has stopped mailing free kits and insurers are no longer required to cover them. While some people still have tests stockpiled, experts worry fewer chains of transmission will be broken as people stop testing when they experience cold-like symptoms or before big gatherings.
"We are in a challenging sort of period where, for the vast majority of people, covid is now a mild illness that may be indistinguishable from a lot of other respiratory infections," said Jackson, the CDC official. "We do encourage people to get tested when possible, but we understand it's not always feasible at this point."
Public health authorities say the best thing Americans can do to protect themselves is stay up to date on their vaccines, especially when new booster shots designed to target the latest variants are rolled out this fall.
But uptake of the most recent bivalent booster dose remains low: just 17 percent of all Americans – and 43 percent of those 65 and older – had received the shots as of May 10, according to the CDC.
The booster rates are lowest in children 5 and under – 18 percent – and their parents are having a hard time finding shots.
Claire Hannan, executive director of the Association of Immunization Managers, said pharmacies often do not administer shots to toddlers, leaving doctor's offices as the best place to find them. But some physicians are hesitant to stock a vaccine that's in low demand, has special storage requirements and comes in vials where unused doses often go to waste.
Activists who are waging a difficult fight to keep covid-19 a top priority say the retreat is premature, as the virus continues to prey on the most vulnerable – killing 40,000 so far this year. Hundreds still die daily, and long covid continues to inflict lasting complications on otherwise healthy people.
"This is still a novel virus. It's only been three years," said Lara Jirmanus, a primary care physician in Massachusetts and activist with People's CDC, an organization that has advocated for the preservation of mask mandates at hospitals and expansion of free PCR testing. "Covid can still disable you each additional time that you get a covid infection."
In Minneapolis, the Moon Palace book store is one of the rare businesses to maintain a mask mandate. Owner Angela Schwesnedl said she does so to protect workers and their immunocompromised relatives, but she's encountering more resistance from customers who don't even have to mask at their doctor's office anymore.
"I would love for covid to actually be over," Schwesnedl said. "But that's just not the reality."
Still, some infectious diseases physicians who have been urging vigilance for the better part of three years are now encouraging patients to set aside their anxieties and have fun this summer.
"Social isolation is not good for us, and it's really important that we get back to some of our activities," said Stephen Parodi, who managed the covid-19 response for Kaiser Permanente Northern California.
Julie Garel, who had contracted covid during a vacation to Denver last year, said she plans to stop thinking about the virus this summer (at least, until she agreed to an interview). She enjoys dancing in bars, seeing people's smiles and attending concerts without feeling like the masked outsider. It had become untenable to keep up precautions when the rest of her family did not.
Letting go made her happier.
"This virus lingered for quite some time in my emotional equation, and in hindsight, I think it took up unnecessary space," said Garel, 63 of Bethesda, Md.
"I could no longer opt out of concerts, crowded bars, and trips to 'red' states. So here I am."
Add TheJapanNews to your Google News feed.