Justice Department Asks about Election Fraud Claims as Well as Fake Electors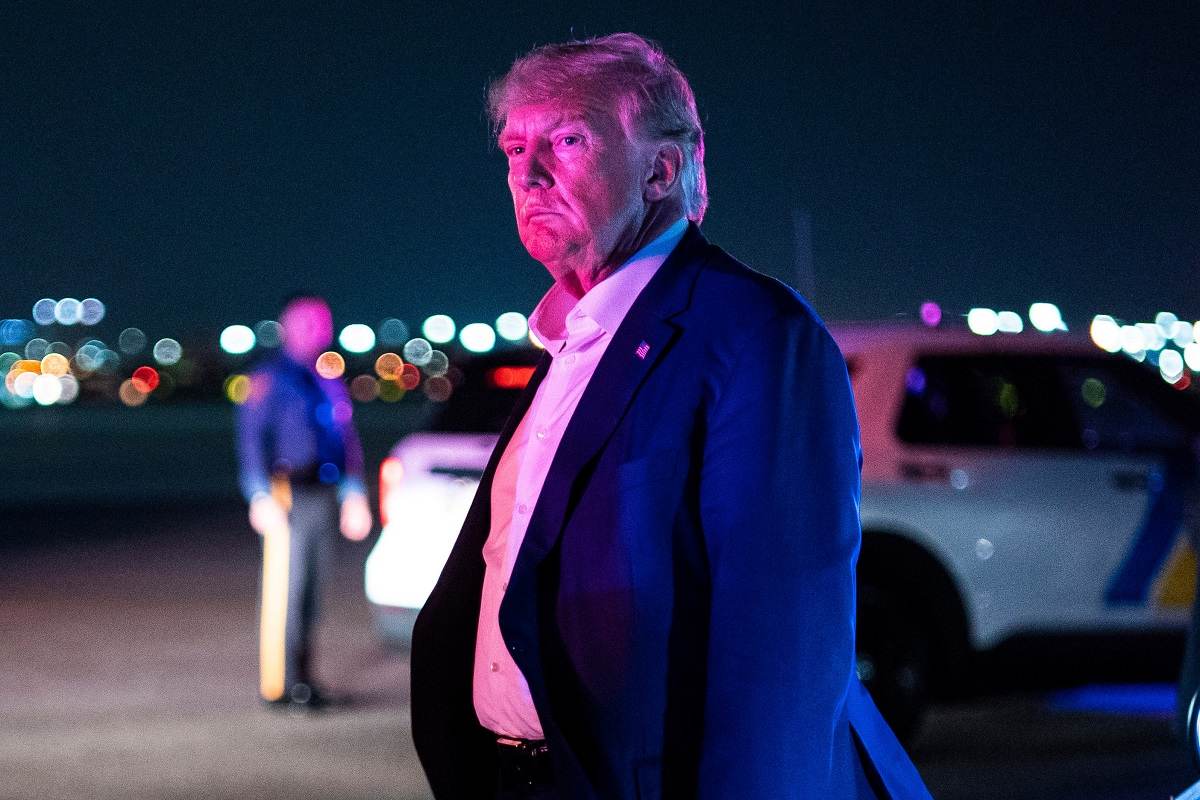 12:59 JST, June 27, 2023
The Justice Department's investigation of efforts by Donald Trump and his advisers to overturn the 2020 election results is barreling forward on multiple tracks, according to people familiar with the matter, with prosecutors focused on ads and fundraising pitches claiming election fraud as well as plans for "fake electors" that would swing the election to the incumbent president.
Each track poses potential legal peril for those under scrutiny, but also raises tricky questions about where the line should be drawn between political activity, legal advocacy and criminal conspiracy.
A key area of interest is the conduct of a handful of lawyers who sought to turn Trump's defeat into victory by trying to convince state, local, federal and judicial authorities that Joe Biden's 2020 election win was illegitimate or tainted by fraud.
Investigators have sought to determine to what degree these lawyers – particularly Rudy Giuliani, Jenna Ellis, John Eastman, Kurt Olsen and Kenneth Chesebro, as well as then-Justice Department lawyer Jeffrey Clark – were following specific instructions from Trump or others, and what those instructions were, according to the people familiar with the matter, who like others interviewed for this article spoke on the condition of anonymity to describe an ongoing investigation.
Special counsel Jack Smith's team has extensively questioned multiple witnesses about the lawyers' actions related to fake electors – pro-Trump substitutes offered up as potential replacements for electors in swing states that Biden won.
The Washington Post has reported that Giuliani, a personal attorney for Trump who took over his campaign's legal efforts after the 2020 election, coordinated the fake-elector effort. Ellis helped him urge state legislatures to reject certified Biden results, while Eastman argued to Trump that Vice President Mike Pence could accept alternate slates when certifying the electoral votes on Jan. 6, 2021. Chesebro wrote several memos on the fake-elector strategy. Olsen urged lawsuits to overturn the election results in several states, and Clark pressed Trump's fraud claims from within the Justice Department.
Trump's allies have argued that there was nothing criminal about preparing alternate electors in case state legislators blocked Biden slates.
Giuliani, Ellis, Clark, Eastman, Chesebro and Olsen or their representatives either did not respond to requests for comment or declined to comment Monday.
Smith, a longtime federal prosecutor who was appointed special counsel by Attorney General Merrick Garland in November, charged Trump this month with 37 counts alleging that he willfully retained classified documents at his Florida residence after leaving the White House and obstructed government efforts to retrieve them.
Garland also put Smith in charge of a separate investigation of efforts to overturn the election results. That probe appears to be focused on fraud-related charges, according to subpoenas reviewed by The Post and interviews with witnesses, lawyers and others familiar with evidence being presented to a federal grand jury in Washington.
The special counsel's office did not respond to a request for comment Monday. Its election-focused probe is separate from the Justice Department's prosecution of people directly involved in the Jan. 6, 2021, riot at the U.S. Capitol, which has yielded hundreds of convictions, including for seditious conspiracy. And it is independent of a criminal probe by the district attorney in Fulton County, Ga., that is also examining efforts to overturn the 2020 election.
In addition to its focus on fake electors, Smith's team has looked extensively at ads and email pitches that raised funds off Trump's false claims of election fraud, people familiar with the matter said.
In the weeks after the election, an advertising firm created three ominously named spots for Trump's fundraising effort: "Overwhelming," "Stop the Steal" and "On Tape." But when lawyers for the campaign reviewed the advertisements, they raised concerns that the spots contained false information and might not meet network standards, according to people familiar with the matter.
The campaign was facing a repeated problem, Trump adviser Jason Miller wrote to Larry Weitzner, an executive at the firm producing campaign ads for Trump.
"The campaign's own legal team and data experts cannot verify the bullshit being beamed down from the mothership," he wrote, according to four people familiar with the email. That was why Giuliani and his lawyers were "0 for 32," Miller added, an apparent reference to the number of times Trump's legal team had challenged the election results in court and lost.
The email is one of many pieces of evidence prosecutors have obtained indicating that Trump advisers privately didn't believe or were at least skeptical of voter fraud claims. Some of those messages came as top campaign officials continued to approve advertisements raising money off the claims and as Trump falsely continued to say the election was "rigged."
Miller, who holds a senior role in Trump's 2024 presidential campaign, declined to comment on the email. A person familiar with the situation said Miller wrote the message in a moment of frustration with the various legal theories and advice from Trump's outside lawyers in the heated days and weeks after Trump lost the 2020 election. Weitzner did not respond to a request for comment.
Steven Cheung, a spokesman for Trump, decried the release of "out-of-context information to the press" and said the Department of Justice had "no case whatsoever."
"Further, the DOJ has no place inserting itself into reviewing campaign communications and their meddling in such matters represents a grave danger to the First Amendment and should seriously concern all campaigns and Americans," Cheung said. "This is the continuation of the many witch-hunts against President Trump in order to meddle and influence the 2024 election in order to prevent him from returning to the White House. They will fail."
Smith's team has sent subpoenas in recent months seeking detailed information about the fundraising ads, two people familiar with the matter said. The Post viewed one of the subpoenas. Investigators have asked multiple Trump advisers about the formulation of the ads, payment for them and whether campaign aides knew they were false before they were released. Prosecutors also have subpoenaed information about media-buying firms and others involved in the process, people familiar with that effort said.
If individuals knowingly used electronic communications such as emails to raise funds under false pretenses, that could constitute wire fraud. However, politicians and interest groups frequently use overheated rhetoric to try to raise money, and it's unclear if prosecutors have reached any conclusions about whether the election fraud claims by the Trump campaign crossed a legal line.
People who have been questioned by prosecutors say there has been a prolonged and intense focus on what campaign officials knew in the weeks after the election, with investigators comparing their comments privately to what they said publicly. During that period, campaign officials were provided reports from at least two research firms paid by Trump's campaign that showed the fraud claims were either false or unproven.
Another focus is whether individuals who disagreed with some of the claims were co-opted to participate in fundraising efforts. In one subpoena reviewed by The Post, prosecutors ask for all documents related to "the use of Michael R. Pence's name in fundraising, including but not limited to whether his name could or would continue to be used in fundraising" and "any individual indicating that they do not want to be, or no longer would be, a surrogate in fundraising emails."
People familiar with the matter say Pence's team blanched at Trump or his advisers making any promises in fundraising emails that Pence would help overturn the election, but did not object to all the emails.
Smith's team also has asked for email correspondence among dozens of Trump and Republican aides and advisers, including some figures who were junior staffers, the people familiar with the matter said. Some of the aides include digital copywriters.
Prosecutors have sought and obtained some evidence that there was widespread disbelief even among members of the president's inner circle about the claims of extensive voter fraud, according to subpoenas reviewed by The Post and interviews with people familiar with witness testimony.
When Trump wanted to release a press statement saying a single report of fraud was the "tip of the iceberg," campaign advisers argued internally against using that language, because they believed there was no evidence for such a claim. The claim went into the news release anyway, according to people familiar with the matter. Prosecutors have homed in on the phrase – and the discussion of whether to use it – with multiple witnesses, according to people familiar with the investigation.
Smith's team has also reviewed news releases and drafts of public statements that were never issued, quizzing witnesses about them. And investigators have obtained emails and messages among Trump advisers disputing claims about election fraud made by people who were also advising Trump but were not on the campaign, people familiar with the matter said.
In one example, some Trump advisers discussed the absurdity of a fraud accusation that was passed along from members of Trump's golf club in Bedminster, N.J., to a Trump family member, who then sent it to the campaign for research.
Multiple witnesses and lawyers said prosecutors have asked repeated questions about Trump entities paying the legal bills for witnesses and whether any strings were attached to such payments, people familiar with the matter said. Two people with knowledge of the case described some of the investigators as fixated on why certain aides who have been questioned as part of the probe are having their legal bills paid for by Trump entities.
It is not uncommon for employers to pay legal costs when employees need a lawyer for issues arising from their jobs, but prosecutors appear to be trying to determine if there is anything untoward about the arrangement in Trump's case.
Then there is the question of whether Trump's efforts to get state officials in Georgia to "find" more votes for him amounted to a crime.
Georgia Secretary of State Brad Raffensperger – whom Trump called after the election, asking if he could find enough votes to overcome Biden's margin of victory in the state – is scheduled to be interviewed by investigators with Smith's office on Wednesday in Atlanta, a spokesperson for Raffensperger's office said.
The interview session had been delayed several times at the request of Smith's office. Raffensperger was previously interviewed by the House committee that investigated Jan. 6 and in front of a grand jury as part of the state-level probe in Georgia, which is being led by Fulton County District Attorney Fani Willis.
This would be Raffensberger's first interview with the Justice Department.
Add TheJapanNews to your Google News feed.