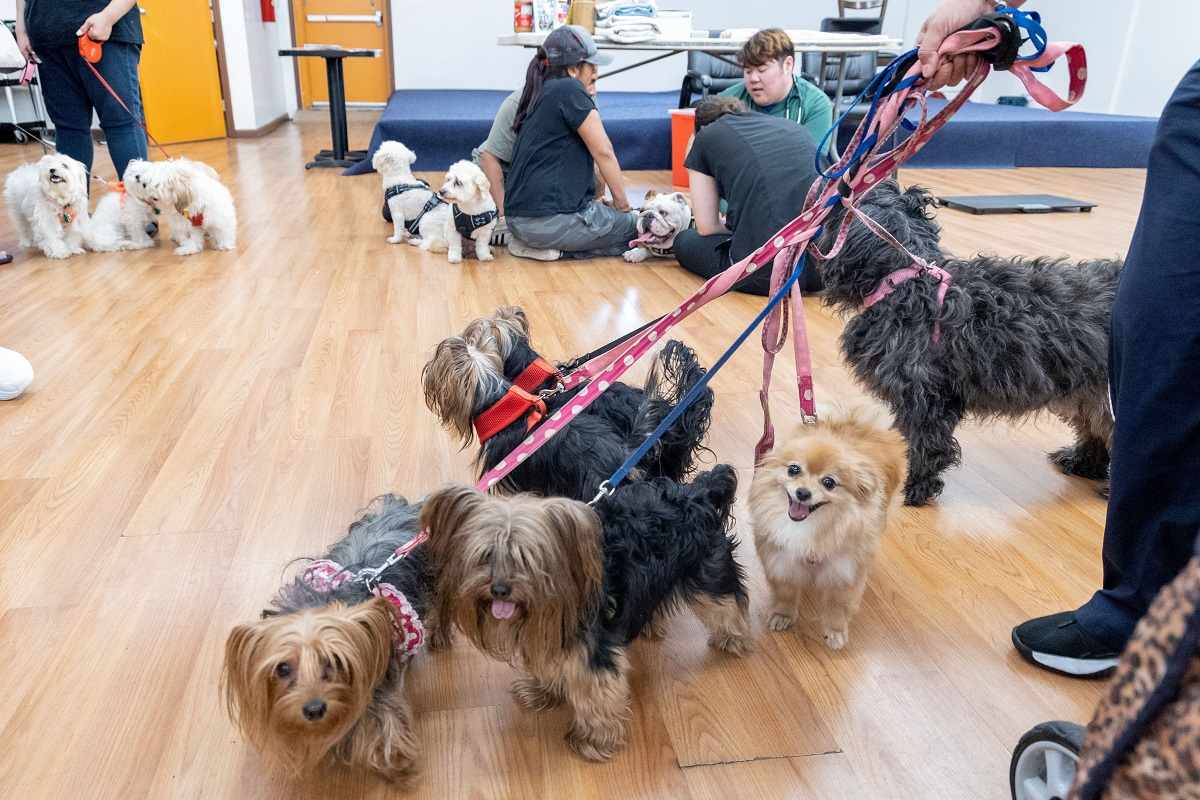 17:49 JST, June 19, 2023
When a person is arrested, their pet can get lost in a shelter – sometimes for good.
So Sharmila Colquhoun and Nikki Smith go to work, tracking down names, conducting interviews, making phone calls, searching databases and knocking on doors.
The two are special case advocates, or social workers, at New York City's largest animal shelter, tasked with helping people who have been arrested, evicted or hospitalized keep track of, and eventually reclaim, their pets. They each typically handle about five cases per week; some straightforward and others that require leg work akin to that of a private investigator.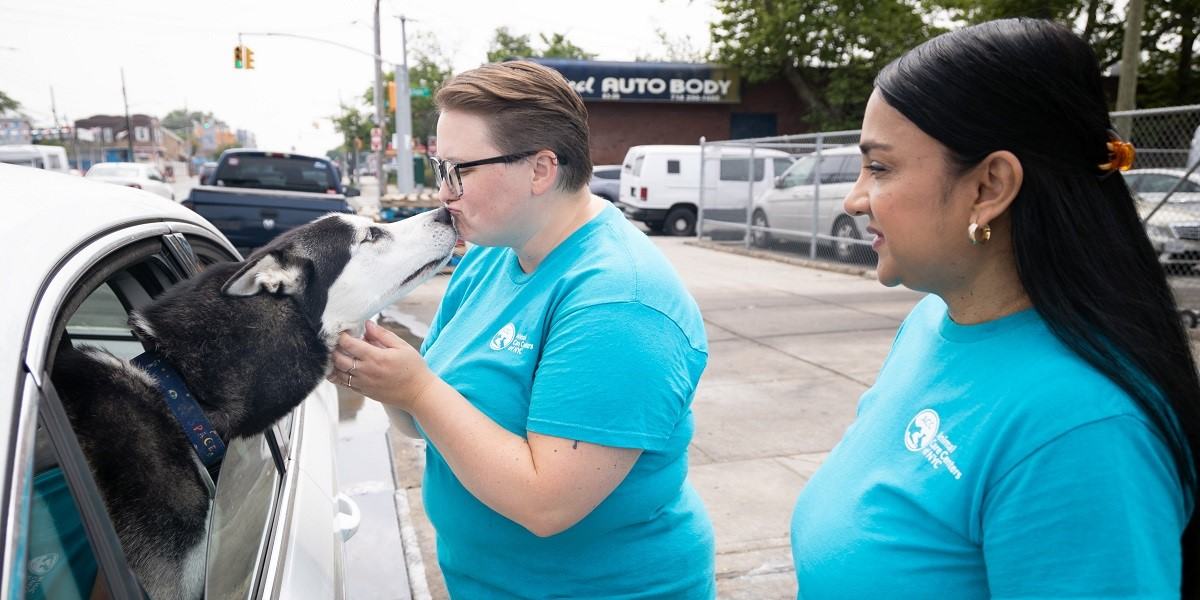 Since their team of two was created in March 2022, Colquhoun and Smith have helped more than 480 people and 760 pets survive hardship and separation. When the city posted the job openings, they both applied immediately, bringing experience in nonprofit work and project management, and a love for animals.
While protocol for handling pets in cases of incarceration, domestic violence, hospitalization or homelessness varies across the United States, it often ends in permanent separation of pet and owner. Sometimes, if there are no family members or friends to step in, the pets are euthanized.
But, like the new Special Case Advocate team at New York's Animal Care Centers, organizations around the country are establishing programs to either keep pets with their owners through short-term separation or rehome them if a person can no longer provide care.
If an animal is present during an arrest, the New York Police Department contacts the Animal Care Shelter, which keeps the animal for three to five days. Colquhoun and Smith then try to determine if the pet should be re-homed or, depending on availability, move into the shelter's long-term foster program, which allows a subset of foster parents to hold an animal for up to 90 days.
"In an ideal situation, the police will provide us with the contact information for the person and we will get in touch with them, or hopefully a family member, that can speak on their behalf to find out things like how long the person might be incarcerated, or if there's anybody else that can care for the animal while they're in jail," said John Cicolella, the shelter's director of community resources.
Elinor D. Molbegott, an attorney on Long Island who specializes in animal law, answers legal questions online as pro bono work – and says she receives several questions a month pertaining to the separation of a pet from its incarcerated owner.
One question from 2018 asked what can be done about a service dog that was adopted while its owner was jailed for three weeks; another asked if people are legally required to pay an impound fee after they were arrested and their pet was sent to the shelter.
In early June of last year, in Doraville, Ga., the police pulled over Sherry Baird with her black Shih Tzu, Onyx, in the back seat. It was a hot summer morning, and as the officers searched her vehicle, Onyx baked in the sun for close to four hours. Baird was taken to DeKalb County Jail and charged with drug trafficking. Onyx was taken to the animal shelter.
That was the last time they saw each other.
Baird was released from jail after five weeks, with the help of the Bail Project, a nonprofit that pays bail and provides pretrial services for people who cannot afford it on their own. She said she told police during her arrest that she would like to secure or pay for a foster parent to care for Onyx, and tried desperately to determine the dog's whereabouts while she was behind bars.
Officials told her to contact the animal shelter, but the shelter would not accept jail phone calls. She returned home to messages from the shelter telling her that Onyx had been adopted.
"She was like a baby. She went everywhere with me," Baird said. "It really broke my heart."
Vincent Medley, director of American Pets Alive, said there's a growing philosophy among animal advocates that pets should be kept in their homes – and reunited with their owners – as much as possible.
"The old model was to pick the animal up, the shelter is the solution, the shelter will find the right place for the animal," Medley said. "Now, we want to do whatever we can to keep that animal in the home."
Fostering is also considered better than sending the animal to a shelter, Medley said.
In a previous role at the American Humane Society, Medley would teach "canine encounter training" to police academies, which included instruction on taking a dogs into custody during its owner's arrest, but also information on how to quickly contact an organization that can figure out what to do with the pet.
In Arizona, the Pima Animal Care Center created the Safety Net Program that secures foster homes, usually for up to 90 days, for pets whose owners are absent because of arrests, drug rehab, hospitalization or eviction. Shelter spokeswoman Kayleigh Murdock said the facility works directly with the Tucson Police Department: "If there's an arrest being made and there's a pet at the residence, we're called out immediately to be on scene to assist."
The special case advocates in New York also help pet owners who become homeless. The advocates will often help a person connect with a mental health provider who can provide a letter certifying that person's pet as an emotional support animal, which can facilitate the animal's admission into a housing shelter.
"We try to get the whole story, find out if they have concrete housing plans, if they suffer from any underlying mental health condition and give them a chance to understand the process based on what's going on with them personally," Colquhoun said.
Becca Kinsella is a social worker on the homicide and major felony unit at Brooklyn Defender Services, an organization that offers free criminal defense services. She and her colleagues attend arraignments to help clients with matters like child care, housing and pets – all of which can be severely disrupted after just a night or two in jail.
"One missed day of work may mean the difference between having a job and continuing to move forward and being able to support oneself, being able to support one's family, being able to support one's pets," Kinsella said.
Happy endings do happen. The advocates at New York's Animal Care Centers, for example, will ask the adoptive owners of a pet to relinquish the animal if the previous owner is once again able to care for it.
The adopters "are the legal owner at that point, so they can say no. But we do make that effort to reach out, and it's been pretty successful, honestly," Cicolella said.
Keri Blakinger, now a reporter at the Los Angeles Times, was incarcerated for two years following a drug arrest in 2010. She writes in her book, "Corrections in Ink," that her biggest worry when she was taken into custody was what would happen to her dog, Charlotte.
The pet was taken in by a friend of the property manager at Blakinger's apartment complex, who told Blakinger's parents Charlotte would have care for as long as needed. "I was on the one hand relieved to know that she had been found, she didn't run away, that she wasn't sort of lost into the shelter," Blakinger said of finding out from jail that Charlotte had been adopted. "On the other hand, though, it was kind of bittersweet because this family of complete strangers was taking her in and giving her things that I never could."
After a two-year sentence, Blakinger was released from prison. Charlotte's parents agreed to return Charlotte. But first, she and Blakinger got to know each other again.
"I took her on a walk by my old apartment, the place where I'd been living when I got arrested, and I could see the moment that it clicked, and she remembered who I was," Blakinger said. "She stopped trying to pull away and started walking next to me. Not long after that, I ended up taking her home for good."
Add TheJapanNews to your Google News feed.