600-pound Marlin Almost Won a Crew $3.5 Million – Then It Was Disqualified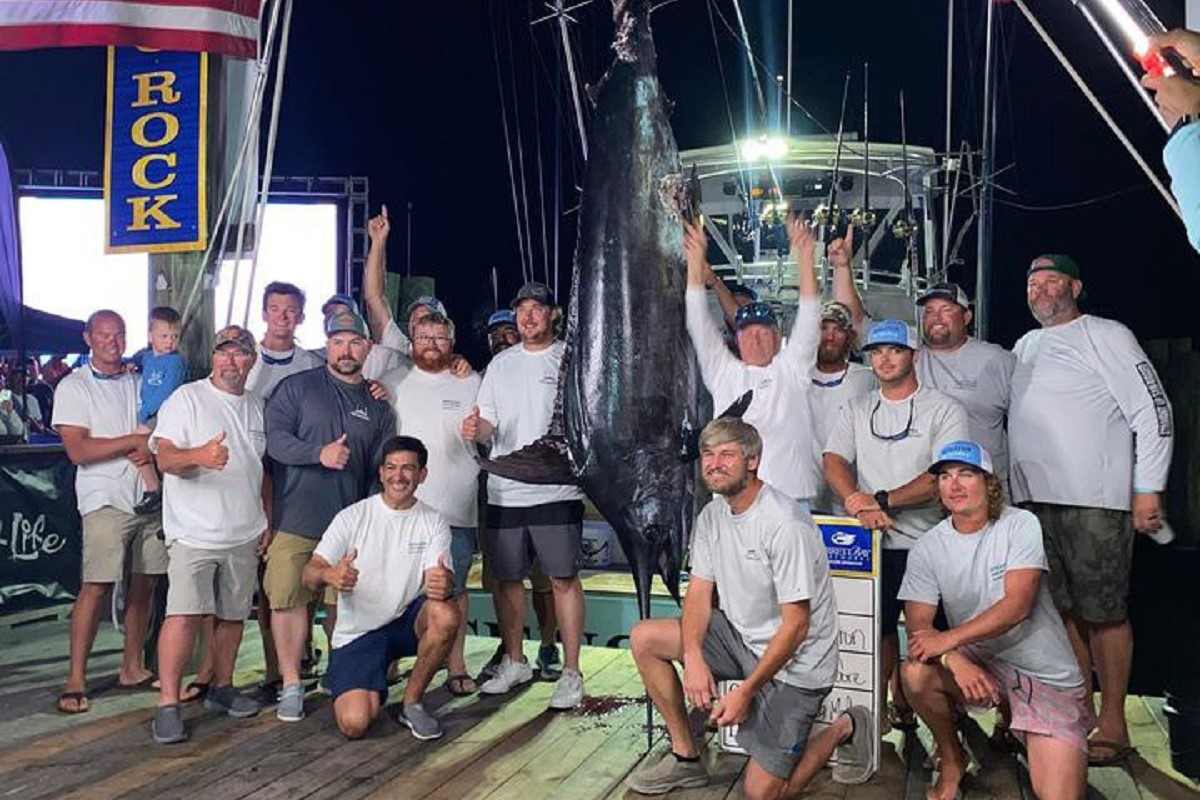 17:44 JST, June 19, 2023
"Weigh that fish!"
The crowd shouted as the massive blue marlin swung on the hook.
Judges and fishing enthusiasts stared at the catch, waiting for the end of the 65th Big Rock Blue Marlin Tournament in Morehead City, N.C., this weekend. It took the crew of the Sensation more than six hours from hooking the marlin to bringing it onboard their vessel. It unofficially weighed 619.4 pounds, which would have clinched the tournament and $3.5 million in prize money – $2.77 million for winning the competition and $739,500 for bringing in this year's first catch over 500 pounds.
Tournament officials normally announce a weight soon after a team comes back on shore. On Saturday night, they paused. Bite marks had put the prize in jeopardy.
"Okay, guys. Let's talk about the rules here for a second," said emcee Tommy Bennett, whose remarks were live-streamed by organizers. "It would appear that this fish has been bitten by a shark."
It took longer than a second to come to a final ruling, but on Sunday morning, tournament officials officially disqualified Sensation's fish due to the chunk missing from the marlin. The International Game Fish Association says a fish is ineligible to win if there is "mutilation to the fish, prior to landing or boating the catch, caused by sharks, other fish, mammals, or propellers that remove or penetrate the flesh," according to the rule Big Rock cited.
Some game fishing competitions like Big Rock use the mutilation rule to account for crews that strike a fish with their boat, making it easier to subdue, said Jeremy Duffie, a Maryland-based game fisher who has won marlin tournaments. Fish bitten by sharks and other sea creatures can also make for easier catches, he said.
Greg McCoy, who captained the Sensation, said his team did not cheat and believed the fish was compliant with tournament rules when they brought it on shore. McCoy said when his team brought in its fish Saturday night, he was sure they had hooked a winner.
"It's the final hour, the final day and we fought with him for six hours," McCoy told The Washington Post. "It's a tough pill to swallow."
The tournament's statement said officials came to their conclusion after "careful deliberation and discussions" with experts.
Madison Struyk, Big Rock's director, did not respond to The Post's request for comment Sunday.
McCoy said when he and his team docked, they were thrilled to meet a "hooting and hollering" crowd after a long day out on the water. He waited patiently for what he was sure would be a huge number at the scale, only to be shocked by the mutilation rule.
The Big Rock tournament regularly draws thousands of spectators to Morehead City, where boats bring in massive fish and compete for increasingly large sums of money. A 914-pound fish caught in 2019 set the tournament record for blue marlins.
This year's winner, caught by the crew of the boat Sushi, weighed 484.5 pounds – almost 135 pounds less than the Sensation's marlin.
Fishing tournaments can range from multimillion-dollar affairs like Big Rock to local competitions with payouts in the thousands. Seeking prizes can tempt boats into padding their catches – two entrants in a 2022 Ohio lake fishing tournament stuffed their walleye with weights only to have officials slice the fish open. The men pleaded guilty to criminal charges of cheating in March.
An increase in sharks off North Carolina's coast may make catching unmarred marlins more difficult, Duffie said. Great whites gathering on the state's shorefront made the news earlier this year after trackers identified a 1,400-pound-plus shark swimming off the coast.
"Sharks are prevalent now in North Carolina. It's a really big problem," he said. "That's just part of the sport, unfortunately."
Because no boat caught a fish weighing more than 500 pounds this year, the $739,500 will roll over to next year, raising the stakes for entrants. That means the 2024 winner could haul $4 million dollars – if there are no shark marks.
Add TheJapanNews to your Google News feed.