Trump Rejected Lawyers' Efforts to Avoid Classified Documents Indictment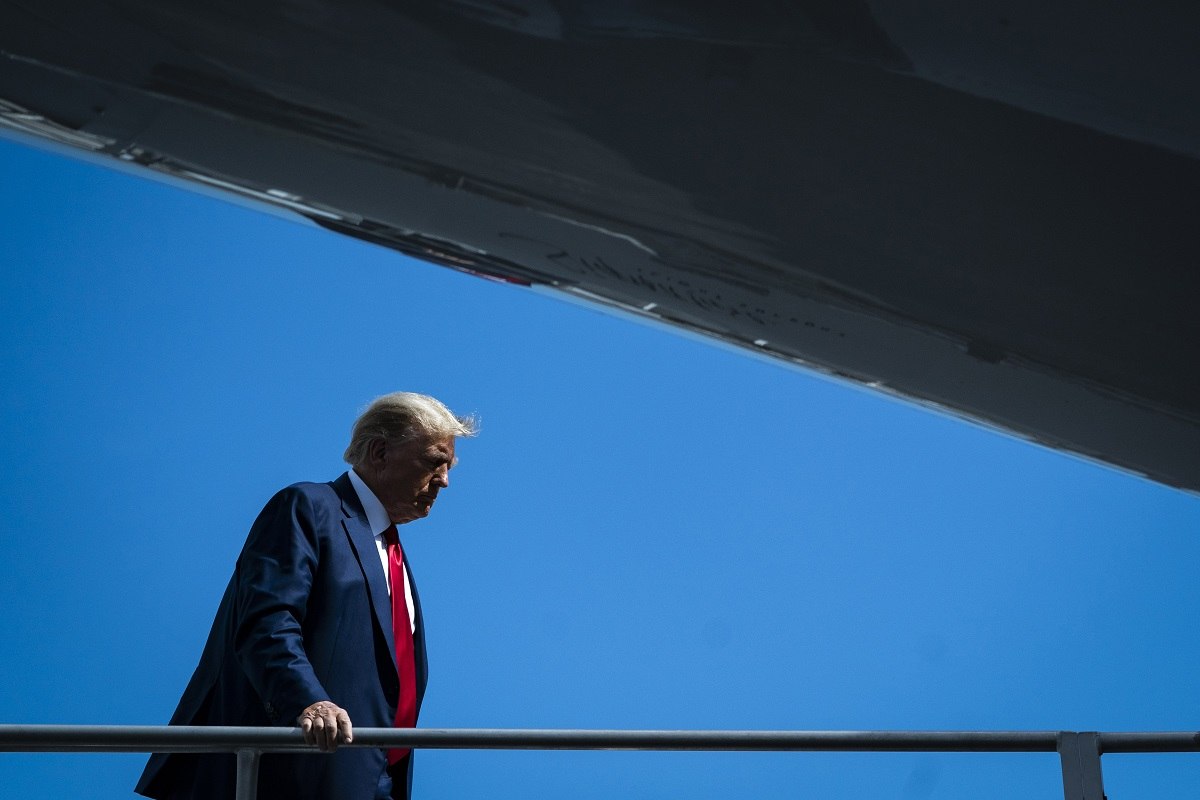 15:32 JST, June 15, 2023
One of Donald Trump's new attorneys proposed an idea in the fall of 2022: The former president's team could try to arrange a settlement with the Justice Department.
The attorney, Christopher Kise, wanted to quietly approach Justice to see if he could negotiate a settlement that would preclude charges, hoping Attorney General Merrick Garland and the department would want an exit ramp to avoid prosecuting a former president. Kise would hopefully "take the temperature down," he told others, by promising a professional approach and the return of all documents.
But Trump was not interested after listening to other lawyers who urged a more pugilistic approach, so Kise never approached prosecutors, three people briefed on the matter said. A special counsel was appointed months later.
Kise, a former solicitor general of Florida who was paid $3 million upfront to join Trump's team last year, declined to comment.
That quiet entreaty last fall was one of many occasions when lawyers and advisers sought to get Trump to take a more cooperative stance in a bid to avoid what happened Friday. The Justice Department unsealed an indictment including more than three dozen criminal counts against Trump for allegedly keeping and hiding classified documents at his Mar-a-Lago Club in Florida.
Trump, 77, now faces the most legally perilous moment of his life playing out in a federal court – charges that could bring decades in prison. He pleaded not guilty in Miami on Tuesday and vowed to fight the charges.
"President Trump has consistently been in full compliance with the Presidential Records Act, which is the only law that applies to Presidents and their records," Trump campaign spokesman Steven Cheung said in a statement. "In the course of negotiations over the return of the documents, President Trump told the lead DOJ official, 'anything you need from us, just let us know.' Sadly, the weaponized DOJ rejected this offer of cooperation and conducted an unnecessary and unconstitutional raid on the President's home in order to inflict maximum political damage on the leading presidential candidate."
Since the National Archives first asked for the return of presidential documents in Trump's possession in February 2021 and until a grand jury issued its indictment this month, Trump was repeatedly stubborn and eschewed opportunities to avoid criminal charges, according to people with knowledge of the case, many of whom spoke on the condition of anonymity to reveal internal details. They note that Trump was not charged for any documents he returned voluntarily.
Interviews with seven Trump advisers with knowledge of the probe indicate he misled his own advisers, telling them the boxes contained only newspaper clippings and clothes. He repeatedly refused to give the documents back, even when some of his longest-serving advisers warned of peril and some flew to Mar-a-Lago to beg him to return them.
When Trump returned 15 boxes early last year – leaving at least 64 more at Mar-a-Lago – he told his own advisers to put out statements to the National Archives and to the public that "everything" had been returned, The Washington Post has previously reported. But he quietly kept more than 100 classified documents.
Later, facing a grand jury subpoena, the indictment alleges the former president worked quietly with an aide to move boxes without telling his own lawyers, leading to a false attestation that every document had been returned.
"It was a totally unforced error," said one person close to Trump who has been part of dozens of discussions about the documents. "We didn't have to be here."
Trump time and again rejected the advice from lawyers and advisers who urged him to cooperate and instead took the advice of Tom Fitton, the head of the conservative group Judicial Watch, and a range of others who told him he could legally keep the documents and should fight the Justice Department, advisers said. Trump would often cite Fitton to others, and Fitton told some of Trump's lawyers that Trump could keep the documents, even as they disagreed, the advisers said.
In an interview Wednesday, Fitton said he dined with Trump on Monday night at his club, eating filet mignon with the former president one day before his first court appearance on the document charges. "I saw him last night; he's in a good mood. He's serious and ready to fight under the law."
Fitton, who appeared before the grand jury and was questioned about his role in both the Mar-a-Lago documents case and the investigation into the Jan. 6, 2021, attack on the U.S. Capitol, acknowledged he gave the advice to Trump but declined to discuss the details of their conversations. He added that he read the indictment and did not believe it laid out illegal or obstructive conduct. Multiple witnesses said they were asked about Fitton in front of a grand jury and the role he played in Trump's decisions.
"I think what is lacking is the lawyers saying, 'I took this to be obstruction,'" Fitton said. "Where is the conspiracy? I don't understand any of it. I think this is a trap. They had no business asking for the records . . . and they've manufactured an obstruction charge out of that. There are core constitutional issues that the indictment avoids, and the obstruction charge seems weak to me."
Several other Trump advisers blamed Fitton for convincing Trump that he could keep the documents and repeatedly mentioning the "Clinton socks case" – a reference to tapes Bill Clinton stored in his sock drawer of his secret interviews with historian Taylor Branch that served as the basis of Branch's 2009 book documenting the Clinton presidency.
Judicial Watch lost a lawsuit in 2012 that demanded the audio recordings be designated as presidential records and that the National Archives take custody of the recordings. A court opinion issued at the time stated that there was no legal mechanism for the Archives to force Clinton to turn over the recordings.
For his part, Fitton said Trump's lawyers "should have been more aggressive in fighting the subpoenas and fighting for Trump."
Trump's unwillingness to give the documents back did not surprise those who knew him well. Former White House chief of staff John F. Kelly said that he was particularly unlikely to heed requests from people or agencies he disliked.
"He's incapable of admitting wrongdoing. He wanted to keep it, and he says, 'You're not going to tell me what to do. I'm the smartest guy in the room,'" Kelly said Tuesday.
Other advisers said the FBI and National Archives wanting the documents so badly made Trump less likely to give them back.
Trump's chances to avoid charges began in early 2021, according to current and former advisers. After Gary Stern, counsel at the National Archives, asked Trump's team for the return of documents, some of his lawyers and advisers began advising him to return them. National Archives officials were privately baffled at what they viewed as inexplicably recalcitrant behavior and kept asking for answers to no avail.
In the fall of 2021, Alex Cannon, then a Trump attorney, urged the former president to return documents to the National Archives, repeatedly telling him that he was required to give them back, according to people familiar with the matter.
After months of talking to Trump and his staff, Cannon – referred to in the indictment as a "Trump Representative" – told Trump that the National Archives was threatening to go to Congress or to the Department of Justice if he did not return the documents, the people said.
"It's mine," Trump said, explaining why he did not want to give the materials back, according to people with knowledge of his comments.
That threat prompted Trump to eventually begin looking through some of his boxes – or "my papers" as he called them, according to text messages listed in the indictment sent by former assistant Molly Michael. He eventually returned 15 boxes of materials to the National Archives, in January 2022.
That was followed by Trump directing his lawyer and his spokesman to put out statements saying he had returned "everything" – which they declined to do. That episode became of interest to federal prosecutors, according to four people with knowledge of the matter.
After the National Archives in February found reams of classified material and disorganized boxes in February 2022, they referred the matter to the Justice Department for a potential investigation. Archives officials did not believe everything had been properly returned, The Post has reported.
They were right.
Trump had kept at least 64 boxes of documents, according to the indictment. Trump never believed that his home would be searched and thought that he would be able to keep the documents, two advisers said.
After being initially reluctant to be drawn into what they viewed as a dispute between the Archives and Trump, the Justice Department opened an investigation in April 2022 and sent a subpoena asking for all classified documents in May.
Meanwhile, Trump grew angry with his lawyers and chose new lawyers, bringing in Evan Corcoran to handle the matter at the recommendation of adviser Boris Epshteyn.
Shortly after the subpoena arrived, the indictment says, Corcoran and another lawyer met with Trump at Mar-a-Lago and told him he needed to comply. The indictment says Trump told the other lawyer not to return for the search of his property.
According to testimony Corcoran gave, he was encouraged by Trump to stonewall or not comply with the subpoena. Trump even suggested any "bad" documents could be plucked out of the file after Corcoran searched a storage room, according to the indictment.
"I really don't want anybody looking through my boxes, I really don't, I don't want you looking through my boxes," he said, according to Corcoran, as cited in the indictment. Trump also said, per the lawyer: "Well, what if we, what happens if we just don't respond at all or don't play ball with them?" and "Wouldn't it be better if we just told them we don't have anything there?"
But all the documents were not in the storage room, because the indictment alleges Trump and personal aide Walt Nauta moved some boxes without telling Corcoran. Nauta later helped pack some of the boxes to fly them from Mar-a-Lago to Bedminster, leading to a false attestation that everything had been returned, the indictment says.
A lawyer for Corcoran declined to comment on his testimony. A lawyer for Nauta, who is also charged in the indictment, declined to comment.
Kise, who originally urged a more cooperative approach, told others when he took the case that he believed that charges could be avoided. He began asking other advisers what happened during the subpoena process in an effort to understand why the Justice Department would take such an extraordinary step of searching the former president's property.
Kise has largely been away from the documents case publicly in recent months as other lawyers pursued a more aggressive strategy, and Trump advisers say other lawyers badmouthed Kise to Trump.
In recent days, Kise was responsible for helping Trump find new lawyers in Florida – tapping his deep Rolodex in the state in a bid to find someone who'd be willing to work for Trump. In court on Tuesday in Miami, Kise was seated next to Trump as he was arraigned for 37 felony charges.
Add TheJapanNews to your Google News feed.