In the MAGA Mirror, Trump's Legal Peril Looks Like a Personal Threat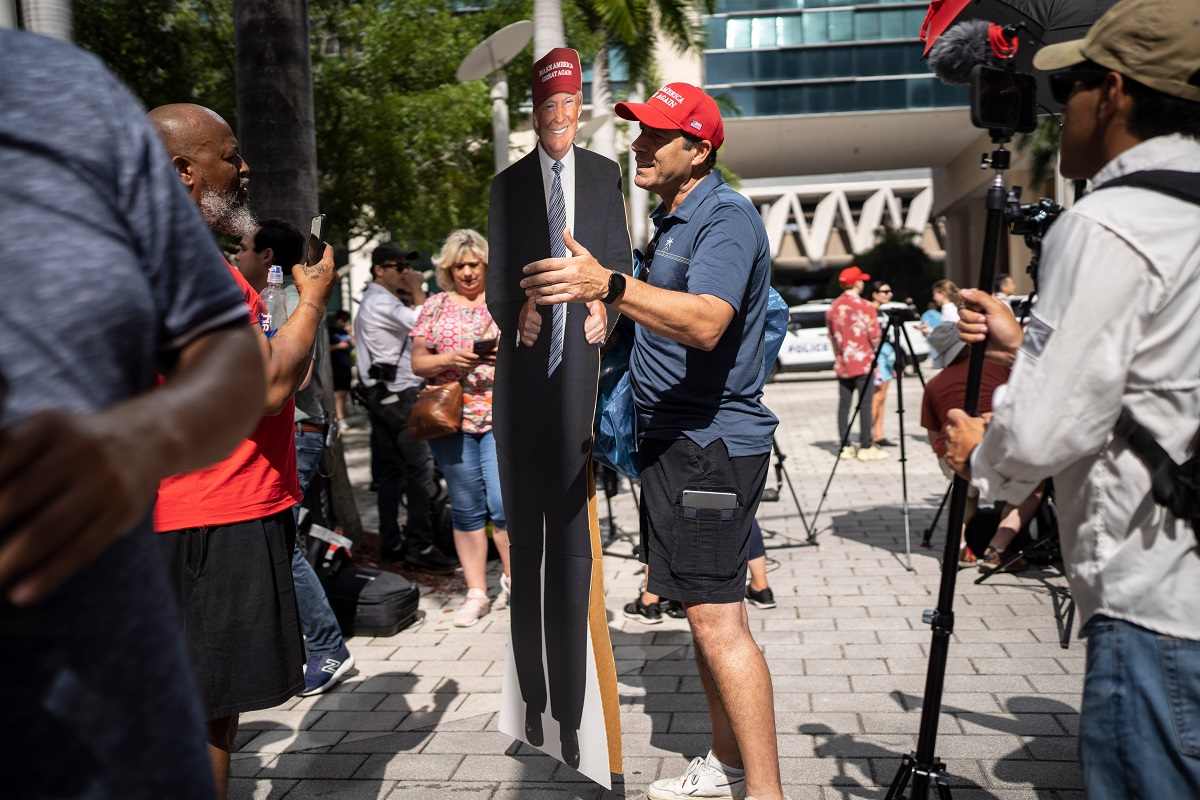 14:50 JST, June 14, 2023
MIAMI – Lazaro Ecenarro believes Donald Trump is guilty of something. But it has nothing to do with the Espionage Act.
"In a way, I blame him for being in this mess," said Ecenarro, a Miami native in his late 40s. "When you appoint two corrupt attorney generals – Bill Barr and Jeff Sessions – well, you create your own demise."
He was sitting on a granite block under a buckeye tree outside the federal courthouse in downtown Miami, a sand-colored JanSport backpack at his feet, a neon-green hospital bracelet on his right wrist, an eye patch from recent surgery for a blown-out cornea over his left eye. Trump's old attorneys general were gone from the Justice Department well before Trump left office – let alone took sensitive government documents to Mar-a-Lago – but in Ecenarro's eyes, they were part of the Mueller-Page-Strzok-Clinton-Biden cabal. But the indictment had to do with corruption and corporations and following the money, he said, and he was certain Trump's alleged crimes were "fabricated." So he had arrived a full 24 hours before Trump's appearance in federal court here Tuesday, to line up for a chance to watch the proceedings in person, to see the process play out.
"If they can do it to him, then that means they can do it to anybody," Ecenarro said the next morning, around 8 a.m. "Obviously," he noted warily, "they have sinister intentions." Moments later, he was escorted with a throng of journalists into the courthouse.
It's a rhetorical nail that Trump and his supporters have hammered for a while: that the prosecution of the former president – for alleged acts that average citizens couldn't even commit if they wanted to – signifies not just a political threat to Trump but also a personal threat to his supporters. "In the end, they're not coming after me," he said in a speech following his indictment last week. "They're coming after you."
Among the hundreds who showed up to support Trump in the 90-degree heat – enough to make their presence felt in the plaza around the courthouse, though not the "5,000 to 50,000" police were expecting – the message seemed to have seeped through.
"Do you have millions of dollars to hire the lawyers he got? No? So they can bring any charges against you," said Louis Medina, a retired Miami native who was clutching a bullhorn in a wheelchair, covering his legs with a Trump flag, around 10 a.m.
"They're coming for you next!" bellowed Laura Loomer, the far-right activist, to a group of people encircling her just before noon. One of them, a woman in a denim hat with bedazzled "TRUMP" letters, nodded vigorously.
Madeleine Munilla, a 68-year-old retiree and property manager, migrated to Miami from Cuba. She's trying to open Americans' eyes to "what happened in Cuba and Nicaragua and Venezuela." Could the feds come after her? What do voters keep in their closets?
"They could come. Not because of that, because I don't have any classified documents. But they can come for my freedom of speech." Such as claiming there's only "two sexes," which she does freely say.
As the sun neared its peak, the crowd swelled. They were here for Trump, as he came home from his summer residence in New Jersey to face federal charges related to his retention of sensitive government documents at his club in Palm Beach.
Ron DeSantis, they hate. Mike Pence, they hate.
They were, however, willing to pay a little attention to a clean-shaven man named Vivek Ramaswamy.
Ramaswamy – who, like Trump, is running for the Republican nomination for president – showed up in a white "TRUTH" hat to reiterate his pledge to pardon Trump if he's convicted (and Ramaswamy beats him and wins the White House). He challenged the rest of the Republican and Democratic field to do the same.
The cameras huddled around Ramaswamy, whose voice was inaudible to much of the crowd.
"WE ARE NOT A DEMOCRACY," brayed a man in a black T-shirt a few feet behind the cameras as his news conference began. "Can we say that louder? WE ARE NOT A DEMOCRACY."
"You're not getting elected. Move on," a young guy in a light-gray blazer and a red hat told Ramaswamy, then proceeded to hit his orange vape.
Francis Suarez, the Republican mayor of Miami who has been teasing a possible presidential run himself, was berated by the crowd and was called a "swamp monster." Kari Lake hopped from tent to tent of conservative networks, speaking in a calm, even tone, the way a former TV anchor would.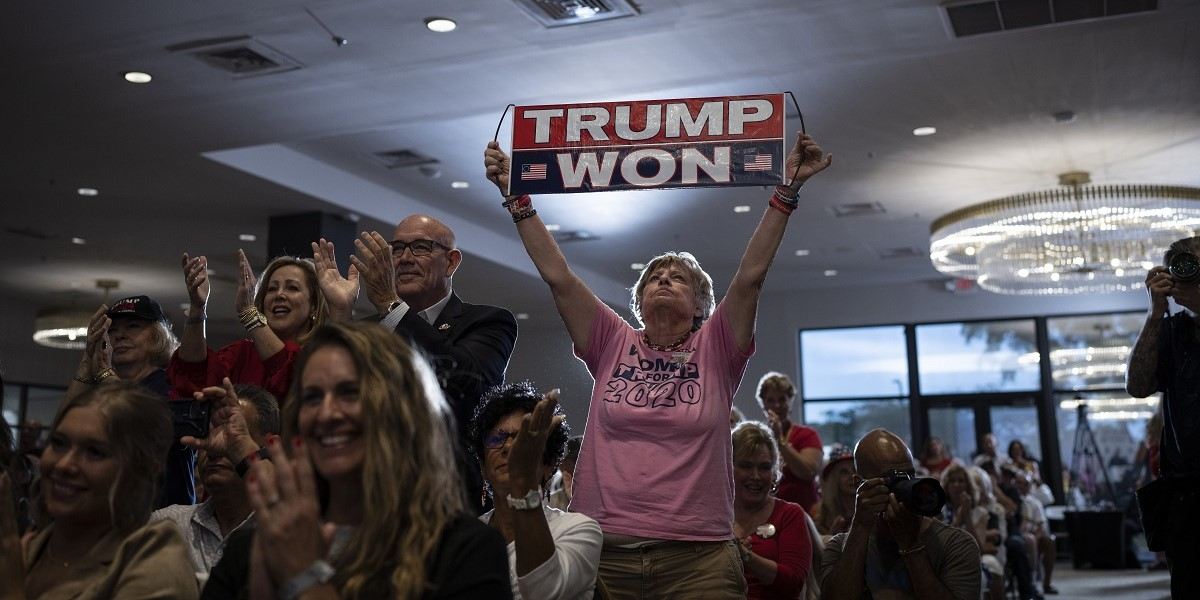 Osmany Estrada, 40, wrapped in an American flag and a Cuban flag, was one of the people who came because he was glad to see the legal system working. He had long, flowing curls, and he gripped a wooden stick, pacing all day. Atop it was the yellowing, severed head of a pig with a mini American flag sticking from its mouth. A fly fluttered above its eye.
"I'm so happy. We are living through history," the self-described philosopher said. "I believe in our democratic process. And I believe in the independence of our institutions."
A day earlier, outside the nearby Trump National Doral resort, Chancy Blumenfrucht, a 59-year-old Jewish woman from Brooklyn, and her son took a break from their vacation to show their support for Trump, along with 50 or so others. Blumenfrucht rejected revenge fantasies about destroying the anti-Trumpers. But she was worried about what a successful prosecution of the former president would mean.
"If Trump ends up going to jail," she said, "I don't even know what would happen. I don't even – it would be a civil – I don't even know, with the crazy people out there."
On Tuesday, if his supporters were not going to get revenge, or retribution, they were at least going to repeat their well-trod refrains. The crowd – which included a multitude of Latinos and "Blacks for Trump" – paraded around talking to their comrades about the system and how the country was really going down now. They surrounded the Mexican American journalist Jorge Ramos, who frequently challenged Trump while he was in office, and chanted: "Traitor! Traitor!"
The Proud Boys, whose leaders were convicted of seditious conspiracy this year in connection to the Jan. 6, 2021, riot, seemed to have stayed away. A bomb squad officer swept the plaza, wearing a patch that read: "STOP SCREAMING – I'M SCARED TOO."
While Trump was speaking, his supporters massed behind a phalanx of law enforcement officers. They chanted, "WE WANT TRUMP!" and "LATINOS FOR TRUMP!" After Trump pleaded not guilty, his motorcade whizzed off to Versailles, a landmark of the Cuban community here.
In the middle of the crowd, a short woman from Port Charlotte, Fla., named Mirmila Jitta was holding a sign that said, "TRUMP YOU ARE NOT ABOVE THE LAW." "Indict Biden!" someone yells.
"They don't even know Biden had nothing to do with the indictment," Jitta said. It was a grand jury, she said. "From Florida."
Add TheJapanNews to your Google News feed.