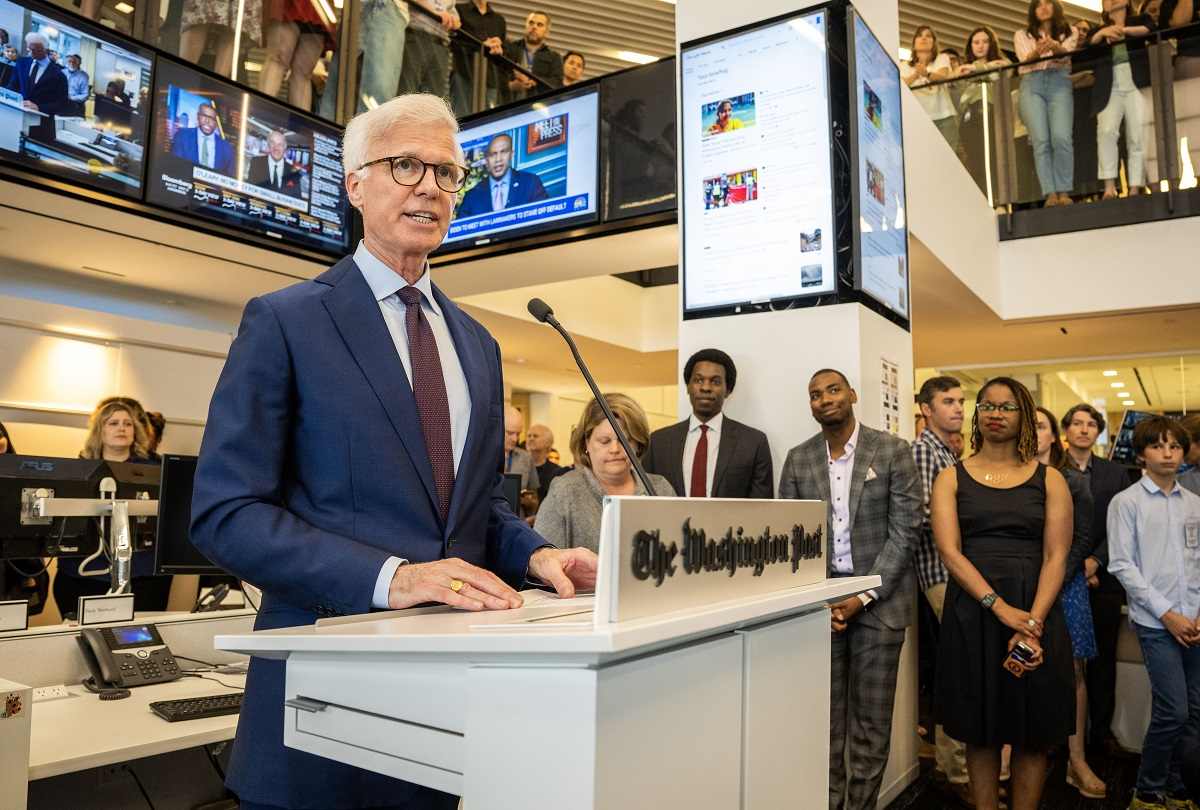 12:06 JST, June 13, 2023
WASHINGTON – Fred Ryan, the publisher and chief executive of The Washington Post for most of its decade of rapid growth under the ownership of Amazon founder Jeff Bezos, will leave the company in August, he announced Monday.
Ryan, 68, will lead the newly formed nonpartisan Center on Public Civility at the Ronald Reagan Presidential Foundation.
His departure comes at a time when economic head winds have buffeted the entire media industry, including The Post, which slowed its recent expansion with a rare round of layoffs earlier this year; after tension among top executives and the exits of several top Post leaders and journalists for jobs with competitors. Ryan's relationship with newsroom staffers further soured following a town hall last year where he declined questions from guild members about the company's future.
Patty Stonesifer, the founding chief executive of the Gates Foundation and a former high-ranking Microsoft executive, was named the interim CEO of The Post on Monday, starting immediately, and is leading the search for Ryan's replacement.
In an interview, Ryan said he had a long-standing passion for the issues that inspired the center's mission. "The decline in civility is threatening the foundation of our democracy," he added. A former Reagan administration official, Ryan called it "a bookend for something I did early on in my career."
He also said he has Bezos's full support in this move and that their relationship "could not be closer." The Amazon founder shares his enthusiasm in promoting civility in all aspects of public life, Ryan said, adding that Bezos provided the initial funding for planning and design of the center. (Ryan would not disclose the amount but called it "a very meaningful gift.")
In a memo to Post staff, Bezos said he was "deeply grateful" to Ryan for leading The Post and praised him for focusing on "the intersection of journalism and technology."
In his own note to staff, Ryan wrote that "together, we have accomplished one of the most extraordinary transformations in modern media history," as The Post "evolved from a primarily local print newspaper to become a global digital publication."
Ryan presided over The Post during an unprecedented period of change. The newsroom swelled from just under 600 people to about double that figure today, as it set its sights expanding its digital audience around the world.
He is departing at a tumultuous time for the media industry, when declining advertising revenue and audience numbers have prompted waves of layoffs and closures at other news organizations. Some competitors, however, have continued to grow digital subscribers – the New York Times announced in May that it had added 190,000 new subscribers in the previous quarter. During the same period, The Wall Street Journal added 132,000.
Ryan said his departure is unrelated to the swirl in the industry. "I firmly believe there is a sound model for successful journalism, and The Washington Post is well positioned to do that," he said. "I have no doubt that the high-quality journalism of the standard of The Washington Post will always be successful."
Bezos's 2013 purchase of The Post was a watershed event for the media company, ending 80 years of stewardship by the Graham family as he took the company private. One of his first major moves was to hire Ryan, then the founding CEO of Politico, whom he charged with expanding the national and global reach of The Post.
At the time, the majority of The Post's revenue came from its print business, and it had about 35,000 digital subscribers. Now, Ryan said, the majority of The Post's revenue comes from its digital business, and it has about 2.5 million digital subscribers.
One of his biggest responsibilities was to hire a new executive editor to replace Martin Baron, who retired in 2021. Ryan selected Sally Buzbee, the former top executive for the Associated Press, who became the first woman to serve as The Post's editor in chief.
His tenure also coincided with the chaotic years of the Trump presidency, when The Post and other media companies saw record levels of digital traffic and a boom in subscriptions. In January 2021, The Post counted 3 million digital subscribers.
But those figures leveled off after Trump left office and the coronavirus pandemic ebbed. The Post ended the past year in the red after what Ryan called six years of "significant growth and profit." (As a private company, The Post does not disclose its financials.)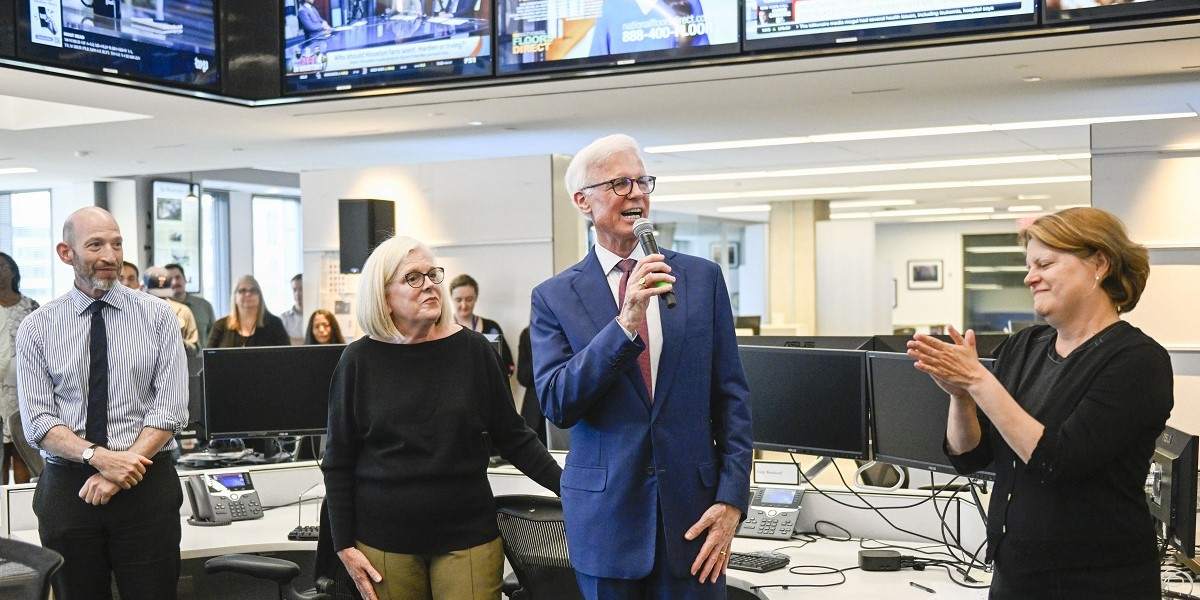 In March 2020, The Post had more than 138 million digital visitors, according to ComScore. In December 2022, by comparison, the paper's website received 58 million visitors.
Ryan oversaw several cutbacks in his final months as publisher, including the elimination of the Sunday magazine, the KidsPost page and a team devoted to video game coverage. At a December town hall, Ryan angered some Post employees after he announced there would be layoffs in January and then refused to take questions about the anticipated job losses, which ultimately affected 20 staffers.
In addition to the layoffs, The Post saw a string of high-profile reporters leave for competitors last year. In January, Bezos visited the publication's offices in Washington, during which he held lengthy meetings with staffers to learn more about what he said were "significant issues" at the publication, according to people briefed on his meetings who spoke on the condition of anonymity to discuss sensitive internal discussions.
Bezos asked pointed questions during that visit about the management styles of both Ryan and Buzbee, whose working relationship had become strained over newsroom budgeting and strategic direction, these people said.
During his visit, Bezos heard repeatedly that there were significant difficulties on the business side and a general lack of strategic business direction; the New York Times, citing an internal financial document, reported that digital ad revenue at The Post declined by about 15 percent to roughly $70 million during the first half of 2022, compared to the first half of 2021.
Following those meetings, Bezos told people he was dedicated to the publication and willing to spend more time and money to get The Post on good footing. His visit was the beginning of a period of renewed engagement at the publication. Since then he has joined regular calls with top leaders at The Post, including Ryan, Buzbee and those in charge of its product division.
Across the country, newspaper companies have been grappling with how to adapt since print advertising began its decline in 2005. One major competitor, the New York Times, has responded by acquiring new media properties, such as the Athletic and Wordle, and investing heavily in lifestyle content such as cooking and games. The Post, meanwhile, invested in its core areas of politics and investigative reporting while expanding its coverage of technology, and passed on opportunities to acquire other media properties.
Ryan said the philosophy behind The Post's approach is "to create a single, all-inclusive bundle and always try to make it better" rather than "create multiple products and sell multiple subscriptions." More recently, The Post created a department dedicated to wellness coverage, expanded its climate coverage and started an initiative to reach younger audiences.
Ryan made press freedom a centerpiece of his tenure. Shortly before Ryan came to the company, Post reporter Jason Rezaian was arrested in Iran on false charges of espionage. To build a campaign for his release, Ryan met with White House officials and asked foreign leaders visiting The Post to press Iran to free the reporter. After 545 days in prison, Rezaian was released in January 2016 in a prisoner swap.
"We had to keep Jason's plight in the forefront," Ryan said in a 2019 Post documentary about Rezaian's arrest.
Another Post journalist, freelance contributor Austin Tice, was abducted in Syria in 2012, and Ryan has spent years working closely with his family to try to secure his release. It remains a tragic piece of unfinished business for Ryan, but "I will continue, in this other role, to do everything I can," he said.
In his Monday memo about Ryan's exit, Bezos called Ryan a "relentless force" for the release of wrongfully arrested reporters.
Stonesifer – a director on Amazon's board and a friend of Bezos for 27 years – said that The Post owner asked her to ensure a smooth transition for the company. Neither Ryan nor Stonesifer would comment on when they began discussing a transition plan.
Stonesifer, 67, will also be charged with helping fill vacancies among other executive roles. The Post's top executives ranks have seen several departures in recent months, including the chief technology officer.
Stonesifer, who said she is not a candidate to succeed Ryan permanently, began her meetings with staff on Monday. Her tenure "could be as short as six months, or it could be longer," she said in an interview, adding that her goal is to ensure "the team and the culture are in place for the decade ahead."
The search for Ryan's replacement "will be broad," she said. "There are no limits here. I don't see why it wouldn't be global."
Stonesifer lives in Washington, D.C., and is married to journalist Michael Kinsley, the founding editor of Slate. She also spent six years as CEO of local nonprofit Martha's Table. An avid Post reader, she said she is undaunted by the flux in which the media industry finds itself.
"It strikes me, having been in many other businesses, that the position that The Post is in – with the quality we have, the trust our readers have in our work – puts us in a good position not to just weather changes but to lead through these changes," she said. "I wouldn't join if this wasn't an exciting time. It's a challenging time, but it's an exciting time, and I'm thrilled to be a part of it."
Add TheJapanNews to your Google News feed.