Colleagues Want a 95-year-old Judge to Retire. She's Suing Them Instead.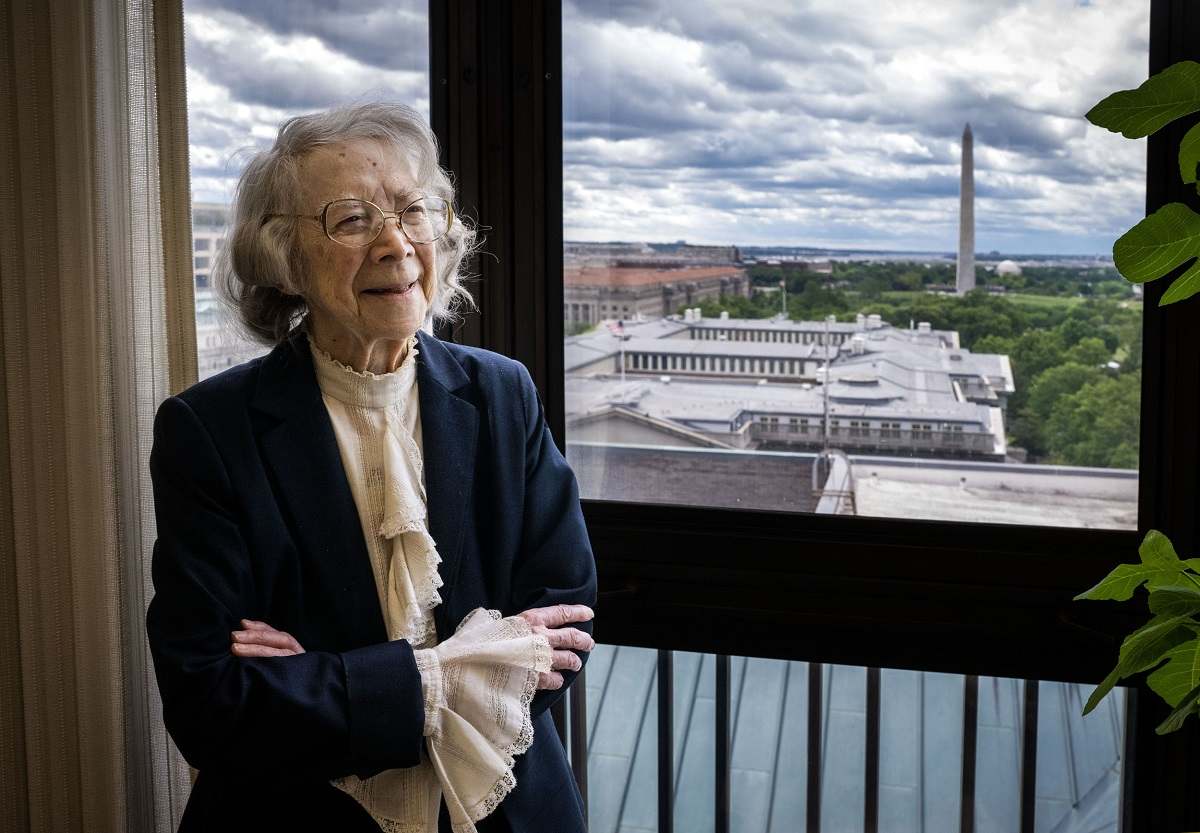 12:18 JST, June 6, 2023
Pauline Newman specializes in dissent. In her 40-year career as a federal judge, she has written more than 300 dissenting opinions. So when the chief judge of the U.S. Court of Appeals for the Federal Circuit said she thought it was high time for the 95-year-old to retire, Newman offered a differing view:
Nope.
The oldest active federal judge in the nation has instead sued her colleagues and accused them of violating the Constitution, which says nothing about mandated retirement for lifetime appointees. Those colleagues have accused her of misconduct, saying she can no longer do the job she is guaranteed for life.
Newman is working steadily from her light-filled office on Lafayette Square, overlooking the White House and the Washington Monument. She is surrounded by glass awards and photographs with Supreme Court justices; her court handles patent cases, and so there are diagrams of inventions, including her own. Newman, who turns 96 in June, has no interest in going anywhere.
"It's important to the nation, if I can say so," Newman said. "If I really were debilitated, as they say, physically and mentally, I hope I'd have the sense to step down. But as it is, I feel that I can make a contribution and must. That's what I was appointed to do."
Now there's a standoff.
The court is no longer assigning Newman new cases.
Newman claims she was also stripped of her assistant, a law clerk and an office computer. Kimberly Moore, the Federal Circuit's chief judge, has written that the staffers chose to leave and that Newman's failure to understand the situation is a sign of her decline.
Some of Newman's fellow judges in court orders have accused Newman of "paranoid" and "bizarre" behavior. Newman says she's fine and it's her colleagues who have lost their minds.
The Federal Circuit is an obscure court whose rulings on patents can have seismic impacts on financial markets, but the dispute over Newman's refusal to step down joins one of many debates over how hold is too old for a public official to do a job. Our federal judges are older than ever, as are the presidential candidates vying to nominate them and the senators who confirm them. Sen. Dianne Feinstein (D-Calif.) is facing pressure to resign from Democrats who say the 89-year-old's health issues are hobbling efforts to hold the lifetime appointees on the Supreme Court accountable. Critics say Newman is an example of unhelpful egoism. She feels that in a world of rapid technological change, her long view is more important than ever.
'Heroine of the patent system'
Newman came of age just after World War II, an era of mechanical invention she embraced enthusiastically. She learned to fly planes, drive racecars and ride motorcycles. She became a chemist and eventually a patent attorney. She helped create the Federal Circuit in 1982 as part of a presidential committee on industrial stagnation, then was appointed by Ronald Reagan to serve on it.
"There can be no doubt that Judge Newman is the heroine of the patent system," Moore, the chief judge, said in remarks published earlier this year. She said that "a lesson I have taken to heart" is that "Judge Newman once told me that her only regret was when she held her tongue and that I should never be afraid to say what I think is right."
So perhaps it's not surprising that in March, when Moore urged Newman to retire or take lighter "senior" status, Newman said she could not because she was "the only person who cared about the patent system and innovation policy" on the court, according to Moore.
"Perhaps it was a bit of an overstatement," Newman told The Washington Post with a smile. But she didn't mind seeing the assertion memorialized (albeit in a court order accusing her of misconduct). A committee made up of Moore and two other judges subsequently expanded its investigation to include the allegation that Newman is refusing to cooperate. Her clerks have been subpoenaed and deposed.
Moore did not respond to requests for comment, but the court has made public nearly a dozen orders issued by the committee formed to investigate Newman's competence. Those filings allege that Newman has shown "significant mental deterioration" since suffering a heart attack in 2021. Newman takes far longer than other judges to decide cases, they say, and writes fewer opinions. She could not complete recent online security training and blames hackers when she cannot find a file on her computer, according to the committee.
She allegedly forgot a court rule in place for the past five years, instead referring to a long-dead chief judge. She is also accused of mishandling a serious dispute between two of her staffers and threatening to have the complaining employee arrested. "Staff described her as being in attack mode," Moore wrote in April. One is quoted as saying, "I believe Judge Newman is simply losing it mentally."
Newman called the allegations "either false or grievously distorted." They are also "disconcerting," she said, coming from colleagues "that I've known for many years as straightforward, decent people." Two other active judges on the court are in their 80s; most have served with Newman for at least a decade. She denies that she ever had a heart attack and says she is not conferring with ghosts of past judges. Her hacking concern, she says, is well-founded: "The judiciary's administrative arm is constantly warning us about hacks and scams."
The judge is being represented by the conservative nonprofit New Civil Liberties Alliance (NCLA), which says it is unconstitutional to force a federal judge to share medical records or undergo psychiatric testing or to indefinitely take her off cases.
"It's one thing when your colleagues are saying, 'You're being naughty, and the public ought to know that you're being naughty,' and then Congress can do what they wish," said Greg Dolin, a former Newman clerk at the NCLA. "It's quite another when judges say, 'We think you're misbehaving, so we're not going to let you be a judge in anything but name.'"
Dolin helped arrange for the nonprofit to represent Newman. He sees Newman's challenge as in line with the group's conservative views on government regulations alongside its challenges to covid mandates, student loan forgiveness and gun bump stock bans. Term limits for federal judges might make sense, Dolin said, but "this is the system we've created . . . and we have to abide by it."
The lawsuit also argues Newman is not notably slower or less productive than her colleagues and doesn't write many majority opinions because her specialty is the dissent. A 2017 study found that Newman dissented in patent cases 290 times in her career, more than three times as often as the next-closest judge on the court.
"She takes more time because she cares so much," said Janice Mueller, a patent attorney who has known Newman for 30 years and says the judge has always been a slow writer. Being a skilled and vociferous dissenter is "a very important, impactful role to play."
It's particularly important now, her allies say, as the U.S. Supreme Court has begun weighing in on intellectual property cases more often. As a staunch defender of the patent system, Newman "feels it's even more important for her to dissent," Fordham University law professor Hugh Hansen said. "This particular point of view might be lost if she doesn't."
Fit for the job?
Newman's refusal to quit on anyone else's terms served her early in her career. Three decades after her mother marched for the right to vote, Newman decided she would be a doctor. No medical school accepted her. She went to graduate school at Yale for chemistry instead; no chemical firm would hire her except American Cyanamid. She was the only female research scientist there, and her bosses tried to force her into becoming a librarian until she threatened to walk out.
She would later receive her own patents for colorful, dirt-resistant synthetic fabric she helped invent. But after three years, Newman took her savings and bought a ticket on a boat to Paris, where she supported herself by mixing drinks on the Île Saint-Louis.
Six months later, "totally destitute," Newman came back to the United States and found "a job that I knew no respectable scientist would take, and that was writing patent applications," she told female law students at New York University in 2013. Soon, she was a patent lawyer. The next time she went to Paris, it was as a science policy specialist for the United Nations, again the only woman in her professional association. On her office desk sits a mug from a bar she could not enter during her time at NYU Law – it reads "Good ale, raw onions, and no ladies."
U.S. Supreme Court Justice Ruth Bader Ginsburg praised Newman in 2015 for having "given courage" to young women with "her intelligence, her diligence, her devotion to a very difficult area of the law."
The U.S. Constitution says federal judges serve "during good behaviour," generally understood to mean "for life." Some academics argue that judges can be taken off the bench for behaving badly, but that is an untested legal theory. Under a 1980 law, the active judges of a circuit court can agree to punish a judge after a formal investigation, but that punishment cannot be removal from office or indefinite suspension. If the judges deem their colleague disabled, another judge can be appointed by the president, but the disabled judge still cannot be forced to retire.
"The vast majority of the time, the law is the shotgun behind the door," said Charles Geyh, a law professor at Indiana University who specializes in judicial ethics and procedures. Threatened with public embarrassment, judges usually step down. But, he said, "for judges who want to die with their boots on, telling them to retire is like giving them the death penalty."
Laws of probability
Newman's attorneys argue that the Federal Circuit committee has defied the law's process by taking her off cases and is too conflicted to handle this investigation itself. The committee says it will only consider transferring the probe to a different circuit if Newman first undergoes a medical examination; she says she will undergo the exam only if she is put back on cases and the probe is transferred.
Moore suggested going "senior," a part-time status for older judges. Veterans of the court say that would give the chief judge control over Newman's caseload.
Randall Rader, a former chief judge on the Federal Circuit, said he has spoken with Newman recently and found her to be "the same Polly I knew 10 or 20 years ago – as sharp as ever."
The court also "has a record of dealing with its aging members with great compassion, without any jeopardy to their work" by giving them more assistance, Rader said. Judge Giles Rich, like Newman one of the first judges appointed to the Federal Circuit, served until his death at age 95. At the time, he was the oldest active federal judge in U.S. history.
Not everyone favors that precedent.
Gabe Roth of Fix the Court, which advocates for a more accountable federal court system, said active members of a federal appeals court should be "on the ball 100 percent of the time." He also compared Newman to Ginsburg, not favorably.
"There's this idea that I think permeates the judiciary, that 'only I can do the job.' It's this hubris that is really pernicious," he said. "It's anti-democratic and monarchical in a way that is not helpful for the ongoing trust of our fleeting democracy."
"I hate calling out older women, being a younger guy," said Roth, who is 40. "But that's the situation."
Ginsburg's decision to stay on past 2016 helped pave the way for a conservative Supreme Court. Patent politics are harder to parse. In one momentous recent Supreme Court decision in the field of patents, Justice Clarence Thomas voted with the court's liberal judges against Justice Neil M. Gorsuch and Chief Justice John G. Roberts Jr.
Dennis Crouch, a patent attorney and law professor at the University of Missouri, said the dispute does not seem ideological to him. He has crunched the numbers, and while Newman is the most patent-friendly judge on the Federal Circuit, Moore is close behind.
"Moore's order says other judges are concerned about Judge Newman's health; I think that's real," he said. He suggested Moore, a former electrical engineer for the Naval Surface Warfare Center, "wants to run a tight ship."
Newman agrees that "there's a lot to be said about term limits" but thinks they would have to account for increasing life expectancy and new technology making it easier to work into old age, plus good old-fashioned genetic flukes. "I'm defying the laws of probability, or at least my DNA is," she said. Her parents lived into their 90s; her sister "died too young" at 89.
She never married; she has no grandchildren but many grandclerks. She is still excited by the role of new technology in global conflict or the possibility of lawsuits over coronavirus vaccines. Still, if she had known she would live so long, maybe she would have retired from the court and tried another career.
"Would I be a litigator? Would I be an artist? Who knows," she mused. "But at this stage, I no longer think about what I would do in retirement. I want to spend my last five years correcting my colleagues' mistakes."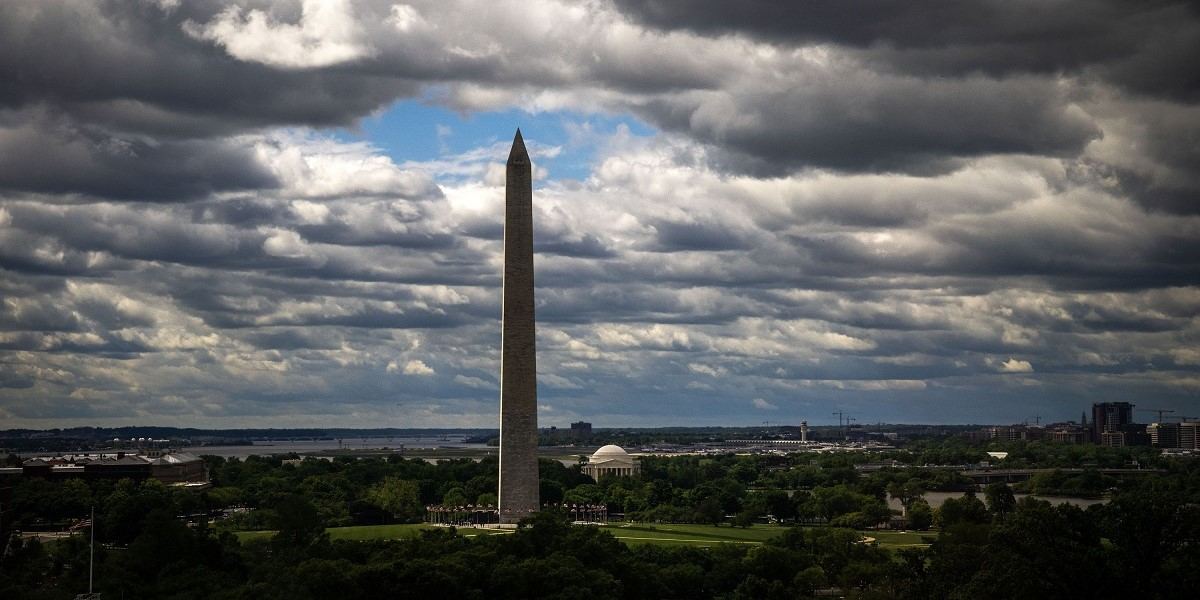 Add TheJapanNews to your Google News feed.