NATO-trained Units Will Serve as Tip of Spear in Ukraine's Counteroffensive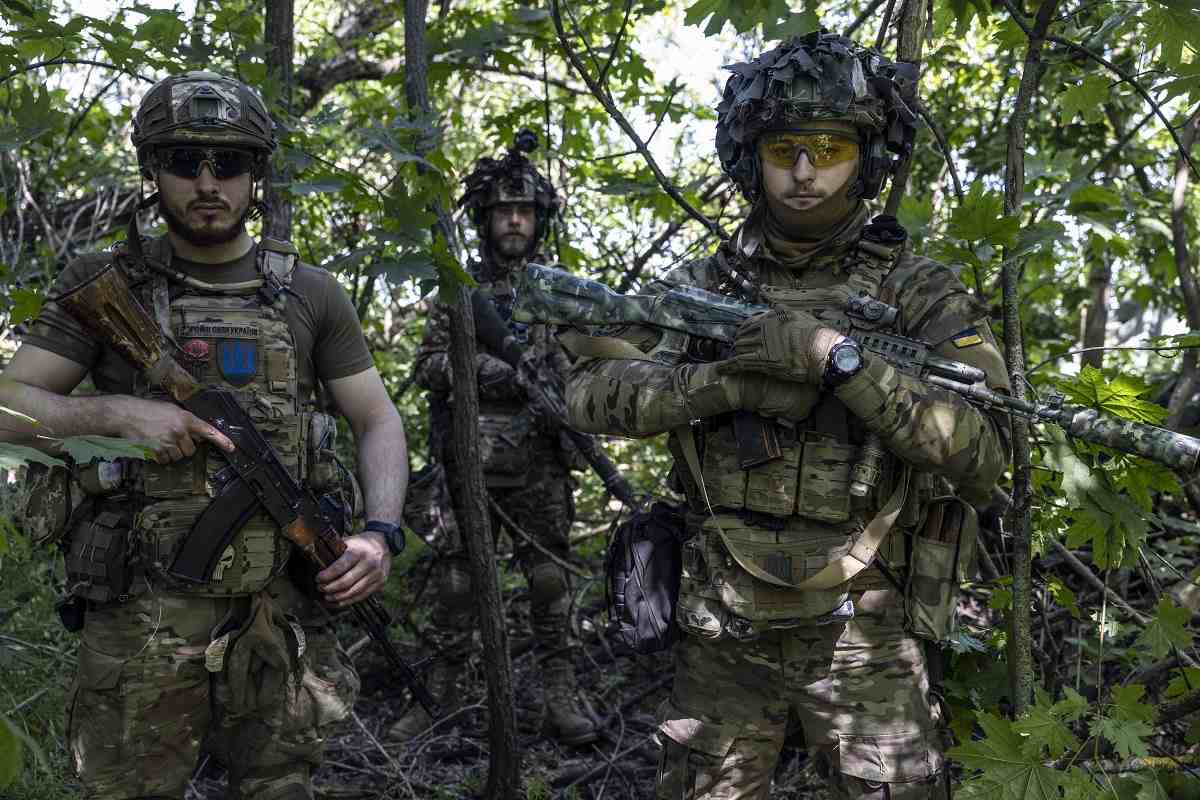 11:49 JST, June 5, 2023
When Ukraine's long-awaited counteroffensive finally begins, the fight will be led by brigades armed not only with Western weapons but also Western know-how, gleaned from months of training aimed at transforming Ukraine's military into a modern force skilled in NATO's most advanced warfare tactics.
As other Ukrainian units were fighting to expel the Russian occupiers from the country's east and south, the brand-new 47th Separate Mechanized Brigade was preparing for the next phase of war from a classroom at a NATO base in Germany.
The brigade's leadership trained with computers that simulated situations they might face in real life. Deputy commander Maj. Ivan Shalamaha and others planned their assaults and then let the program show them the results – how their Russian enemies might respond, where they could make a breakthrough and where they would suffer losses.
"You understand the overall picture, how it works," Shalamaha said. "You understand where and what your shortcomings were. And we pay attention to what we failed to do during this simulation."
Now the war games are over. The 47th brigade and other assault units have been armed with Western weapons, including Bradley infantry fighting vehicles, and relocated to a secret location closer to the front line. During a recent visit by Washington Post journalists, the soldiers were waiting for the order to charge ahead to retake a large swath of Ukrainian territory and tip the war back in Kyiv's favor.
The counteroffensive will be the biggest test yet of the U.S.-led strategy of giving the Ukrainians weapons and training to fight like an American army might – but on their own.
Ukrainian Defense Minister Oleksii Reznikov called it the "next level" of security assistance, something he and other officials requested from their Western partners. The United Kingdom has been providing basic training to thousands of Ukrainian recruits since last summer. But more recently, whole Ukrainian units have been sent to Germany and other countries to learn "how to operate simultaneously together, like interoperability among the different units," Reznikov said.
"We need company-level, platoon-level, battalion-level training courses with techniques, with their infantry fighting vehicles, with a commander who will understand how to conduct his forces, support artillery, support reconnaissance operations," Reznikov said.
Critics of the West's new emphasis on training the Ukrainians in combined-arms warfare, in which tanks, artillery, combat vehicles and other weapons are layered to maximize the violence they inflict, have pointed out that Kyiv is still missing key elements to fully implement that attack, mainly modern fighter jets. Ukraine is expected to receive U.S.-made F-16s after Washington agreed not to stop allied nations from providing them, but they won't reach the battlefield in time for the counteroffensive.
One goal of the training is to teach Ukraine's soldiers how to go on offense. For years, the Ukrainian military focused mainly on defensive tactics – how to protect its territory from attack. Even soldiers who fought Russian proxies in eastern Ukraine for eight years before Moscow's full-scale invasion had little experience with planned assaults.
The quick, sweeping counteroffensive last fall to liberate nearly all of Ukraine's northeast Kharkiv region in less than a week was the military's first planned large-scale offensive in the country's more than 30 years of independence.
The success in Kharkiv, and last year's successful defense of Kyiv, were credited in part to previous NATO training for Ukraine's military, which began after Russia invaded Crimea and fomented war in the eastern Donbas region in 2014. Many Ukrainian commanders, now in senior leadership, took part in such training.
At the training in Germany earlier this year, "the main tasks that were played there were offensive – only going on the offensive," said a 29-year-old company commander whom The Post is identifying only by his call sign, Tovarish, out of security concerns.
"We were in constant contact with their sergeants, officers, soldiers, as they trained us," Tovarish said. "We had translators with us, so we could ask any questions. There was never a time when we asked a question, and they didn't respond. Everything was really at a high level. We saw this other level, and we need to get there."
Shalamaha said the first tasks working with KORA, a war-game simulator designed for NATO forces, were to plan make-believe operations on foreign soil against a pretend enemy. The instruction progressed to focus on what lies ahead for Ukraine's military this summer. By the end, Shalamaha was working alongside commanders of other brigades expected to fight in the counteroffensive, coordinating their actions to test how they'd work together on the battlefield.
Others in the 47th brigade received training specific to the weapons or vehicles they'd be receiving, first learning the basics of how to operate them, then how to incorporate them as a single battle unit and then alongside other units.
A 32-year-old private whose call sign is Luke said he remained in touch with some of the American instructors he met. Sometimes he asks for advice or to review some of the things they taught him.
"In Germany, they really gave us a good chance to feel how it's going to be," Luke said. "As a team leader, I can command like five to seven people. But when it gets to be more than that, you really do need more practice. And then you're trying to organize a whole battalion to move at the same time and everybody has to know what they're doing. It's really, really difficult."
The 47th brigade started as a battalion that Shalamaha and Valerii Markus, a famous veteran and author with more than 450,000 Instagram followers, were charged with creating. It eventually grew to a full-fledged brigade intended to break through enemy lines.
"I realized that there was indeed an opportunity to create something – something interesting, something important, which could then grow into something much bigger," Markus said.
"When I joined the army 12 years ago, I encountered a lot of things that disappointed me very much, that made me hate the army," he added. "When I received this offer, I saw it as an opportunity to build a unit in which I would have liked to serve 12 years ago."
Though still unproven on the battlefield, the 47th brigade is armed almost entirely with Western weapons and, in a first, nearly every one of the unit's soldiers has undergone a weeks-long course with foreign instructors. The 47th's leadership is also especially young – all born after the fall of the Soviet Union. Alongside Shalamaha, who is 25, Lt. Col. Oleksandr Sak, the brigade's top commander, is 28. Markus, the chief master sergeant, is 29.
"We are the young generation," Shalamaha said. "We still have our whole lives ahead of us, and we are now fighting for this state which we want to see for ourselves, for our children, grandchildren, and so on."
But the biggest change? They didn't just accept anyone, interviewing every soldier who wanted to join the brigade. Commanders questioned each person's motivation and readiness. Every candidate had to pass a physical fitness test.
Alyona, a 27-year-old teacher who goes by the call sign Airy, was so angry after the atrocities committed last year by Russian soldiers in Bucha, her hometown, that she applied to join multiple assault brigades. Each time, she was turned away because she's a woman – told to go home and cook borscht, she said.
Then earlier this year, Alyona reached out to a commander in the 47th brigade. He asked if her mother knew she wanted to fight. She lied and said yes.
"I told him why I'm here, that it's not to take some photos to post on Instagram," she said. "This isn't a joke."
As she and others in the brigade wait for the order to begin attacking Russian positions, they're trying to keep their training fresh. Sometimes a commander will scream that someone in their unit is injured – a drill for the soldiers to practice quickly grabbing their tourniquet and applying it to one of their comrades.
Most of their activity is saved for nighttime, when they practice with night-vision equipment. The cover of night helps ensure that any movements won't be spotted by Russian forces awaiting the counteroffensive.
"We are ready," Shalamaha said. "We have the motivation of people, we have the equipment and the most valuable thing we have is the spirit to win."
Add TheJapanNews to your Google News feed.