Hong Kong, Once Home to Tiananmen Vigil, Now Hosts Pro-China Carnival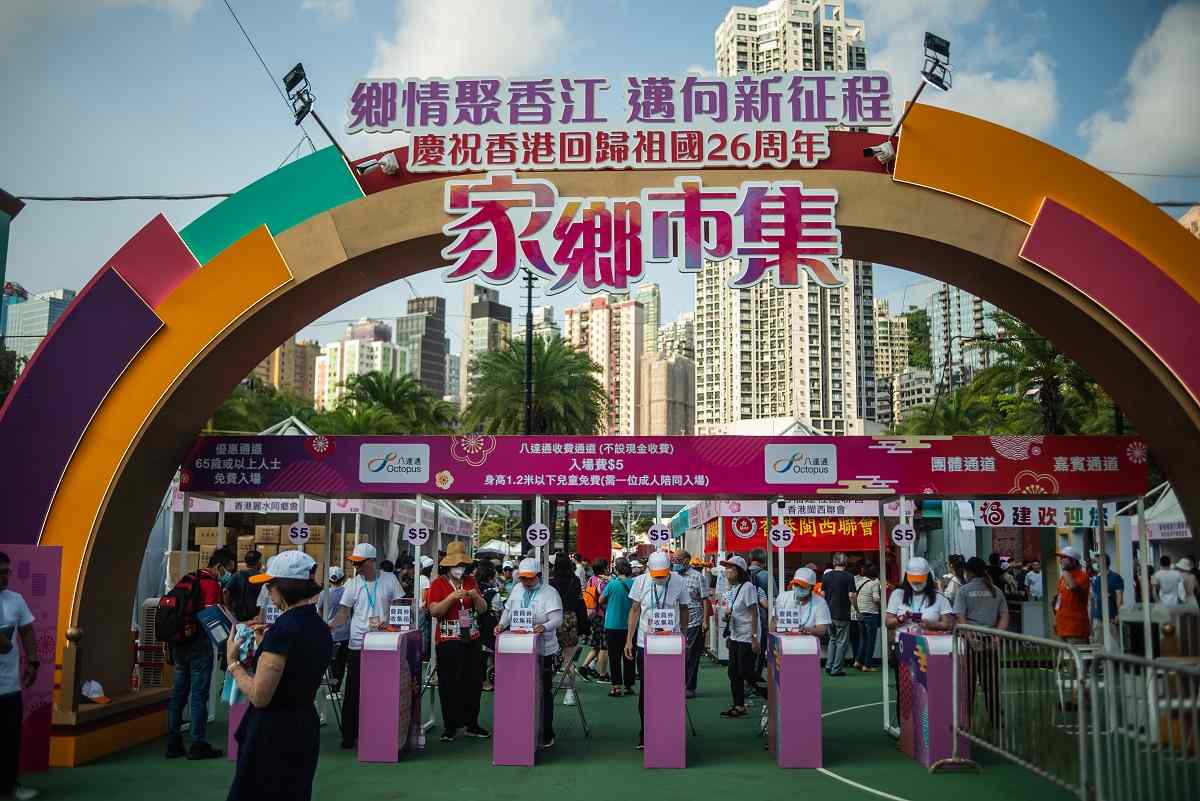 16:04 JST, June 4, 2023
HONG KONG – For decades, tens of thousands would come to Hong Kong's Victoria Park every June 4 to raise a candle in somber commemoration for those killed by the Chinese military as it crushed the 1989 Tiananmen Square protests.
This Sunday, after three years of prohibitions on gathering due to the coronavirus pandemic, the soccer pitches will fill again. But rather than remembering the hundreds, if not thousands, who died in the crackdown, the visitors will instead be attending a fair, organized by pro-China groups, to celebrate the city's handover to Beijing.
Beginning Saturday, Victoria Park will host three days of games, musical performances and carnival stalls selling goods from across China – a celebration, organizers said, of Hong Kong moving forward on a "new journey" 26 years after Britain handed control of the city back to China. (Never mind that the anniversary isn't for another month.)
The festivities kicked off amid tight security, with police officers and members of Hong Kong's counterterrorism response unit patrolling the grounds. Still, the jubilant festival stood in stark contrast to the tense atmosphere last year when hundreds of police officers stood guard outside cordoned soccer pitches to prevent gatherings. It marked a jarring transformation over just four years: from somber candlelight vigil to heavily policed desolation to flag-waving carnival.
For Hong Kong's endangered democracy movement, the site has become a symbol of the dizzying speed with which their freedoms have eroded as Beijing exerts control over the city's future – and its past. Some fear the erosions, far from leveling off, are worsening.
"Hong Kong changed so much, but there is nothing we can do about it," said Leung, 28, who passed by the fair on Saturday and only gave his surname out of fear of repercussions from authorities. He said he felt numb about what he saw at the carnival, knowing that Sunday is the anniversary of the Tiananmen Square crackdown.
Last week, authorities dissolved Hong Kong's second-largest pro-democracy political party. And in May, most books about the Tiananmen Square crackdown were removed from public libraries. In March, organizers of the candlelight vigil were – again – sentenced to jail, and face further national security charges that could result in even longer sentences.
The approach of effectively erasing space for memorials without announcing an official ban in some ways makes the situation in Hong Kong even more uncertain than in mainland China, said Louisa Lim, author of a recent book about Hong Kong and a lecturer at the University of Melbourne.
Elsewhere in China, "it's pretty clear what the consequences are going to be, whereas in Hong Kong the red line is deliberately ambiguous and that gives the authorities room for maneuver," said Lim, whose first book, "The People's Republic of Amnesia: Tiananmen Revisited," was among those recently removed from library shelves.
The intensifying effort to silence historical research into dark periods of China's recent past brings Hong Kong in line with the rest of China, where public discussion of the leadership's decision to send in the tanks in 1989 is near impossible.
Outside the fair on Saturday, Ho, 22, said he didn't know about the carnival but had stopped to observe police searching citizens.
"I feel nervous," said Ho, who also declined to give his full name because of security concerns. "With the fair happening and so many policemen present, it's easier to just not do anything here."
Under the handover agreement signed by Britain and China, Hong Kong's way of life was meant to be protected by a "high degree of autonomy" for 50 years from 1997. But in 2020, Beijing imposed a harsh national security law after months of youth-led protests that paralyzed much of Hong Kong's city center.
That law rapidly made public dissent near impossible, making a vibrant community of activists and journalists fearful to speak out. Chow Hang-tung, one of the former organizers of the annual vigils, is in jail and could remain there for life if she is found guilty on outstanding charges of "incitement to subvert state power."
After the loss of Hong Kong as a place of remembrance, Chinese human rights activists are increasingly looking for other ways to keep the memory of Tiananmen alive. Some in Taiwan stepped up commemoration events in a show of solidarity with Hong Kongers who had lost the ability to speak out. A small museum about the crackdown recently opened in New York.
But such efforts face an intense campaign by Beijing to suppress memories of the 1989 victims, as well as the generations of human rights activists that inherited their legacy.
Under Xi Jinping, China's powerful top leader, activists once able to carefully push forward legal protections and civic participation are now mostly in prison or pushed into hiding, with attempts to organize among younger activists snuffed out at their early stages.
Still, people find ways to pay tribute. In a message sent from jail, Xu Zhiyong, a Chinese legal scholar and founder of the "new citizens" movement who is serving a 14-year sentence for "subversion," called for a day of commemorative fasting, as has been his personal practice for the last decade.
By emulating the approach taken toward Tiananmen Square by Liu Xiaobo, the Nobel Peace Prize laureate who died in Chinese police custody in 2017, Xu is engaging in an "act of resistance that connects the past with the future" of the embattled movement, said Teng Biao, a Chinese human rights lawyer and close friend of Xu's who shared the letter on Twitter.
Hongkongers who want to mark the anniversary now face similar challenges to those in mainland China.
Two former district councilors who planned to distribute candles on June 4 to facilitate private commemoration told The Washington Post that they received calls from the police, who asked whether they are organizing any "events" on June 4.
Debby Chan, one of the former councilors, said that she will still hand out candles at her store, even after multiple officials from different government departments showed up unannounced last week for what they said were "standard inspections." She interpreted this as a signal that she is under close watch.
Despite the pressure, Chan still believes people should have the right to commemorate privately now that public gatherings and marches are effectively banned. "If merely handing out candles is perceived as threatening, it seems to me that this regime is fragile," she said.
Hong Kong will not forget easily, because many in the city consider keeping the memory of Tiananmen alive a "moral duty," said Lim.
Even so, she has found it "breathtaking" to see the decades-long process of erasure that took place elsewhere in China play out in real time in a modern, internationally mobile, and – until recently – uncensored society.
"We should look at Hong Kong's fate as a warning," Lim said. "If it can happen in Hong Kong . . ."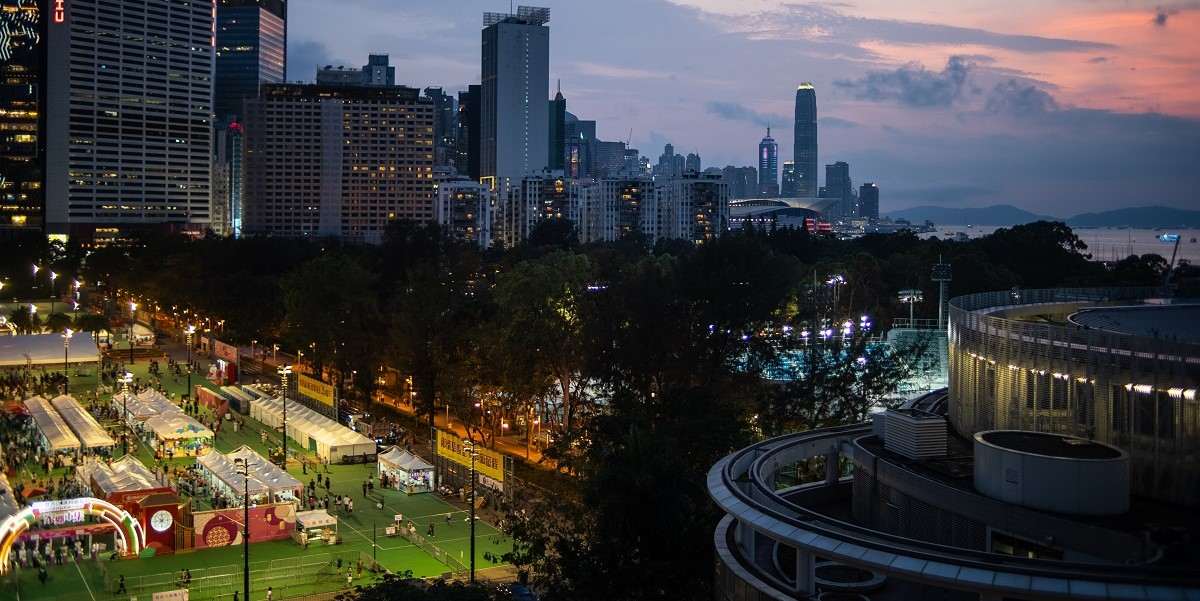 Add TheJapanNews to your Google News feed.