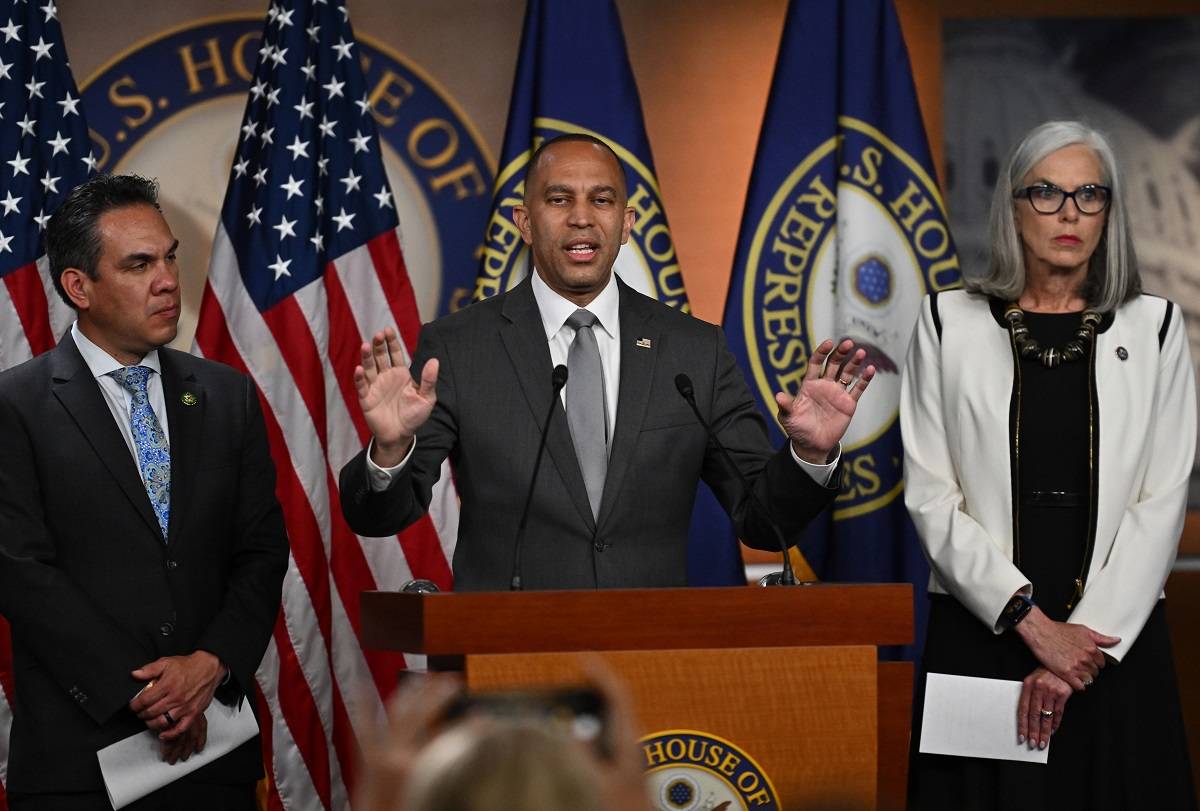 11:51 JST, May 25, 2023
WASHINGTON – House Democratic lawmakers are voicing frustration over President Biden's approach to negotiating a debt ceiling deal with Republicans, worrying that their priorities are not being championed aggressively enough and that Biden hasn't more forcefully pushed back publicly against Republican demands.
In a previously unreported interaction, Rep. Sheila Jackson Lee (D-Texas), who has served in the House for almost 30 years, encouraged Minority Leader Hakeem Jeffries (D-N.Y.) during Democrats' weekly caucus meeting Tuesday to ask the president to immediately address the nation, detailing how Republicans are toying with the economy and explaining that a default would catastrophically affect their lives.
Jeffries acknowledged Jackson Lee's request and assured lawmakers that he and his leadership team would take a more aggressive approach to messaging while the White House adheres to a strategy of keeping negotiations behind closed doors. Jeffries has not yet raised the request with the president, according to a person familiar with the situation, who, like others who spoke to The Washington Post, did so on the condition of anonymity to discuss sensitive conversations. But White House officials and leadership staff have remained in contact in recent days.
"It's my expectation that if Republicans continue to play games with the American economy, threaten default and drive us into a very dangerous situation, that we'll begin to hear from the administration, if not the president himself," Jeffries said in a news conference Wednesday afternoon.
House Democrats across ideological factions are frustrated at what they say is a lack of communication by the White House at a time when they should be preparing to defend their party's president, who has frequently commented on his willingness to find compromise in hopes of striking a deal. Democrats have publicly and privately said the president isn't responding forcefully enough to Republicans' framing of the negotiations, and that their lack of insight into the process could jeopardize Democrats' ability to whip votes in support once a bipartisan deal eventually hits the House floor.
The approach is a stark contrast to that of House Speaker Kevin McCarthy (R-Calif.) and his lieutenants, who have held court with the press at length, multiple times per day, effectively shaping a narrative and – at least publicly – the parameters of the negotiations.
"It's frustrating," said Rep. Daniel Kildee (D-Mich.), who represents a swing district. McCarthy "feels free to negotiate in public, and that's not really a productive way to try to come to a conclusion."
After McCarthy and his team met with Biden at the White House on Monday, the speaker and Rep. Patrick T. McHenry (R-N.C.) spoke to the press twice – once at the White House and once at the Capitol, totaling nearly an hour of taking questions.
Biden, who gave brief remarks before the meeting, did not speak to the press after but instead released a statement. Jeffries, Minority Whip Katherine M. Clark (D-Mass.) and Democratic Caucus Chair Pete Aguilar (D-Calif.) took that opportunity to walk down the Capitol steps to hold an impromptu news conference.
"Thankfully, we have a good messenger in Leader Jeffries, who has been forcefully pushing back and holding Republicans accountable," Aguilar said after another news conference Wednesday.
Biden has not held a public event regarding the negotiations since returning from Japan late Sunday. He did comment on the state of negotiations while in Japan, but not enough to assuage House Democrats' nerves.
White House press secretary Karine Jean-Pierre rejected the notion that Biden has not spoken on the debt limit clearly and forcefully.
"You've heard from the president multiple times over the weekend," she told reporters Tuesday. "You've heard from the president multiple times during the last five months. He's been very clear. You've heard from me; you've heard from others. We've had our economic team out there talking about this on [television] networks."
Even so, Democrats have seethed in private over what they view as the White House's 20th century approach to high-stakes negotiations – all done behind closed doors, with an occasional designated leak of information designed to shame the other side. Biden is adhering to the notion of not negotiating through the press, while McCarthy has frequently engaged the media.
The House speaker has been a whirling-dervish of communication with the press, engaging roughly a dozen times in hallway interviews since the House gaveled into session on Monday. His top lieutenants in the negotiations, Reps. Garret Graves (R-La.) and McHenry, did a short televised news conference Tuesday morning before their talks with top Biden officials. Later that day, after the 2½-hour negotiation session ended, they gave reporters a nearly 50-minute readout of their side of the talks.
All the while, Biden remained mostly silent, which Democrats say has helped Republicans appear reasonable.
Democrats on Capitol Hill want the president to frame Republicans as extreme hostage takers of the debt limit, which requires an act of Congress to lift. The frustration among Democrats spread throughout the caucus Friday after negotiations fell apart and Republicans took hold of the messaging while the White House did not explain what went wrong from their perspective.
The White House argues that the president has been touting the Democratic position in short interactions with the press and that inside the negotiating room, Biden and his team – which includes Director of the Office of Management and Budget Shalanda Young, White House Counselor Steve Ricchetti and Director of Legislative Affairs Louisa Terrell – are working to save the president's student loan relief program and green energy tax credits and investment, while resisting work requirements on social programs.
In a sign that advisers want to escalate the debate, the White House on Wednesday afternoon accused Republicans of trying to "actively harm their own constituents."
"House Republicans need to be called out for the vicious threat they are making to sabotage America, and to put down the gun they're holding to the head of middle class jobs," deputy White House press secretary Andrew Bates wrote in a memo. "Then they need to face reality and work across the aisle on a reasonable budget agreement."
Meanwhile, House Democratic leaders have been placed in the delicate position of trying to act on the feedback from their irritated caucus without stepping on the White House's toes. After soliciting member feedback, an approach unique to this new generation of leaders, Jeffries, Clark and Aguilar decided on the Monday evening news conference to push back on the GOP's claims and another Wednesday. They have shown equal willingness to stop in the hallways and hold court in recent days.
"Jeffries's messaging has been clear and strong and consistent, but the problem is, he's not even in the room right now," liberal Rep. Jared Huffman (D-Calif.) said. "We need more people echoing and amplifying Leader Jeffries's message because he's spot on."
Democratic lawmakers have also lamented that the White House has not aggressively demanded that increases to revenue, including tax hikes on the wealthy, be on the table. Instead, lawmakers said, the parameters of the negotiations center on the Republican priorities of deep cuts to nondefense government programs and work requirements for social safety net programs – both anathema to Democrats.
Sitting next to McCarthy on Monday, Biden did stress that be believes negotiators "should be looking at tax loopholes" for the wealthy and that "revenue matters as well as – as long as you're not taxing anybody under 400,000 bucks."
But some swing-district Democrats who ran on fiscal reform say their party also is missing an opportunity to frame themselves as the party of fiscal responsibility by arguing they would never allow the country to default, while remaining cognizant that some voters feel the government is spending too much. One Democratic lawmaker said voters are "pulling their hair out at the Democrats lack of understanding" that voters do not view their party as one that can responsibly govern the economy.
Liberals are pushing for Biden not to budge at all, defending what they have spent over the last two years as critical for Americans and imperative to Biden's agenda.
"Democrats are not going to vote for a bill that screws poor people, while protecting rich people," Rep. Jim McGovern (D-Mass.) said. "End of story."
Democrats first grew skeptical of Biden's handling of the talks when he told reporters in Rehoboth Beach, Del., earlier this month that some work requirements for some entitlement programs are a potential area of compromise – infuriating the more liberal wing of the caucus. Biden later clarified his comments that "not anything of consequence" would be affected by work requirements undermining what House Democratic leaders were telegraphing: that work requirements were a "nonstarter."
Republicans involved in the negotiations have acknowledged that they would need the help of Democrats to pass any bill through the House because it is likely they will lose a majority, if not all, of the roughly three-dozen conservatives in the House Freedom Caucus. McCarthy knows he needs "a majority of the majority" of his conference to put any bill on the floor, which means that as many as 100 Democrats would need to sign off on the legislation.
"I think the backlash will be significant if somehow we were to get bullied into a bad deal," said Rep. Pramila Jayapal (D-Wash.), the Congressional Progressive Caucus's chairwoman. "I think it's very bad for the people of America. I also think it's a terrible dynamic for negotiations going forward."
Democratic leaders haven't been able to whip support for a bill that lacks legislative text. Knowing more about where the negotiations stand could help the effort, especially because the new generation of leaders are trying to avoid the model former speaker Nancy Pelosi (D-Calif.) perfected of making her caucus deliver on tough votes without much pushback.
The new Democratic trio of leaders has worked to be more receptive to rank-and-file concerns after lawmakers spent last Congress privately expressing how fed up they were about having to fall in line and take bad votes in exchange for Democratic unity. Their philosophy, according to multiple lawmakers and aides, is to maintain that unity ahead of a vote – a challenging exercise as Biden has stepped away from forcefully using the bully pulpit.
Democrats also worry that the lack of White House communication could undercut Jeffries when he is tasked with delivering votes on a deal many in the caucus may not like. In roughly two dozen interviews, lawmakers insisted that they are not upset at their leadership, instead remaining united as a caucus in defending them.
During the White House Oval Office meeting Monday, Biden told reporters that he and McCarthy "both talked about the need for a bipartisan agreement" and understood that the final product is one "where we can sell it to our constituencies."
During their weekly whip meeting Wednesday morning, Rep. Joe Neguse (D-Colo.), who chairs Democrats' policy arm, played a clip of McCarthy saying Tuesday that the only concession Republicans would make in the negotiations is raising the debt ceiling.
In response, Jeffries said it was reasonable to conclude that Republicans are bringing Americans to the edge of a default, which could possibly trigger a painful recession that kills jobs. Their task now was to explain those dangers until the message breaks through, and they flirted with the idea that if Republicans were willing to leave the Capitol for their scheduled recess that begins Thursday, Democrats would seize the opportunity to shape public debate.
Hours later, Jeffries began a news conference standing between Clark and Aguilar by stating that Republicans were on the brink of bringing "catastrophic" consequences "for everyday Americans."
"The more House Republicans talk, the more information and insight the American people have in their true motives, which is that they are involved in a hostage-taking situation," he said. "The hostage is the economy and everyday Americans."
Add TheJapanNews to your Google News feed.