Republicans Deploy New Playbook for Abortion Bans, Citing Political Backlash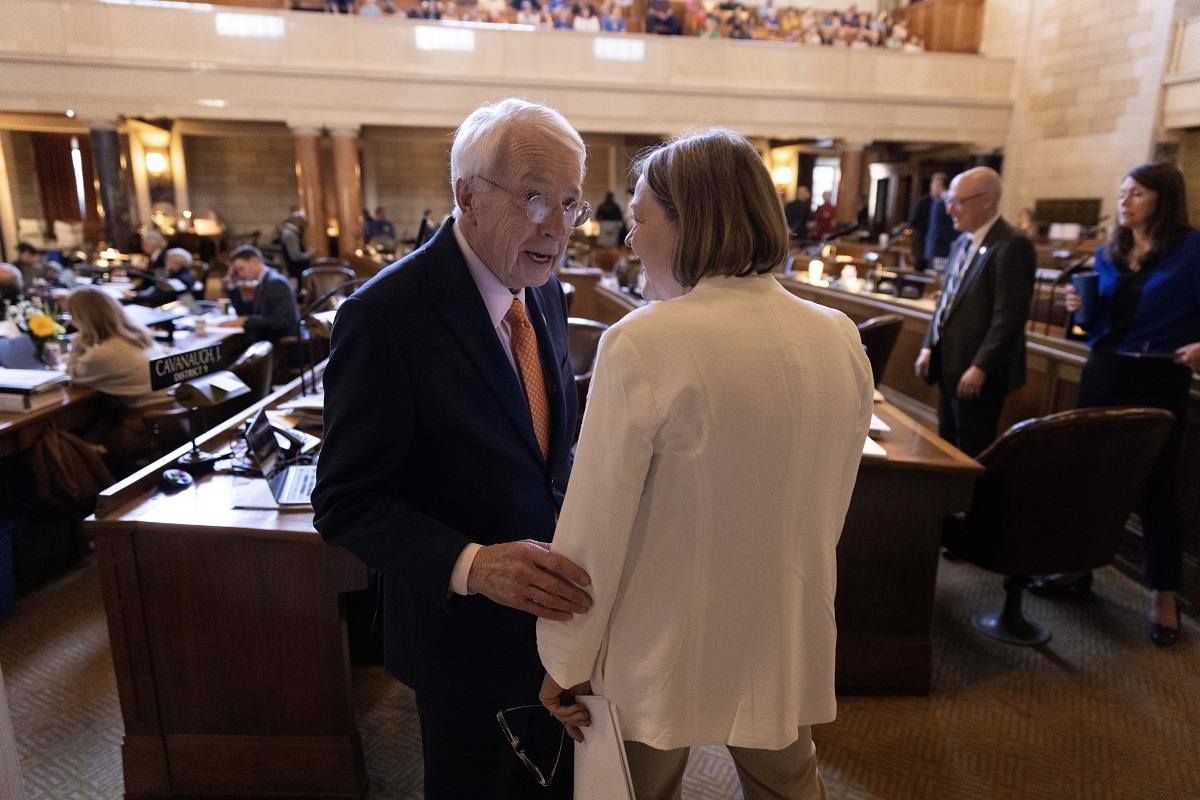 16:37 JST, May 21, 2023
Nebraska antiabortion groups and GOP lawmakers were stunned. In late April, their effort to ban most abortions was tanked by an unlikely person: 80-year-old Sen. Merv Riepe, a longtime Republican.
Instead, on Friday, Nebraska's conservative legislature voted to ban abortions at 12 weeks of pregnancy – a threshold that significantly narrows the window for legal abortions but still allows the vast majority to occur.
A few days earlier, North Carolina Republicans used their legislative supermajority to enact a similar 12-week ban, calling it a "mainstream" approach that would be more broadly accepted than the stricter bans many conservatives had sought to pass. And in neighboring South Carolina, state Sen. Katrina Shealy (R) told The Washington Post that she and the other female GOP senators who blocked a near-total ban are planning to push for a 12-week ban on most abortions when the state Senate takes up a bill next week restricting abortion after roughly six weeks of pregnancy.
"We can't live at the extremes," North Carolina Sen. Amy Galey (R) said in an interview. "As a country, we can find a way to take a difficult issue and resolve it without a huge amount of acrimony and viciousness."
Immediately after the Supreme Court overturned Roe v. Wade, Republican lawmakers were quick to embrace so-called "trigger" bans designed to take effect as soon as the decision was released, while others rushed to pass additional restrictions that would halt the procedure in their states, sometimes backing proposals that did not include exceptions for rape or incest.
Now, almost a year later, lawmakers in some Republican-led states have started coalescing behind bans that allow most abortions to continue – a reaction, some Republicans say, to the sustained political backlash to abortion restrictions that has been mounting since the landmark decision in June.
While the 12-week bans have so far only passed in two states – North Carolina and Nebraska – the proposal has also gained traction with some national antiabortion groups who say they're supportive of restricting abortions as far as a state can, including Susan B. Anthony Pro-Life America, which has also been pushing for, at minimum, national limits on abortion at 15 weeks.
But the approach has drawn sharp criticism from others in the antiabortion movement, who argue the 12 or 15 week bans don't do enough to stop what they see as widespread murder, allowing more than 90 percent of abortions to continue. Some Republican lawmakers and antiabortion advocates remain adamant that the only path forward is to aim to eradicate abortion completely nationwide.
How voters respond to these new bans could impact how abortion plays out as an issue in the 2024 presidential election. With little polling on the 12 week proposals, it's unclear whether voters will buy Republican arguments that these kinds of bans are a "mainstream" compromise.
Abortion rights advocates are adamant that these measures are potentially just as harmful as their stricter counterparts, maintaining that voters will reject any attack on abortion rights.
"At Planned Parenthood our position is that any ban on abortion is going to harm people that could become pregnant," said Olivia Cappello, state communications manager for Planned Parenthood Action Fund. "Whether it's six weeks or 12 weeks, an abortion ban stops people from getting the care they need when they need it and interferes with their freedom to decide what is best for their bodies and their lives and futures."
Public opinion
A majority of Americans want to keep abortion legal in all or most cases, several polls have shown in recent months.
Yet support for abortion limits increases as pregnancy progresses through the second trimester, which starts at 13 weeks. An April Fox News poll found 54 percent of registered voters nationally favored a law banning most abortions after 15 weeks of pregnancy in their state with an exception for medical emergencies. In an AP-NORC poll, 57 percent of adults said abortion should be illegal in most or all cases in the second trimester, while a small majority – 53 percent – supported abortion rights up to 15 weeks. Many countries around the world – including most European nations – limit abortions around the beginning of the second trimester.
The debate over abortion has morphed in other ways since the justices fundamentally altered the landscape across the United States. Last summer, public backlash swiftly ensued over abortion bans that don't include rape or incest exceptions – terrain least favorable to the GOP. Of the 13 "trigger" bans, only four included exceptions for both rape and incest, according to the Guttmacher Institute, a research group that supports abortion rights.
But that's not the case for many of the bills passed this year restricting abortions. Measures in North Carolina, Nebraska, Florida, Wyoming and North Dakota all included exceptions for rape and incest in some form, though some are limited by gestational age. Abortion rights groups have expressed concerns that such policies don't work well in practice.
This dynamic is in part because, before Roe was overturned, the laws were designed with the antiabortion movement and Republican primary voter in mind, said Mary Ziegler, a professor of law at the University of California at Davis.
"There are Republicans who are looking at this and saying we can't just cater to the antiabortion and the primary voter because there's a lot of voters now who care about abortion," she said. "It may actually backfire on us."
In the months since Roe was overturned, voters have repeatedly demonstrated support for abortion rights, striking down antiabortion amendments even in conservative states such as Kentucky and Kansas. The 2022 midterms, in which a number of Democrats won competitive races after making abortion rights a central issue, were widely viewed as a danger sign for Republicans.
North Carolina
Concerns about political backlash on abortion shaped the campaigns of a small group of moderate Republicans running for the legislature in North Carolina, a state where abortions are legal up until 20 weeks of pregnancy and that saw one of the largest spikes in abortions in the months after Roe fell.
Abortion had become a defining issue across the state ahead of the midterms, with North Carolina Gov. Roy Cooper (D) inserting himself into several key races. He filmed ads that cast Republicans as "cruel and extreme" on the issue and warned they would vote to severely restrict abortion access in North Carolina.
While a plurality of Republicans in the North Carolina legislature supported a "heartbeat ban" on abortion after roughly six weeks of pregnancy, some moderates realized they would struggle to win their races if they took a hard line stance on abortion, according to a person familiar with internal discussions who spoke on the condition of anonymity to recall private conversations.
To counter the governor's ads, one of the most heavily targeted Republicans, state Sen. Michael Lee, wrote an op-ed in the Wilmington Star News before the election voicing his support for abortion bans in the second and third trimesters, but not before.
"We must find common ground on this issue," Lee wrote, adding that a consensus "can be found between the extremes while respecting the sanctity of life and allowing for common-sense restrictions and exemptions."
When the legislature convened in January – before Rep. Tricia Cotham would switch her party affiliation to Republican and hand the GOP a veto-proof majority in both chambers – working groups assembled to find what Republicans in the state called a "middle way" on abortion.
At the beginning of the conversations, Galey said, some Republicans voiced support for a ban at conception while others preferred no additional restrictions at all. While everyone disliked the 12-week option "to a certain degree," Galey said, eventually a critical number of Republicans came to accept it.
Many Republican hard-liners, as well as antiabortion groups in the state, initially were angry and frustrated, said Jason Williams, the executive director of the North Carolina Faith & Freedom Coalition, a statewide antiabortion organization. The 12-week option seemed like a cop-out, he said, allowing the vast majority of abortions to continue.
"Many of those who wanted a heartbeat bill were open to a compromise of 8 or 10 weeks," said Williams. "Unfortunately, there wasn't any movement from those who were firm on 12 weeks."
At one point during the discussions in Raleigh, several Republican members suggested that North Carolina put the question to voters in a referendum – an idea that was swiftly rejected by antiabortion advocates, according to the person familiar with internal discussions.
An advocate for the 12-week ban pointed out their hypocrisy, recalled the person.
"You admit you don't want that, because it's not popular," the advocate for the 12-week ban said. "But you want our members to vote for something that's not popular."
Ultimately, the antiabortion groups got on board – starting with Susan B. Anthony Pro-Life America, according to a person in the state who was familiar with the discussions. The group had put out polling in North Carolina, as well as in Nebraska, and supplied information on the impacts of abortion to state lawmakers and local antiabortion leaders, said Stephen Billy, the vice president of state affairs at SBA.
"Our focus is on being as aggressive as we can in finding consensus to protect as many babies and serve as many moms as possible as quickly as we can," he said. "In Nebraska and in North Carolina, with their bills, that's exactly what's happening."
Democrats have fiercely rejected the idea that the North Carolina legislation is a mainstream compromise, pointing out that other restrictions embedded in the bill, including an additional mandatory in-person consultation at an abortion clinic 72 hours before the procedure, will limit abortion long before the 12-week mark.
"The fine print requirements and restrictions will shut down clinics and make abortion completely unavailable to many women at any time – and that's going to cause desperation and death," Gov. Cooper said in an interview.
Republicans in North Carolina kept the 12-week proposal a secret until the last possible moment, in part to prevent Republican hard-liners from amending the bill to make it more restrictive, according to the person familiar with the internal discussions. Instead of introducing the measure as a new bill, as is typical, Republicans gutted a different piece of legislation and inserted the 46-page abortion proposal, allowing them to move straight to an up-or-down vote and pass the bill less than 48 hours after it was introduced.
Nebraska
In Nebraska – where lawmakers are technically nonpartisan but generally have a party affiliation – Democrats and abortion rights groups blasted conservatives for attaching an amendment containing a 12-week abortion ban to a gender-affirming care bill.
They described a feeling of whiplash when the one-chamber legislature adopted the amendment Tuesday evening.
"It was very emotional, it was very challenging . . . it was also just really disheartening," Andi Curry Grubb, executive director of Planned Parenthood Advocates of Nebraska, said in an interview, her voice breaking.
Just weeks ago, they thought they'd secured a major victory with Riepe's decision to abstain from voting on the "heartbeat bill," allowing abortions to continue through 22 weeks of pregnancy.
But key Republicans in the state saw the bill's failure differently.
"It became our job then to negotiate," said Sen. Ben Hansen, the state's health chair who was one of the leaders of the negotiations and introduced the amendment. He added: "If we can save 300 babies a year in the state of Nebraska by moving it to 12 weeks, that's important to us."
After the initial "heartbeat" ban failed, Hansen began assessing whether any abortion restrictions could be brought back this year. Local antiabortion groups described "difficult" and "emotional" conversations about how early in pregnancy the state could realistically ban abortion. And Riepe, the holdout on the ban earlier in pregnancy, spoke at least three times – and exchanged numerous texts – with Gov. Jim Pillen (R), who he said was insistent on getting stricter abortion laws passed.
The governor has said he'd sign the bill. His office didn't respond to multiple requests for comment.
On Tuesday, the day of the amendment vote, Riepe said the protests inside and outside the chamber were tense, unlike anything he'd seen in the state capital. Afterward, security escorted the members out of the building.
The senator understands he disappointed a lot of people, especially on the left. But he believes that he's been clear from the start about where he stood on the issue.
"There's one thing I'm stuck on," Riepe recalled telling the governor. "I think 12 weeks is a reasonable number."
Add TheJapanNews to your Google News feed.