Maryland Tightened Gun Laws after Watershed High-Court Ruling. the NRA Sued.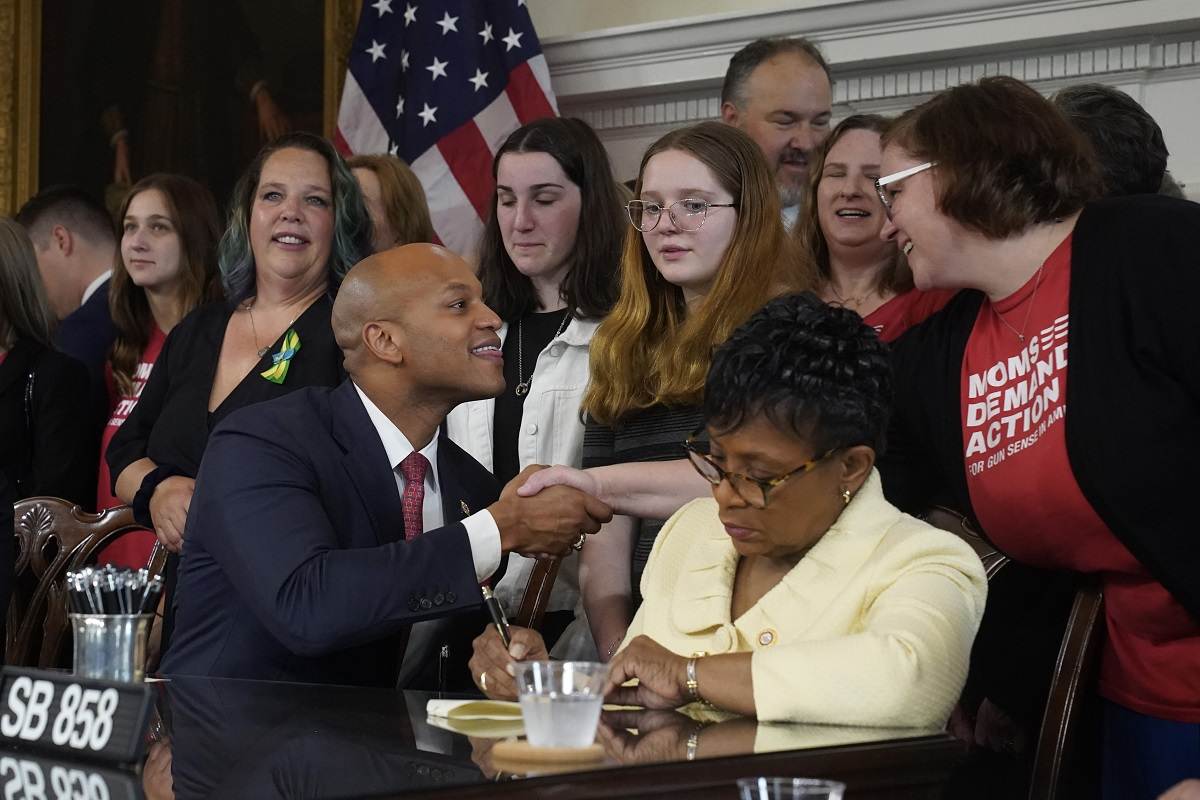 16:25 JST, May 17, 2023
Maryland Gov. Wes Moore (D) signed into law Tuesday new gun-control bills to restrict who can carry guns in public and where they can bring them, measures the National Rifle Association immediately challenged in federal court.
Gun rights activists have been eager to leverage a watershed Supreme Court decision in June that expanded the Second Amendment's reach, as left-leaning states rushed to buttress their long-standing concealed-carry permit restrictions that the ruling effectively overturned.
Since the ruling, the number of people now allowed to carry concealed guns in public has more than tripled, according to data from the Maryland State Police. Approved concealed carry permits skyrocketed from 39,797 on July 1 to 125,233 as of last week, enough new permit holders to fill every seat in Camden Yards stadium nearly twice over.
Maryland lawmakers took action to tamp down concealed carry permits. Gun rights activists noted the ruling had also rattled the legal framework on which several of the state's other marquee gun laws – a ban on "assault weapons" and handgun licensing requirements – were written, and sued to upend them, as well.
"More permits means more guns out in public, and that means more guns left in cars, and that means more guns subject to theft," said Sen. William C. Smith Jr. (D-Montgomery), who helped shepherd the new laws to passage. "There's just going to be more guns . . . around. That's just a fact."
The measures that drew the NRA's challenge Tuesday write new criteria for who can carry firearms in public and explicitly restricts where most permit holders can bring their weapons, including polling places, preschools, hospitals and stadiums.
Two other Maryland laws enacted Tuesday will require more training for people who apply for concealed carry permits and make those permits more costly, as well as strip gun-ownership rights from people who are convicted of storing firearms where an unsupervised child accessed them, resulting in injury or death.
Smith said it was imperative to try to write the strictest new law possible given the national and Maryland epidemic of gun violence, even if the state ends up in court. (The Maryland Attorney General's Office deemed them constitutional.) He noted state police were now giving out as many permits each month as they used to give out in a year.
"Will they be challenged? Of course they will be," Smith said before the bills were signed Tuesday.
"We're just in a really gray space, and I think we as a legislature had an obligation to implement strong laws that protect Marylanders," he said.
The NRA lawsuit, announced hours after Moore signed the bills and filed in U.S. district court, challenges the idea that Maryland can prohibit legal permit holders from bringing their guns into a vast array of public and private spaces.
"After the Supreme Court affirmed that the individual right to carry a firearm outside the home for self-defense is protected under the Second Amendment, Maryland deceitfully responded by amending its laws concocting a scheme where law-abiding Marylanders will not be able [to] legally carry anywhere in the state," the National Rifle Association Institute for Legislative Action said in a statement.
D.J. Spiker, NRA-ILA Maryland state director, said Maryland "previously had one of the most restrictive wear and carry permit schemes in the country. Now, to carry legally, Marylanders have to go through a process that's somehow more burdensome, lengthy and expensive to get a permit, yet effectively doesn't allow them to carry anywhere in the state."
Spiker continued: "You know who isn't going to do all of this to get a permit? And who isn't going to worry about where it's legal to carry? Criminals. This law will only prevent law-abiding people from exercising their rights."
"We're saving lives while they are politically posturing," Moore spokesman Carter Elliott said in a statement. "Every Marylander has the right to feel safe in their own communities and the governor is committed to doing everything in his power to make Maryland a safer home for everyone."
The ruling that upended Maryland's law, issued by the conservative-leaning majority in New York State Rifle & Pistol Assn. v. Bruen, also opened the door for Second Amendment groups to challenge Maryland's landmark gun laws passed in 2013 after the 2012 massacre of 20 children and six adults at an elementary school in Newtown, Conn. Challenges are already pending to the state's ban on the sale of "assault weapons" and to its handgun licensing rules. (The number of people seeking handgun licenses has also spiked in recent years, rising sharply during the pandemic. Maryland State Police issued, on average, about 21,000 per year from 2014 to 2019. But the agency issued more than 49,000 per year, on average, from 2020 to 2022.)
"A whole scope of litigation has opened up that was not available before Bruen," said Mark Pennak, president of the gun rights group Maryland Shall Issue, which is a party to several of the lawsuits. Pennak said that lawful gun owners are frustrated they keep seeing more restrictions when they believe most gun violence in Maryland is perpetuated by criminals.
"It drives everybody crazy. Because why don't we do something about the people who shouldn't have firearms in the first place? We fully support that," he said.
Part of the new concealed carry law spells out objective reasons someone can be denied a concealed carry permit, such as being on probation for violating a protective order, said Del. Luke Clippinger (D-Baltimore City), who sponsored that bill. The detailed list of ways one can be denied a concealed carry permit replaces Maryland's previous subjective standard, upended by the court, that required a "good and substantial" reason to carry a firearm that was greater than the need of the general public.
The advocacy group Everytown for Gun Safety has ranked Maryland – along with Illinois – as having among the nation's strongest gun laws but above-average gun deaths. Most states with strong gun laws have lower-than-average rates of gun violence.
Nick Suplina, senior vice president for law and policy at Everytown, said the argument that gun-control laws affect only law-abiding gun owners ignores studies that show guns can be stolen and used in crimes. "The fact is that if more guns made us safer, we'd be the safest country on earth. And we are not," he said.
He added that just because the Bruen decision opened more legal avenues to challenge gun-controls laws, "that doesn't mean that those laws are going to be invalidated."
Add TheJapanNews to your Google News feed.