Rep. George Santos Pleads Not Guilty to 13 Counts of Financial Crimes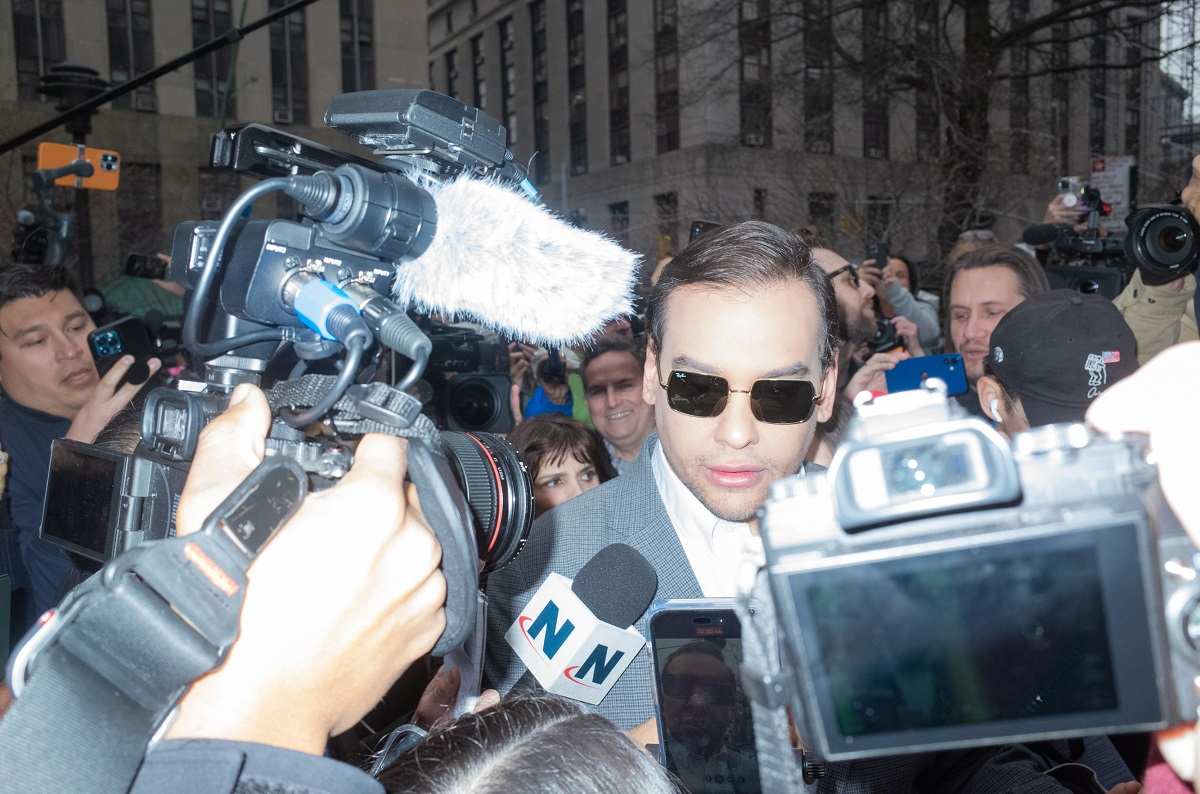 16:57 JST, May 11, 2023
CENTRAL ISLIP, N.Y. – Rep. George Santos, the freshman Republican congressman whose myriad falsehoods became both a scandal and a national punchline, was charged with a host of financial crimes in court papers unsealed Wednesday, including defrauding his donors, using their money for his personal benefit and wrongfully claiming unemployment benefits.
Santos, 34, surrendered to federal authorities in the morning at the Alfonse M. D'Amato Federal Courthouse in this hamlet on Long Island. The freshman congressman, who announced his reelection bid last month, was arraigned before a magistrate judge, told to relinquish his passports and ordered released on $500,000 bond.
Appearing before a scrum of reporters and cameras outside the courthouse, Santos repeated his vow not to resign and said, "I will prove myself innocent." He also called the investigation a "witch hunt," echoing the language of former president Donald Trump, himself recently indicted in New York in an unrelated case.
"I am going to fight my battle, I am going to deliver," Santos said. "I am going to take care of clearing my name, and I look forward to doing that."
Santos faces seven counts of wire fraud, three counts of money laundering, one count of theft of public funds, and two counts of lying to the House of Representatives on financial forms. Wire fraud, the most serious charge, carries a penalty of up to 20 years in prison. If Santos is found guilty of multiple counts, a judge would decide whether he should serve his sentences concurrently or consecutively.
The congressman's lawyer, Joe Murray, told reporters that he wants to meet with prosecutors and "share what we've learned and what we have. We have information that I think they would be interested to see."
Wednesday's arraignment, less than five months after authorities in the Eastern District of New York began their investigation, brought the Santos saga into a new, more serious phase. Several New York Republicans joined Democrats in intensifying their calls for Santos to leave Congress. But House GOP leaders signaled they would take no immediate action.
House Majority Leader Steve Scalise (R-La.) noted that Santos previously stepped down from his committee assignments amid the outcry over fabrications in his biography, but he did not respond directly to a reporter's question about whether the freshman lawmaker should resign. Rep. Marcus J. Molinaro (R-N.Y.), however, said that is exactly what should happen.
"I said he should resign in December. I said he should resign in January. He should have resigned yesterday," Molinaro said in a text message to The Washington Post. "Perhaps he will resign soon. Either way – and any way – there's a clock counting down and . . . justice will come to George Santos."
Some of the details in the nearly 20-page indictment – about Santos's dealings with would-be donors and allegations of false statements on his ethics disclosures – had been revealed in earlier reporting. But the alleged unemployment fraud is new.
According to prosecutors, Santos falsely claimed to have been unemployed in summer 2020 when he applied for benefits through the New York State Department of Labor. He continued to falsely certify that he was unemployed through the following spring, prosecutors alleged, and received more than $24,000 in benefits funded by the U.S. Treasury Department as part of expanded social programs introduced by Congress in response to the coronavirus pandemic.
Santos was ineligible for the benefits, according to the indictment, which states that he was employed as a regional director for a Florida investment firm during that period. The firm goes unnamed in the indictment, but its details match those of a company called Harbor City Capital, which was forced to shut down in 2021 after the Securities and Exchange Commission called it a "classic Ponzi scheme."
"Taken together, the allegations in the indictment charge Santos with relying on repeated dishonesty and deception to ascend to the halls of Congress and enrich himself," U.S. Attorney Breon Peace said in a statement. "He used political contributions to line his pockets, unlawfully applied for unemployment benefits that should have gone to New Yorkers who had lost their jobs due to the pandemic, and lied to the House of Representatives."
Jennifer L. Beidel, a former federal prosecutor in the Southern District of New York, said the allegation of unemployment fraud, a misuse of taxpayer money, "is likely something that inspired law enforcement to pursue this more aggressively than they maybe would have if we were only talking about fraudulent use of private funds."
The lies Santos told voters in a district stretching from parts of Long Island to Queens – about his ancestry, his education and his work history – largely escaped national attention until after his November victory. Once they were revealed on a broad scale, Santos, who flipped a seat previously held by a Democrat, apologized for what he called "résumé embellishment" but rebuffed calls to give up his seat. He began to revel in the attention, dangling further revelations about disputed details of his background.
Those falsehoods pale in comparison to the misconduct alleged by federal prosecutors in New York.
According to the indictment, Santos used tens of thousands of dollars ostensibly raised for his 2022 congressional race to buy designer clothes, pay off debts and give to associates. He is accused of soliciting funds, personally and through his campaign treasurer, to a company that he falsely represented both as a social welfare organization and a super PAC supporting his bid for federal office. In fact, prosecutors claim, funds from the company ultimately went to bank accounts controlled by Santos.
The company is not named in the indictment, but details disclosed by prosecutors match those of Redstone Strategies, formed in Florida in November 2021. A firm owned by Santos and named for his mother's family, Devolder Organization, was listed as one of Redstone's managers.
According to prosecutors, Santos directed a political consultant on Long Island to solicit funds for Redstone Strategies, falsely saying that the company was designed to "help this race" and that there were "no limits" on contributions. The consultant proceeded to solicit donations, according to text messages and emails quoted in the indictment, including by saying that the money would support television ads and other efforts aimed "exclusively" at the candidate's bid for office.
Santos personally sought cash for the company as well, including by telling one donor just days before the November election that more money was needed for TV ads, the indictment says. That very day, prosecutors allege, the donor wired $25,000 to the company. The donor was New York investor Andrew Intrater, according to a person close to Intrater who spoke on the condition of anonymity because of the matter's sensitivity. The person said Intrater later provided evidence about his interactions with Santos to the Justice Department.
The funds sent to Redstone Strategies were transferred to bank accounts controlled by Santos and used for personal expenses and to pay associates – not spent on the campaign, prosecutors allege.
Santos is also charged with lying on congressional financial disclosure forms about his income and other assets dating back to his first bid for Congress in 2020. His purportedly false statements include details of the $750,000 salary he reported from the Devolder Organization; the $1 million and $5 million in dividends he identified from that firm; and the assets he reported from checking and savings accounts. Prosecutors also claim he failed to disclose the unemployment benefits he was obtaining in New York as well as his earnings from the Florida investment firm, Harbor City Capital, which was sued by the SEC in 2021. Santos has said he wasn't aware of any wrongdoing at Harbor City.
Wide-ranging complaints filed by watchdog groups with the Federal Election Commission earlier this year accused Santos of misrepresenting campaign spending and using campaign resources to cover personal expenses, among other allegations. In January, the Justice Department's Public Integrity Section asked the FEC to hold off on any enforcement action against Santos, suggesting that prosecutors were examining overlapping issues. In March, a House ethics panel said it would investigate Santos and established a bipartisan subcommittee to examine claims about him, including about his past business practices, campaign finance expenditures and an allegation of sexual misconduct.
At the same time, Santos was voting and introducing legislation in Congress. He is one of nearly three dozen Republicans sponsoring legislation clamping down on abuse of unemployment insurance – the same type of fraud that Santos himself is now alleged to have committed.
"He voluntarily had stepped down from his committees," Rep. Elise Stefanik (R-N.Y.) told reporters Wednesday. "We are committed to making sure that we root out any fraud when it comes to unemployment, pandemic assistance, and we're working to have support from our conference. And it's good policy. And we urge the Democrats to vote in support."
Rep. Nicole Malliotakis (R-N.Y.) said in a statement: "The charges against Rep. Santos are extremely serious and deeply disturbing and as I've previously said, he simply doesn't have the trust of his constituents or colleagues. The sooner he leaves, the sooner his district can be represented by someone who isn't a liar and fraud."
The congressman's fabrications during his campaign touched nearly every aspect of his life, from his family background to his academic record and work experience. Santos said his mother was inside one of the World Trade Center towers when they were attacked on Sept. 11, 2001, but immigration records indicate that his mother wasn't in the United States on that day. He claimed to have worked for high-powered Wall Street firms that denied employing him. He even falsely claimed to have been a star on his college volleyball team.
Last month, Santos announced he would seek reelection. As recently as last week, he told associates he wasn't worried about the investigations or expecting to be charged, according to people in touch with him.
Outside a Target store in Hicksville, N.Y. on Wednesday evening, Jean Tamburino, 87, said public revelations that her congressman lied and alleged fraud show how little voters really understand about the people on their ballots.
"We don't know who we're putting in when you vote," said Tamburino, who lives in Nassau County, works part time at a Home Depot and did not vote in the 2022 election. She called Santos's alleged misdeeds a blight on the community he serves.
"It isn't right," she said.
Add TheJapanNews to your Google News feed.