The most popular app in the U.S. deleted mentions of its Chinese owner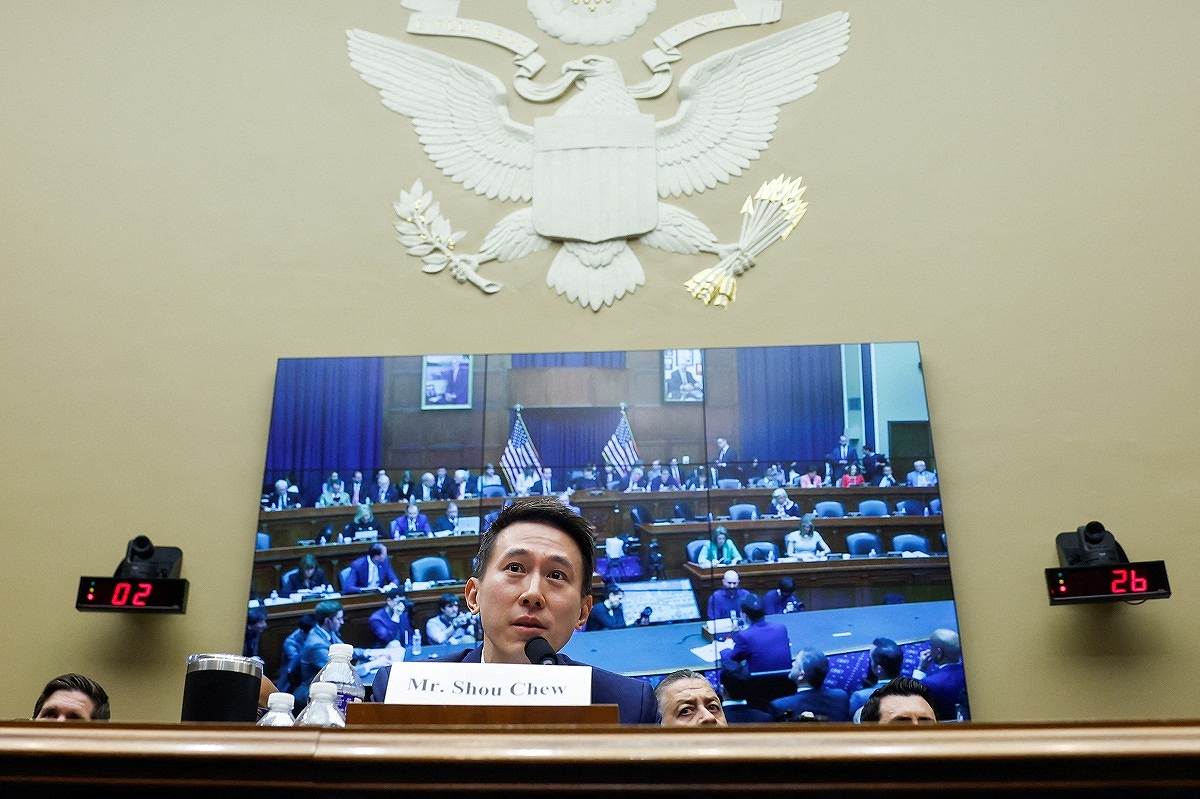 19:27 JST, May 4, 2023
Most of the time, you probably don't care what country an app is from. But right now, you might.
Lawmakers in the United States have warned that apps developed by Chinese technology companies could be gateways for China's government to snoop on Americans, rot our brains or warp our beliefs.
You should decide for yourself whether you trust an app from China. But it may not be easy to tell where an app is based.
Four of the five most-downloaded apps in the United States are from China.
But in the iPhone and Google Play app stores, the developers behind two of those apps – TikTok and the video editing app CapCut – are listed as two different companies in Singapore. They're both owned by China's ByteDance.
The United States' most popular app, the low-price shopping service Temu, recently removed from its website several references to its owner, the Chinese e-commerce giant PDD Holdings.
It's true that ByteDance operates from Singapore and that Temu is in Boston. But that's also not the whole story about their Chinese origins.
So how do you make a personal risk assessment when it's not necessarily clear that apps are Chinese?
Mostly, you'll have to do legwork online, sift through business incorporation and securities filings or rely on trusted sources to clue you in. It's not ideal.
Temu is from Boston. Sort of.
Until about a month ago, the "About Us" section of Temu's website said the shopping app was "founded in Boston, Massachusetts in 2022 by its parent company PDD Holdings Inc . . .. which also operates Pinduoduo in China." (Pinduoduo is a popular e-commerce app.)
The website also said that Temu used PDD's "vast and deep network" of merchants and logistics partners.
On Tuesday, Temu's "About Us" section didn't mention PDD or Pinduoduo. The company's description says that "Temu was founded in Boston, Massachusetts in 2022."
The change was recently noticed by Ivy Yang on Twitter. I confirmed the change by checking archived versions of Temu's website.
The company didn't respond to my questions about why it changed the language on its website.
In the iPhone App Store and the Google Play Store for Android apps, the developer information for Temu lists a Boston address. The iPhone store description says that Temu's developer is Whaleco Inc.
That information is accurate. Whaleco is the name registered in Temu's business incorporation record in Massachusetts, where it is labeled as a "foreign corporation." And Temu, which doesn't operate its shopping service in China, is based in Boston.
Some cursory web research will show that Temu is owned by a Chinese tech company. Similarly, it's hard to avoid the information that TikTok is owned by ByteDance in China.
But what about an app that becomes popular overnight? When this happens, there's less information widely available.
A few years ago, an app called FaceApp became an instant hit with a feature that let people upload a selfie to see how they might look in several decades.
Then some American politicians and law enforcement officials started to worry that the app was developed by a largely unknown Russian firm and might be a national security threat.
The Russia connection may have been overblown. A deeper problem was that Americans have so few privacy protections that any app can do pretty much whatever it wants with our photos or other personal information.
But the murkiness of the app's origin contributed to the mistrust of FaceApp.
Shein was founded in China and helps Chinese apparel manufacturers sell to shoppers in the United States and other countries. The company told me its owner is headquartered in Singapore.
ByteDance has emphasized previously that it is largely owned by investment funds in the United States and other countries outside China. TikTok's chief executive is based in Singapore.
It's not surprising that companies want to downplay connections to China. Congress and a majority of the American public mistrust China.
Still, haziness about tech companies' Chinese origins isn't helping. Lawmakers in the United States will consider ByteDance, Shein and Temu as Chinese companies no matter what the companies say.
It might be helpful to change the starting point of the conversation. Let's say these apps are Chinese; so what?
What are the real and potential risks to you? Short of banning anything from China – including your phone or laptop, which probably was made in a Chinese factory – how should American policy approach a future in which more technology inventions are likely to come from China?
Fairly or unfairly, many Americans are worried about tech from China. It would help if app stores made a good-faith effort to list apps' countries of origin – even though that's sometimes tricky to pin down. Many companies have businesses incorporated in countries that are different from their countries of origin.
And no matter where an app is from, it is smart to do a little research before you download it or buy something online from a company with which you're not familiar.
You want to see whether people are complaining about being misled or ripped off or if there are concerns about an app's privacy protections. You may also hold off downloading a cool new app until reputable sources evaluate its potential privacy and security vulnerabilities.
It's not fair that you have to do the work to protect yourself from potentially scammy apps or those from countries you might not trust. But you have to look out for yourself on the internet. You can't count on companies or the law to protect you.
Add TheJapanNews to your Google News feed.