Zelensky Says White House Told Him Nothing about Discord Intelligence Leaks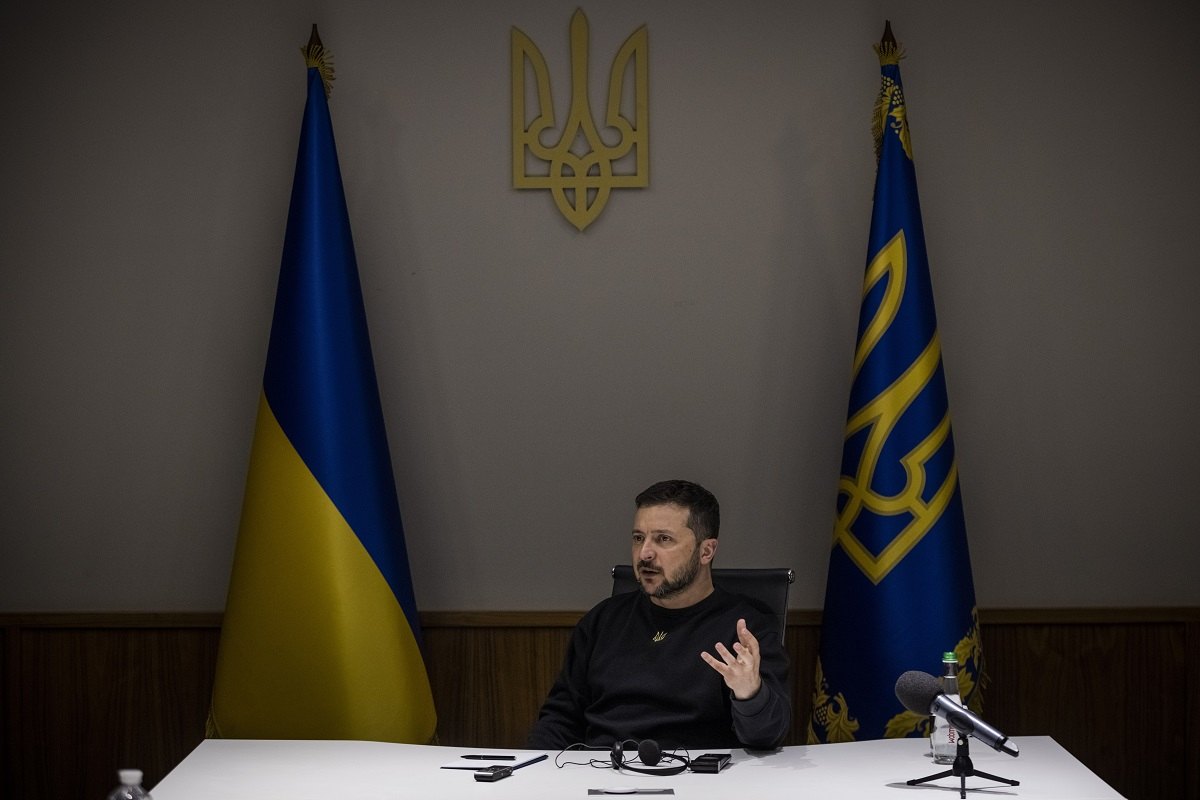 16:01 JST, May 3, 2023
KYIV, Ukraine – Ukrainian President Volodymyr Zelensky has not had any conversations with the White House about a massive leak of top-secret U.S. intelligence documents, he said in a wide-ranging interview with The Washington Post on Monday, calling the disclosures damaging to both Washington and Kyiv.
Zelensky learned about the disclosures like everybody else – in the news.
"I did not receive information from the White House or the Pentagon beforehand," Zelensky said. "We did not have that information. I personally did not. It's definitely a bad story."
"It is unprofitable for us," Zelensky added. "It is not beneficial to the reputation of the White House, and I believe it is not beneficial to the reputation of the United States."
The trove of secrets leaked online through the Discord messaging platform revealed grim U.S. assessments about Ukraine's war with Russia, including Kyiv's shortfalls of weaponry ahead of a highly anticipated counteroffensive, and that Washington requested that Ukraine postpone its planned attacks on Russia to mark the anniversary of Moscow's invasion in February.
Secretary of State Antony Blinken discussed the Discord leaks with his Ukrainian counterpart, Dmytro Kuleba, during a call in April, according to a U.S. official familiar with the matter. The call, which happened after news of the leak had broken, had been scheduled to discuss the recent meeting of NATO foreign ministers in Brussels, said the official, who spoke on the condition of anonymity to discuss sensitive diplomatic discussions.
At that time, Deputy Secretary of State Wendy Sherman also held a handful of calls with her counterparts to talk about the issue, though it is unclear if she discussed it with her Ukrainian counterpart.
The leak has created friction between Ukraine and the United States, its biggest backer in the war. Washington's inability to protect sensitive information could lead to Kyiv sharing less intelligence with the United States, some Ukrainian officials have privately indicated. But some of the disclosures in the documents are from signals intelligence, indicating that the United States is spying on top Ukrainian officials, including Zelensky.
Asked if that had strained trust between the countries, Zelensky said, "I cannot risk our state." He indicated that airing his private feelings wasn't worth the potential harm to U.S. support for Ukraine's war effort.
"Where I can speak frankly, I do it. But there are high risks," he added. "If it were my war against [Russian President Vladimir] Putin, and there were two of us on the battlefield, I would tell everyone what I think of them. But here the story is a little different. We are all responsible."
A White House official said that the administration is "in constant communication with our Ukrainian counterparts about a range of issues, including over the unauthorized disclosures." But the official, who spoke on the condition of anonymity to discuss a sensitive matter, said they would not comment on the details of those discussions.
Zelensky, who was entangled in President Donald Trump's first impeachment scandal, noted that it was not the first time that his life had been complicated by U.S. disclosures, and that he was now more focused on preparing Ukraine to retake territory occupied by Russian forces.
"I don't know if it's a manipulation or an accident, and so on, and why should I," he said. "Despite such information movements, I have to prepare the state for de-occupation, not for other steps. And this is my task. Do you remember how our conversation with Trump got out? They printed it. Well, to be honest, I didn't give my permission for that either."
Wearing a black sweatshirt with the yellow Ukrainian trident symbol, Zelensky met with a group of Washington Post journalists and editors for an hour in a conference room with large monitors mounted on three walls – the room he typically uses for his video-link meetings with foreign leaders.
He at times appeared exasperated while commenting on the leaks and said he considers them a "TV show" that some people may be interested in but that ultimately aid Russia at a critical moment. Ukrainian officials and the country's Western partners have hyped a planned spring counteroffensive, expected to kick off this month, as Kyiv's chance to retake the battlefield initiative with new Western arms, including battle tanks.
Included in the intelligence leak was information about Kyiv's air-defense deficiencies and details about which brigades were being prepared for the counteroffensive.
"Somewhere it's a hype, somewhere it's a scandal," Zelensky said. "For us, anything that informs our enemy in advance in one way or another is definitely a minus for us. I don't see any advantages here."
One of the leaked documents included an assessment of military casualties, dated Feb. 21 and labeled top secret. It said that U.S. officials believed that between 15,500 and 17,000 Ukrainian soldiers had been killed, with an additional 106,500 to 110,500 wounded. The same assessment said that between 35,000 and 42,500 Russian soldiers had been killed and 150,500 to 177,000 had been wounded. Those figures are in line with recent assessments by Western officials, who have said that more than 200,000 Russian soldiers have probably been killed or wounded.
The slide, titled "Assessed Combat Sustainability and Attrition," warns that the Pentagon has low confidence in the numbers it compiles because of information gaps, attempts by both Russian and Ukrainian commanders to maintain operational security, "potential bias" in Ukrainian information sharing, and "IO efforts" – information operations. Kyiv keeps casualty figures closely guarded so as to not dampen public morale.
"People ask me, who benefits from this? My answer is very simple: I don't have time to figure out who benefits from this. I'm looking at who doesn't benefit from it," Zelensky said.
Zelensky declined to confirm or deny the information in the leaks – or even describe the disclosures as "sensitive" – because that would acknowledge that the documents are real, he said. Ukrainian officials and the country's military intelligence agency have dismissed them as being "fake" or as part of a Russian disinformation campaign.
"It is not sensitive," Zelensky said. "If I answer you, that means it's sensitive, it means there are real documents. Please, stop playing games with me. I am the president of a country at war."
Add TheJapanNews to your Google News feed.