Ukraine, China Main Focus as South Korean President Visits White House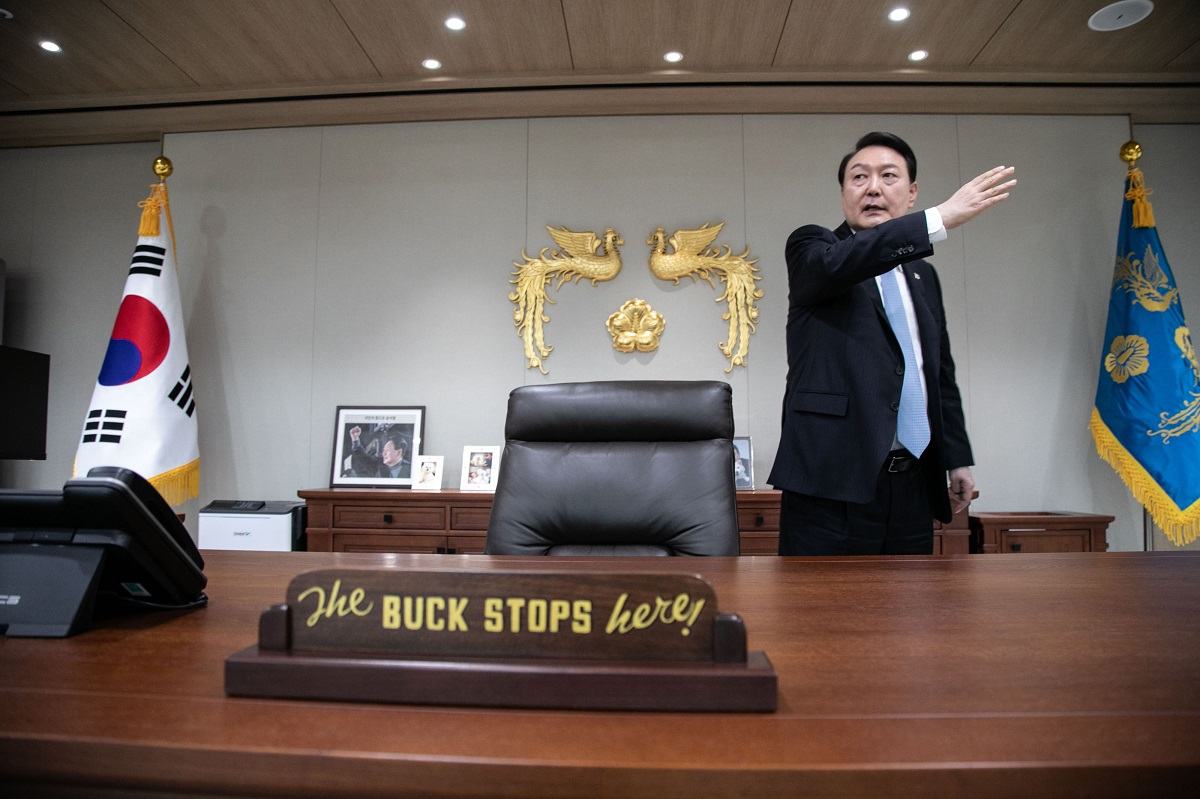 11:10 JST, April 25, 2023
SEOUL – President Biden and his South Korean counterpart, Yoon Suk Yeol, don't have a whole lot in common.
They come from different ends of the political spectrum. Biden is liberal and a lifelong politician, while conservative Yoon first entered politics only two years ago to run for president. Being a father and grandfather is central to Biden's identity; Yoon didn't get married until he was 51 and has no children.
Yet the two men agree on one thing: The alliance between their countries is more important than ever.
Biden will host Yoon at the White House this week for a state dinner to commemorate the 70th anniversary of the mutual defense treaty that bound together their security interests after the Korean War ended with a cease-fire. On Thursday, Yoon is scheduled to deliver a speech at a joint meeting of Congress, the first South Korean president in a decade to do so.
For Yoon, who is 62 and has not spent much time in the United States, this week's events will be a whirlwind opportunity to show he is serious about strengthening ties with the United States.
"The most important thing [for this week] is for it to be an opportunity for the people of both countries to properly recognize the historical significance of the … alliance and its achievements," Yoon said in an interview with The Washington Post at his presidential office in Seoul, much of which was focused on his personal life and upcoming trip.
The alliance was forged in the aftermath of World War II, when the United States backed South Korea as the Soviet Union threw its communist weight behind North Korea and China.
"It is indeed the most successful alliance in history and, above all, an alliance based on values," Yoon said.
Although Washington might quibble with the characterization, the security pacts with Japan and South Korea have become increasingly important as China has made clear its intent to challenge the United States' global primacy economically and militarily.
Biden has emphasized the role of alliances in countering geopolitical challenges from East Asia to Eastern Europe.
Yoon can expect to come under pressure this week to join other democracies in supplying artillery shells to Ukraine, which is running critically low on ammunition.
Seoul is sitting on a vast ammunition stockpile but has refused to send any to Ukraine out of concern about its relations with Moscow. Last week, Yoon told the Reuters news agency that "it might be difficult" for South Korea to "insist only on humanitarian or financial support" if the situation worsens.
"Of course, Ukraine is under an illegal invasion, so it is appropriate to provide a range of aid, but when it comes to how and what we will supply, we cannot but consider many direct and indirect relationships between our country and the warring countries," Yoon told The Post.
Other frictions remain in U.S.-South Korea relations, such as the repercussions of the Inflation Reduction Act and the Chips Act for South Korean manufacturers, as well as a growing desire among South Koreans for their country to acquire its own nuclear weapons despite the U.S. security guarantee.
Yoon said he expects to discuss a range of issues facing the alliance in Washington this week and beyond.
Official Washington has long believed that conservative South Korean presidents, who tend to hew closer to the United States than liberals do, are easier to work with.
Indeed, Yoon has cleared several hurdles in the countries' alliance in his first year in office. He has resumed joint military exercises with the United States to prepare for a potential North Korean attack, worked with the United States to decrease global supply-chain dependence on China and, most notably, made a politically risky move to make amends with Japan after years of hostilities.
But Yoon, a political novice who squeaked into office just over a year ago, remains something of an enigma even to longtime Korea watchers in Washington. He closely guarded his ideological leanings during his career as a prosecutor, including two as prosecutor general – one of the most powerful positions in South Korea.
Forging his own path
To understand his thinking, it's worth a rewind to his early career. In Korean, there's a saying: If you fall seven times, you rise eight times.
Yet, it took Yoon – who graduated from one of South Korea's most prestigious universities – nine tries to pass the national bar exam. South Korea's exam is notoriously difficult and was even more selective then, but nine years was still a long time.
That meant he didn't start his career as prosecutor until the unusually late age of 33.
The son of an academic, he had a comfortable childhood. Some friends who were close to him then say Yoon marched to the beat of his own drum and on his own timeline to pursue what he believed was important.
"If he believed he was doing what was right, then he didn't care much about how others viewed his actions, or how other people evaluated him," said Lee Chul-kyu, an attorney and Yoon's college friend. "Many of us from those days recall how decisive he was, rather than grappling with indecision."
As prosecutor, Yoon continued in this vein.
Among the most dramatic moments of his prosecutorial career came in 2013, when he investigated alleged election interference by the National Intelligence Service to support Park Geun-hye, the conservative presidential candidate and eventual victor.
During a tense National Assembly hearing at the time, Yoon revealed that he faced political pressure because of his investigation.
"I am not loyal to any person," he said, an assertion of indignance that cemented his national image as a steely prosecutor upholding the law, and that was only strengthened when he became the presidential candidate for the political bloc Park once led.
But the 2013 investigation came at a professional cost. He was transferred to second-tier cities, effectively demoted and sidelined.
"I thought that if these institutions intervened even a little in the election and damaged people's trust, it had to be corrected," he recalled. "That's why I carried out the investigation. If I were in that position again, I would probably do my work in that same way."
Yoon's uncompromising approach has been evident in his first year as president and has been met with mixed reviews.
Take his effort to improve relations with Japan. For nearly 80 years, the two countries have had a rocky relationship over unresolved historical disputes stemming from Japan's colonial occupation of Korea in the first half of the 20th century.
He has poured political capital into resolving a controversial labor compensation dispute at the center of Seoul-Tokyo tensions – even though 60 percent of South Koreans disapprove of his proposal – and last month became the first South Korean leader to visit Japan in 12 years, to show he wants to restore ties.
During the nearly 90-minute interview, Yoon spoke at length about his decision on Japan, saying he had been transparent about his intentions during his campaign. South Korea's security concerns were too urgent to delay cooperation with Tokyo, he said, adding that some critics would never be convinced.
"Europe has experienced several wars for the past 100 years and despite that, warring countries have found ways to cooperate for the future," he said. "I can't accept the notion that because of what happened 100 years ago, something is absolutely impossible [to do] and that they [Japanese] must kneel [for forgiveness] because of our history 100 years ago. And this is an issue that requires decision. … In terms of persuasion, I believe I did my best."
But his most polarizing moves have centered on gender. Yoon has drawn criticism for his proposal to eliminate the Ministry of Gender Equality and Family, and advocates say a dedicated pro-women and family agency is necessary given South Korea's poor record on gender equality and its hostility toward the LGBTQ community.
The patriarchal system, combined with rising income inequality and a housing crisis, means younger Koreans are increasingly postponing or eschewing marriage and children.
Yoon himself married for the first time at 51 – something that is highly unusual in South Korea. His wife, Kim Keon Hee, 50, is a business executive who founded an art exhibition company. Yoon has said he and Kim connected over his casual interest in art history and art galleries.
"My happiest memory is finally meeting my wife and marrying her at a late age, in my 50s," he said.
They have no children, but they do have six dogs and five cats, mostly rescues. (Yoon shares this love of pets with Biden, who also has a rescue dog.)
In private, Yoon is surprisingly unfiltered, according to those who met with him in closed-door meetings. He can be unpolished in public settings, too – and last year, it led to a viral hot-mic moment when he insulted lawmakers while at a global health event in New York City. Biden, who calls himself a "gaffe-machine," could probably empathize.
Yoon said he has long been fascinated by the U.S. constitutional system and its global impact, and he enjoyed American songs and television shows growing up. Now, as president, he has a gift from Biden that he keeps on his desk – a copy of Harry S. Truman's plaque that reads: "The buck stops here!"
Add TheJapanNews to your Google News feed.