Daniels's Lawyer Submits Complaint against Trump Lawyer to N.Y. Panel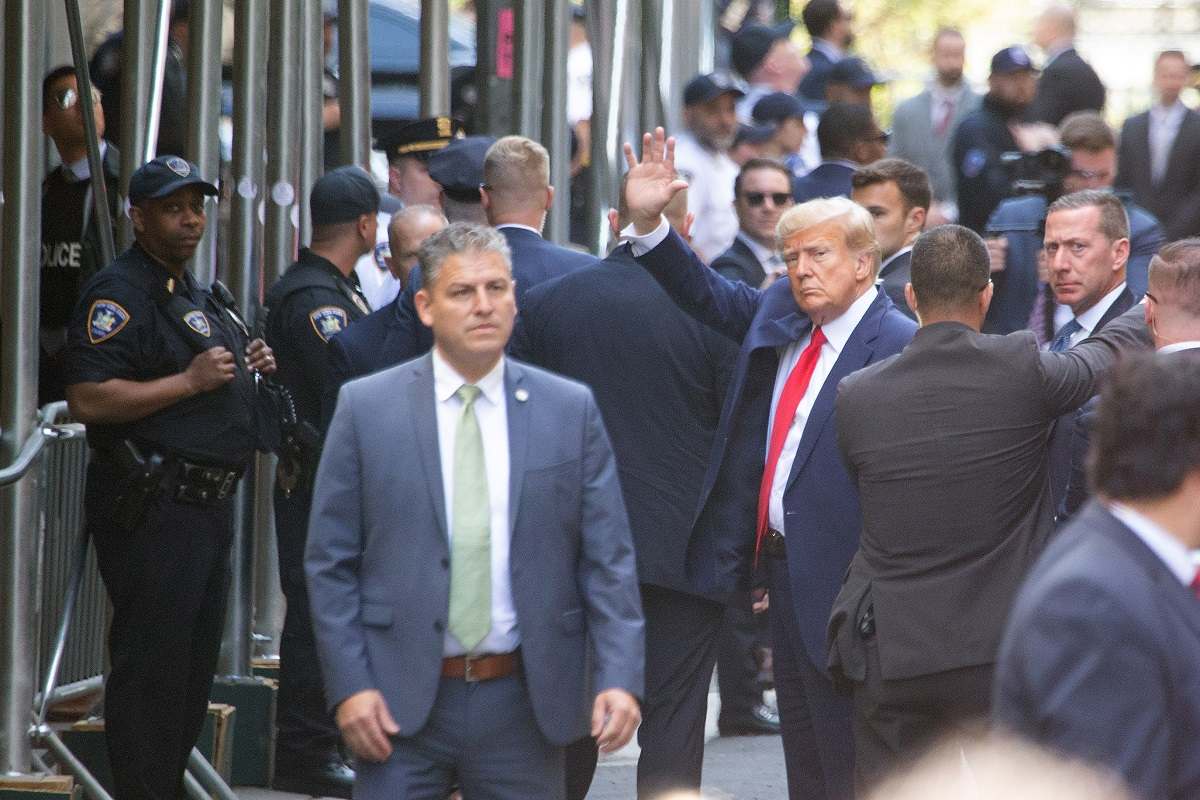 11:55 JST, April 13, 2023
Stormy Daniels's lawyer has submitted a complaint with a New York attorney grievance committee against Joe Tacopina, alleging that Donald Trump's co-lead defense lawyer in a hush-payment probe has a conflict of interest.
Clark Brewster told The Washington Post he submitted the complaint this week after it was raised during Trump's arraignment whether Tacopina should be conflicted out of representing the former president. Trump has been charged with 34 counts of falsifying business records in an alleged hush-payment scheme in which Daniels was paid $130,000 in exchange for her silence about an alleged sexual encounter she had with Trump.
Daniels, an adult-film actress whose legal name is Stephanie Clifford and who is now a witness in the case against Trump, contacted Tacopina in February 2018 about potentially hiring him to represent her in matters related to her encounters with Trump. Brewster provided to prosecutors communications between his client and Tacopina after hearing Trump's lawyer make public statements Brewster said are at odds with those privileged communications.
Tacopina dismissed the allegation from Brewster, saying in a statement to The Post, "I've never had a disciplinary finding against me in my 32 years of practice and I intend on keeping it that way."
During Trump's arraignment last week, where he pleaded not guilty to the 34 felony counts, prosecutors raised the potential conflict of interest Tacopina may have regarding privileged conversations with Daniels. The prosecutors called on the judge to "conduct an inquiry at an appropriate time of both Mr. Tacopina and the defendant about potential conflict issues related to his prior dealings with Daniels."
Brewster on April 3 also sent a letter to Tacopina raising concerns about the potential conflict, which was filed by the district attorney's office and referenced in last week's court proceeding. Brewster declined to share the complaint he submitted with The Post but said it largely mirrored the letter sent to Tacopina. Counsel for the attorney grievance committee declined to provide comment.
In the letter, Brewster writes that while his client ultimately chose to work with attorney Michael Avenatti instead of Tacopina, "the confidential communications she shared with you and your colleagues – leading to a quote of a retainer fee – consisted of shared confidences regarding an opposing party clearly identified in those communications."
"For you to now represent that opposing party – Donald Trump – would be an ethical breach damaging Ms. Clifford and potentially leading to professional discipline," Brewster wrote.
He goes on to argue that in New York, a defendant's right to choose their own lawyer can be usurped if there is "overriding competing public interest" to do so.
During last week's arraignment, Tacopina addressed the April 3 letter from Brewster and told the judge that it contained "factual inaccuracies." He denied having ever reviewed any of Daniels's documents, and said that she spoke with an associate and paralegal when she was exploring hiring his law firm.
"We refused the case," Tacopina added. "I did not offer her representation. I didn't speak to her. Didn't meet with her. And it is as simple as that."
Prosecutors have not filed a motion with the court for Tacopina's recusal but New York Supreme Court Justice Juan Merchan said during last week's proceeding that they were entitled to do so after consulting with other counsel.
Attorneys in violation of the New York Rules of Professional Conduct can be subject to sanctions ranging from admonishment to disbarment. The Attorney Grievance Committee for the First Department Appellate Division investigates complaints involving violations of the rules.
Depending on the complexity of the matter, the process can be lengthy and time consuming, according to lawyers familiar with the process, who spoke on the condition of anonymity to discuss sensitive matters. They noted that the committee is reticent to take action on claims related to pending litigation and has been known to dismiss complaints related to pending litigation.
Tacopina has faced a complaint before: Former New York City commissioner Bernard Kerik filed a complaint against Tacopina in 2013 accusing him of "dishonesty, fraud, deceit, and/or misrepresentation," after Tacopina was accused of giving gave federal prosecutors confidential attorney-client information about Kerik that ultimately helped their case. No disciplinary action was taken against Tacopina at the time.
Add TheJapanNews to your Google News feed.