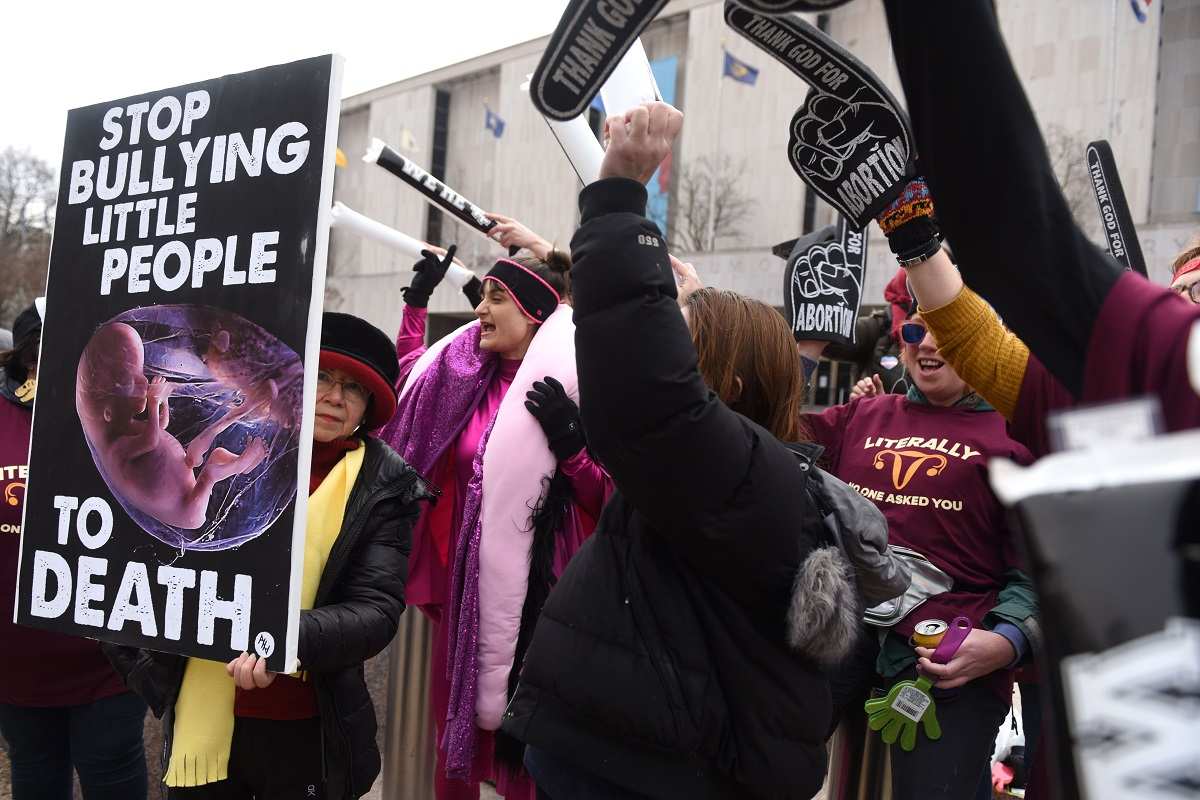 14:51 JST, April 10, 2023
The stakes were high – a federal judge in Texas, known for his antiabortion views, was presiding over a lawsuit seeking to undo government approval of a key abortion drug and block access to the medication in every state.
The Democratic attorney general in Washington state, Bob Ferguson, launched a counter move, suing the federal government to increase access to the same abortion drug.
The legal maneuvering played out in dramatic fashion Friday evening: Less than an hour after U.S. District Judge Matthew J. Kacsmaryk, a nominee of President Donald Trump, blocked approval of the abortion drug mifepristone by the Food and Drug Administration, U.S. District Judge Thomas O. Rice, who was nominated by President Barack Obama, ordered the FDA to preserve "the status quo" and retain access to the medication in 17 states and the District of Columbia.
The remarkable one-two punch set up an extraordinary legal clash that will almost certainly be decided by the polarized U.S. Supreme Court. It provides a real-time window into how liberals are trying to counter a flood of conservative litigation in a federal judiciary reshaped by Trump, and how the political right is using single-judge court districts to advance a deeply conservative agenda.
The conservative groups that sued the FDA in Texas cherry-picked Kacsmaryk, a lifelong antiabortion advocate who is the sole judge in his Amarillo, Tex., district, to hear their case. And the coalition of Democratic state attorneys general responded by taking the rare step of suing the Democratic Biden administration to demand fewer FDA restrictions on access to the abortion pill in their states.
"Part of the reasoning for my decision to file a decision here in Washington state is because I could not leave the fate of women's reproductive rights in Washington in the hands of a single judge in Texas appointed by Donald Trump whose views on reproductive freedom are well known and unfortunate," Ferguson said in an interview Friday night.
"I felt this was coming," he said of Kacsmaryk's order. "I am not surprised by either ruling."
Lawrence Gostin, a professor of global health law at Georgetown University who has lobbied for the Biden administration to protect access to abortion, said he found both lawsuits problematic, because he believes they undermine the FDA's authority to assess and approve medications.
He expressed particular concern about the Texas case, which sought to upend approval to a drug that has been on the market for more than two decades – and is one of two medications used in combination to terminate pregnancies. But he said both decisions could politicize the FDA and have far reaching implications beyond mifepristone.
"Partisans are weaponizing the public courts system, and the victim is science and public heath," Gostin said. "This is crazy and crazier. I disagree with both decisions, but I think that the Texas decision is far more radical and far more extensive."
Immediate impacts
Rice declined a request by the attorneys general to grant a nationwide preliminary injunction that protected mifepristone, applying his order only to the liberal states that filed the lawsuit.
Kacsmaryk, in contrast, did issue a preliminary nationwide injunction blocking FDA approval of the drug. But it does not go into effect for seven days, giving the Justice Department time to appeal.
If the right-leaning U.S. Court of Appeals for the 5th Circuit does not allow the FDA to maintain approval of mifepristone pending the outcome of an appeal of Kacmaryk's ruling, legal experts say, it is unclear how the two conflicting orders would play out. Such a situation could increase liberal pressure on the Biden administration to tell the FDA to ignore Kacsmaryk's decision, the experts said.
Ferguson and other Democratic attorneys general who filed the Washington state lawsuit said if both rulings take effect, they would expect the FDA to preserve access to mifepristone in their states – even if it becomes prohibited in other ones. They acknowledged in interviews that they filed the lawsuit in part with the intent of blunting the impact of Kascmaryk's ruling in their states.
"Absolutely," said Oregon Attorney General Ellen Rosenblum (D). "The FDA would be forced to follow the court ruling in the case."
If they reach the Supreme Court, the conflicting cases would present justices with their biggest test on abortion access since their landmark decision in June to overturn the guarantee of abortion rights provided by Roe v. Wade.
A key player could be Justice Brett M. Kavanaugh, who voted with the majority to overturn Roe but wrote in a concurring opinion that he did not see the decision as limiting abortion options in the states that wanted to provide them.
At the crux of both of the Texas and Washington cases, the plaintiffs are questioning whether the FDA followed the scientific evidence when it determined how to regulate mifepristone – one of the two medications used in more than half of all abortions in the United States. The Texas lawsuit argues that the drug, which the FDA has repeatedly found to be safe and effective, should never have been approved.
Abortion providers have said that without mifepristone, they would either offer only surgical abortions in states where it is legal or offer medication abortions using a single-drug protocol – which is also safe, according to experts, although there is more cramping and bleeding than if mifepristone is used as well.
Timing and jurisdiction
Judges do not typically comment on cases beyond their rulings, so it is hard to conclusively determine how and why the opinions by Kacsmaryk and Rice landed so close together on Good Friday.
But legal experts say such timing is extremely rare and likely not coincidental – and could create the perception that the opposing decisions were driven by politics.
Rice had skeptical questions for the Democratic attorneys general during a 40-minute hearing on March 28 in the Washington state case, which sought to make it easier to distribute mifepristone to patients. In the decision issued 10 days later – a remarkably quick turnaround even for a judge known for moving expeditiously – Rice refused to order the FDA to remove existing restrictions, but also prohibited the government from further limiting access to the drug.
In his opinion, Rice acknowledged the Texas case and said that he would deny the request by the attorneys general for a nationwide injunction, in part, because of the competing Texas lawsuit.
In Texas, Kascmaryk held a four-hour hearing in his case on March 15, and issued his ruling just over three weeks later.
Democrats and legal analysts have accused the conservative groups that brought the Texas lawsuit of engaging in judge shopping, saying they strategically filed in Kascmaryk's single-judge courthouse because they knew he would be sympathetic to their cause. Kascmaryk, who ascended from the conservative legal group First Liberty Institute, joined the federal bench in 2019. Since then, many of his decisions have been wins for the right, including one that struck down Biden administration protections for transgender people and another that forced thousands of asylum seekers to return to Mexico while they awaited processing.
Before he became a federal judge, Kacsmaryk served on the board of Christian Homes and Family Services, an organization that offers housing and adoption services to women with the goal of providing an alternative to abortion. The language of his ruling Friday echoed terminology used by antiabortion activists, calling abortion providers "abortionists" and referring to fetuses and embryos as "unborn humans."
Filing in single-division courthouses, legal experts says, bucks the random assignment of judges that is a tenet of the American judicial system.
The lead plaintiff in the Texas abortion pill case, the Alliance for Hippocratic Medicine, has a mailing address in Tennessee, according to records filed with the Texas secretary of state's office. The group incorporated in Texas – with a "registered agent" in Amarillo – several months before the lawsuit was filed.
Ferguson and the coalition of attorneys general filed their lawsuit in the Eastern District of Washington – one of two federal court districts in the state. Ferguson said they selected that district in part because it is home to Washington State University, a large university that does not have the required credentials to distribute mifepristone under current FDA guidelines.
The Eastern District has nine judges, two of whom were appointed by Republican presidents, according to the court's website. Joseph H. Harrington, a former U.S. attorney for Eastern Washington, said judges in the district are randomly assigned cases, so "there would not be what you would typically call judge shopping."
Rice was confirmed by the Senate in 2012. He served as a federal prosecutor in the same Washington state district for 24 years and worked for one year as a trial attorney in the Justice Department's tax division. In 2018, he sided with Planned Parenthood in a case seeking to block the Trump administration's decision to stop funding for a teen pregnancy prevention program.
"There is no universe in which this case was filed in Spokane specifically so it would be assigned to Judge Rice. That's a pretty telling contrast from what's happening in Amarillo and elsewhere in Texas," said Steve Vladeck, a professor at the University of Texas School of Law, who has studied and been critical of the practice of judge shopping. "The former is forum shopping, which is inevitable in any legal system with permissive jurisdictional and venue rules. The latter is judge shopping, which ought to be anathema to any system that prides itself on the putative neutrality of its judiciary."
Divided politics
While the back-to-back delivery of the two rulings was remarkable, it's not uncommon for government agencies to have to balance conflicting rulings from different judges, according to Aziz Z. Huq, a constitutional law professor at the University of Chicago. The federal government, for example has regularly had to contend with disparate rulings around the Affordable Care Act – another polarizing issue that politicians and activists similarly tried to settle in courts.
Seemingly partisan court opinions, Huq said, mirror the divided politics in the country and it's "not plausible to expect patterns of judicial appointments to not reflect that."
"The forefathers may have hoped for a more high-minded executive and legislative branch consideration of those who are appointed to lifetime appointments on the federal bench," Huq said. "But this is just the 1780s playing out in a hyperpartisan world."
New York and California – two of the biggest Democratic strongholds – did not join the Washington lawsuit. Democratic attorneys general who did participate said they believed the litigation was their best shot at keeping access to mifepristone if the Kacsmaryk ruling takes effect.
"I'm concerned about the case in Texas," Maryland Attorney General Anthony G. Brown (D) said in an interview over the weekend. While he felt conflicted about suing a Democratic administration, he said, Maryland's "interest in protecting reproductive freedoms in Maryland outweighed any concern about the optics of bringing a lawsuit against Biden's FDA."
Michigan Attorney General Dana Nessel (D) said she signed onto the Washington state lawsuit because she did not believe the nation's judicial system was intended to allow a single federal judge to change a major policy for the entire country.
She said that her constituents in Michigan have repeatedly proven at the ballot box that they are in favor of abortion rights, including when voters overwhelmingly approved an initiative in November that enshrined the right to abortion in the state constitution.
"It was clear to so many of us that the antiabortion activists so eager to see Roe. v. Wade overturned were never just going to send these issues back to the states," Nessel said, adding that she believes Kascmaryk "would do anything and everything to undermine abortion rights. We felt we had to do something about that."
Add TheJapanNews to your Google News feed.