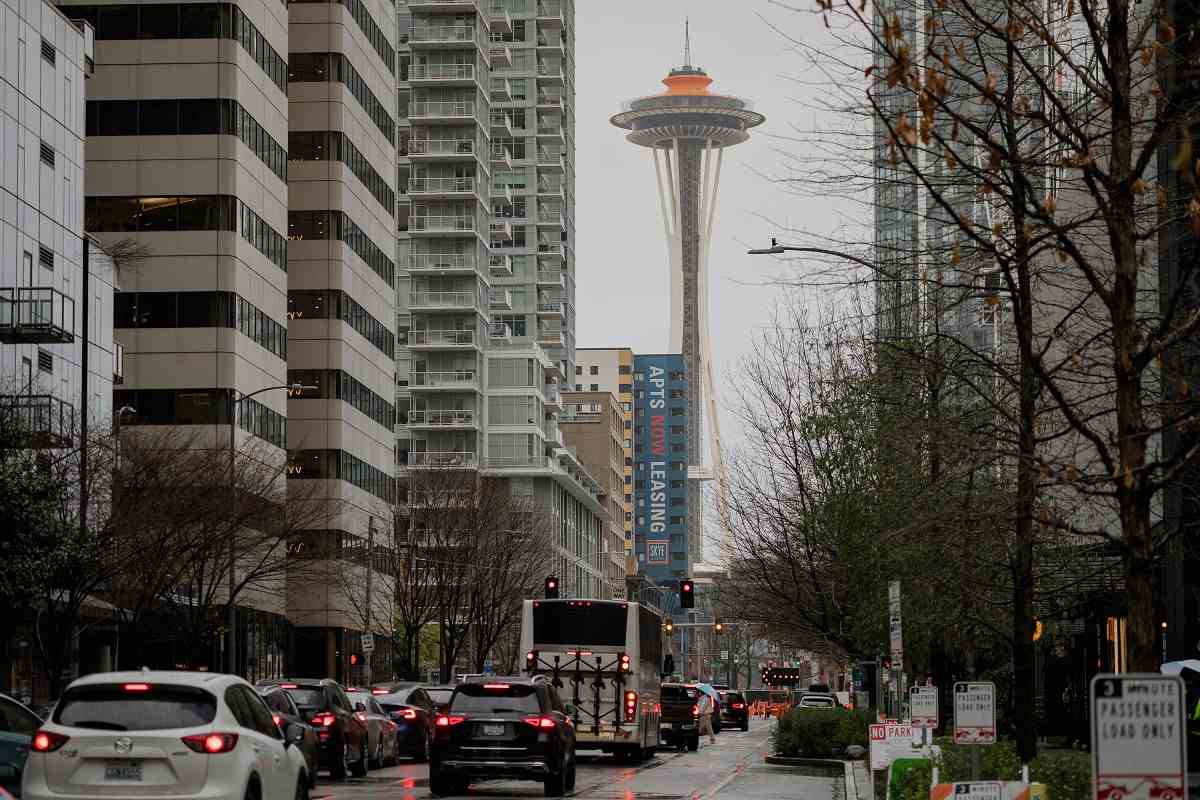 16:36 JST, April 9, 2023
(c) 2023, · BUSINESS, TECHNOLOGY · Apr 09, 2023 – 6:12 AM
A florist in the shadow of Amazon's headquarters had an influx of customers purchasing bouquets. On the other side of the company's sprawling Seattle campus, a bartender was struck by the crush of people who turned out for happy hour.
The flowers and toasts weren't celebratory. Instead, they were mostly gestures of commiseration after the tech giant began cutting 18,000 jobs that January morning. The same day in nearby Redmond, Microsoft signaled it would phase out 10,000 positions. "It was very packed for days we weren't expecting to be packed on," said Julia Maya, a bartender at the Victor Tavern.
Smaller firms like OfferUp and Redfin also had been cutting local payrolls, and by the time Amazon rolled out an additional 9,000 layoffs in March – including in its powerhouse cloud business – Seattle-area tech firms had plans to excise 50,000 jobs in preparation for leaner times.
Similar calculations have driven layoffs in Silicon Valley, Boston, Austin and beyond, ending more than a decade of fevered growth for U.S.-based tech companies. More than 200,000 jobs have disappeared since early 2022.
The tech slowdown, coupled with the lingering effects of the pandemic, is shaking up Seattle in expected and unexpected ways. The city has staked much of its identity – not to mention its construction, housing and retail industries – on the rapid growth that propelled Amazon and Microsoft into trillion-dollar operations.
Even without the sector's breakneck growth, the local economy has hundreds of thousands of well-paying tech jobs, as well as strongholds in the health-care, retail, maritime and aerospace industries.
That diversification is what insulates Seattle from broader economic fallout or a tanking job market, said Jacob Vigdor, a professor of public policy and governance at the University of Washington. The tech pullback is less of a disaster, and more of a change, as he sees it.
"This is not a company town in the way it was when it was Boeing's town," agrees Margaret O'Mara, a history professor at the University of Washington in Seattle and author of "The Code: Silicon Valley and the remaking of America." O'Mara added: "Tech is still a very big sector. But there are other things here, too, that the region invested in."
Markham McIntyre, Seattle's economic development director, describes the new challenges as "a little bit of a shock to the system." But it's not unusual, he said, noting that communities across the country are experiencing similar "regrowth" periods in the wake of the pandemic.
"Cities exist because they re-create themselves," he said.
***
Seattle is no stranger to the transience of corporate identity.
For decades it was known as "Jet City," the birthplace of Boeing in 1916 and long the world's biggest plane maker. But recession gutted its workforce in the 1970s – more than 60 percent were lost – and Seattle's unemployment rate swelled above 13 percent.
Such were the city's woes that a highway billboard erected in 1971 famously quipped: "Will the last person leaving Seattle – Turn out the lights." Though it was actually messaging cooked up by two local real estate developers to entice investors, it symbolized the economic pressures the city was facing.
When Boeing abandoned its Seattle headquarters for Chicago in 2001 – even as its commercial jet factories and most of its workforce stayed put – the joke resurfaced. The move had sent shock waves throughout Puget Sound. But the loss was at least partially offset by the thriving tech presence, anchored by Amazon and Microsoft. In fact, Seattle's business tax revenue more than doubled from 2012 to 2021 – from nearly $359 million to more than $816 million, according to city financials.
Seattle spent those years courting tech companies, promoting the region as a cheaper, more up-and-coming little sister to saturated Silicon Valley. Tech companies poured in, as did tens of thousands of tech workers. Construction went into overdrive; so many cranes dotted the sky, the Seattle Times noted, that the 62 in place by the end of 2016 was nearly triple that of New York.
By early 2020 – just before the coronavirus pandemic took hold – Seattle was bursting at the seams. Builders were still redrawing the skyline and the city was magnetic, drawing an influx of new young professionals. Microbreweries and coffee houses popped up. Lines snaked around its famed food trucks, some stretching down blocks. But housing costs also soared – pricing people out – and streets choked with traffic.
Amazon, which has about 15 million square feet of office space in the region, planted its flag for a "second headquarters" nearly 2,800 miles away in Virginia to make space for more employees. (Amazon founder Jeff Bezos owns The Washington Post.)
But like so many other American cities, Seattle's downtown emptied out during the pandemic – and is only now slowly filling up. Restaurants and bars near Amazon's headquarters say foot traffic is starting to inch up. Nearby, Pacific Place, once an upscale mall featuring Coach, Restoration Hardware and Barnes & Noble, now houses a scattering of small art galleries and independent retailers.
The pandemic years have been a roller coaster, said Marlo Miyashiro, owner of the Handmade Showroom, which carries artisanal cards, jewelry, stuffed animals and other wares.
"As an independent business in a middle of a mall that is trying to come back, we're trying hard to stay positive," Miyashiro said. She's staking her future on Seattle, believing it will pull through.
Her experience illustrates how Seattle's recovery is playing out for the non-tech businesses that rely on the industry's growth, whether construction, commercial real estate or restaurants and shops.
Michael Schutzler, CEO of the Washington Technology Industry Association, a trade group, says the slowdown in tech job growth should not be cause for worry for the industry. "It's not an overall contraction," he said.
Seattle is facing a budget shortfall of $140 million, officials said late last year, in part because of declining real estate and the effects of the pandemic. One way the city has proposed making up the gap is with a payroll tax passed in 2020, which targets the city's largest companies.
Seattle's core is more subdued than it was in 2019. Though office occupancy has edged up, it's still only 47 percent of pre-pandemic levels, according to the Downtown Seattle Association. People still gravitate to the food trucks outside Amazon's headquarters in the South Lake Union neighborhood, but the lines are less daunting.
But there are bright spots. Two crucial industries for the region are rebounding: Tourists have returned, and the cruise boats are docking once again at Seattle's port. And one of the city's most recognizable landmarks, Pike Place Market, is full of life.
***
Even with these shifts, many tech firms still have larger workforces in the Emerald City than they did three years ago. Amazon said in February that it would require corporate workers to be back at their desks three days a week starting in May – a big win for urban officials who had been pressing the company to bring their thousands of workers back to the office.
And thousands of tech jobs in the region remain unfilled, including many at non-tech companies, according WTIA data.
"It's a very resilient community," Schutzler said. "It'll come back."
That said, tech giants have undoubtedly restructured their expansion, in some cases pulling back.
Amazon confirmed it will not renew the lease for one of its big office buildings downtown and will instead move 2,000 workers to other locations in the area, the Seattle Times reported. It also has paused construction on some offices in nearby Bellevue, something the company attributes to the changing nature of work. (It is still planning to open offices in two new Bellevue buildings later this year.)
"It's early days and like many companies, we're still learning how these new habits may impact our office footprint," Amazon real estate executive John Schoettler said in a statement. "Our offices are long-term investments and we want to make sure that we design them in a way that meets our employees' needs in the future."
Facebook, which has a big presence in the region, will sublease some of its office space in Seattle and Bellevue. Google backed out of its planned purchase of 10 acres in suburban Kirkland. Microsoft, the big tech anchor on the Eastside of the region, also said it won't extend one of its leases in Bellevue.
To some, the slowdown comes as a relief.
In the Stranger, an alternative newspaper in Seattle, an unsigned letter-writer suggested they didn't feel bad for tech workers losing their jobs.
"I didn't hear a single peep of sympathy when your industry's boom made this city unaffordable for the rest of us, although you and your bros did tell us to learn to code," reads the letter, published in January and titled "Join the Revolution, Tech Bro."
Along with the boom, rents and house prices soared, changing the city from one that was considered affordable for people in the service and retail industries. The median selling price for single-family homes in King County, where Seattle is based, topped $1 million for the first time in April 2022, according to Redfin. That compares with $360,000 a decade earlier.
"The dominant narrative in Seattle in the last decade has been tech growth and outcry against that tech growth," said O'Mara, the historian.
***
It was a scenario that would have been unheard of even six months earlier. But by the time Amazon confirmed its massive cuts in January, the company had been beaten to the punch by fellow tech giant Meta, which slashed more than 20,000 jobs. Large-scale layoffs quickly followed at Google and Microsoft.
This marked a U-turn from the first two years of the pandemic. While many industries were slashing staff and struggling to hold on to customers, tech giants were doing the opposite. People cooped up in their homes leaned into online ordering and turned to social media and online scrolling to stem the boredom and existential sense of impending doom.
Both Amazon's and Microsoft's stock surged more than 100 percent from mid-March 2020 to mid-July 2021. Amazon invested heavily in expanding its network of warehouses and delivery routes to keep packages arriving two days after purchase.
Then, in early 2022, Amazon acknowledged it had gone too far: It had over-hired in its warehouses and now had a new problem: too many workers and not enough sales to account for all of them.
That news was just a harbinger for what would come. Amazon paused construction on a big phase of its second headquarters in Arlington, and projects that the company aggressively launched in other parts of the country are facing delays.
The reductions also shook the once-stable ground on which tech workers once stood. For years, Big Tech was seen as unstoppable, with guaranteed high wages and a safe haven when the economy faltered.
At University of Washington, which operates one of the most sought-after computer science degrees in the country, students have seen internship offers pulled, O'Mara said. But now they are finding offers at smaller and midsize firms.
Taken together, the effects of the pandemic on remote work and the tech slowdown means that Seattle needs to focus on getting displaced workers into new positions in other industries and finding other ways to fill the still-empty office space downtown, McIntyre said.
"We need to lift up those other industries just as much as the tech industries have gotten lifted up here locally," he said.
***
Some see opportunity in tech's troubles.
For start-ups, it opens avenues to talent that might otherwise be absorbed by a tech giant. And while it might be harder to secure funding, many founders say the greatest tech companies are oftentimes built during industry downturns.
Shannon Anderson, director of talent at Madrona Venture Group in Seattle, said the challenge comes down to convincing people that working at a young company can be refreshing after years at a big tech firm. "Stability is an illusion," she tells them.
"In start-ups, you have a direct impact," explained Anderson, who helps recruit employees for the firm's dozens of portfolio companies, mostly start-ups. "The company can die based on your, and a few other people's, abilities."
Madrona's portfolio companies are hiring for about 570 roles, showing that Seattle still has tech jobs to offer.
Mikaela Kiner, CEO of Reverb, a recruiting and HR firm in Seattle, estimates that laid-off workers are landing new roles within three months.
Still, it used to be that they would ask, "Can you have someone for me yesterday?" she said.
For now, Seattle is just trying to redefine itself in less tech-centric ways.
"There's all those other layers underneath high-tech Seattle that give it a resilience, potentially, that it might not have had 50 years ago," O'Mara said.
Add TheJapanNews to your Google News feed.