In Congress, Little Urgency to Address Gun Violence with Legislation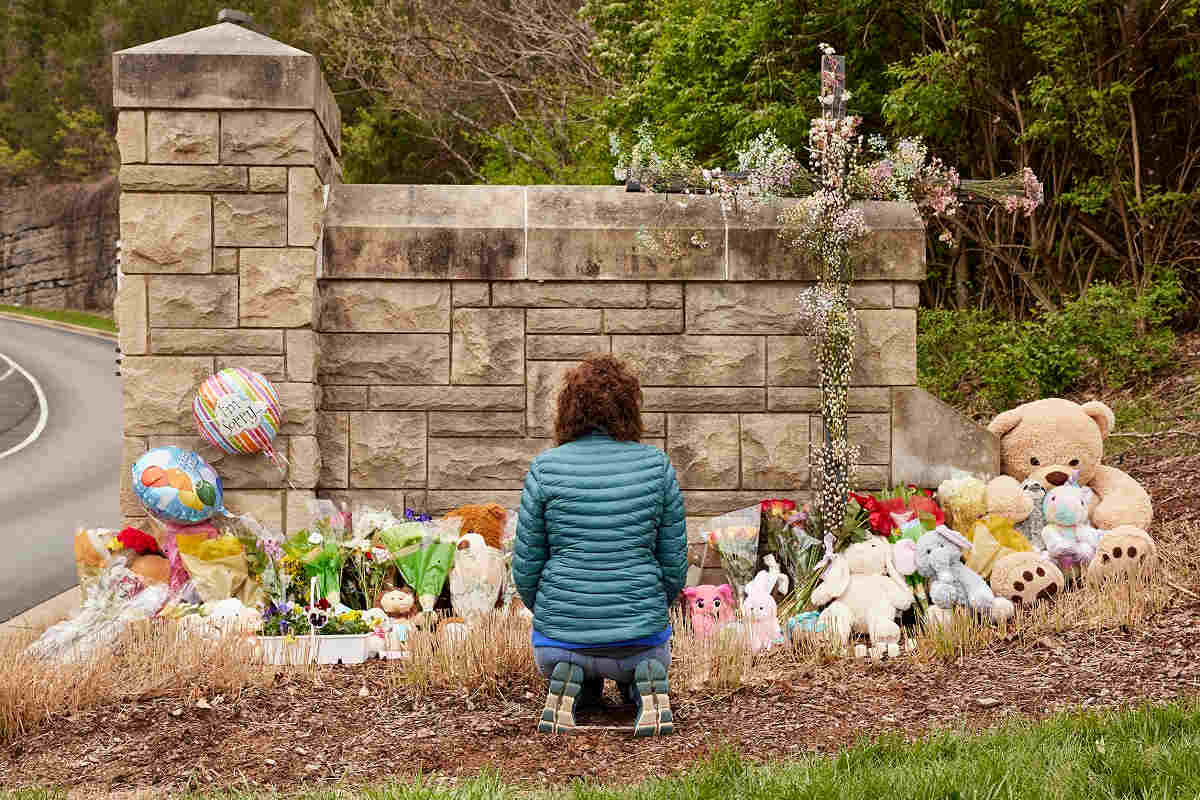 13:12 JST, March 30, 2023
WASHINGTON – After a shooter killed three children and three adults at a private Christian school in Nashville, lawmakers on Capitol Hill once again indicated there was little support for addressing gun violence through legislation.
While President Biden on called upon Congress to pass an assault weapons ban, Republicans in the GOP-controlled House reiterated their objection to any actions that would restrict access to guns, instead stressing that mental health issues remain the root cause of the country's gun violence problem. And Democrats, who narrowly control the Senate, said they were reluctant to push gun-related legislation unless they have significant support from the chamber's Republicans.
"I'm a realist," said Sen. Richard J. Durbin (D-Ill.), the chair of the Judiciary Committee, about the possibility of moving gun legislation through his committee without enough Republican support to overcome the 60-vote filibuster. "I know what's going to happen on the floor."
In the absence of sweeping action, some Democrats are proposing a more modest measure to boost federal research into the causes of gun violence. Sen. Edward J. Markey (D-Mass.) and Rep. Elissa Slotkin (D-Mich.), whose district has seen two high-profile shootings in 15 months, announced a bill Wednesday that would direct $50 million each year over five years to the Centers for Disease Control and Prevention to study gun violence. The two detailed the legislation at a news conference featuring former students of Michigan State University and Oxford High School, which both were the targets of shooters.
"We know this is not a panacea. But it's a piece of the puzzle that for 20 years was barred," Markey said during the announcement Wednesday. He also called for an assault weapons ban, universal background checks, nationwide red-flag laws, and several other provisions that have virtually no support among Republicans.
For decades, Congress prevented the CDC from researching gun violence or its causes through a funding provision that vowed financial penalties if the agency promoted gun control. The CDC kept away from the topic of guns entirely to avoid losing funds. But in the past three years, a Democratic-controlled Congress reversed that trend and allocated millions of dollars to the agency to fund gun violence research, including $25 million for this fiscal year.
Still, it is unlikely the Markey-Slotkin proposal would be taken up by the Republican House majority, whose members spent Tuesday criticizing Democrats for what they deemed politicization of the issue.
"The first thing [Democrats] talked about is taking guns away from law-abiding citizens. And that's not the answer," Majority Leader Steve Scalise (R-La.) said at a news conference. "Why don't we, number one, keep those families in our prayers, and then see if there were things that were missed along the way."
Sen. John Cornyn (R-Tex.), a key negotiator of a bipartisan gun-control package that passed last year following the school shooting in Uvalde, Tex., said he didn't see anything else that Congress could do on the issue, dismissing calls to expand background checks and Biden's plea to ban assault weapons.
"I would say we've gone about as far as we can go" on guns, Cornyn said.
Similarly, Majority Leader Charles E. Schumer (D-N.Y.) did not commit to putting an assault weapons ban on the Senate floor, saying he was seeking the votes for the legislation.
Rep. Andrew Ogles (R-Tenn.), who represents the district where Monday's shooting took place, said the issue hit close to home because his youngest son is about to turn 8 – just one year shy of the three children who were killed at the Covenant School. But he said the focus should be on addressing mental health issues, rather than limiting access to guns.
"My hope would be that we start having those conversations as we move forward because again, this individual – I'm not going to get into the politics of the transgender issue – was on a number of levels crying out for help, and nobody did anything," he said. Police on Tuesday said the shooter, 28-year-old Audrey Hale, had been receiving treatment for "an emotional disorder" and hid several weapons from Hale's parents before opening fire.
Nashville police initially said the shooter was a woman, and then later said Hale was transgender, citing a social media profile in which Hale used masculine pronouns. The Post has not yet confirmed how Hale identified.
Democratic Caucus Chair Pete Aguilar of California noted that a majority of House Republicans who are now blaming mental health issues voted against the Bipartisan Safer Communities Act last year that allotted $500 million toward mental health services.
"What [Republicans] can also do is, they can pass a budget, they can work with us on funding the government that will actually put those dollars … out into the states and the states can effectuate that change. But they haven't proposed that," Aguilar said, referencing House Republicans' desire to cut non-discretionary spending in the federal budget, which could include departments that deal with mental health policies.
Slotkin, who also is running for Senate, told The Washington Post that the lack of action on Capitol Hill is not reflective of how a majority of the country feels. After the shooting on MSU's campus last month that left three students dead and five more wounded, Slotkin said she heard from scores of Republican voters who asked what reforms could be put in place to ensure that gunmen cannot harm students.
"The people in this building are the last ones to get the memo that the ground is changing on this, particularly in practical places like the Midwest, where everyone's a gun owner," Slotkin said. "I think people are now understanding that you can be a responsible gun owner and care about your ability to hunt with your kids or be sportsmen and also care about kids not getting slaughtered in schools."
Shortly after a gunman killed 19 elementary school students and two teachers in Uvalde last year, the then-Democratic-controlled Congress was able to pass the most significant gun-control law of the last three decades. The Bipartisan Safer Communities Act provided funds for mental health treatment and school security, incentives for localities to set up red-flag laws that allow court orders to temporarily restrict access to weapons for people in crisis, and closed the "boyfriend loophole," preventing convicted domestic abusers from accessing firearms. It passed with the support of 15 Senate Republicans and 14 House Republicans.
House Democrats last year also passed an assault weapons ban for the first time in decades, but the measure did not have enough support to be brought up in the Senate.
Now in the minority, House Democrats are unable to control what the chamber votes on. But Aguilar on Tuesday left the door open to possibly employing a little-used legislative procedure called a discharge petition to demand a vote on gun legislation. While there is not a specific bill yet for that idea, Democrats would need the backing of 218 lawmakers – meaning if all House Democrats supported the discharge petition, they would still need five Republicans to forgo the approval of their leadership and join them.
Sen. Mazie Hirono (D-Hawaii) said she would prefer to force votes on an assault weapons ban and other gun legislation even if they fail in the Senate, but acknowledged such votes could prove tricky for some of her Democratic colleagues.
"There are issues for some members of our caucus, I suppose," she said.
About 40 Senate Democrats signed onto an assault weapons ban introduced earlier this year, but Sen. Joe Manchin III of West Virginia, Sen. Jon Tester of Montana and a few others who are facing tough reelection battles in 2024 are missing from the co-sponsor list.
Republicans were unanimous in their rejection of an assault weapons ban, and did not express enthusiasm for other controls either.
Pressed on whether Republicans are out of step with the public after polls have shown a majority of voters support universal background checks, Senate Minority Whip John Thune (R-S.D.) said it was "premature" to discuss legislation, citing grieving families in Nashville and an ongoing investigation where the facts of the case are still being revealed.
The stark division that plagues the Capitol on gun control even reached the Senate chaplain, retired Rear Adm. Barry C. Black, who devoted his prayer Tuesday morning to encouraging lawmakers to act in such a terrorizing moment.
"Lord, when babies die at a church school, it is time for us to move beyond thoughts and prayers," Black said in his usual, measured tone. "Remind our lawmakers of the words of the British statesman Edmund Burke: 'All that is necessary for evil to triumph is for good people to do nothing.'"
Add TheJapanNews to your Google News feed.