With Epic Ending, Shohei Ohtani and Japan Reclaim World Baseball Classic Crown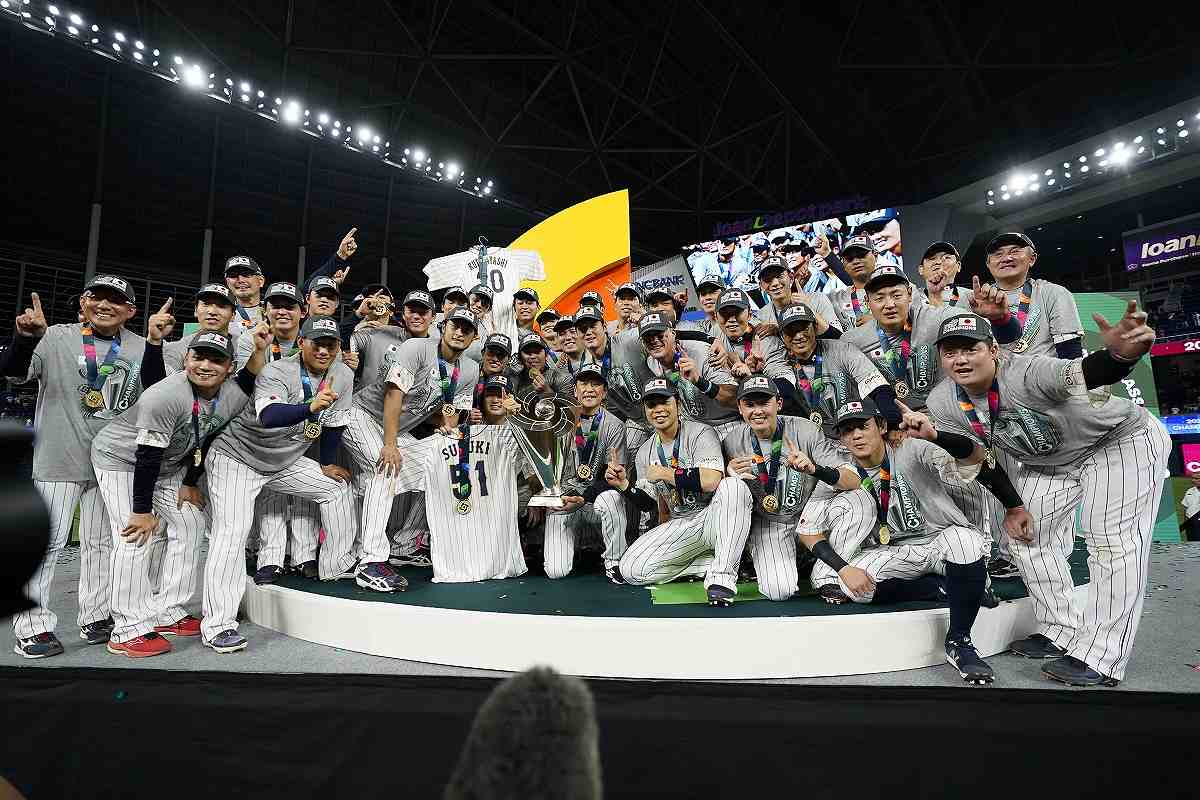 15:28 JST, March 22, 2023
MIAMI – Shohei Ohtani did not jog in from the bullpen as most relievers do. A pant leg was muddied. He looked tired. He hardly needed a jog to get warm after eight innings serving as the designated hitter and then hurrying from the dugout to the bullpen and back.
Mike Trout did not hurry to the on-deck circle. He, too, took his time. He, like all 36,098 in LoanDepot Park – like any baseball fan who ever dreamed up impossible matchups – had plenty of time to contemplate this moment: Ohtani vs. Trout, Americans down one run, with two outs in the ninth inning of the World Baseball Classic final.
And Ohtani did not even look at Trout when it was over, when his Los Angeles Angels teammate swung through a slider that secured Japan's 3-2 victory Tuesday night. He threw his arms wide, then threw his glove aside as the undisputed champion of the baseball world – as though the greatest two-way player in a century had not held the title already.
For a sport so endearingly averse to predictability, the WBC as a whole, and the title game in particular, all wound their way back to the exact scenario everyone hoped it would. Before the game, Trout led the Americans out of the right field corner with an American flag. Ohtani led Japan out from left field. They are titans of their sport, the two players whose buy-in most helped this tournament take flight in its fifth iteration.
So much of the talk around this event, from pundits and players alike, has centered on its meaning. It is still new enough that it lacks lore. It is still establishing itself, so the commitment of players such as Trout, Ohtani and others improved its credibility dramatically.
That commitment was not just to playing – it was to caring. All of them, especially Ohtani, seemed to care a great deal. Before Tuesday's game, he made a speech to his teammates in the clubhouse. A reporter for the Los Angeles Times translated it on Twitter.
"Let's stop admiring them," Ohtani said, according to his translation. "If you admire them, you can't surpass them. We came here to surpass them, to reach the top."
This was not an exhibition, at least not to those playing it. This was not soccer's World Cup – not even close – and no one expects it to be. And this is not what regular season baseball, or even postseason baseball, feels like in the major leagues. This is something different.
"I think that's the beautiful thing, right? That this can mean a lot of different things to a lot of different people," U.S. slugger Kyle Schwarber said before the game. "For me, obviously getting to participate in this for the first time, this means a lot. It means a lot every time you are in the playoffs and you are in the World Series. . . . It doesn't change the level of how important this is to us. It just could mean something completely different to everyone, which I think is really cool."
In return for their emotional investment, this tournament might just be raising the profile of some of the game's biggest stars.
Trea Turner, for example, entered Tuesday's final having already boosted his national stature in this tournament. U.S. Manager Mark DeRosa called Turner's go-ahead grand slam against Venezuela in a quarterfinal one of the most memorable moments of his baseball life. Turner followed it with two more homers against Cuba in the semis, all while hitting ninth in the loaded U.S. order.
DeRosa joked after the semifinal that he was "the idiot" who batted Turner ninth, and he moved him up to sixth against Japan. Turner struck again in his first at-bat, his fifth home run of the tournament, to tie for the most home runs in a WBC.
But this tournament is also raising the global stature of some of Japan's biggest stars, many of whom are likely to play in this stadium as major leaguers someday. One such star, newly crowned single-season home run champion Munetaka Murakami, was struggling to impress as Japan made its way through pool play and into the semifinals. But Monday, the 23-year-old delivered the game-winning hit in the ninth inning. He hit the first pitch he saw Tuesday night 432 feet to tie the score. Japan added another run shortly thereafter to take the lead, something it did not do against Mexico until Murakami's decisive swing in the ninth. Kazuma Okamoto added a solo homer in the fourth to make it 3-1.
Before the game, the Americans assumed they would be facing Yu Darvish. He is an established major leaguer with World Series experience.
But Japanese Manager Hideki Kuriyama instead went with left-hander Shota Imanaga, who threw a no-hitter in Japan's top league last year. He followed with four other pitchers, none of whom were named Yu Darvish, before Darvis handling the eighth and Ohtani the ninth. The Japanese pitching staff was loaded, from top to bottom, with ace-quality arms.
The U.S. pitching staff, on the other hand, did not include many of the best Americans eligible to participate – in large part because many of them did not want to risk injury by ramping up to playoff intensity so early in the year.
"From a competitive perspective, I think the most important thing is we are going to need to continue to work with our clubs about pitching," MLB Commissioner Rob Manfred said about 90 minutes before the first pitch. "It's great the guys that we've had, but I'd like to see pitching staffs that are of the same quality as our position players."
The thing the Americans could have used, of course, was a high-quality position player who also happened to be a high-quality pitcher, unfathomable as such a thing may be.
As his teammates batted in the sixth inning, Japan's designated hitter made his way to the bullpen. When his teammates staged a rally that turned the lineup over, he hurried back down the dugout steps. When he was left unneeded, he went back to the bullpen, only to return in time to hit in the seventh. Ohtani hit a 114-mph groundball to shortstop, and he beat it out. When he was erased on a double play shortly thereafter, he ambled back to the bullpen, with just enough time to ready himself for the ninth.
Another Japanese ace exited the bullpen to pitch the eighth as Ohtani arrived. Darvish was the first pitcher Japan used all evening that the American hitters had seen before. And he became the first pitcher since the second inning to surrender a run when Schwarber hit an upper-deck homer to pull the Americans within a run. But Darvish held them there, then handed the proverbial torch to Ohtani, who lit the way to Japan's third WBC title.
On Wednesday, all these players will go their separate ways, back to Arizona and Florida and training camps in Japan. Three years from now, when Ohtani is 31 and Trout is 34, maybe they will do it all again. Of course, everything would have to go exactly as planned for that to happen. In this sport, almost nothing ever seems to.
Add TheJapanNews to your Google News feed.