Ukraine Short of Skilled Troops and Munitions as Losses, Pessimism Grow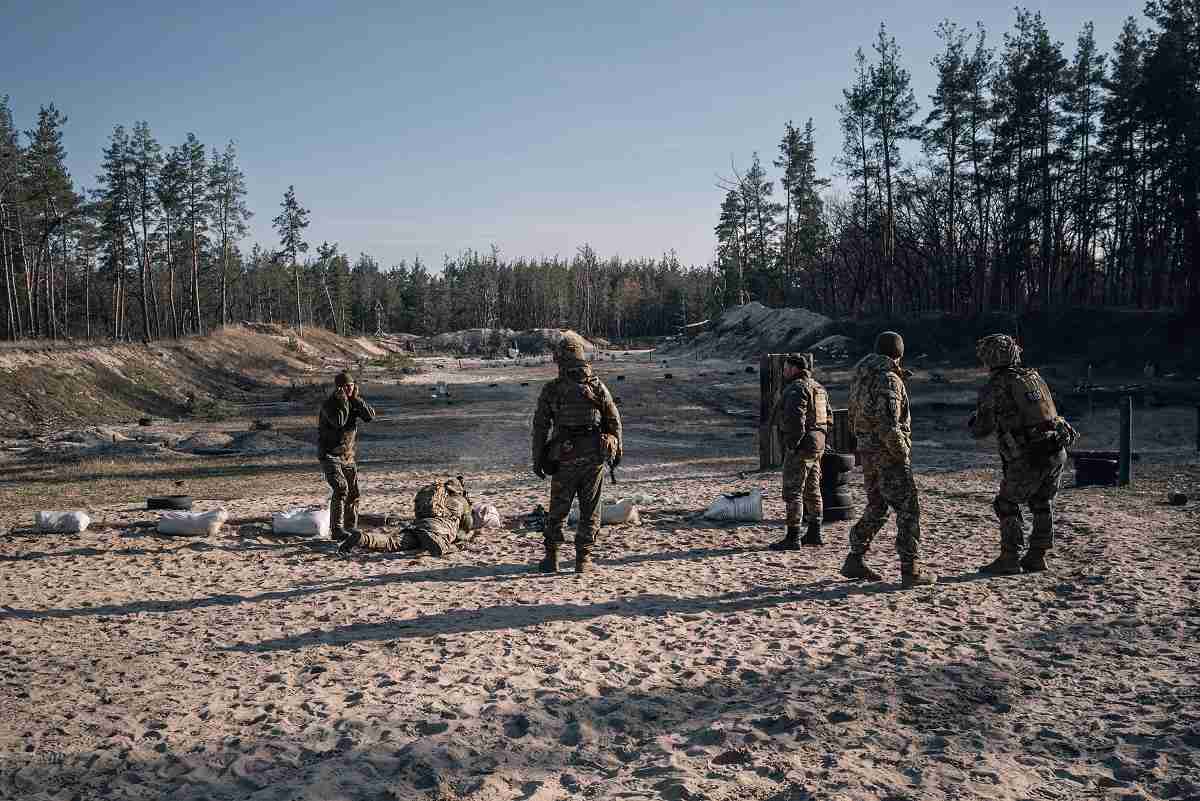 14:45 JST, March 14, 2023
DNIPROPETROVSK REGION, Ukraine – The quality of Ukraine's military force, once considered a substantial advantage over Russia, has been degraded by a year of casualties that has taken many of the most experienced fighters off the battlefield, leading some Ukrainian officials to question Kyiv's readiness to mount a much-anticipated spring offensive.
U.S. and European officials have estimated that as many as 120,000 Ukrainian soldiers have been killed or wounded since the start of Russia's invasion early last year, compared with about 200,000 on the Russian side, which has a much larger military and roughly triple the population from which to draw conscripts. Ukraine keeps its running casualty numbers secret, even from its staunchest Western supporters.
Statistics aside, an influx of inexperienced draftees, brought in to plug the losses, has changed the profile of the Ukrainian force, which is also suffering from basic shortages of ammunition, including artillery shells and mortar bombs, according to military personnel in the field.
"The most valuable thing in war is combat experience," said a battalion commander in the 46th Air Assault Brigade, who is being identified only by his call sign, Kupol, in keeping with Ukrainian military protocol. "A soldier who has survived six months of combat and a soldier who came from a firing range are two different soldiers. It's heaven and earth."
"And there are only a few soldiers with combat experience," Kupol added. "Unfortunately, they are all already dead or wounded."
Such grim assessments have spread a palpable, if mostly unspoken, pessimism from the front lines to the corridors of power in Kyiv, the capital. An inability by Ukraine to execute a much-hyped counteroffensive would fuel new criticism that the United States and its European allies waited too long, until the force had already deteriorated, to deepen training programs and provide armored fighting vehicles including Bradleys and Leopard battle tanks.
The current situation on the battlefield may not reflect a full picture of Ukraine's force, because Kyiv is training troops for the coming counteroffensive separately and deliberately holding them back from current fighting, including the defense of Bakhmut, a U.S. official said, speaking on condition of anonymity to be candid.
Andriy Yermak, head of Ukraine's presidential office, said the state of the Ukrainian force does not diminish his optimism about a coming counteroffensive. "I don't think we've exhausted our potential," Yermak said. "I think that in any war, there comes a time when you have to prepare new personnel, which is what is happening right now."
And the situation for Russia may be worse. During a NATO meeting last month, U.K. Defense Minister Ben Wallace said that 97 percent of Russia's army was already deployed in Ukraine and that Moscow was suffering "First World War levels of attrition."
Kupol said he was speaking out in hopes of securing better training for Ukrainian forces from Washington and that he hopes Ukrainian troops being held back for a coming counteroffensive will have more success than the inexperienced soldiers now manning the front under his command.
"There's always belief in a miracle," he said. "Either it will be a massacre and corpses or it's going to be a professional counteroffensive. There are two options. There will be a counteroffensive either way."
How much increased Western military aid and training will tip the balance in such a spring offensive remains uncertain, given the scars of attrition that are beginning to show.
One senior Ukrainian government official, who spoke on the condition of anonymity to be candid, called the number of tanks promised by the West a "symbolic" amount. Others privately voiced pessimism that promised supplies would even reach the battlefield in time.
"If you have more resources, you more actively attack," the senior official said. "If you have fewer resources, you defend more. We're going to defend. That's why if you ask me personally, I don't believe in a big counteroffensive for us. I'd like to believe in it, but I'm looking at the resources and asking, 'With what?' Maybe we'll have some localized breakthroughs."
"We don't have the people or weapons," the senior official added. "And you know the ratio: When you're on the offensive, you lose twice or three times as many people. We can't afford to lose that many people."
Such analysis is far less optimistic than the public statements by Ukraine's political and military leadership.
Ukrainian President Volodymyr Zelensky has described 2023 as "the year of victory" for Ukraine. His military intelligence chief, Kyrylo Budanov, touted the possibility of Ukrainians vacationing this summer in Crimea, the peninsula Russia annexed illegally from Ukraine nine years ago.
"Our president inspires us to win," Col. Gen. Oleksandr Syrsky, Ukraine's ground forces commander, said in an interview with The Washington Post. "Generally, we all think the same, and we understand that for us it is of course necessary to win by the end of the year. And it is real. It is real if we are given all the help which we have been promised by our partners."
On the front lines, however, the mood is dark.
Kupol, who consented to having his photograph taken and said he understood he could face personal blowback for giving a frank assessment, described going to battle with newly drafted soldiers who had never thrown a grenade, who readily abandoned their positions under fire and who lacked confidence in handling firearms.
His unit withdrew from Soledar in eastern Ukraine in the winter after being surrounded by Russian forces who later captured the city. Kupol recalled how hundreds of Ukrainian soldiers in units fighting alongside his battalion simply abandoned their positions, even as fighters for Russia's Wagner mercenary group pressed ahead.
After a year of war, Kupol, a lieutenant colonel, said his battalion is unrecognizable. Of about 500 soldiers, roughly 100 were killed in action and another 400 wounded, leading to complete turnover. Kupol said he was now the sole military professional in the battalion, and he described the struggle of leading a unit composed entirely of inexperienced troops.
"I get 100 new soldiers," Kupol said. "They don't give me any time to prepare them. They say, 'Take them into the battle.' They just drop everything and run. That's it. Do you understand why? Because the soldier doesn't shoot. I ask him why, and he says, 'I'm afraid of the sound of the shot.' And for some reason, he has never thrown a grenade. . . . We need NATO instructors in all our training centers, and our instructors need to be sent over there into the trenches. Because they failed in their task."
He described severe ammunition shortages, including a lack of simple mortar bombs and grenades for U.S.-made MK 19s.
Ukraine has also faced an acute shortage of artillery shells, which Washington and its allies have scrambled to address, with discussions about how to shore up Ukrainian stocks dominating daily meetings on the war at the White House National Security Council. Washington's efforts have kept Ukraine fighting, but use rates are very high, and scarcity persists.
"You're on the front line," Kupol said. "They're coming toward you, and there's nothing to shoot with."
Kupol said Kyiv needed to focus on better preparing new troops in a systematic way. "It's like all we do is give interviews and tell people that we've already won, just a little bit further away, two weeks, and we'll win," he said.
Dmytro, a Ukrainian soldier whom The Post is identifying only by first name for security reasons, described many of the same conditions. Some of the less-experienced troops serving at his position with the 36th Marine Brigade in the Donetsk region "are afraid to leave the trenches," he said. Shelling is so intense at times, he said, one soldier will have a panic attack, then "others catch it."
The first time he saw fellow soldiers very shaken, Dmytro said, he tried to talk them through the reality of the risks. The next time, he said, they "just ran from the position."
"I don't blame them," he said. "They were so confused."
The challenges stem from steep losses. Gen. Valery Zaluzhny, Ukraine's commander in chief, said in August that nearly 9,000 of his soldiers had died. In December, Mykhailo Podolyak, an adviser to Zelensky, said the number was up to 13,000. But Western officials have given higher estimates and, in any case, the Ukrainian figures excluded the far larger number of wounded who are no longer able to fight.
A German official, speaking on the condition of anonymity, said that Berlin estimates Ukrainian casualties, including dead and wounded, are as high as 120,000. "They don't share the information with us because they don't trust us," the official said.
Meanwhile, a Russian offensive has been building since early January, according to Syrsky. Budanov, Ukraine's military intelligence chief, told The Post last month that Russia had more than 325,000 soldiers in Ukraine, and another 150,000 mobilized troops could soon join the fight. Ukrainian soldiers report being outnumbered and having less ammunition.
The stakes for Ukraine in the coming months are particularly high, as Western countries aiding Kyiv look to see whether Ukrainian forces can once again seize the initiative and reclaim more territory from Russian control.
Russia is also facing ammunition, manpower and motivation problems – and has notched only incremental gains in recent months despite the strained state of Ukraine's force. As bad as Ukraine's losses are, Russia's are worse, the U.S. official said.
"The question is whether Ukraine's relative advantage is sufficient to attain their objectives, and whether those advantages can be sustained," said Michael Kofman, a military analyst at Virginia-based CNA. "That depends not just on them, but also on the West."
Despite reports of untrained mobilized Russian fighters being thrown into battle, Syrsky said those now arriving are well-prepared. "We have to live and fight in these realities," he said. "Of course, it's problematic for us. . . . It forces us to be more precise in our firing, more detailed in our reconnaissance, more careful in choosing our positions and more detailed in organizing the interaction between the units. There is no other way."
Russia's recent gains – notably around Bakhmut – have not significantly tilted the battlefield, and U.S. military officials have said that even if Russia seizes Bakhmut, it would be of little strategic importance. But given the heavy casualties Ukraine is suffering there, officials in Washington have questioned Kyiv's refusal to retreat. The United States has been advising Ukraine to retreat from the city since at least January, the U.S. official said.
A Ukrainian official, who spoke on the condition of anonymity because he was not authorized to speak publicly, said the battle for Bakhmut was depleting Russian forces there – mainly Wagner fighters who have been Moscow's most effective of late – and that Ukrainian units now defending the city were not slated to be deployed in upcoming offensive operations anyway.
Ukraine has lost many of its junior officers who received U.S. training over the past nine years, eroding a corps of noncommissioned officers that helped distinguish the Ukrainians from their Russian enemies at the start of the invasion, the Ukrainian official said. Now, the official said, those forces must be replaced. "A lot of them are killed," the official said.
At the start of the invasion, Ukrainians rushed to volunteer for military duty, but now men across the country who did not sign up have begun to fear being handed draft slips on the street. Ukraine's internal security service recently shut down Telegram accounts that were helping Ukrainians avoid locations where authorities were distributing summonses.
Initially, the United States focused its training on new weapons systems Washington had decided to provide Kyiv, such as M777 artillery pieces and HIMARS rocket launchers. In January, after nearly a year of all-out war, the United States began training Ukrainian forces in combined-arms warfare. Just one battalion, of about 650 people, has completed the training in Germany so far.
Additional Ukrainian battalions will complete the training by the end of March, and the program will adjust as Ukraine's needs evolve, said Lt. Col. Garron Garn, a Pentagon spokesman.
Defense Secretary Lloyd Austin "remains laser-focused on ensuring that Ukraine is receiving the training it needs for the current fight," Garn said. The United States is "working around-the-clock" to fulfill Ukraine's security needs, in addition to investing billions of dollars to produce and procure artillery ammunition, he said.
"The bottom line is that we are getting the Ukrainians what they need, when they need it," Garn said. "And as President Biden and Secretary Austin have emphasized repeatedly, we will continue to support Ukraine for as long as it takes."
Even with new equipment and training, U.S. military officials consider Ukraine's force insufficient to attack all along the giant front, where Russia has erected substantive defenses, so troops are being trained to probe for weak points that allow them to break through with tanks and armored vehicles.
Britain is also training Ukrainian recruits, including about 10,000 last year, with another 20,000 expected this year. The European Union has said it will train 30,000 Ukrainians in 2023.
Ukraine has been holding back soldiers for a spring offensive and training them as part of newly assembled assault brigades. Kyiv is also organizing battalions around the new fighting vehicles and tanks that Western nations are providing.
Syrsky said he is focused on holding the line against Russian attacks while his deputies prepare soldiers for the next offensive.
"We need to buy time to prepare reserves," Syrsky said, referring to the Ukrainian soldiers now training abroad with Western weapons. "We know that we have to withstand this attack to prepare the reserves that will take part in future actions properly. . . . Some people defend, others prepare."
U.S. officials said they expect Ukraine's offensive to start in late April or early May, and they are acutely aware of the urgency of supplying Kyiv because a drawn-out war could favor Russia, which has more people, money and weapons manufacturing.
Asked at a recent congressional hearing how much more U.S. aid might be required, Pentagon policy chief Colin Kahl told House lawmakers that he did not know. "We don't know the course or trajectory of the conflict," Kahl said. "It could end six months from now, it could end two years from now, three years from now."
Add TheJapanNews to your Google News feed.