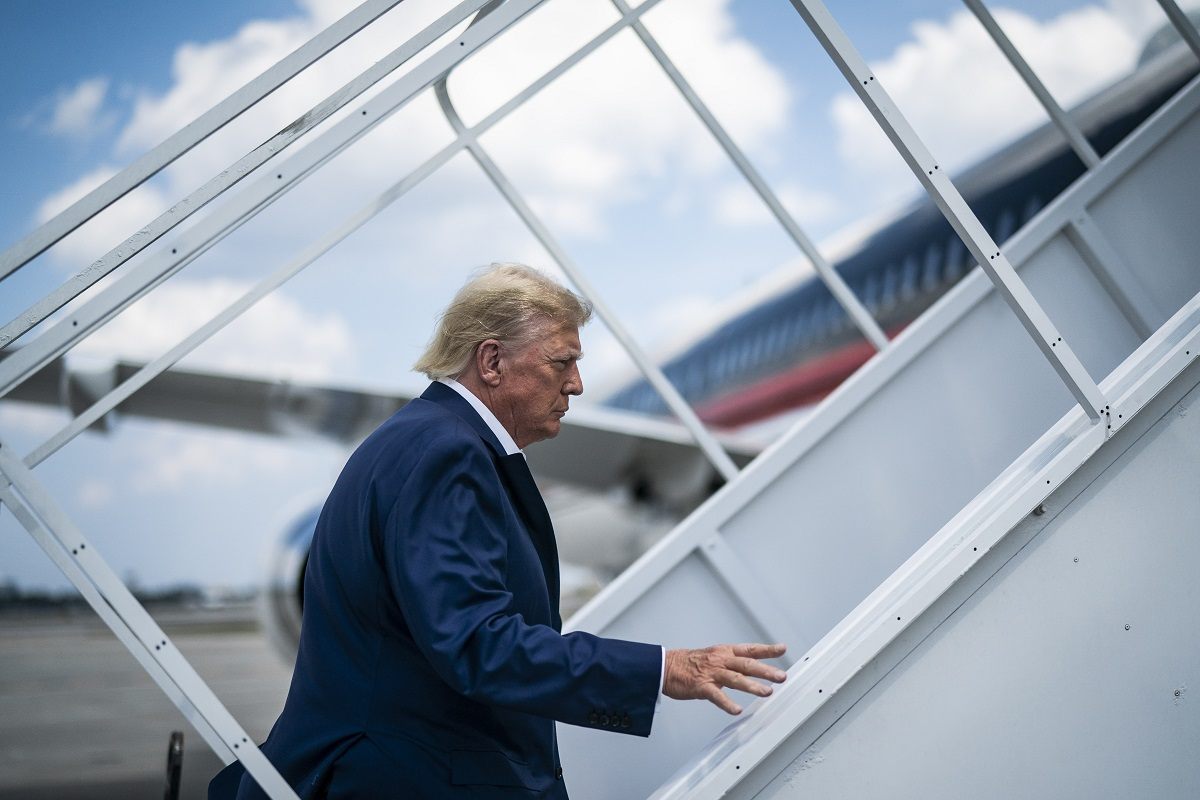 13:07 JST, March 14, 2023
Donald Trump on Monday sharply rebuked Mike Pence's assertion that history would hold him accountable for the Jan. 6, 2021, attack on the U.S. Capitol, telling reporters that his former vice president should shoulder the blame for the violent riot that day by Trump's supporters.
"Had he sent the votes back to the legislatures, they wouldn't have had a problem with Jan. 6, so in many ways you can blame him for Jan. 6," the former president said, referring to Pence's refusal to reject the electoral college votes in Congress as Trump wanted him to do that day. "Had he sent them back to Pennsylvania, Georgia, Arizona, the states, I believe, number one, you have had a different outcome. But I also believe you wouldn't have had 'Jan. 6' as we call it."
A pro-Trump mob attacked the Capitol on Jan. 6 following months of false claims by Trump that the election was stolen from him. He also used incendiary and false rhetoric about the election at rally at the Ellipse shortly before the rioters stormed the Capitol.
Trump was responding to Pence's remarks on Saturday, where he said unequivocally that Trump had been "wrong" to demand he overturn the elections, something Pence maintained he had no power to do. "His reckless words endangered my family and everyone at the Capitol that day," Pence said during a speech at the white-tie Gridiron dinner in Washington. "And I know that history will hold Donald Trump accountable."
Speaking to reporters aboard his plane as he made his way to Iowa for his first visit since announcing his presidential bid last year, Trump suggested that Pence's condemnation was driven by his single-digits showings in recent surveys of potential 2024 Republican presidential contenders. (Pence has not officially announced his candidacy, even as he has made moves toward entering the race.)
"I guess he figured that being nice is not working," Trump said. "But, you know, he's out there campaigning. And he's trying very hard. And he's a nice man, I've known him, I had a very good relationship until the end."
Leading up to the Jan. 6 attack, Pence sought legal advice on his role presiding over the joint session of Congress during the formal certification of the election results and determined that he had no ability to unilaterally reject the electoral college votes or refer them back to state legislatures. Testimony to the House committee investigating the attack on the Capitol indicated that Trump privately seethed at Pence for turning him down, criticized him on Twitter, never called him during the riot to check on his well-being, and reacted with approval to hearing rioters chanting "Hang Mike Pence." Trump denied ever saying the phrase.
Pence was subpoenaed early this month by the special counsel investigating the Jan. 6 attack and indicated he will resist testifying.
In December, Congress approved bipartisan legislation to clarify the procedures for certifying the electoral college results. Trump argued the change demonstrated that Pence did have the authority to do what he wanted before the new law.
"He had the right to send them back, otherwise they wouldn't have changed the Voting Act," Trump told reporters on the plane. "They all said, 'He didn't have any rights at all, he was a human conveyor belt, he had no rights even if it was fraud.' And then the day after he did it, they said, 'Now we're going to change it so he doesn't do it.' Meaning, you understand that, meaning he had the right to do it."
Add TheJapanNews to your Google News feed.