In Deeply Partisan and Polarized House, Every Day Feels Like Jan. 7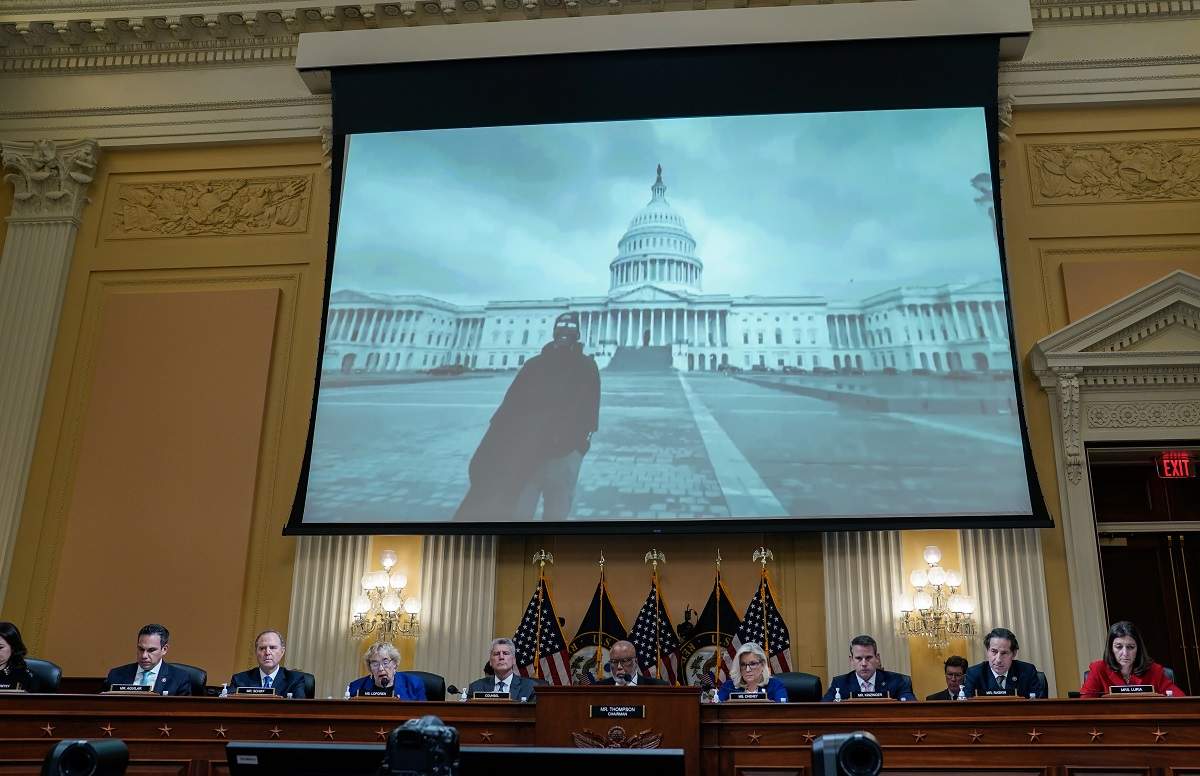 17:40 JST, March 12, 2023
Two months into their new majority, some House Republicans cannot stop fixating on the Jan. 6, 2021, attack on the Capitol.
One veteran Republican has been poring over transcripts from last year's Democratic-led probe into the insurrection, part of his investigation into security failures before and during the attack.
Rep. Marjorie Taylor Greene (R-Ga.) is preparing to lead a delegation to visit D.C. jails to examine the conditions of alleged rioters still awaiting their trials. She's signed up to watch thousands of hours of U.S. Capitol Police security video and wants to focus on the events leading up to the deaths of two women who were staunch supporters of former president Donald Trump.
In deep contrast, senators have largely moved on from that horrific attack, deferring to the Justice Department's investigation. They don't quite understand why their House colleagues keep fighting over it.
"I think they need to watch a little less cable TV," Sen. John Cornyn (R-Tex.) told CNN.
For more than two years running, every day the House is in session can feel as if it's Jan. 7 – the day after, when each side began to blame the other for what went wrong. First came Democratic investigations, along with allegations that some Republicans helped the insurrectionists. That's now given way to the counter-investigations.
It's just different from the Senate. Only eight Senate Republicans voted against certifying President Biden's victory and just five have endorsed Trump's 2024 campaign. Two-thirds of House Republicans objected to Biden's win and more than 30 are currently endorsing Trump.
"We have a lot of them here. I mean, we have people that were – a lot of people who are openly using their platforms to promote insurrectionists, to promote the idea that Jan. 6 didn't happen, that it was a friendly thing," said Rep. Pramila Jayapal (D-Wash.), who was in the House gallery during the attack and heard the police gunshot that killed one rioter.
"This is the people's House," Jayapal added in an interview on Thursday, "and in some ways, we are closer to both the good and the awful than the Senate is."
House Republicans, hearing words like that, still feel as if Democrats unfairly accused them of aiding and abetting rioters.
"What they did to me was inexcusable in my estimation, because of the significant risk that was placed on me, my staff and my family," said Rep. Barry Loudermilk (R-Ga.), who appeared in a video that the Jan. 6 committee used to suggest he might have given surveillance tours the day before the attack. "I mean, we got 200 death threats within a few days."
The House has always been a more boisterous place than the Senate. But the pandemic started to exacerbate polarization in the House, where Democrats issued mask rules and unilaterally permitted a proxy voting system that allowed members to vote without attending Capitol sessions in person.
As so often happens, members of the House got treated like second-class citizens compared with senators during the Jan. 6 attack. And some lawmakers contend that their experiences that day left such strong feelings – suspicion and distrust – that the House is much more dysfunctional than usual.
By 2:15 p.m. on Jan. 6, as rioters began making their way into the building, the Senate was quickly locked down and was fully evacuated within 15 minutes. Almost no one saw a rioter.
The House was a more chaotic scene, stopping its consideration of the GOP challenge to Biden's win, then starting again. When the House finally halted debate, rioters were trying to break into the chamber, forcing Capitol Police into a guns-drawn standoff by the back door.
Most members were evacuated a few minutes later, but some lawmakers were trapped in the gallery above, where they heard the gunshot that stopped and killed Ashli Babbitt, a Trump supporter, as she tried to jump through a broken window to get close to the House floor.
Senators gathered in a secure location in one of their office buildings and held heated discussions about what to do, mostly in a bipartisan fashion. They agreed to speed up the process by only allowing debate on two slates of electoral votes, not six, so that Biden could be officially declared the winner that night.
By 4 p.m., staff arrived with hundreds of boxed lunches – chicken or beef – and bottled water.
House members, once they all escaped, gathered in one of their office buildings and clashed over pandemic rules as some Republicans refused to wear a mask; the gathering is believed to have turned into a virus superspreader.
The Senate reconvened after 8 p.m. that night. Vice President Mike Pence led off several unifying speeches that prompted standing ovations. Senators sped through debate and held votes on Arizona and Pennsylvania, overwhelmingly rejecting Trump's wishes by 12:30 a.m. on Jan. 7.
The House, after some perfunctory unifying speeches, returned to intense, fiery debate. Just before 2 a.m., a tussle in the center aisle involving a dozen lawmakers and senior staff nearly turned into a brawl. The House concluded its votes after 3 a.m.
Five months later, two Senate committees, in bipartisan agreement, released a more than 100-page report on the failures and security breakdowns that allowed the Capitol to come under siege – the last official word to come from the upper chamber on the insurrection.
Two weeks after that report, House Democrats announced the creation of the Jan. 6 select committee. But McCarthy refused to name Republicans to the panel after House Speaker Nancy Pelosi (D-Calif.) rejected a couple of his initial choices in July 2021.
For the next 18 months, several House Republicans fumed at the panel's work and vowed to investigate the investigation. Now, Loudermilk is leading an investigation of the Capitol's security through a subcommittee of the House Administration Committee, which oversees the Capitol Police and other internal functions. He believes the Jan. 6 committee intentionally overlooked security lapses to instead focus on Trump.
But part of Loudermilk's probe involves reviewing the select committee's investigation last year, and he's recently been going through the transcripts of the Georgians whom he showed around portions of the congressional office buildings, a scene that was shown during nationally televised hearings last year.
Loudermilk said the transcripts of those interviews clear him of accusations of wrongdoing. The video released of him followed accusations from nearly three dozen House Democrats, lobbed in the days after the 2021 attack, that unnamed Republicans guided rioters through reconnaissance tours.
No evidence, aside from the relatively benign Loudermilk video, has emerged to back up those accusations, and he wants to examine whether anyone was falsely accused of misdeeds by the committee.
"These are the types of things we have to look at," he said in an interview Wednesday.
Although Democrats had braced for those types of GOP actions, none expected the recent decision by House Speaker Kevin McCarthy to selectively give access to 41,000 hours of security videos to Fox News personality Tucker Carlson – who asked the California Republican to release the videos to win the speaker's vote in early January. To date, no other media outlets have been allowed to see those videos, while lawmakers are now signing up to get a glimpse.
"It's really insulting. And it shows a degree of callousness that is even surprising, even in this environment," Rep. Daniel Kildee (D-Mich.) said.
Kildee, a member of the "Gallery Group," noted that he was one of many who had a "really bad personal experience on that day."
Whether some Republicans had assisted MAGA rioters before the attack no longer matters to Democrats.
"These are enormous platforms that are being used to promote anti-democratic insurrectionists," Jayapal said. She now labels these Republicans as "insurrectionist-assistants."
On Thursday, Greene said that she spoke to McCarthy and his advisers about releasing the security videos last year, during the time when the far-right lawmaker went from being a thorn in leadership's side to a boisterous pro-McCarthy ally. She said that "release the tapes" became her personal mantra last year.
Greene wants to watch the video of Babbitt getting shot and another protester getting crushed in a throng of rioters, whose death was later ruled to have resulted from an amphetamine overdose. She wants to highlight the alleged mistreatment of an inmate charged with committing some of the most violent acts on Jan. 6, including spraying police with chemical irritants and assaulting them during a violent clash by a Capitol door.
"My interest is the two-tier justice system," she said Thursday.
Every day, for some in the House, continues to be Jan. 7.
Add TheJapanNews to your Google News feed.