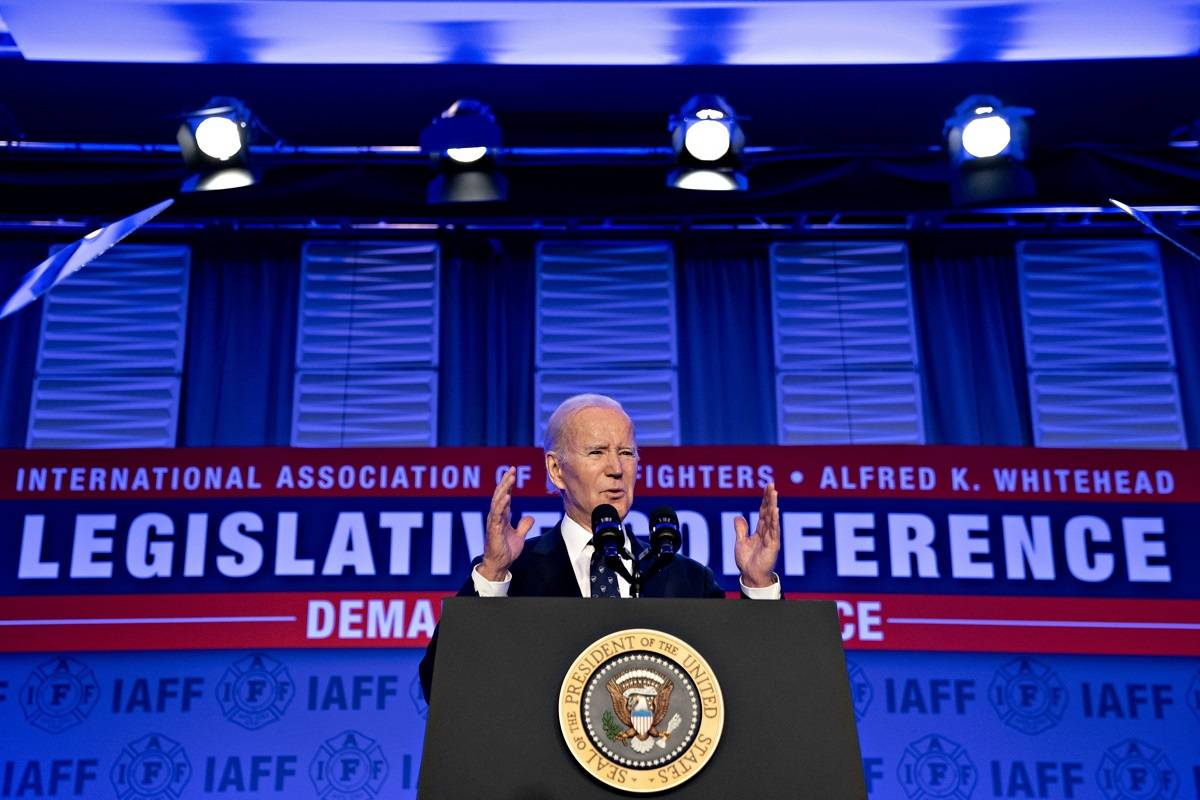 12:47 JST, March 7, 2023
President Joe Biden sought to shore up support from an important labor union whose members enjoy broad appeal across the political spectrum ahead of an expected 2024 reelection bid.
"I promise you, you've had my back and I'll have yours," Biden said in a speech to the International Association of Fire Fighters' legislative conference in Washington on Monday.
Biden hinted at plans to run for a second term, touting his accomplishments during his first two years in office. "I'm determined to finish the job," he added.
Firefighters routinely top polls of Americans' most trusted professions, and the union was a key part of Biden's labor coalition in the 2020 presidential election. The IAFF was the first major organized labor group to endorse Biden in that campaign, throwing its support behind him just four days after he announced his candidacy in April 2019.
The president delivered his address to the union a day after a trip to Selma, Alabama, where he listed his legislative accomplishments on behalf of Black voters.
Strong support from organized labor and Black voters helped propel Biden to the White House and will be crucial to the president's 2024 ambitions.
The union has not made a decision on an endorsement for 2024, a union official said. But the IAFF has a long history with Biden, and has endorsed Democrats in every election since 1976 – with the exception of 2016, when it declined to endorse either Democratic nominee Hillary Clinton or Republican Donald Trump.
Biden has reciprocated that support in his legislative agenda, including by signing a measure related aimed at strengthening federal firefighter benefits and another at protecting firefighters from so-called "forever chemicals."
The American Rescue Plan, Biden's pandemic-relief measure, also included $400 million in direct support to local fire and emergency services agencies, with millions more flowing indirectly in assistance to local governments.
"It's about your dignity," Biden said Monday. "That's why I fight so damn hard to protect your right to collective bargaining. Make sure you have what you need to manage the risk of your job today."
Biden cited efforts to update safety standards which he said don't fully address the range of hazards firefighters face and fail to account for the latest advances in protective equipment.
"That's why the Occupational Safety and Health Administration convened a multiple agency panel to draft better standards to protect folks like you, to protect all the rest who protect the rest of us. They're on track to propose updated rules this fall," he said.
Biden said lawmakers were also working on legislation to extend the public safety officer benefit program to cover firefighters who die from cancer.
"I support it, Congress should introduce it, pass it and get it to my desk for me to sign it," he said.
Biden is the first sitting president to address the conference since Bill Clinton, though he also appeared at the event when he was vice president.
Biden vowed his administration would be the most pro-union in U.S. history and has regularly praised organized labor as responsible for building the country's middle class. But he has failed to deliver on campaign promises including raising the federal minimum wage.
Labor activists have been key political allies for Biden and Democrats, but the president has also had a tense relationship with rank-and-file blue collar workers, many of whom have deserted Democrats in recent elections.
The friction between Biden and organized labor intensified last year when the president angered some unions by signing legislation imposing a deal he helped broker between freight railroads and their workers averting a possible strike that threatened to cripple the U.S. economy.
Add TheJapanNews to your Google News feed.