California Was Hit with 12 Feet of Snow. Is It Enough to Ease the Drought?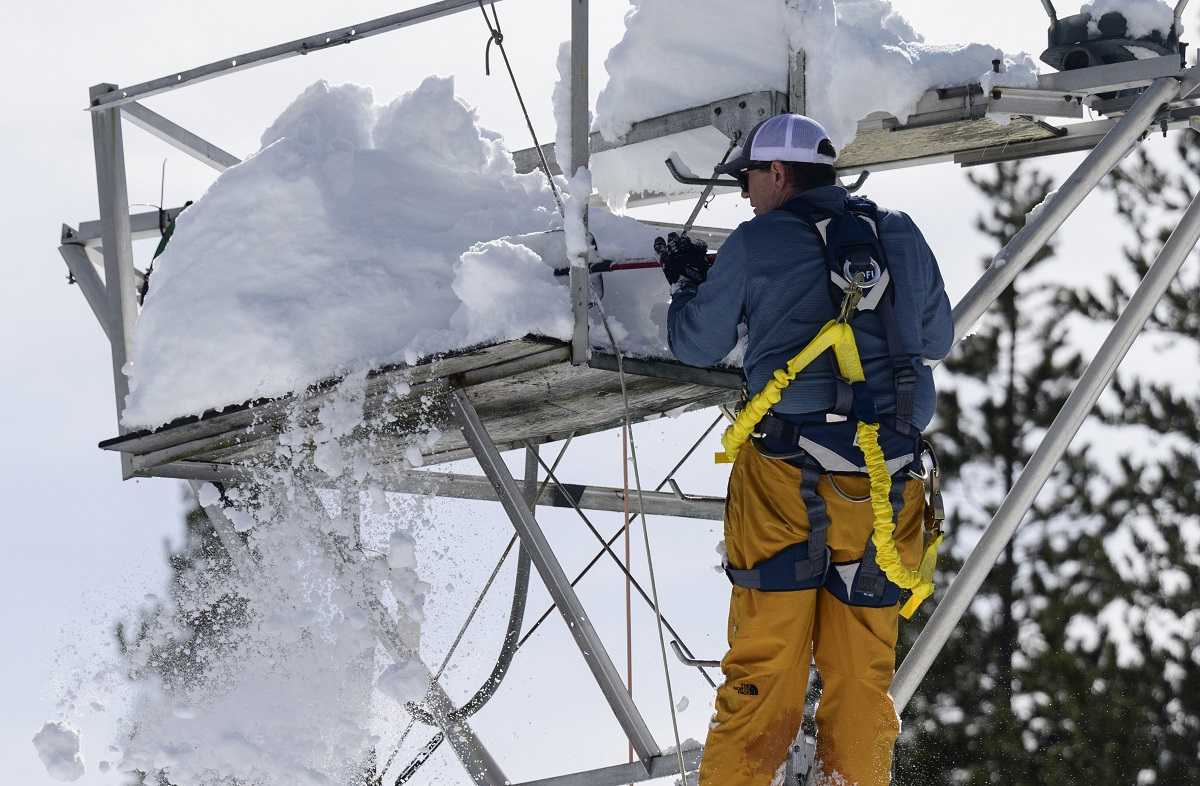 10:55 JST, March 6, 2023
SODA SPRINGS, Calif. – To keep out the snow, most of the windows of Andrew Schwartz's cabin are boarded up with plywood, creating a gloom so persistent that he keeps his house plant alive with a grow light and consumes daily vitamin D from a pillbox in his desk.
Snow falls in such abundance around Schwartz's home – which doubles as the UC Berkeley Central Sierra Snow Laboratory – that prior residents of his research station have been known to ski directly into a third-story window. The drifts bury cars, warp walls and pile up in monstrous mushroom caps on his roof, before sliding off with startling violence.
But even Schwartz, who has chased hailstorms in Australia and tornadoes in Oklahoma, faced weather this week unlike any he has known. The blizzard that blanketed California's inland mountains hit Schwartz's cabin with 70 mph winds and blinding snow that covered up his snowshoe tracks minutes after he made them. On Tuesday afternoon, as he went to check his instruments, he slipped and plunged into a drift up to his neck.
"That was the first time I've ever had a moment like: Am I going to get out of this?" he recalled. "That storm was genuinely the worst one I've seen in my life."
The amount of snow that has fallen on California is rivaling some of the most bountiful years on record. Just in the past two weeks, more than a dozen feet of snow fell in this area, pushing the snowpack in the Central and Southern Sierra Nevada Mountains to roughly twice the amount of a normal year. The whiteout shut down national parks and interstates, buried neighborhoods, collapsed roofs, stranded motorists, trapped residents and knocked out power to thousands in mountain communities throughout the state.
For a parched populace coming out of three consecutive years of extreme drought – the flakes have also felt miraculous.
"We could not be more fortunate to have had this kind of precipitation after three very punishing years," Karla Nemeth, the director of California's Department of Water Resources, told a briefing Friday after the latest snow survey in the state.
Just last fall, California's biggest reservoirs had dropped to dangerously low levels. A record number of wells in the Central Valley had run dry. Farmers were fallowing hundreds of thousands of acres. Residents in the Los Angeles area were being told to stop watering lawns. State officials were projecting dry La Nina conditions would persist; California was headed for a fourth year of drought.
"And then, after Christmas, something interesting happened," Michael Anderson, the state climatologist, said during the briefing. "We began a rather amazing set of atmospheric rivers."
A parade of nine drenching storms marched in off the Pacific, swamping the state. After a dry spell in February, another deluge of precipitation has fallen over the past week. This time, it came in the form of an unusually cold storm moving south from the Gulf of Alaska, dropping snow even at low altitudes and down toward the Mexican border. Flurries dusted the Hollywood sign.
Anderson and other climate scientists attribute these wild oscillations in extreme wet and dry periods to the warming climate. A warmer atmosphere can hold more moisture – sucking up more during dry periods and deluging during wet ones – while also breaking down typical jet stream patterns, allowing cold air to move further south than normal.
Even after all this rain and snow, state authorities have yet to declare the drought officially dead. But the water supply – and projections for once the snow starts melting in the spring – have dramatically improved. The Federal Drought Monitor on Thursday reported that the percentage of California experiencing at least moderate drought conditions had fallen from 84.6 percent to 49.1 percent in the past week. Major reservoirs across the state are at 96 percent of average levels.
But the extraordinary snowpack has been predominantly in the central and southern parts of the Sierra Nevada mountains, less in the north, where some of the state's largest reservoirs remain far below capacity. The state's groundwater supplies, drawn down during the past dry decade, will also not recover quickly, water authorities said.
"It takes more than a single wet year to really recover a lot of those groundwater basins that have been critically overdrafted for so many years," said Sean de Guzman, manager of the snow surveys and water supply forecast unit at the California Department of Water Resources.
On Friday morning, de Guzman and his colleagues trudged across a snowy field south of Lake Tahoe and plunged a hollow metal pole into the depths, part of the monthly snow surveys that take place across the state. They found snows more than 9 feet deep, or 177 percent of average for that date.
The state's record snowpack came in the winter of 1982-83. The snows this year have nearly matched those heights from four decades ago.
"With the next few storms here, throughout this month, we could actually surpass that," de Guzman said.
The blizzard conditions have made it difficult in some areas to even assess what's out there. A team hired to measure snow depths in Sequoia National Park had to be evacuated by a Navy helicopter on Thursday, as they were marooned in a cabin near Mount Whitney.
"Some of these people that were extracted, they've been measuring snow for 30, 40 years," de Guzman said. "And they're seeing some of the most epic conditions they've ever seen up there."
Yosemite National Park has been buried so deep it's been closed for the past week. Interstate 80 – running through the Donner Pass – also shut down for multiple days as snowplows worked to clear the route.
The accumulation reached remarkable heights in mountain ski towns such as Truckee and Soda Springs, near Lake Tahoe, and residents are still digging themselves out. Up and down the roads, snowplows push through the drifts and blowers send roostertails of snow arcing high into the air. The giant berms they create turn streets into mazes.
Whole neighborhoods remain nearly submerged. There are drifts that loom like undiscovered Mayan ruins, still draped in jungles of white. On one street, the red top of a stop sign is all that's visible above the sea of snow. On another, someone has spray painted "car" on the side of a white mound so the plows know what's underneath.
In the Serene Lakes neighborhood in Soda Springs, one of those plows struck a buried propane tank, igniting a fireball that damaged three houses, breaking windows and scorching facades.
"It broke our window. It just melted the blinds," said one of the homeowners, who gave her name only as Kristy, as she dealt with the telephone repairman and surveyed the damage. She lives in San Francisco but couldn't get up to her vacation home for days after the explosion because of the closed highways.
"It seems like people are just, like, a little in a daze," she added. "It's just been so much snow."
Some of her neighbors battled those cold, heavy blankets draped over their homes, scraping and shoveling clear their doors and windows, decks and driveways. Many of the ski chalets are second homes – and people have not yet bothered to return. Theresa Laster and her sweater-clad chihuahua, Angel, navigated the snowy streets on foot. She and her husband, both musicians and year-round residents, had ridden out the storms but hadn't been able to make it to the nearest store, more than three miles away.
"We're running low on supplies," she said. "Yesterday we ran out of milk. I said, 'Go get some milk,' to my husband. He said, 'The roads aren't even plowed.' 'Well, walk.'"
In other parts of the state, emergency crews have rescued residents and delivered food and medicine to others stranded at home amid the drifts. Gov. Gavin Newsom (D) declared a state of emergency on Wednesday for 13 counties. In Lake Arrowhead, in Southern California's San Bernardino County, the California National Guard was called in to help extract stranded residents.
This year's snowpack, in addition to its size, has other attributes encouraging for the state's water supply. It is a cold snowpack, water managers say, which could help it persist into the spring before turning to runoff. More storms are on the way for the Sierras, although some are expected to be warmer – which has raised concerns that rain-on-snow events could lead to flooding.
"A lot of this warm storm will basically melt that low- to mid-elevation snow," de Guzman said. "We should see an increased amount in runoff but nothing that the reservoirs shouldn't be able to capture."
California still faces looming cuts to its share of Colorado River water, which supplies cities as well as major farming regions in Southern California. Snows are above average in the Colorado River basin as well, but not to the extent of California, and the giant reservoirs on that system are still critically low.
Understanding the complicated connections between the flakes that fall and how they could translate into water that sustains millions is key to the work of Schwartz, the lead scientist and manager of the Central Sierra Snow Laboratory. While big snow years in the recent past have been followed by brutal dry spells – and the trend is toward less snow in California's mountains as the atmosphere warms – this is still an optimistic moment.
"People need a reason to celebrate," Schwartz said as he stood on an instrument tower that was 30 feet above the ground but only about 15 feet off the snow. "And with how much snow we've had, it's an amazing winter and even if it doesn't solve all of our issues, it's dramatically reduced our short-term drought, and if temperatures keep cool, it might help with our long-term drought as well."
These blizzards mean boomtime for this work. As it snows, Schwartz fights the drifts at 8 a.m. and 4 p.m. each day to measure snow and check other instruments to glean information about the snowpack's temperature and water content.
The research station, situated on U.S. Forest Service land, was built by the U.S. Army Corps of Engineers in 1946. At one point long ago there were seven full-time staff living on-site, Schwartz said, but now he lives alone, accompanied by his dogs and handwritten logs of temperature and snow data from decades past.
When he gets stir crazy, he will trek to the general store down the hill for conversation. He has taken up painting this winter, and his water colors reveal his preoccupations: a lone snowboarder on a chairlift; a conifer draped in white. He has a poster on his refrigerator that reads: "These foods can keep you alive in the forest."
Lately, Schwartz has been digging himself out like the rest of his neighbors high in the mountains, shoveling his steps and knocking snow off his equipment.
Snow had mostly covered the window next to his desk – one of the few left unboarded.
As he sat there on Thursday afternoon, the lights suddenly went out. He had ridden out the blizzard without losing electricity.
"Come on. Are you serious?" he shouted. "A bright beautiful sunny day and the power goes out?"
The gloom in his cabin intensified.
But it wasn't so bad. He had a generator. And the forecast was more snow for the weekend.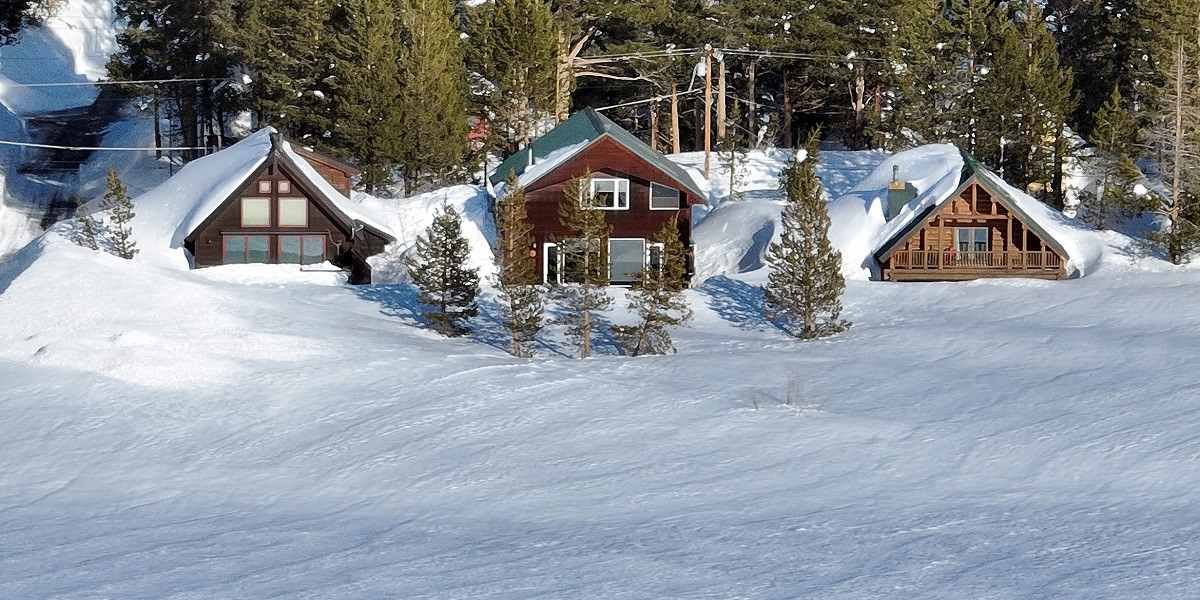 Add TheJapanNews to your Google News feed.