Biden Reassures NATO Allies that an Attack on One is an Attack on All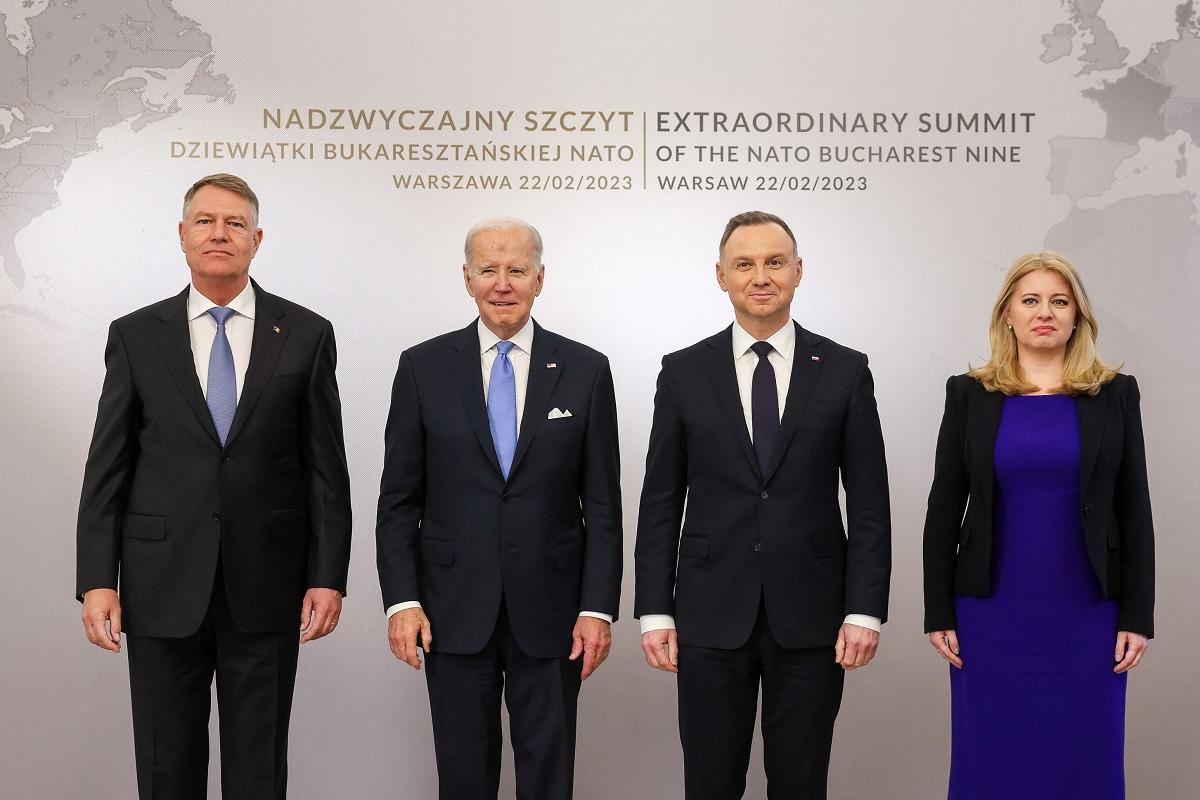 13:04 JST, February 23, 2023
WARSAW – President Biden sought to bolster the countries along NATO's eastern flank Wednesday as he concluded a momentous three-day trip to Ukraine and Poland, pledging full support if Russia begins targeting their countries.
Hours before he was scheduled to leave for Washington, Biden reiterated that if Russia attacks any of those Eastern European nations, the United States would invoke Article 5 of the NATO charter, meaning that each member of the alliance would respond as if its own territory had been attacked.
"It's absolutely clear: Article 5 is a sacred commitment the United States has made," the president said before joining a closed-door meeting with leaders of what are known as the Bucharest Nine nations. "We will defend every inch of NATO. Every inch of NATO."
As the war in Ukraine approaches its one-year mark, the meeting was meant to reassure vulnerable nations that are in Russia's neighborhood, as well as to send a stark warning to Russian President Vladimir Putin about the consequences of further escalation.
"What literally is at stake is not just Ukraine. It's freedom," Biden said. "The idea that over 100,000 forces would invade another country after a war – since World War II, nothing like that has happened. Things have changed radically. We have to make sure we change them back."
The meetings took place one day after Putin announced the suspension of Russia's last remaining nuclear pact with the United States and as the two leaders underscored the growing distance between them in dueling speeches. Even as Biden sought to reaffirm a strong NATO alliance, Putin was simultaneously attempting to showcase his own alliance with China.
China's top diplomat, Wang Yi, was in Russia for a meeting with Putin. Early Wednesday, Wang met with Russian Foreign Minister Sergei Lavrov, who said that "relations between Russia and China are developing dynamically, despite the turbulence."
"Moscow and Beijing are ready to defend each other's interests," he added.
As he entered the Presidential Palace in Warsaw, Biden was asked for a reaction to Putin's decision to suspend its participation in New START, the arms control agreement between Russia and the United States. Biden at first joked that he didn't "have time" to respond, but then, after a pause, he said, "Big mistake."
The Bucharest Nine is made up of countries sandwiched between Russia and Western Europe, and the Ukraine war has driven up their anxieties about Moscow's aggression as they worry that they might be next. The group consists of Bulgaria, the Czech Republic, Estonia, Hungary, Latvia, Lithuania, Poland, Romania and Slovakia.
Biden also met with NATO Secretary General Jens Stoltenberg, who said it is crucial that the Ukraine war end in a way that prevents further Russian aggression.
"President Putin is not preparing for peace. On the contrary, he is preparing for war," Stoltenberg said. "So we must sustain and step up our support for Ukraine. We must give Ukraine what they need to prevail. We don't know when the war will end, but when it does, we need to ensure that history does not repeat itself."
He listed other aggressive actions Russia has taken in recent years.
"We cannot allow Russia to continue to chip away at European security. We must break the cycle of Russian aggression," he said. "NATO allies have never been more united. We will protect every inch of allied territory based on the Article 5 commitment to defend the charter. One for all and all for one."
The Bucharest Nine was formed in 2015 in response to Russia's invasion and annexation of Crimea, with a goal of enhancing regional security and promoting cooperation among nations under threat.
"As NATO's eastern flank, you're on the front lines of our collective defense," Biden told his fellow leaders. "And you know better than anyone what's at stake in this conflict, not just for Ukraine, but for the freedom of democracies throughout Europe and around the world."
Several of the leaders around the table spoke about the importance of their alliance, and the steely resolve they must have for the unpredictable months ahead.
"This year has made us stronger and more united, and we the countries on the eastern flank are more protected than ever," said Slovak President Zuzana Caputova.
Romanian President Klaus Iohannis said all the nations involved "have the duty to stand in defense of peace." He added, "We must stand firm on delivering our commitments to support Ukraine for as long as it needs to win this war."
Hungarian Prime Minister Viktor Orban – an authoritarian leader who has often been at odds with the United States – did not attend the summit; his country was represented instead by President Katalin Novak. Although Hungary is a member of both NATO and the European Union, it has increasingly jousted with other European countries as Orban moves in a more authoritarian direction.
For countries in Europe's easternmost reaches, Moscow's push into Ukraine brought the threat of Russian aggression closer to their doorsteps, but also vindication for years of warnings about the threat from Moscow. Some in those countries had been especially critical of Germany's dependence on Russian fuel.
"The appeasement policy of certain states allowed Russia to feel that this is the time it can dictate the conditions, take territory, shoot and kill its neighbors," Polish Defense Minister Mariusz Blaszczak said in an interview. "This is the time to stand firm and take decisive steps."
For Poland, that includes a huge military expansion, as officials in Warsaw stress the importance of building strength among eastern allies. "We have to export and share with our neighbors," said Jacek Siewiera, head of Poland's National Security Bureau.
Amid the Russian threat, European concerns about the backsliding of Poland's democracy have shifted into to the background.
Still, the Bucharest Nine are not united in their perception of that threat. Orban, for example, last year said that Biden's comments on Putin being a war criminal went "too far."
Biden's meeting with the Bucharest Nine on Wednesday marked the last part of a three-day trip that began with a surprise, stealthily planned trip to Ukraine's capital, Kyiv, and concluded with two days of meetings to bolster nations in Eastern Europe and assure them of ongoing U.S. support against Russia.
He also met Wednesday with U.S. Embassy staff and their families. Biden had a dark smudge visible on his forehead during his first public events, marking Ash Wednesday at the start of Lent, when many Catholics go to Mass.
Biden invited a Polish priest, Wieslaw Dawidowski, to the Marriott hotel where he was staying, and Dawidowski improvised an altar in a room near Biden's, according to a post on the priest's Facebook page.
"Today is Ash Wednesday. Even the most powerful in this world take ashes," Dawidowski wrote. "We prayed for peace, the conversion of Russia and the light of the Holy Spirit for Mr. President."
During a speech Tuesday night in Warsaw that he delivered in front of a large, cheering crowd, Biden spoke several times about the importance of the NATO alliance and how Putin's invasion has strengthened it.
"When President Putin ordered his tanks to roll into Ukraine, he thought we would roll over. He was wrong," Biden said. "He thought NATO would fracture and divide. Instead, NATO is more united and more unified than ever – than ever before."
Biden also cited NATO's bedrock agreement to defend against an attack on any of its members.
"Let there be no doubt, the commitment of the United States to our NATO alliance and Article 5 is rock solid," he said. "And every member of NATO knows it. And Russia knows it as well. An attack against one is an attack against all."
Add TheJapanNews to your Google News feed.