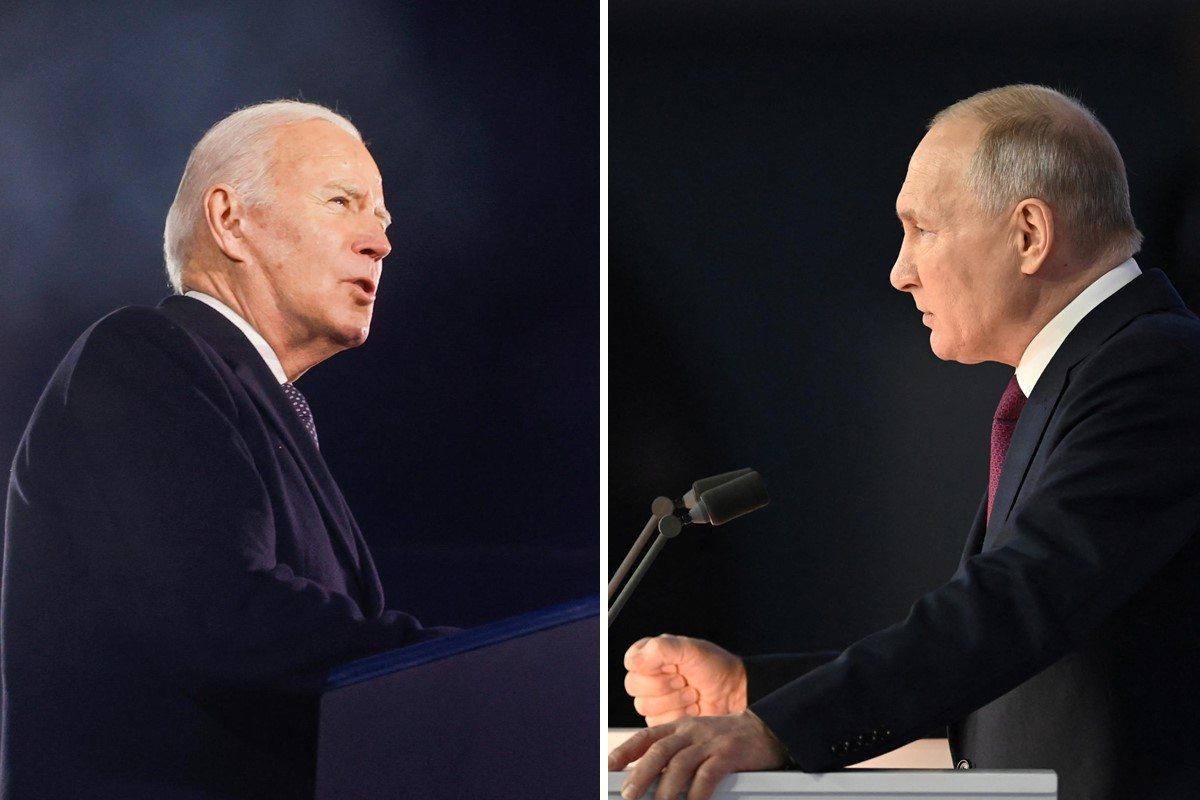 11:18 JST, February 22, 2023
WARSAW – The leaders of the United States and Russia delivered blistering, contradictory addresses in Eastern Europe on Tuesday, showcasing starkly opposing worldviews as they spoke on the eve of the first anniversary of a Ukraine war that has set the two superpowers increasingly at odds.
President Biden, speaking to an enthusiastic crowd outside Poland's Royal Castle, urged the world's nations to recommit to a unified defense of Ukraine, saying global democracy was at stake and accusing Russia of committing crimes against humanity through its "abhorrent" acts against civilians.
A few hours earlier, Russian President Vladimir Putin, addressing a joint session of the Russian parliament, reiterated his attacks on what he called Ukraine's "neo-Nazi regime" and, in a surprise move, announced that Moscow was suspending its participation in New START, the last remaining U.S.-Russia nuclear arms agreement.
U.S. officials said that the timing of the two speeches was coincidental and that Biden had decided long ago to travel to the region for the first anniversary of the brutal war. But if the president did not plan his remarks as a response to Putin's, they nonetheless often sounded like a rebuttal of the Russian president.
Putin said during his televised state of the nation address that Western elites "started" the conflict in conjunction with Ukraine. Biden, in his address, responded that it was Putin who "chose this war," adding, "The West was not plotting to attack Russia, as Putin said today."
Biden also used soaring terms to cast the war, as he has before, as one front in a worldwide struggle between autocracy and democracy.
"When Russia invaded, it wasn't just Ukraine being tested. The whole world faced a test for the ages," Biden said before a large crowd on a cold night with a colorful backdrop. "Europe was being tested. America was being tested. NATO is being tested. All democracies are being tested. And the questions we face are as simple as they are profound: Would we respond, or would we look the other way?"
He added: "One year later, we know the answer. We did respond. We would be strong, we would be united, and the world would not look the other way."
Biden seemed to relish the opportunity to create the contrast with Putin. He mocked him and criticized him. He called him a failed leader who had badly miscalculated. And while Biden, in the same place a year ago, ad-libbed a phrase that his aides quickly walked back – "For God's sake, this man cannot remain in power" – Tuesday's speech suggested that he still holds that belief.
"President Putin's craven lust for land and power will fail, and the Ukrainian people's love for their country will prevail," he said.
In Putin's telling, in contrast, Russia is not an autocratic power that attacked a neighboring country without provocation, but a victimized nation targeted by the United States and the West. "Our relations have degraded, and that's completely and utterly the U.S.'s fault," Putin said.
"They were the ones who started the war," he told the assembled members of Russia's parliament, referring to Ukraine and Western "elites" he said were supporting Kyiv. "We used force and continue to use it to stop it."
More immediately, Putin said he was suspending Russia's participation in the 2011 New START pact, which limits the number of intercontinental ballistic missiles and nuclear warheads that can be deployed by the United States and Russia. The announcement alarmed Western officials, who said they were awaiting more specifics of what the suspension would entail.
Putin said Russia would not "withdraw" completely from the treaty, which has been extended to run through Feb. 4, 2026, but would not allow NATO countries to inspect its nuclear arsenal. He accused the alliance of helping Ukraine conduct drone strikes on Russian air bases that host strategic bombers that are part of the country's nuclear forces.
"If the U.S. conducts tests, then so will we," Putin said. "Nobody should have any illusions that global strategic parity can be destroyed." Other nonproliferation agreements, including the Intermediate-Range Nuclear Forces Treaty, have fallen apart in recent years.
Putin's speech extended far beyond the Ukraine war, ranging from accusing the West of a plot to destroy Russia to promising to build a new highway from Moscow to Vladivostok. He attempted to portray Russia as open and resilient, on its way to recovering its lost status as an independent superpower.
He pointedly steered clear of his military defeats in Ukraine and Russia's mounting casualties, glossed over economic challenges brought on by the war, and portrayed international isolation as a way for Russia to cleanse itself of harmful alien ideologies.
The Putin-Biden speeches came at a pivotal moment in the Ukraine war. Biden and his European counterparts are working hard to ensure that support for Kyiv does not fade as the conflict passes the one-year mark on Feb. 24, and many military analysts say the spring fighting season could be decisive.
Biden's own legacy is likely to depend significantly on the outcome of the Ukraine war, and his speech in Warsaw crystallized the importance of a trip that began with his dramatic surprise appearance in Kyiv on Monday to stand with Ukrainian President Volodymyr Zelensky.
The president cited that whirlwind visit on Tuesday. "I've just come from a visit to Kyiv, and I can report Kyiv stands strong," Biden said at the start of his remarks. "Kyiv stands proud. It stands tall. And most important, it stands free."
But he also nodded to potential difficulties ahead, saying the alliance will continue to be tested in the months to come.
"We have to be honest and clear-eyed as we look at the year ahead. The defense of freedom is not the work of a day or of a year," the president said. "It's always difficult. . . . As Ukraine continues to defend itself against the Russian onslaught and launch counteroffensive of its own, there will continue to be hard and very bitter days, victories and tragedies."
Biden reiterated comments that Vice President Kamala Harris made last week declaring that Russia is guilty of crimes against humanity.
"They've committed depravities – crimes against humanity, without shame or compunction," the president said. "They've targeted civilians with death and destruction, used rape as a weapon of war, stolen Ukrainian children in an attempt to steal Ukraine's future."
The visit of an American president is a significant event in Poland, and Warsaw was largely taken over by the event. Many streets were closed off, and blue ropes kept the crowds, at times a half-dozen deep, corralled on the sidewalks. American and Polish flags were omnipresent, and television networks provided blanket coverage.
Earlier Tuesday, as he arrived at the Presidential Palace under dreary skies, Biden was welcomed by a military parade and the playing of the American and Polish national anthems.
Polish President Andrzej Duda thanked Biden for making the effort to visit Kyiv, a trip requiring elaborate security arrangements, calling it a "very strategic" move that "boosted the morale" of Ukrainians. The visit, he said, was a "sign [to Ukrainians] that the free world had not forgotten them."
Polish leaders have been nervous that a Russian victory in Ukraine could embolden Moscow to target their country as well. Duda said Biden's visit was a "visible sign that Poland is safe and secure," adding, "America is able to ensure the global order."
The rare notes of dissent came from Poles who want the United States to provide even more aid to Ukraine.
Outside the hotel where Biden and his top aides were staying, protesters held signs that read, "Mr. Biden send F-16 to Ukraine." A woman screamed into a microphone, "Mr. Biden, we know you are here, and we know you hear us."
Biden's speech marked his return to the city where he spoke in March 2022, a month into the war. This time, the conflict is almost a year old, a milestone that few expected; military analysts initially predicted that Russian forces would quickly overwhelm the Ukrainian army.
Biden delivered his remarks before a crowd of Polish citizens, Ukrainian refugees, and U.S. Embassy staffers and children. The site played a role in the Warsaw Uprising of 1944, when resistance fighters found shelter and hiding places in the area to avoid detection by German forces.
Administration officials played down the notion that Biden was responding directly to Putin.
"We did not set the speech up as some kind of head-to-head," national security adviser Jake Sullivan said in a briefing with reporters. "This is not a rhetorical contest with anyone else. This is an affirmative statement of values, a vision for what the world we're both trying to build and defend should look like."
Sullivan said he did not think Biden watched Putin's speech, and he reiterated that the United States rejects the Russian leader's claims that the West is to blame for the war in Ukraine and its aftermath.
"If Russia stops fighting the war in Ukraine and goes home, the war ends," he said. But "if Ukraine stops fighting and the United States and the coalition stops helping them fight, Ukraine disappears from the map. So, I think that kind of tells you everything you need to know about who's responsible for this war."
On Wednesday, Biden is scheduled to meet with leaders of the Bucharest Nine, a group of nations on NATO's eastern flank that are especially concerned about Russian aggression. He will also sit down with NATO Secretary General Jens Stoltenberg.
Sullivan rejected a Russian statement that it had provided security guarantees for Biden's trip to Ukraine. The United States did alert the Russians that Biden would be making the trip, as a way to prevent any unexpected conflict when he entered the country with a large security presence, the national security adviser said.
"They did not respond, other than to acknowledge receipt of the notification. So there was no exchange – it was mere notification and acknowledgment of receipt," Sullivan said. "We conveyed that information. They acknowledged receipt. End of story."
Add TheJapanNews to your Google News feed.