The Former Trump Aide Crafting the House GOP's Debt Ceiling Playbook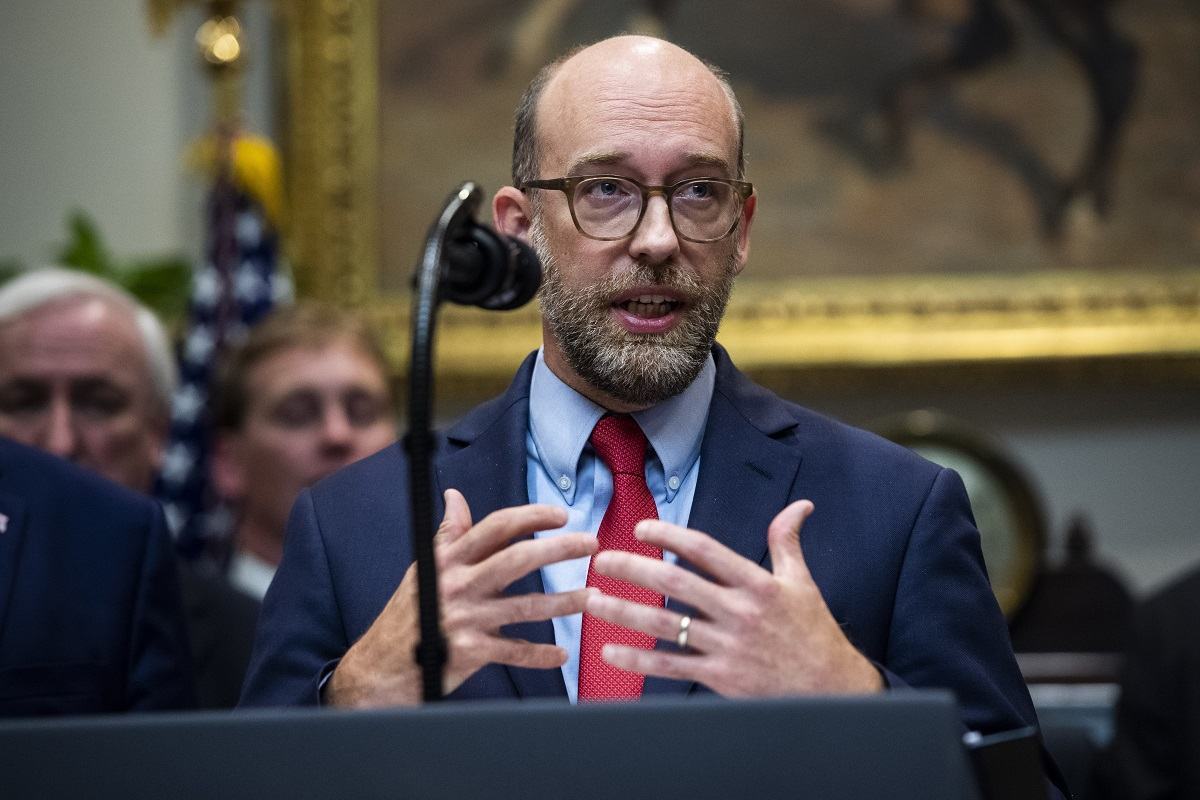 12:49 JST, February 20, 2023
WASHINGTON – Last month, amid the raucous battle to elect House Speaker Kevin McCarthy, former president Donald Trump spoke with a hard-line Republican who had been influential in blocking McCarthy's path to power.
The agitator was not a member of Congress, or even an elected official. It was Trump's former budget director, Russell Vought, who has quietly emerged as an intellectual leader of the GOP's conservative flank.
Vought explained his opposition to McCarthy, citing the California Republican's deals with Democrats to increase federal spending. Trump, who supported McCarthy, didn't push back, Vought said. Conservatives eventually extracted concessions from McCarthy that could empower them to secure spending cuts.
"He knows where I'm at," Vought said of Trump in a recent interview. "He was very respectful of where I'm coming from."
The president of a new pro-Trump think tank called the Center for Renewing America, Vought, 46, has emerged as one of the central voices shaping the looming showdown over federal spending and the national debt. As Republicans struggle to craft a strategy for confronting the Biden administration over the debt ceiling, which limits how much the government can borrow to pay for spending Congress has already approved, Vought has supplied them with a seemingly inexhaustible stream of advice: suggestions for negotiating with the White House, briefings about dealing with the media, a 104-page memo that proposes specific spending levels for every federal agency.
Several Republican lawmakers and staffers privately acknowledged talking to Vought at least once a week. Earlier this month, he briefed about four dozen GOP senators over lunch in the Capitol, according to Sen. Rick Scott (R-Fla.), who said it was at least the third time he had heard Vought's pitch for dealing with the debt limit.
Vought helped push for a new House panel led by Rep. Jim Jordan (R-Ohio) to investigate the alleged "weaponization of the federal government" under President Biden. Stephen K. Bannon, the former Trump political adviser, called Vought the "intellectual architect" of House conservatives' rebellion against McCarthy. Vought is also close with Rep. Chip Roy (R-Tex.), who spearheaded that fight.
"Russ is the guy conservatives go to for intimate knowledge of how the federal budget works," said Newt Gingrich, who served as House speaker in the 1990s and remains a close adviser to McCarthy. "He understands an enormous amount of federal budgeting, and that makes him a very big player."
Vought's agenda represents a major departure from traditional conservative ideas about balancing the federal budget. Once, former house speaker Paul D. Ryan (R-Wis.) pushed cuts to Social Security and Medicare, the main drivers of federal spending, as the answer. Vought argues for something different. A Trump acolyte, he echoes the former president's insistence that the popular federal retirement programs – which go to the middle and upper classes as well as the poor – should be walled off from cuts. Instead, Vought has sold many Republicans on the untested premise that the GOP can push to obliterate almost all other major forms of federal spending, especially programs that benefit lower-income Americans, and dare Biden to stand in the way.
Vought's budget proposal calls for cutting $9 trillion over the next decade from thousands of domestic programs – slashing funding for government agencies, student loans, and anti-poverty programs such as housing, health care and food assistance – while urging Republicans to attack the "woke bureaucracy." Vought even advocates for freezing military spending, which is still anathema in many GOP circles.
"I'm tired of this focus on Social Security and Medicare, as if you're climbing a mountain and can't make any progress on that mountain until you go to the eagle's nest on the top," Vought told The Washington Post. "You take these cuts to the American people, and you win."
In the 10-year budget proposal he has circulated on Capitol Hill, Vought characterizes this approach as part of an existential battle for the soul of the country. The plan includes $2 trillion in cuts to Medicaid, the health program for the poor; more than $600 billion in cuts to the Affordable Care Act; more than $400 billion in cuts to food stamps; hundreds of billions of dollars in cuts to educational subsidies; and a halving of the State Department and the Labor Department, among other federal agencies. While congressional Republicans have yet to release a budget plan, House GOP lawmakers are weighing cuts to these programs as a way to reduce the debt without touching Medicare and Social Security.
"America cannot be saved unless the current grip of woke and weaponized government is broken. That is the central and immediate threat facing the country – the one that all our statesmen must rise tall to vanquish," Vought writes in his budget proposal. "The battle cannot wait."
Democrats note that Washington bureaucrats aren't the only ones who would suffer under Vought's spending plan.
"When you're not willing to cut defense or entitlements, and you're cutting everything else by 30 percent, you've created a huge opportunity for a strong political response from Democrats," said former Kentucky congressman John Yarmuth, a Democrat who served as House Budget Committee chairman when Vought led the White House budget office. "The Republicans ought to be careful who they're listening to."
Vought was a polarizing figure long before the current debt limit fight. His tenure in the Trump administration was marked by controversy over his past incendiary comments about Muslims and a decision to implement a freeze on aid to Ukraine that put him at the center of the first Trump impeachment.
His new think tank advocates on hot-button culture war issues, such as "exposing critical race theory." The group has not disclosed its funding sources, but its annual report says it took in $1.1 million in 2021. Vought recently told C-SPAN that the organization takes no corporate money and is supported by grass-roots donors across the country.
Most awkwardly for his current position: Vought oversaw enormous increases in the national debt as Trump's director of the Office of Management and Budget. The debt ballooned by staggering sums on Vought's watch: $1 trillion in his first year, and a whopping $4 trillion in his second, as Congress agreed on a bipartisan basis to spend trillions of dollars in response to the coronavirus pandemic. Trump repeatedly overruled fiscal hawks, like Vought, in approving the new spending.
Now, with a Democrat in the White House, Vought says he wants to use the leverage of the debt ceiling to force Democrats to rein in a federal bureaucracy that he views as abusing its power against American citizens. For example, he said, the government is spending money to detain people who participated in the storming of the Capitol on Jan. 6, 2021.
"We view our role as almost acting like a shadow OMB on the outside," Vought told The Post.
Even some Republicans who admire Vought's expertise say his budget blueprint is based on unrealistic assumptions. To make it balance in 10 years, for example, Vought's budget also projects that the number of working Americans will increase by 14.5 million people more than Congressional Budget Office predicts, which would allow the American economy to grow faster, reducing the deficit by another $3.8 trillion.
Vought argues that Americans will pour into the job market because of cuts to federal aid programs, but his figures are almost certainly unrealistic, particularly because of the GOP's opposition to higher levels of immigration, said William Galston, a former domestic policy official in President Bill Clinton's administration who is now a senior fellow at the Brookings Institution, a D.C.-based think tank.
"Russ is an expert. He knows the details; he knows the budget backwards and forwards," said one former GOP official, speaking on the condition of anonymity to candidly describe a former colleague. "But he's selling conservatives a fantasy, which is achieving a balanced budget without cutting anything popular.
"We're going to balance the budget by 'ending woke?' Give me a break."
Rachel Semmel, a Vought spokeswoman, defended Vought's analysis. "Anyone who is confused about Russ Vought's fiscal conservatism clearly hasn't been paying attention," she said.
Raised about an hour north of New York City, Vought graduated from George Washington Law School and rose through the traditional conservative institutions in Washington.
He started as a Hill staffer in 1999, working for Sen. Phil Gramm (R-Tex.) before becoming a policy director for the House Republican Conference under then-Rep. Mike Pence (R-Ind.). By the mid-2000s, Vought had become the budget guru for the Republican Study Committee, which sought to cut Medicare and Social Security to rein in federal spending. Vought then joined the advocacy arm of the Heritage Foundation think tank, where he worked to solidify GOP opposition to the Obama administration.
From his earliest days in politics, Vought's intense views and adversarial relationships with colleagues unnerved some conservatives.
"He was ideological in the extreme," said one of his former colleagues at Heritage, speaking on the condition of anonymity to candidly describe private exchanges. For instance, Vought took seriously unfounded claims that the Muslim Brotherhood extremist group had infiltrated the U.S. government, the person said. Sen. Bernie Sanders (I-Vt.) later challenged Vought over a blog post in which he wrote that Muslims "stand condemned" without Jesus Christ. (Vought is now again working with Heritage on the agenda for the next GOP presidential administration.)
When Trump burst into national politics, many GOP policy analysts recoiled at his apparent disregard for serious policy. Vought saw an opportunity. He joined the Trump White House as deputy budget director in 2017, working under Mick Mulvaney, who later became Trump's chief of staff.
Though a former member of the Freedom Caucus who was known as a bomb-thrower, Mulvaney was seen by OMB staff as more engaging and agreeable than Vought, who quickly developed a reputation as fierce and antagonistic. Even as deputy director, however, Vought became OMB's voice in crafting the administration's budget proposals, and by July 2020, Vought was OMB director.
Yet Vought's boss often disregarded his views. Vought would push cuts for state-level programs, then a GOP senator or governor would persuade Trump to reverse it, said one former government official, who spoke on the condition of anonymity to describe private conversations. Vought was frustrated in 2020 when Trump backed a second round of stimulus checks during negotiations with congressional Democrats, according to another former government official, who also spoke on the condition of anonymity to describe private talks. Vought once called this official to celebrate Trump agreeing to include spending caps in their budget plan – a position the former president reversed within days, the official said.
"He'd take these dream budgets in to Trump, and Trump would say, 'I don't want these cuts; don't make these cuts. I don't want to touch social programs. I don't want to touch entitlements.' And he'd back down," said a third former senior Trump administration official. "It would drive Russ crazy, because he wanted to make actual cuts."
All four of Trump's budgets proposed unprecedented cuts to domestic spending for which Congress never had much appetite.
Casey Mulligan, who served as chief economist for the White House Council of Economic Advisers under Trump, praised Vought for pushing his current proposal to slash funding for federal agencies while preserving Social Security and Medicare.
"He's taken this very interesting position that: Yeah, we need to get entitlement spending under control. But Washington – the agencies – need to take a haircut first," Mulligan said. "The agencies are a fairly small amount of money, but the symbolism of it – I think he'll be successful with that message. He and Trump have tapped into that it's offensive to most of America that Washington would be immune to cuts."
But questions remain about whether Republicans can unify behind an approach that would advance big cuts to Medicaid and food stamps, programs that serve many of their constituents. Even if they can coalesce behind Vought, analysts say it is virtually impossible to balance the budget without touching Social Security and Medicare – or raising taxes.
"As a purely rhetorical ploy, they may be able to get away with it," said Galston, the Brookings fellow. "As a matter of arithmetic, it's ridiculous."
Add TheJapanNews to your Google News feed.